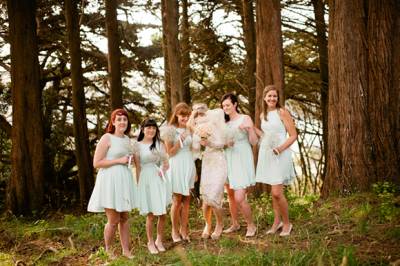 The groom's favourite detail from his wedding to Ellie? Her dress! How sweet is that? Ellie tells us more about the story of her dress below but this is one couple that really put their individual stamp on their wedding and I think the love they put into it and their love for each other really shines out of these images by Johanna MacDonald.
From the bride; "We both love 1920s aesthetic, and we wanted a wedding as beautiful outwardly as we felt it would be for us inwardly. We found our reception, The Wellesley Boutique Hotel, and loved its rich history. It was built in the 1920s which was perfect too. Our invitations were 1920s themed, and we both designed them ourselves. The bridesmaids' dresses too, fitted into this – not the silhouette, but the geometric structuring of the bodices.
We also didn't want our wedding to feel too overtly themed- we wanted to reference the glamour and excitement of that era without being caught up in making it too precise. We also wanted our wedding to be easy to plan, and not too stressful, so many things we just went with what we loved.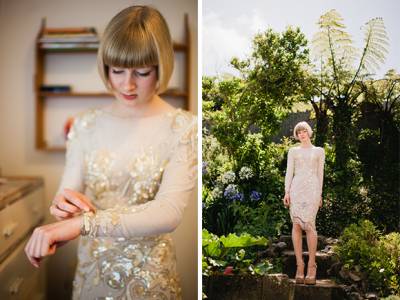 Tell us about your proposal: Quite early in our relationship we talked about what our expectations were, and kept communication open. I wanted to propose rather than the traditional male proposal, and so I secretly planned it out for the 10th of October, 2013. I hired out The Carter Observatory, our local astronomy centre, and surprised him on the morning of our 6 month anniversary. Everything was perfect! He met me early that morning (I had lied about having a doctor's appointment to get him to meet me), I gave him a bouquet of peach-coloured roses and we had chai lattes. Then we walked up through the beautiful botanic gardens together, and watched a show inside the planetarium which was put on just for us two. After it finished, the projectionist dimmed the lights to red, and the ceiling was lit up with stars. Svefn-g-englar by Sigur Ros started playing, I knelt down on one knee, and told Lehi I wanted to be with him always, to look after him, and to be looked after by him. I asked him to marry me and he said yes! I gave him a white gold necklace as an engagement gift, which he's never taken off. Then he knelt down too and proposed to me as well - I was crying from joy and it was such an intense, spiritual, joyful moment for both of us.
Tell us about finding your wedding dress: I knew right from the start that I didn't want a simple floor-length, white dress, just because it wasn't me. I love the aesthetics of the 1920s, but I also wanted something very fitted, not loose and flowing. I searched all over and found a beautiful, vintage, fully beaded dress which I fell in love with from Shop Gossamer. The label had been removed but I have been advised that it is likely the designer was Laurence Kazar. Shop Gossamer is a boutique in Virginia in the US, and the seller was very helpful in answering all my questions. My dress came out to be very inexpensive, and surpassed all my expectations. It fits like it had been made for me, and I felt like a star wearing it.
Most memorable moment? Lehi: My favourite part of the day was having our photos taken with our closest friends on Mount Victoria, as the sun was setting.
Ellie: My favourite point in the day was me and Lehi having a moment of down time together before the reception, and us both being really excited we were now officially married!
Any other details that help tell the story of your day: Ellie: I wore a 1920s veil from my Great-grandmother, her pearls, and a brooch which have been passed down at weddings through the family. It was very special to wear items that three other women in my family had worn at their weddings, and I felt very connected to my family history.
Photographer | Johanna Macdonald, Videographer | James Wharton and Nathan Bedwell, from Looking Glass Videos
Cake | Bride, Florist | Rosie's Posies Wellington, Ceremony Venue | St Peter's Anglican Church, Wellington
Reception Venue | The Wellesley Boutique Hotel, Dress Designer | Vintage dress from Shop Gossamer
Shoes | Steve Madden, Jewellery | Antique heirloom jewellery, Bridesmaids Dresses | Portmans
Grooms Attire | Suits; yd, Jeans; Levi's, Shoes; Ferracini, Bow Tie; Crane Brothers, Caterer | Nosh