Charleston wedding photographer HANNAH ALYSSA describes her work as graceful, timeless and romantic and we couldn't agree more. It is truly sublime and any couple would be so lucky to have her as their photographer! When she's not photographing weddings, you'll find her wandering through the cobblestone streets of Charleston or planning her next jet-setting adventure. Read on to get to know a little more about Hannah and her story.
WHAT MADE YOU WANT TO BECOME A PHOTOGRAPHER? I love creating and am passionate about capturing inspiring destinations and meaningful moments just as beautiful as they are in that instant to look back on and remember exactly how you felt then.
TELL US A BIT ABOUT YOUR PATH TO GET THERE. Following a wedding planning internship in college, and via an editorial internship with Charleston Weddings magazine, I fell in love with photography while assisting on cover shoots and workshops. I was instantly drawn to the romantic and intimate feeling of film, purchased my first Contax 645 and have not put it down since. My experience in both wedding planning and the editorial side of the wedding world has provided me with a unique perspective as a photographer going into the wedding day as I truly value and have an eye for both the little details and genuine moments, allowing me to authentically tell my couple's love stories through film.
WHAT DO YOU LOVE MOST ABOUT WEDDINGS? I LOVE the first look. Aside from the bride and groom, the videographer and I are usually the only other people present and it's just such a sweet, quiet moment where the couple has the opportunity to slow down, soak it all in and simply be together.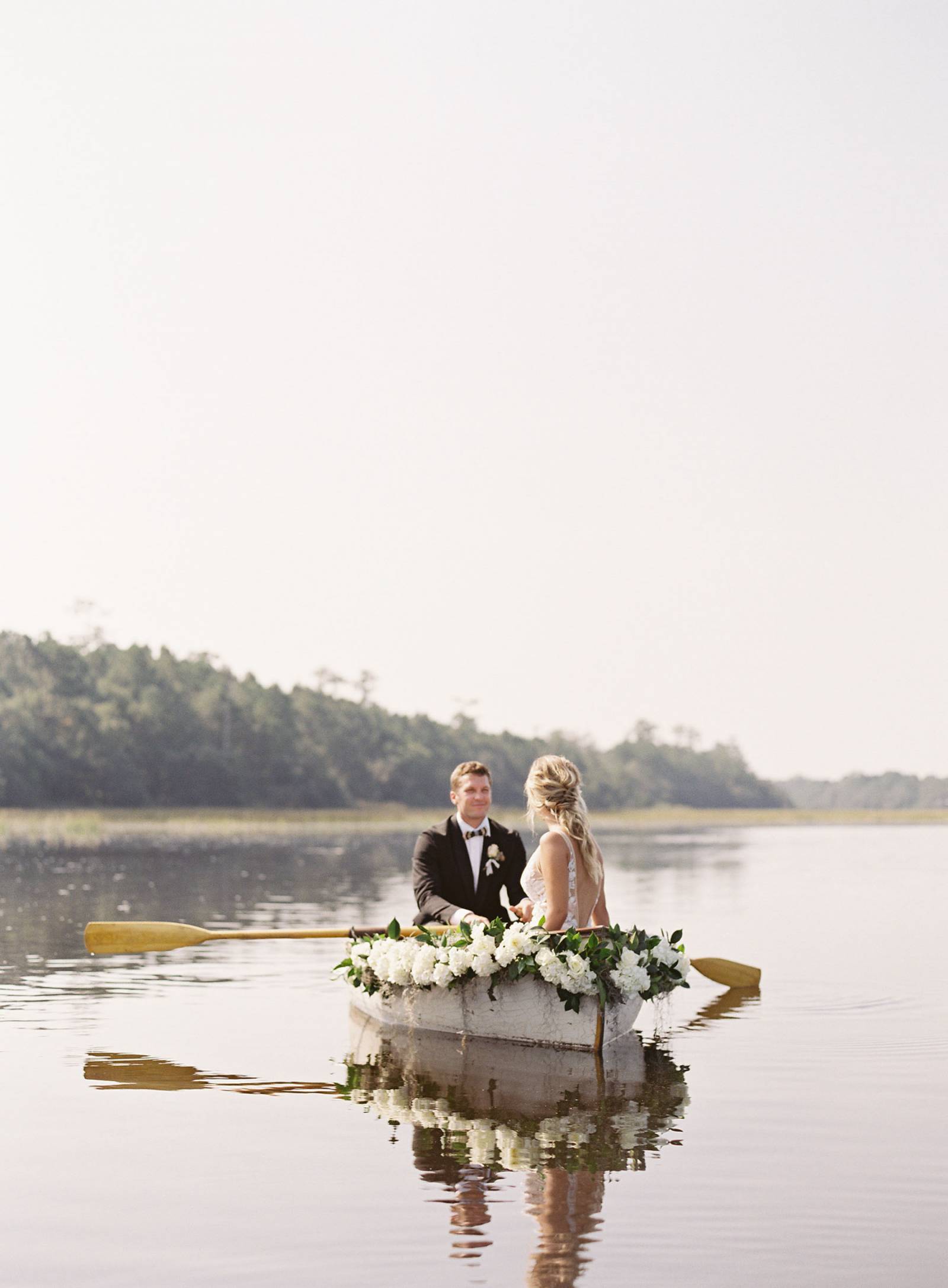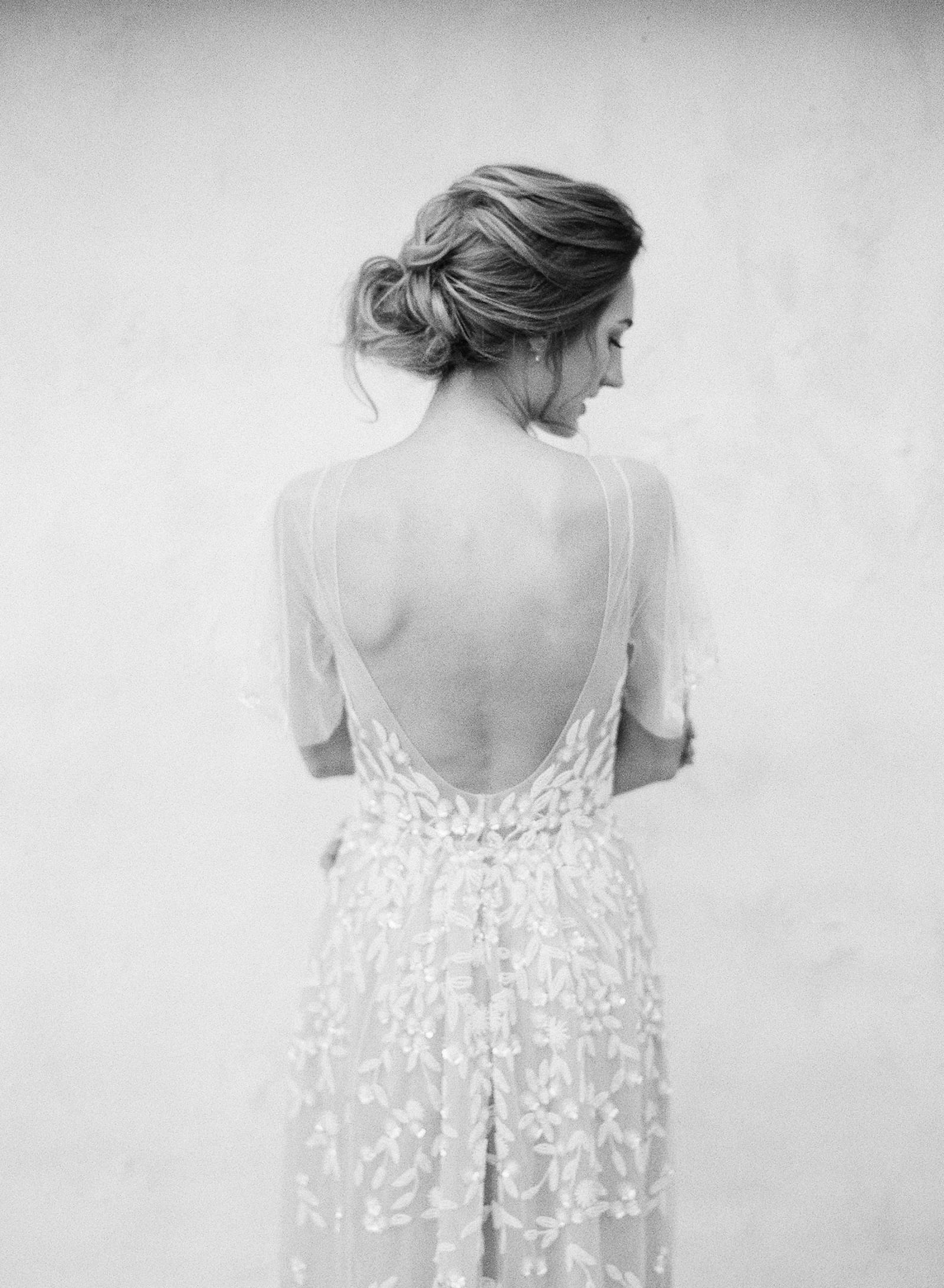 SHARE YOUR FAVOURITE IMAGE WITH US AND TELL US WHY. Ali & Lyle were the very first to say "I do" on the rooftop of The Dewberry hotel, overlooking the beautiful Charleston skyline dotted with church steeples rather than skyscrapers. This image was taken moments after she snuck away from their reception and had eight inches of her hair chopped off! She slipped into her second dress of the day and returned to the ballroom for her first dance with a new chic look, much to her groom and guests' surprise!
CAN YOU RECALL YOUR FAVOURITE WEDDING EXPERIENCE? Following a barefoot, oceanfront ceremony on Harbour Island in The Bahamas, my bride and groom surprised their wedding guests with a festive Junkanoo, leading the way to the reception. There wasn't a single guest without a huge smile on their face as everyone joined in the parade, dancing and laughing. (below)
ASIDE FROM FAMILY & FRIENDS, THREE THINGS YOU CAN'T LIVE WITHOUT? Traveling, my record player & candles!
WHERE WOULD WE FIND YOU ON A SUNDAY MORNING? I typically spend Sunday mornings at church, followed by brunch with my sister.
HOW WOULD YOU SPEND YOUR IDEAL DAY OFF? Barre, yoga or biking around Charleston followed by acai at my favourite local spot or, if it's a rainy day, cuddling up on the couch with a glass of red wine and my favourite record spinning.
Charleston wedding photographer HANNAH ALYSSA is a valued member of our VENDOR COLLECTIVE. Hannah takes an editorial approach to her weddings, with attention to detail and a passion for storytelling. "Shooting film requires me to slow down, be fully present and photograph with intention. I am passionate about capturing genuine love stories and inspiring destinations just as beautiful as they are in the moment, and film allows me to do just that." See more of her work in our vendor collective here and be sure to check out this Sailboat engagement shoot on the Charleston coast.