As someone who is just a little obsessed with landscapes, (growing up I wanted to be a National Geographic photographer!) the backdrops that Utah wedding photographer TYLER RYE captures his couples amongst make this heart very happy! Based in Utah but also servicing the Portland, Oregon region Tyler's work is very much inspired by nature and being outdoors and he loves to take his couples away from the noise of the city so they're free to express their love with few distractions.
We're delighted to have him be a part of the MAGNOLIA ROUGE VENDOR GUIDE. Head over to his profile to find out more about him.
TELL US A BIT ABOUT YOUR JOURNEY TO BECOMING A PHOTOGRAPHER: My journey as a photographer started around the time I meet my wife. She was working on the side as a model and I went with her to some of her shoots. After speaking with her photographer and learning a little more I decided I was going to be a photographer! It was really as random as that. I dropped out of the College I was attending and transferred to the Art Institute to study Digital photography! From there it was just a matter of working hard and putting myself out there!
HOW WOULD YOU DESCRIBE YOUR STYLE? I focus on taking couples to exciting outdoor locations and mixing that with an artistic style to create unique images. My shoots are almost always an adventure and if the location is to easy to get to we might as well not shoot there!
WHAT DO YOU LOVE MOST ABOUT WEDDINGS? My favourite part of the wedding is the time I get alone with the couple shortly after they say I do. I don't think two people are ever as happy as they are in that moment. Which always me to get the best pictures of them together.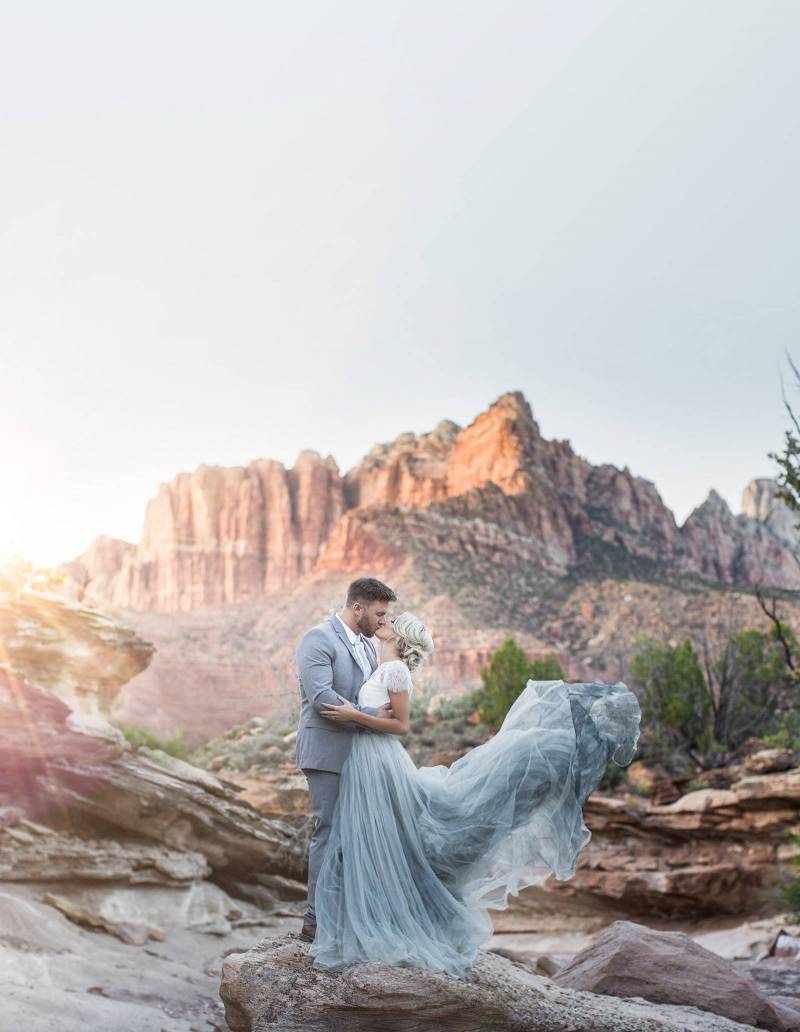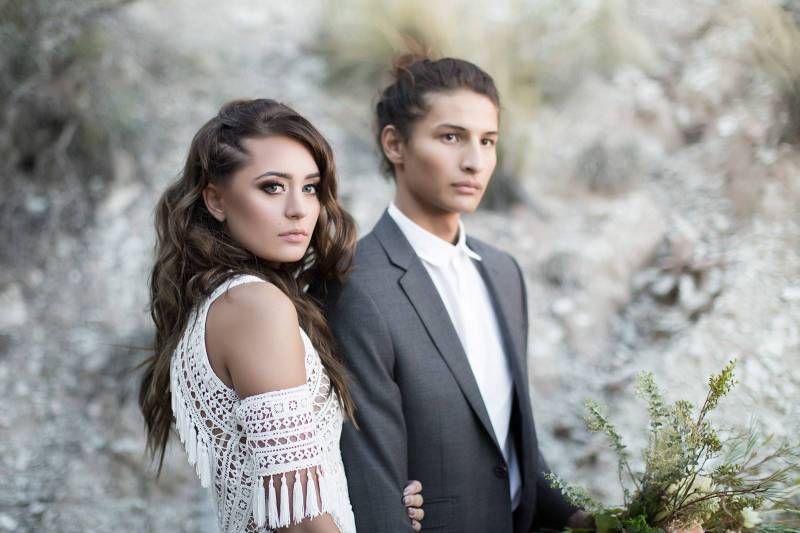 SHARE YOUR FAVOURITE IMAGE WITH US AND TELL US WHY? Wow that's a tough question, I don't know that I have a favourite Image to be completely honest. Although this is one of my favourite shots and was taken at the Salt Flats in Utah. When we were shooting that night it was perfectly calm and the reflection from the water made everything seem surreal.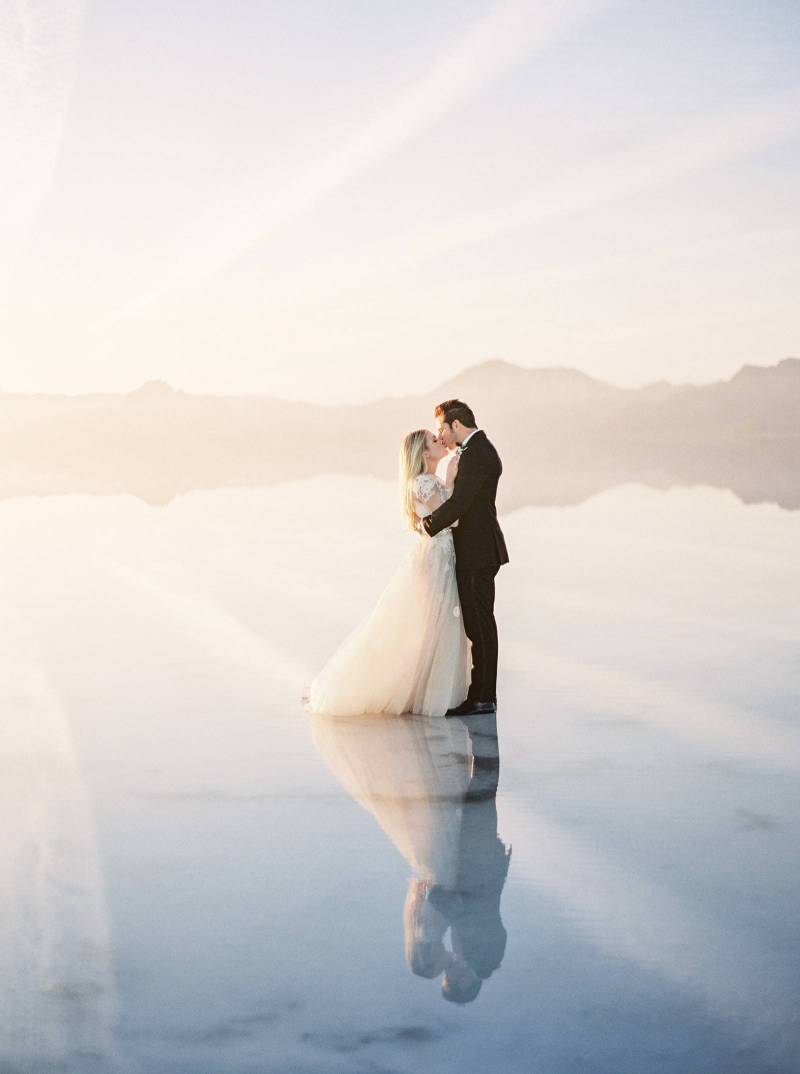 CAN YOU RECALL YOUR FAVOURITE WEDDING EXPERIENCE? Definitely! Last year I had the opportunity to travel to the Amalfi Coast in Italy to photograph an elopement. I just remember thinking as I drove down the coast in Italy how crazy it was that photography had brought me here. When I first started shooting I could have never dreamed that someone would take me across the world to be their photographer! I traveled and shot with the couple for a few days and it is to this day one the coolest experiences I have had as a photographer.
ASIDE FROM FAMILY & FRIENDS, THREE THINGS YOU CAN'T LIVE WITHOUT? Man that's a tough one! I guess I would have to say Diet Coke, My truck and my scriptures. Sadly, I am currently addicted to Diet coke and it's the only thing that helps me function some days! (thanks a lot kids!) I can't imagine living without my truck or some form of personal transportation. The freedom to jump in my truck and go anywhere and whenever I want is pretty priceless. I am deeply religious and credit all that I am and have to God and would feel ashamed if I didn't credit him for my success! So my scriptures go everywhere with me. I might not be the best Christian all the time but I do try and am so grateful for what I have been given.
WHERE WOULD WE FIND YOU ON A SUNDAY MORNING? Most likely at Church with my family or enjoying the day at home together.
HOW WOULD YOU SPEND YOUR IDEAL DAY OFF? With my family doing something fun! I like to be outdoors and my kids like water so we would probably end up at a water park or park in town. I travel so much for work that we usually end up staying closer to home when I do get a day off!
Seriously aren't these images incredible? If you're getting married in either Utah or Oregon we strongly suggest you check out TYLER RYE'S portfolio.