Being an outdoorsy couple, Addison and Kameron wanted a wedding that elegantly captured the beautiful outdoors. Held at BIG CEDAR LODGE in Missouri, the end result captured by Arkansas wedding photographer ERIN WILSON was an enchanting wilderness. With planning by EVENTS BY SOCIAL GRACES one of our favourite features are the stunning florals by ROSEWOOD FLORAL EVENTS - particularly the gorgeous bouquet.
HOW DID YOU MEET? We met at summer camp where we were camp counselors at. By the end of the summer, we had fallen in love.
TELL US ABOUT YOUR PROPOSAL: My favourite time of the year is Christmas time. Kameron had both of our families fly out for the holidays, and the family all went to Silver Dollar City which is a Christmas winter wonderland in Missouri. Kameron asked me to take a picture in front of the 80-foot-tall Christmas tree, where he got down on one knee and proposed, it was such a magical moment.
TELL US ABOUT FINDING YOUR WEDDING DRESS: Finding my wedding dress was a wonderful experience for me. I was blessed to have my family and friends able to travel to me and support me in finding my perfect wedding dress. We went to a few different boutiques and I tried on a good amount of dresses. However, when I tried on my wedding dress, I knew right away it was my dress. It was not only beautiful and everything I was hoping for, it was a perfect fit and I only had to alter the length, it felt like it was made for me!
DESCRIBE YOUR WEDDING FLOWERS: Minimalistic beauty is what I was going for, and what I think Sarah at Rosewood Floral did a great job with. I wanted to focus on natural colours, nothing too crazy, with just a hint of blue. I wanted my wedding flowers to enhance my look, and capture the beauty of nature. If I could've painted a picture of what I was looking for, it would've been what my flowers turned out to be!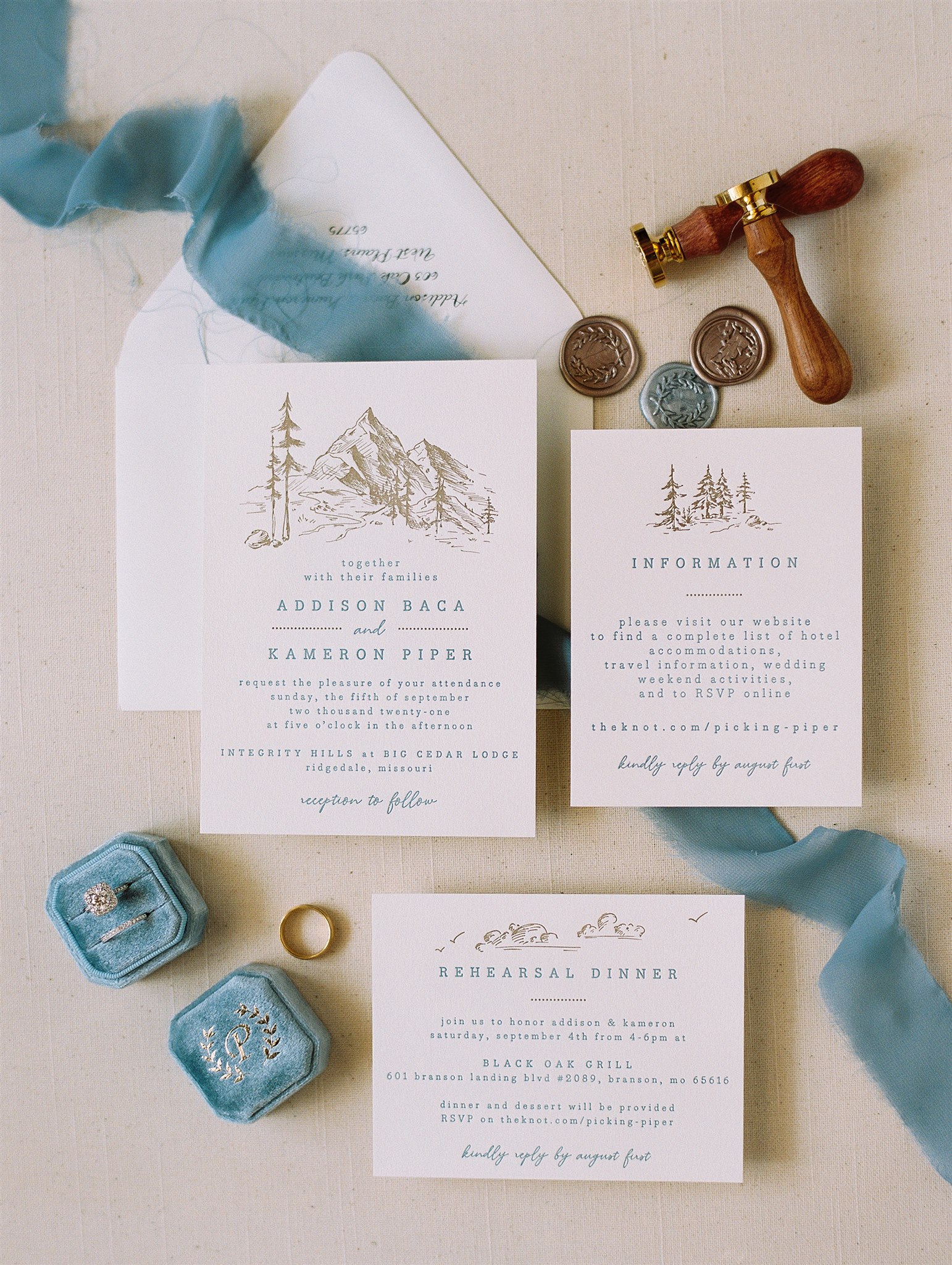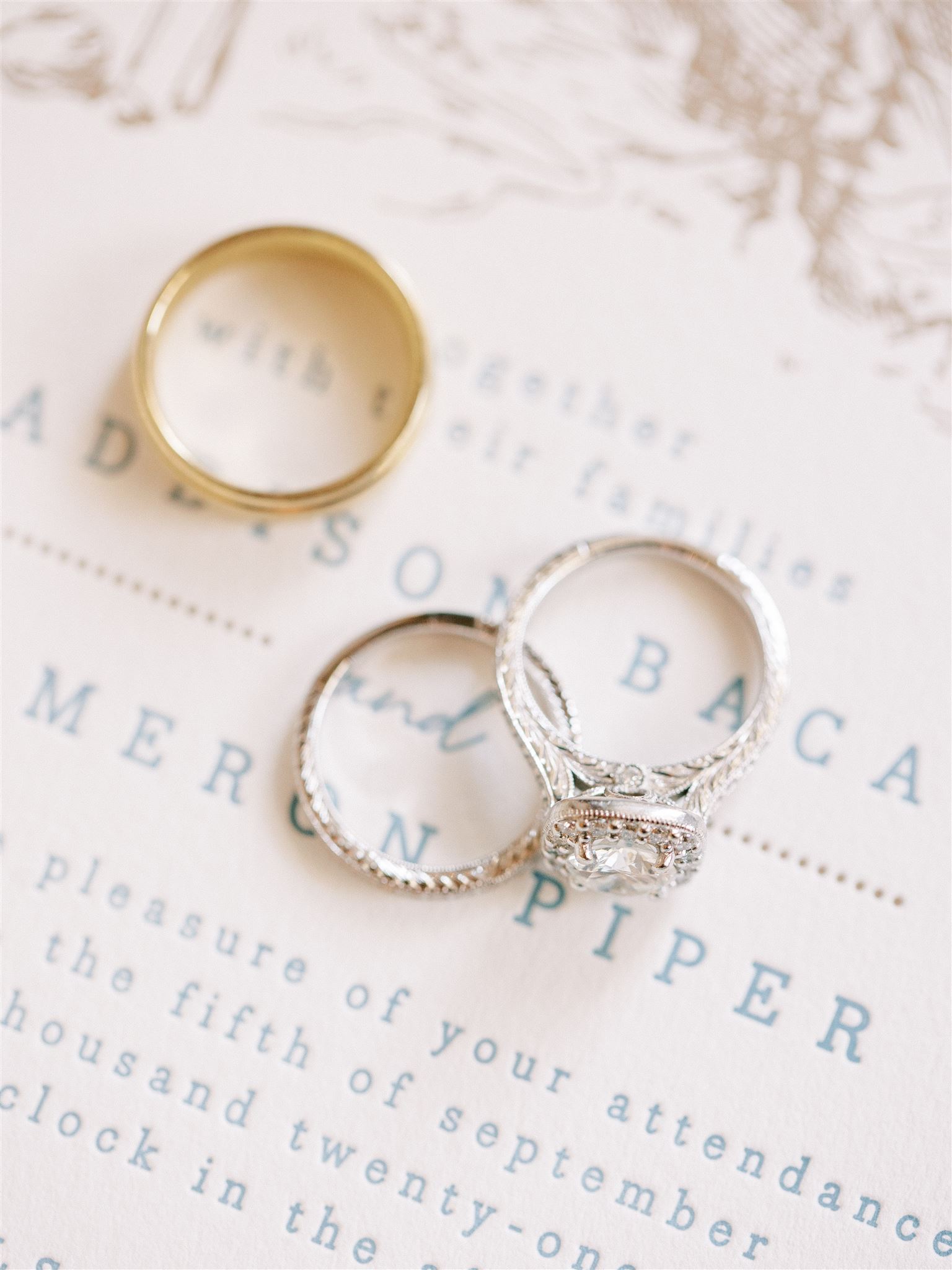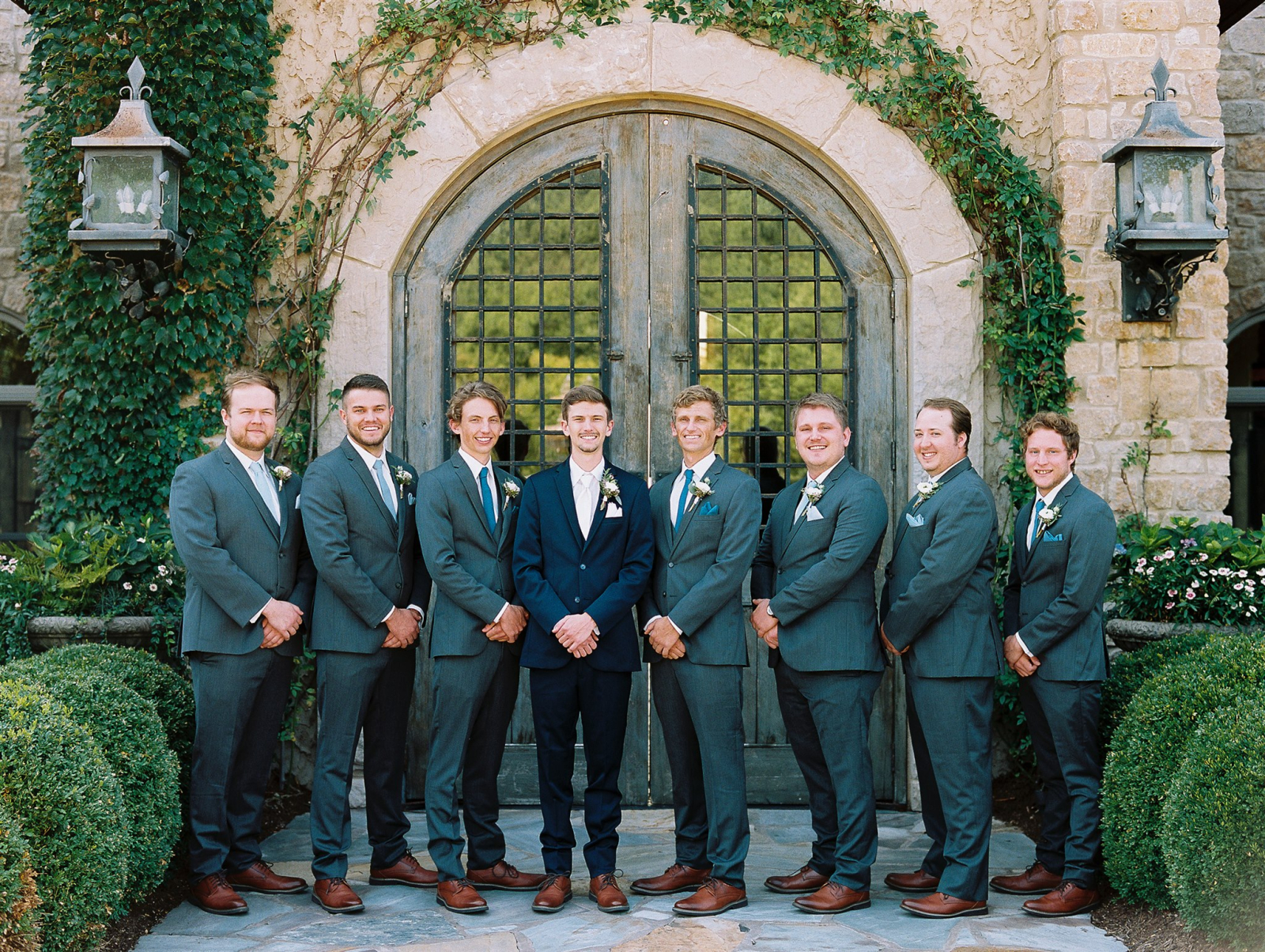 FAVOURITE DETAIL OF THE DAY: My favourite detail of the day was the small details we included about the summer camp where we first met. We named our tables after different places around our summer camp, and we of course had to throw in s'mores as an option for dessert, our camp friends loved it!
WHAT ADVICE WOULD YOU GIVE OUT TO A COUPLE PLANNING THEIR WEDDING? Enjoy every moment! This will be one of the greatest, most enjoyable moments of your life. You will look back and smile every time you think about picking your colours, touring your wedding venue for the first time, asking your bridesmaids and groomsmen to be in the wedding; enjoy every second.
MOST MEMORABLE MOMENT? Our first dance! We decided to do our first dance as we entered into the reception venue, and it was an incredible feeling being surrounded by all of our loves ones cheering us on, and being able to spend that special moment with my new husband.
WHAT ASPECT OF THE WEDDING WAS THE MOST IMPORTANT TO YOU AND YOUR PARTNER? I believe keeping our wedding true to ourselves was the most important aspect to my partner and I. This included a lot of small aspects like choosing a wedding venue that encompassed the beautiful outdoors, including cultural traditions like the wedding vase in our ceremony, and lastly, I have never liked cake, so being able to include other dessert options like s'mores and polvorones (traditional mexican wedding cookies) that I could enjoy, was special!
TELL US A LITTLE ABOUT YOUR HONEYMOON: Kameron and I wanted to encompass our love for adventure, while also getting the traditional relaxation of a honeymoon. While Covid-19 unfortunately made it hard for us to follow through with our original plan to go out of the country, we decided to make the best of it! We spent one week adventuring at theme parks in Florida, Disneyworld and Universal Studios. We had such a blast but we were ready to relax, which is what our second week gave us. We spent the following week at a beautiful resort in Arizona, where we had massages, facials, and poolside relaxation. It was the best of both worlds for the two of us, we had so much fun!
IS THERE ANYTHING YOU WOULD CHANGE OR DO DIFFERENTLY? There is not a thing I would change or do differently. I enjoyed every moment of my wedding, unless there was an option to slow time to enjoy it longer, it was a perfect day.
A huge thanks to Arkansas wedding photographer ERIN WILSON for sharing this beautiful wedding with us. Erin is known for her dreamy wedding photography and loves to serve others by encouraging their creative sides, reminding them how beautiful they are and being as positive and calm in wild situations. "I am extremely passionate about people, art and love. I photograph weddings on film and digital and very inspired by timeliness images that have a little artful vibe." You can see more of Erin's portfolio in our VENDOR GUIDE and you may also want to check out this Stunning Italian garden wedding inspiration.