With a European background beautiful bride Irini was inspired to have a simple, countryside wedding with an infusion of Mediterranean style for her wedding to Patrick. CALASA GULCH OLIVE TREE FARM in Maui was the perfect venue to meet her needs. She tells us, "Having family in two states, we initially thought of having a big wedding and keeping it local in New York. We quickly realised that this didn't fit our personalities and our love story. When re-thinking of a meaningful location to have our wedding, Maui was the top choice. It was our first vacation together and truly one that we still talk about today. Once we decided Maui was the location and the research started, I accidentally stumbled upon some pictures of the Olive Farm. I was immediately "stuck" on having our wedding there. Born in Albania and growing up in Greece it spoke to the love I have for the country side. It was a perfect match."
HOW DID YOU MEET? Patrick and I met the old fashion way – through a friend that we didn't know we had in common! I live in New York and Patrick was born and raised in Pittsburgh. He had planned to come visit his friend in New York for Memorial Day weekend in 2014. We individually made plans with our mutual friend to meet up in the City. When I walked in to meet up with my friend, Patrick was already there. We immediately connected and our love story began. I had recently accepted a position in Sydney, Australia and was extremely disappointed I had to leave after just a couple of months of meeting him. Once I made the move, we were determined to make a relationship work from 10,000 miles away, so we made plans to meet up half way from Pittsburgh to Australia – first stop was Maui. A year and half of a very long distance relationship and meet up locations in Hawaii, Australia and Indonesia, I made the decision to come back home to New York. A few years later we were engaged and a year after that we were married!
TELL US ABOUT YOUR PROPOSAL: Memorial Day weekend has always been special to us since that's when we met. So that weekend in 2018, we planned to have a relaxing couple of days away. To celebrate, we set up a small picnic and brought a bottle of champagne on the beach. Right before I opened the bottle, Patrick stops me and says "before you open that…." and proposed! It was a perfect, simple and just us! Little did I know Patrick's parents were on their way to New York so that when we arrived back home both families were there to celebrate.
TELL US ABOUT FINDING YOUR WEDDING DRESS/ATTIRE: When looking for my wedding dress I knew 1) there had to be some lace incorporated, and 2)keep it classic (classic never goes out of style!). Rosa Clara dresses had popped up when I was searching for ideas. The designs were exactly my character so I went on a hunt to find my dress and focused on finding places that carried this designer. Luckily it didn't take long – making calls to most wedding stores in NYC to find the designer. Thankfully the team at Wedding Atelier carried a range of dresses and asked me to try one last dress for my appointment. When I tried on that last dress from Rosa Clara everything came together, the dress, the location and the whole mood of the wedding. It was a quick "YES".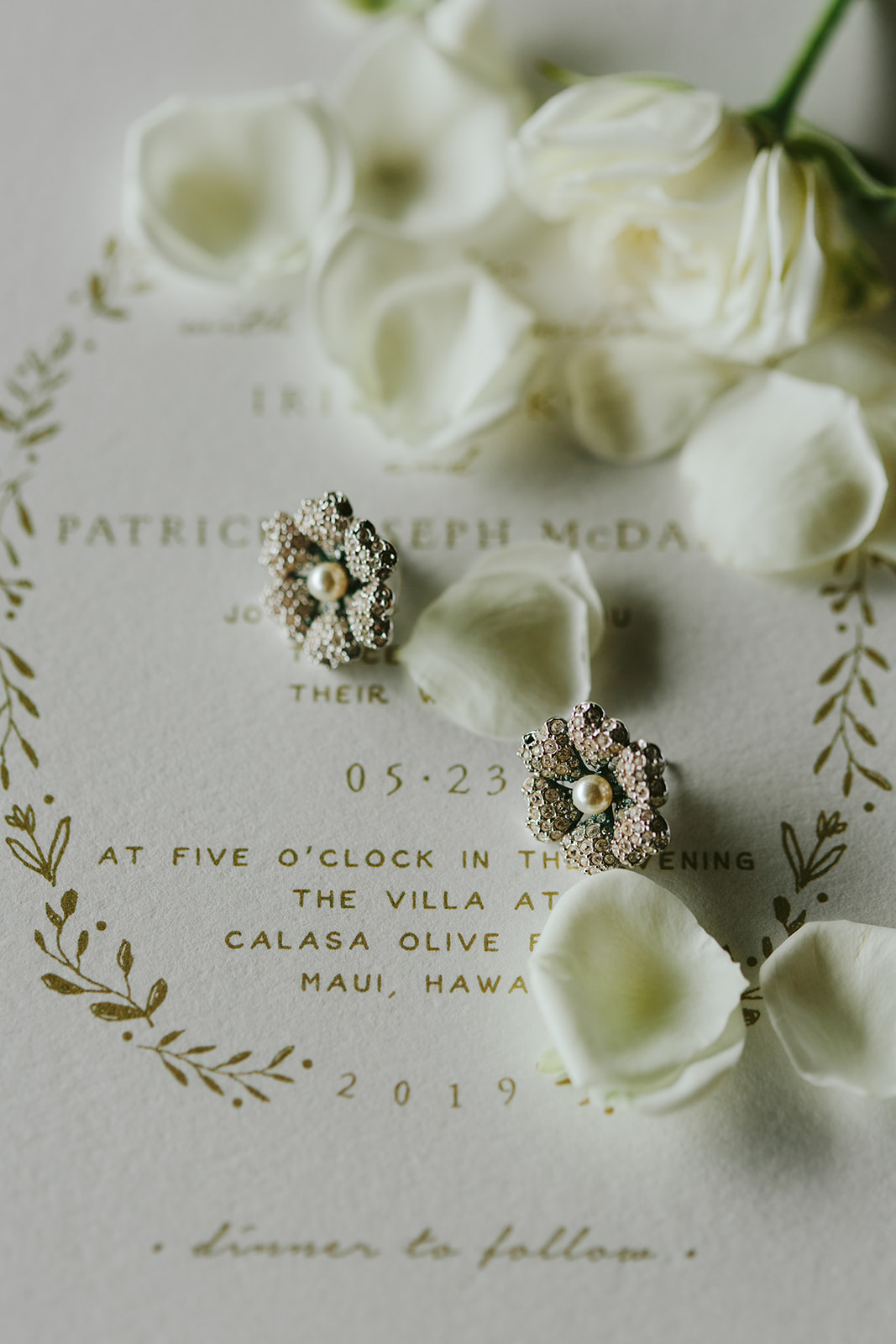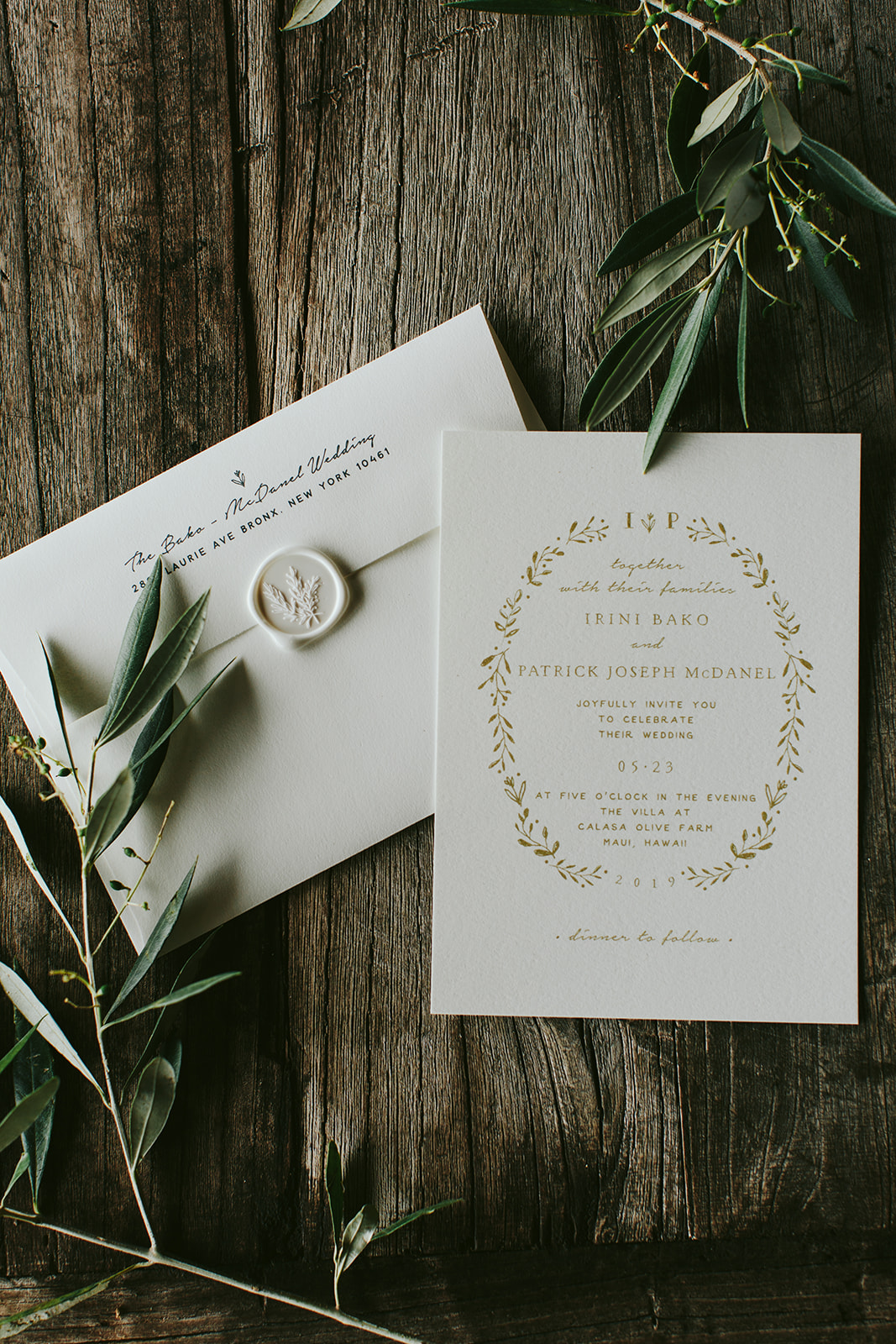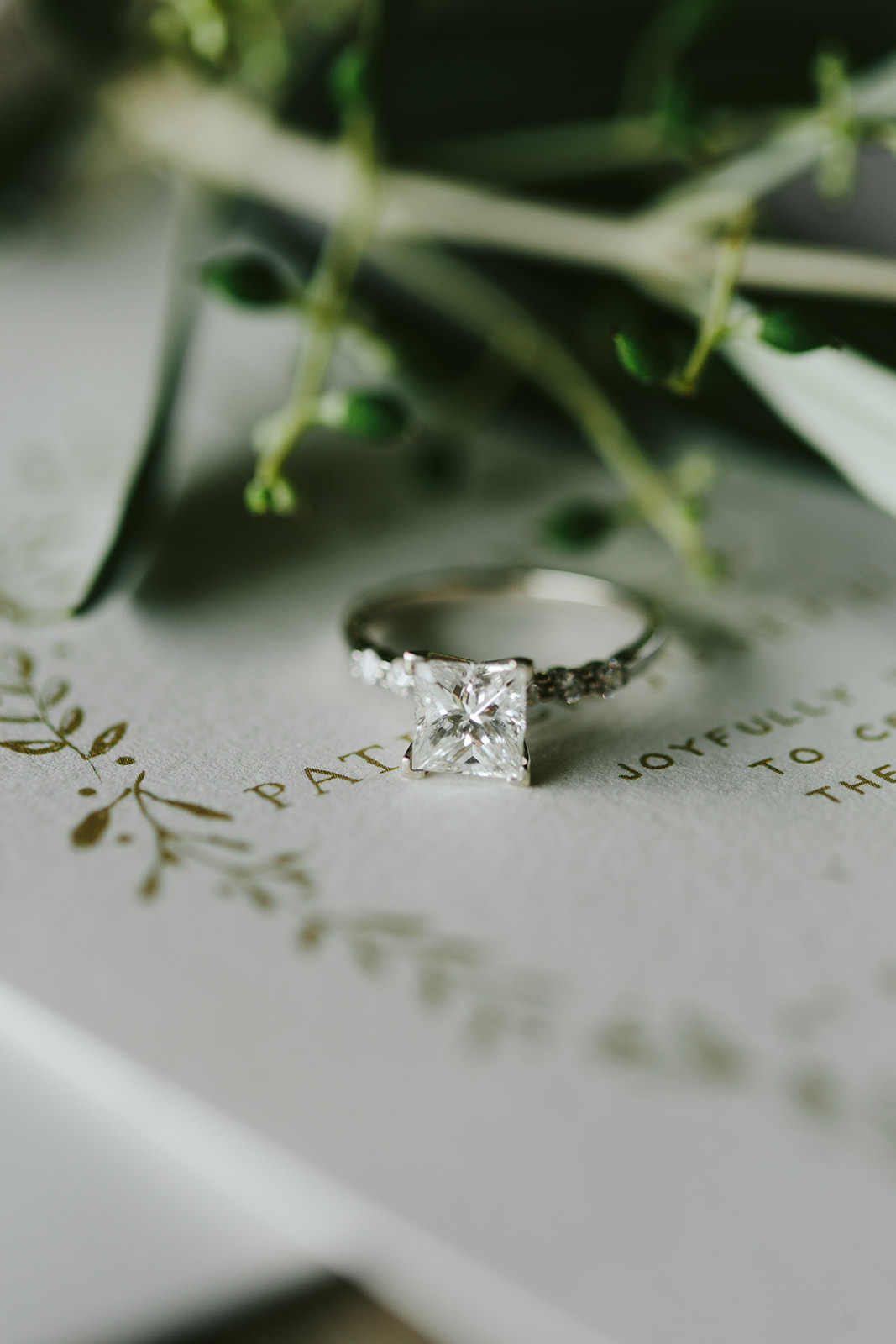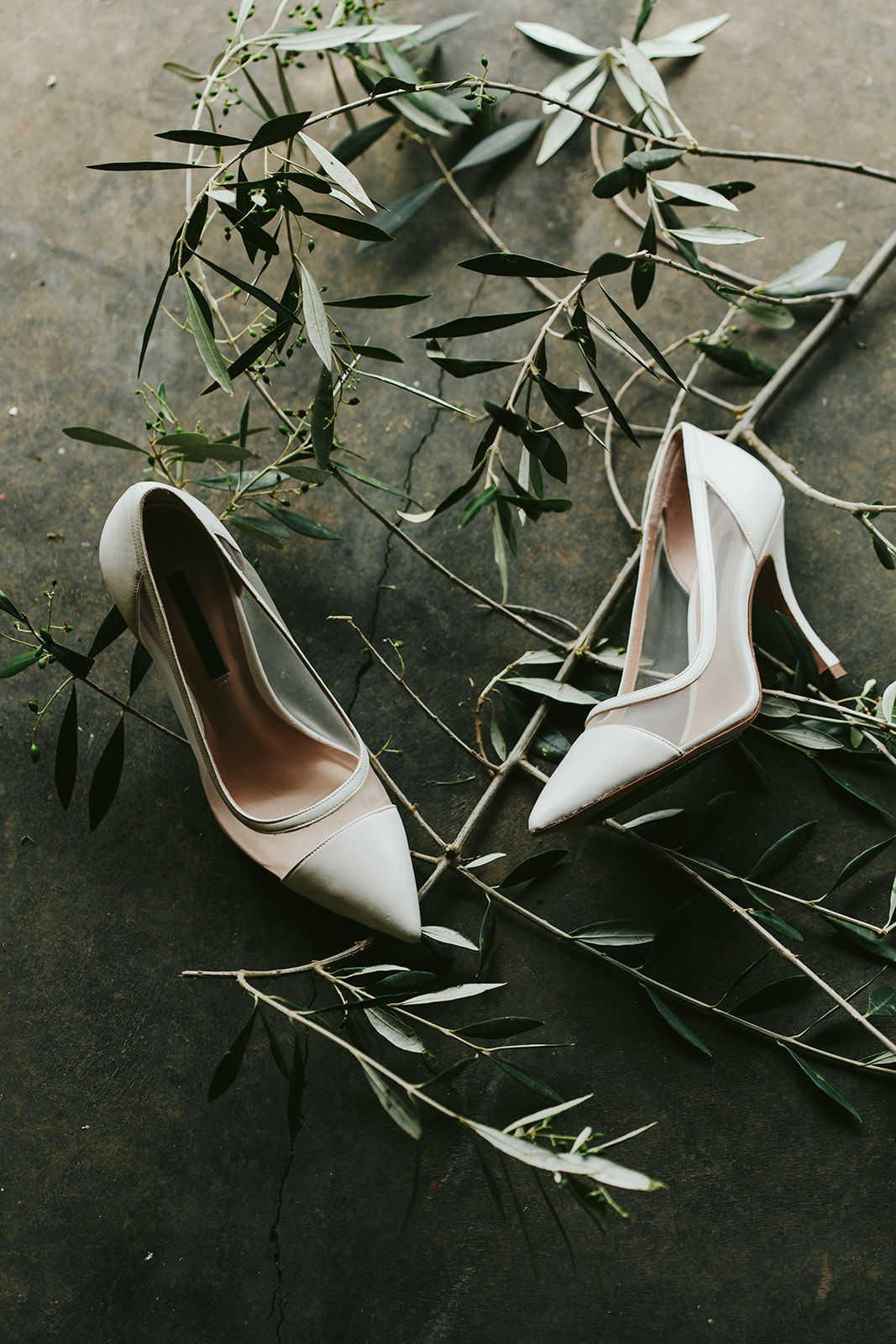 DESCRIBE YOUR WEDDING FLOWERS: I cannot say enough about the kind and truly talented team at Dellables! The team was able to bring to life a magical all baby's breath arch, incorporate that into my bouquet and create the most beautiful dinner table which consisted of a variety of bud vases with garden roses, ranunculus and baby's breath.

FAVOURITE DETAIL OF THE DAY: So very cliché to say that it's hard to chose a favourite detail of the day but its true. One of my favourites must be saying our vows under this incredible baby's breath arch with just our immediate family in attendance (birds chirping included!). The ceremony setup was truly out of a dream. The dinner setup was no exception with Dellables gorgeous bud vases running down the dinner table (may I mention that the garden roses smelled divine!). Perfect details for our dinner which was paired with the most beautiful view of the olive trees and sunset.
WHAT ADVICE WOULD YOU GIVE OUT TO A COUPLE PLANNING THEIR WEDDING? My best advice is to be authentic and follow your personal style. We are so lucky to have so many options and avenues in which we can draw inspiration from, but it's your wedding so try making it your own. Authenticity never goes out of style!
MOST MEMORABLE MOMENT? Most memorable moment has to be saying our vows; it really sinks in and it's just all so special to think everything is for this moment! Our first dance is also a favourite, it was so very special to be announced for the first time as a married couple and have a moment to celebrate with a dance. We had our family join us right after for a traditional Albanian dance!
WHAT ASPECT OF THE WEDDING WAS THE MOST IMPORTANT TO YOU BOTH? We are both very traditional people and even thought we opted for an outdoor non-traditional wedding, we wanted to incorporate elements of our faith into our ceremony. For me it was about incorporating the crowing from the Greek Orthodox faith and for Patrick it was about a reading from the Bible. Our second focus was that our guests, even though small number enjoyed the day and it was as special to them as it was to us. We wanted to make sure we had great music, food, and of course décor. The décor was everything!
ANY OTHER DETAILS THAT HELP TELL THE STORY OF YOUR DAY? We really tried to make the wedding our own and made sure our personalities and cultures were also represented. It was very important to us to have some traditional aspects during our ceremony like the Greek Orthodox crowing and the Bible reading. It was also important to include special personalisation during dinner which included Albanian and Greek dancing all night long!
TELL US A LITTLE ABOUT YOUR HONEYMOON: We both love to travel and had done quite a lot of it during our relationship. Having our wedding in Maui was a small honeymoon for us. We had planned to take a European trip the following year and had to postpone it due to the Pandemic.
IS THERE ANYTHING YOU WOULD CHANGE OR DO DIFFERENTLY? Biggest advice I would give myself today about planning our wedding is to really not stress and worry as much! Not stress about things that out of your control- somehow everything falls into place! The perfect example was worrying about the weather. We planned for dinner to be outside but worried it might rain. Well, right after we said our vows, it started to rain! Thankfully it was just for a short period and enough to bring out a rainbow that was part of our wedding photos. It all works out in the end.
A huge thank you to Maui wedding photographer MELIA LUCIDA for sharing this delightful wedding with us. Melia grew up in Vancouver, Canada, where she earned her bachelor of fine arts and MA. She has been photographing weddings all over the world for twenty years and now resides on the north shore of Maui with her two boys and a yard full of fruit trees. She feels lucky to have a career capturing people in the stunning Hawaiian scenery which drew her to the islands years ago and continues to inspire her. Check out more of her work in her portfolio here.