This is the perfect example of a modern and intimate wedding that's kept simple and we couldn't love it more. It's also reconfirmed our love of an all white bridal party! Beautiful photography, a stunning gown and a gorgeous in love couple... what more do you need? Kim & Chris made all the decisions around their wedding with the intention of keeping it timeless and classic. "From the colours, to the bridesmaid dresses, to the set-up of our ceremony, everything tied together so beautifully! We loved every detail!" ALEXANDRA ELISE PHOTOGRAPHY captured their day perfectly!
"Picking our ceremony venue was tough. No specific location that we visited was quite "us" until we saw pictures of St. Joseph's Park. A church that burned down over forty years ago, the park had the character and history that meant so much to us. And since Chris and I picked our wedding date around the fall foliage, it was fitting that our ceremony was held under trees with leaves falling as we read our vows to each other. Having an outdoor ceremony at the end of October in upstate New York was a risk, but we lucked out with a warm 76 degrees day! Amazing!"
They followed up their outdoor ceremony with a reception in 2VINE which provided an intimate atmosphere with amazing food. "We loved the white marble and that the bar was positioned in the middle of the restaurant. Jerry, the owner, ensured that we had everything we wanted for our special day and was so great to work with!"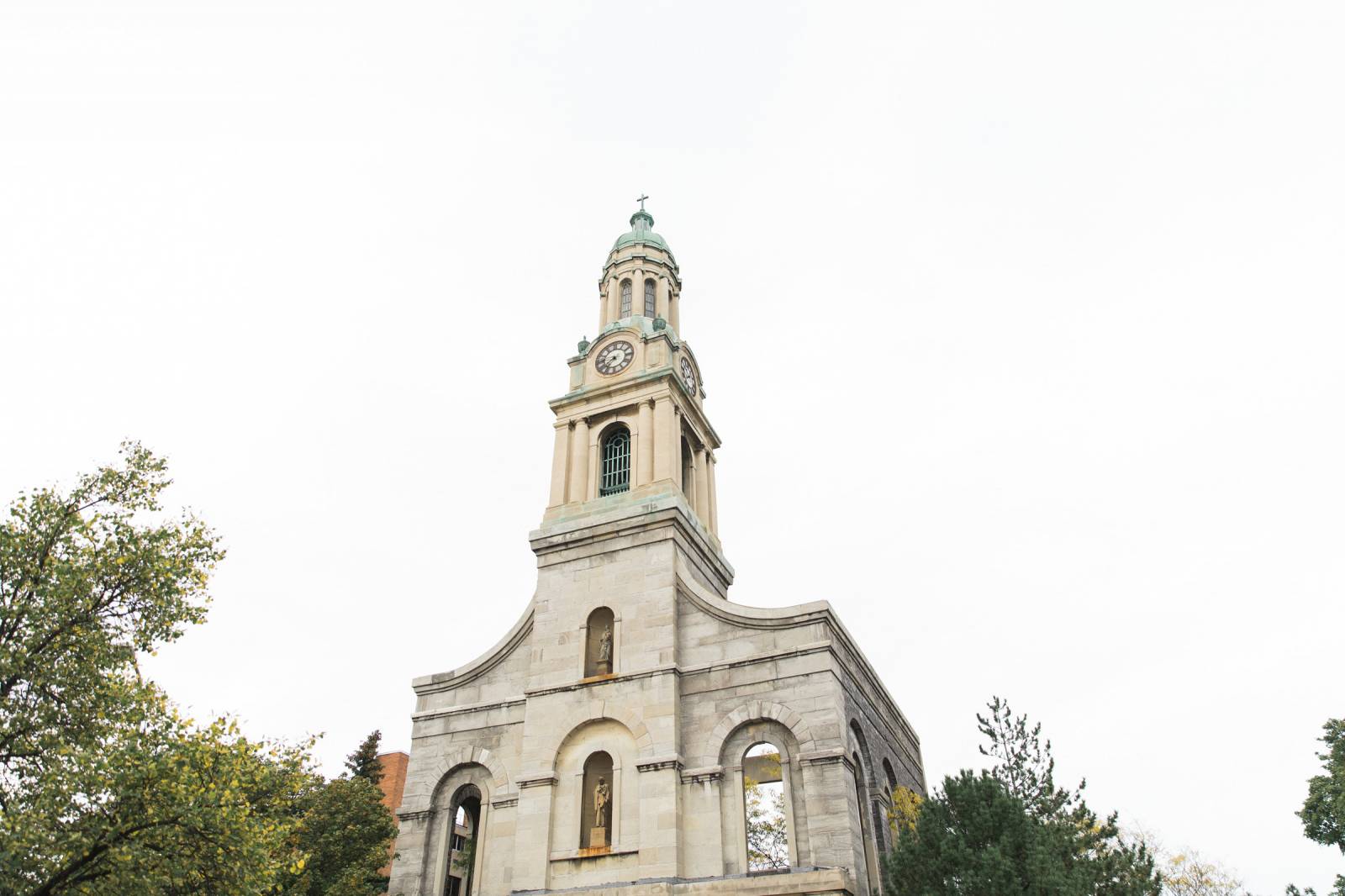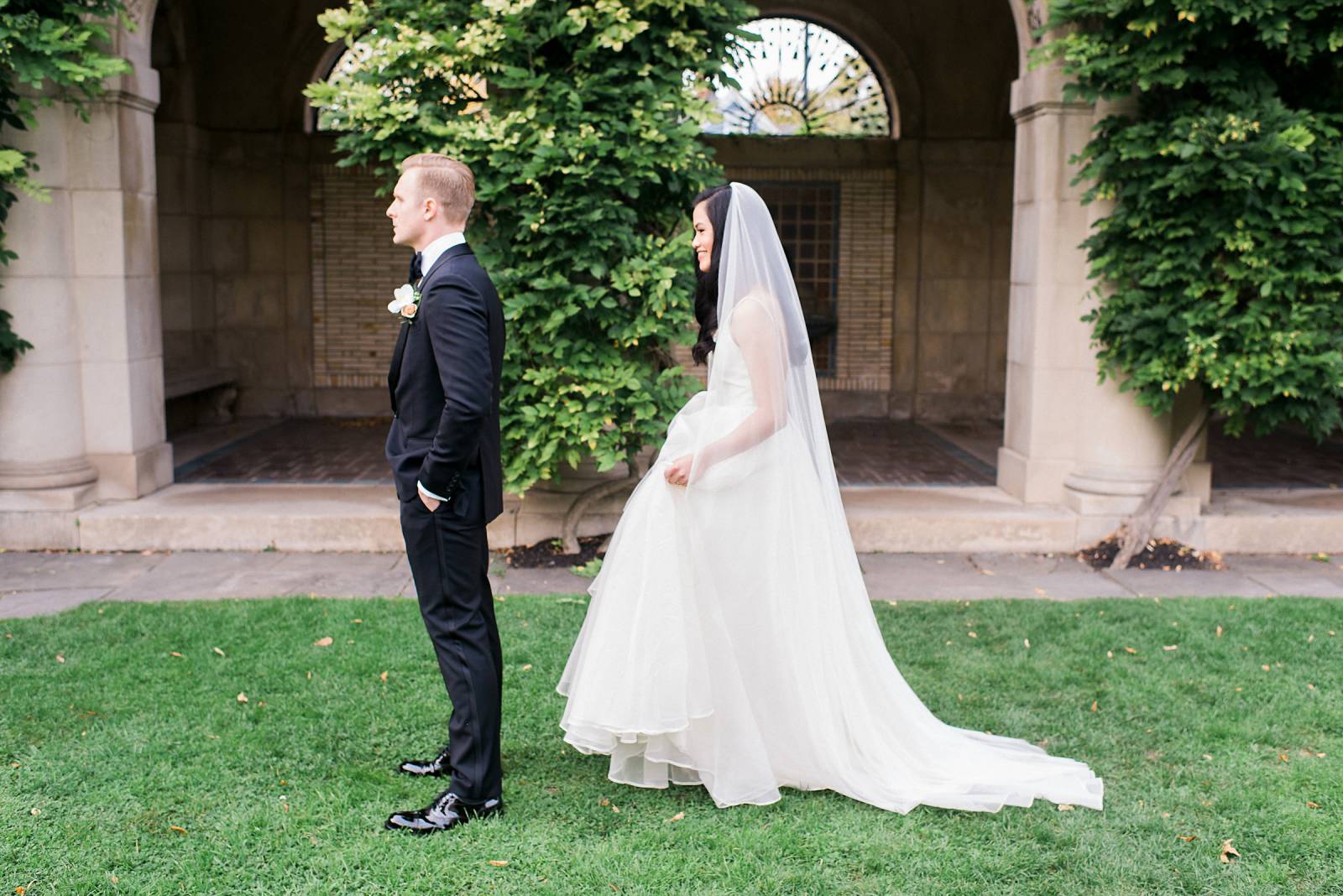 HOW DID YOU MEET? Chris and I met at work while I was doing a summer internship. We were very shy around each other and would have awkward conversations in the hallways and in the cafeteria. So funny looking back at it now! Our first date was drinks at Hand & Foot, now our favorite restaurant and where we have dinner every Tuesday. We celebrate our anniversary at the same table as our first date every year!
TELL US ABOUT YOUR PROPOSAL: Seoul is Chris's favourite city in the world. He wanted us to visit it together and have me try many of his favourite local dishes, so we flew half way across the world! During our trip, Chris asked that we wake up early (I'm not much of an early riser) and hike up Mt. Namsan to watch the sun rise over the city. As the colours changed across the sky, Chris got down on one knee and proposed! Now Seoul has a special place in both of our hearts!
FAVOURITE DETAIL OF THE DAY: 'Tying the Wrists' is a Cambodian wedding tradition, where friends and family come up and tie blessing strings to the couples' wrists to bring luck, protection, prosperity, and happiness to their marriage. The strings are worn until they fall off or are cut off by the parents of the couple, to preserve good luck.
WHAT ADVICE WOULD YOU GIVE OUT TO A COUPLE PLANNING THEIR WEDDING? Accept help when offered! Do not keep all of the responsibilities and decisions to yourself! With us working full-time and traveling for work just weeks before the wedding, Chris and I felt overwhelmed with many last minute details. Be thankful for those around you and include them in your day. Also, have fun with the planning and make sure that your personality as a couple shines! We structured our ceremony around our family and friends who have played an important role in our relationship. We had friends officiate, sing, and even photograph our wedding! Thoughtful readings were read by Chris's mom and other close friends. There was so much love to be shared and received on our special day!
MOST MEMORABLE MOMENT? His: Turning around with Kim after exiting the ceremony to look back at all the people that shared in our special moment. It was an amazing feeling to see everyone we loved together to celebrate us. It was also humbling to know that it was likely the only time they will ever all be in once place.
Hers: The Cambodian tradition of tying of the wrists! It was a last minute add to the ceremony, an idea we played around with but never confirmed until a few days before the wedding. I wanted to honor my family and incorporate some Cambodian tradition in our ceremony, and I am so happy that we did! For the month following our wedding, Chris and I continued to wear our matching red strings on our wrists. Every time we looked down on our wrists, we were reminded of our special day and of the people who tied their love and well wishes to our marriage!