Beautiful bride Jenny had always had a little obsession with Provence, so when it came to planning her wedding to Kyle, this was used this as an underlying theme and they just ran with it. Choosing a French dusty blue as their colour, it was subtly incorporated throughout the decor in little details such as the thrown lavender buds for the recessional and their custom cocktail - a lavender bourbon sour. With a sister as a wedding planner - Kay of SOCIAL + CO. EVENTS she was able to lean on her expertise throughout the entire planning experience. "It was so helpful to have someone else to bounce ideas off of and ensure all of the little details came together in the end." Calgary wedding photographer MILTON PHOTOGRAPHY was on hand to capture these beautiful photos of the day.
HOW DID YOU MEET? We met through church and were friends for a couple of years before Kyle finally asked me out for the first time. When we started dating, it just clicked and felt so natural.
TELL US ABOUT YOUR PROPOSAL: The day of the proposal, Kyle and I (well, mostly Kyle) had made plans to go cross country skiing with my parents early in the morning. I was sitting at my kitchen table waiting for him to pick me up, dressed head to toe in ski gear, when the doorbell rang. It was my mom and sister, grinning ear to ear and holding coffees and a card from Kyle. In it he explained how he wanted me to spend the day with my favourite people, and that he would see me later. I was absolutely shocked, and then started balling my eyes out. The two of them proceeded to lead me through a day Kyle had completely planned out in advance, getting our nails done and having lunch downtown. Then, when it was time, they blindfolded me and took me to where Kyle was waiting in the park we had taken many walks in, a place that was pretty special for us. He led me down to the water and got down on one knee, and I don't remember much after that, it was all just a giddy blur, but afterwards we drove to the mountains to one of our favourite places, the Fairmont Banff Springs Hotel, where we went to the spa and then a fondue dinner. I will never forget that day!
TELL US ABOUT FINDING YOUR WEDDING DRESS: I actually had a really difficult time finding my dress. I had a specific vision for what I wanted - simple, lace, long sleeved - but I just couldn't find exactly the right fit anywhere I tried. I had had a long-standing appointment at Pearl & Dot in Calgary, and when it finally came, they really helped me envision some different ways I could achieve my look. I ended up going with the stunning Lea gown from Anais Annette, which was made in this incredible french lace with a peony pattern (my favourite flower). It was meant to be. The dress was actually strapless, with a sweetheart neckline, so we ordered more of the lace from the designer and an incredible local seamstress, Maisoon of Couture of Maisoon, made a matching long sleeved topper. It could not have been more perfect. I wore the topper all day and then took it off for our first dance, so it was like two dresses in one! I loved it.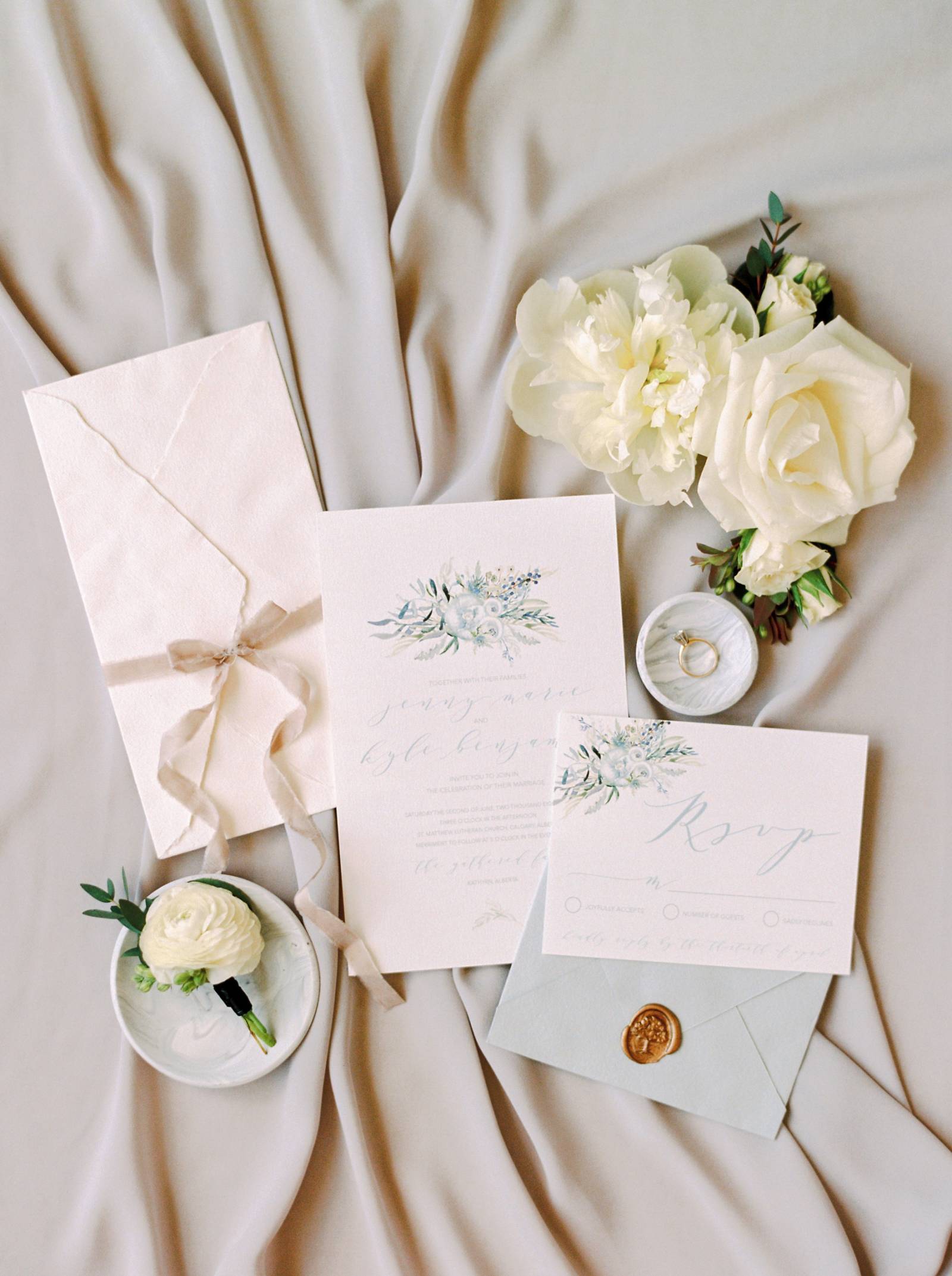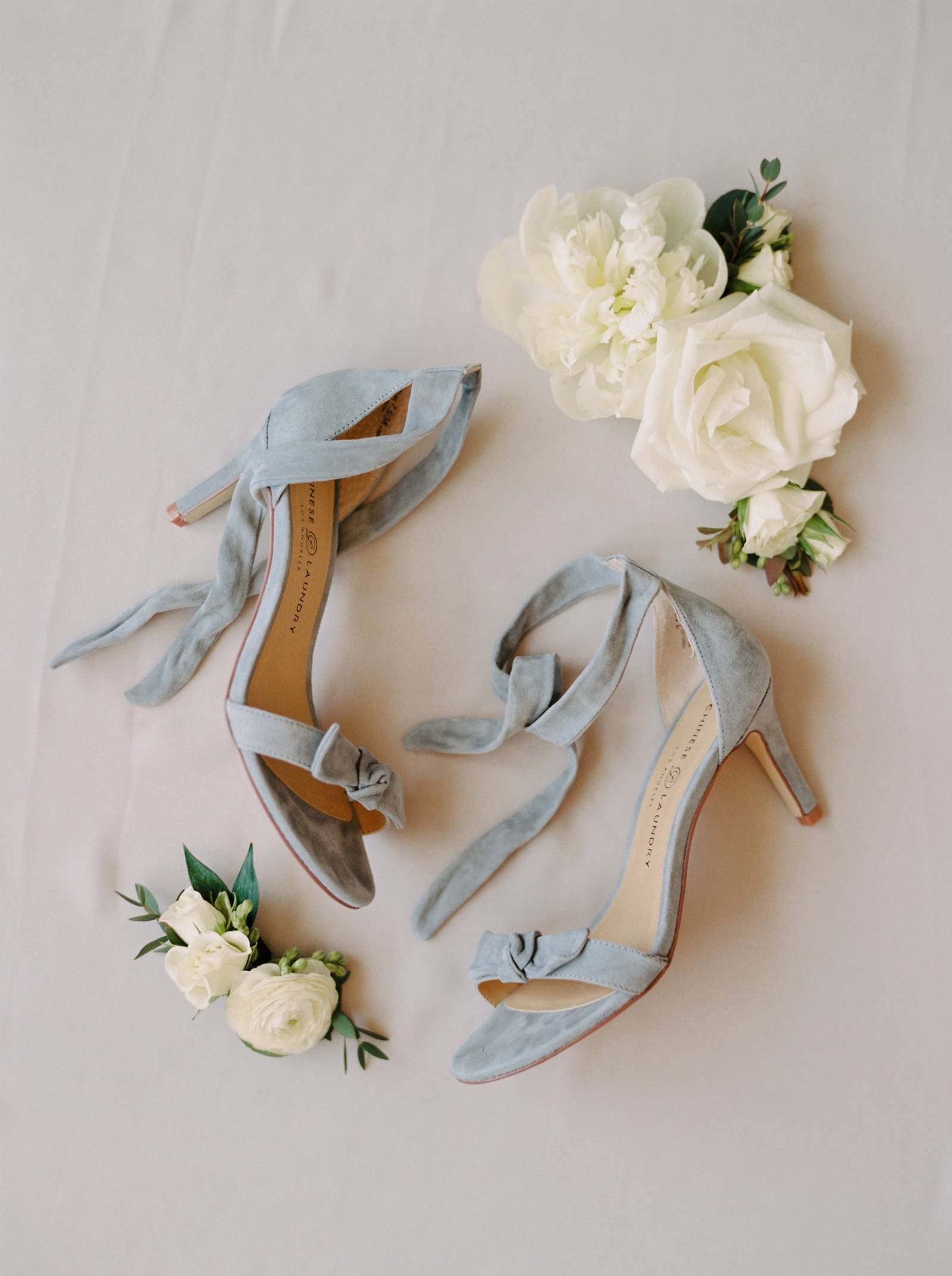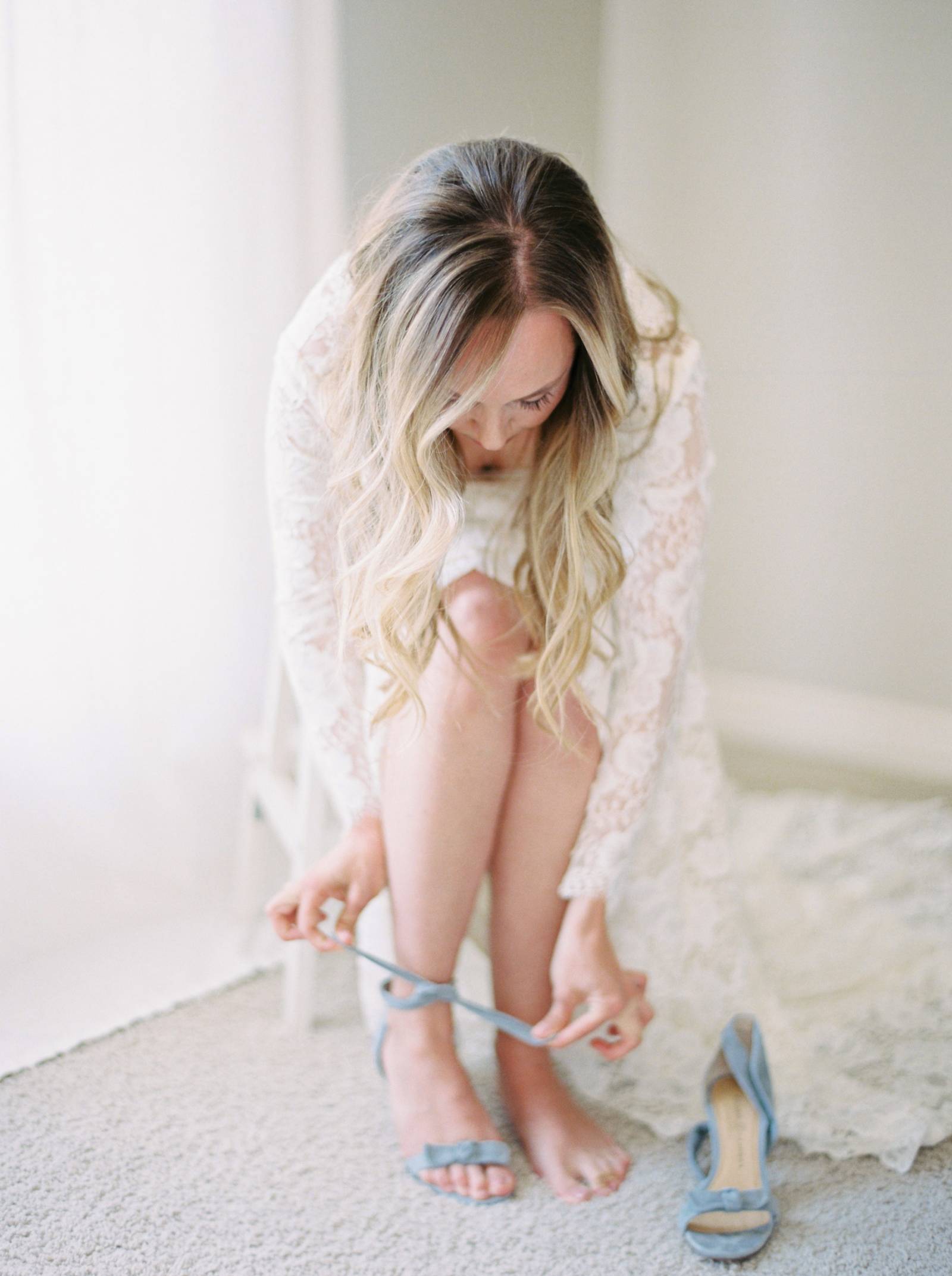 WHY DID YOU CHOOSE THIS LOCATION? Kyle grew up on a farm in Saskatchewan and I grew up in the city. During our initial location scouting, we just didn't see anything that felt like both of us. We wanted something outdoors, and knew we wanted to be able to move right from the ceremony to the reception without having to change venues in order to keep the party going. The day we came across THE GATHERED FARM website, we couldn't believe our eyes. It was exactly what we were looking for, down to the family feel and farm-to-table food philosophy. It was a perfect mix of rural and elegant, with their stunning clear tent with beautiful chandeliers. We put through an inquiry and they only had ONE date left for 2018, in June. We were originally planning to marry much later, in August or September, but replied back, "We'll take it!" Alysa and Elaine were such a joy to work with, ensuring our day was exactly what we imagined, and the food was out of this world. People still rave to us about our gourmet burger bar!
DID YOU HAVE ANY DIY ELEMENTS? Our decor was very minimal, but I (Jenny) work in design so designed all of our stationery, including our invitation suite, programs, seating chart, table numbers and menus. That was something I had so much fun with. We also hand-made the little vellum cones filled with lavender for our guests to throw at us as we walked back down the aisle, and I hand-painted the covers of our little vow books, which we now display in our home.
DESCRIBE YOUR WEDDING FLOWERS: The wedding flowers were easily one of the easiest parts of planning. I went with the beyond amazing Lynn of Flower Artistry and basically told her I wanted white florals with a wild, overgrown garden look and to have peonies in my bouquet. I let her run with it from there! And she absolutely outdid herself. The flowers were whimsical, lush, and light, and looked exactly like they could have come from the French countryside. I couldn't have dreamt up anything better.

FAVOURITE DETAIL OF THE DAY: Our first look. We originally planned to go straight to the Farm after getting ready and do the first look there as well, but had a phone call with our Photographer, Justine, the day before and she told us she had a place in mind in the city that she thought would be perfect for us, and trusting her with that was one of the best decisions we made. Those photos are easily our favourites from the day - the lush greenery and river were the perfect backdrop. After a frazzled night in which I got basically no sleep from nerves and excitement, it was so special to slow down time and have a few moments with Kyle before the rest of our day. Our bridal party then had a huge party in the limo on the way to the venue!
WHAT ADVICE WOULD YOU GIVE OUT TO A COUPLE PLANNING THEIR WEDDING? Be you! If each choice and decision you make along the way reflect you and your unique couple-ness (I think I just made up this word, haha), you won't regret it. It's fun to show your people who you are and let them in on some of the things that define you and your partner's relationship.
MOST MEMORABLE MOMENT? Immediately after the ceremony. My sister encouraged us to have five minutes to ourselves, so we walked directly back down the aisle into our little bridal suite. I remember feeling just so ecstatic, and we kept saying over and over, "We're married!" We took a horrible quality selfie on my cell phone and when I look back at it now, our faces fully convey the absolute JOY and wonderment we were feeling. We shared a few sweet kisses and then headed back out to our impatiently awaiting guests to celebrate with them!
ANY OTHER DETAILS THAT HELP TELL THE STORY OF YOUR DAY? We really wanted to stay true to us throughout the entire day and only do traditional wedding components that made sense to us as a couple. The result was a day that felt so, truly personal. Our faith is so important to both of us, so we incorporated two worship songs sung by close friends, a prayer by both sets of parents, and communion between the two of us into our ceremony, all of which were so, so special. My (Jenny) brother-in-law also brews craft beer, so he made two custom beers just for our wedding day, which we named Farmer's Wife and I(do)PA. My mom, aunts and cousins made homemade pies for our dessert, and our wedding cake was a Norwegian 'kransekake' made by Kyle's aunt to incorporate his Scandinavian heritage. The cake is made out of almond cookie-like rings, and the tradition is for the bride and groom to place both of their hands on top and pull up. How ever many rings they pull off the cake is how many children they will have. We got five! Our dance was kicked off by a band formed by some of our close friends, which was a complete surprise I planned for Kyle! He really wanted a band, but we ended up "agreeing" it wasn't in the budget. They practiced for weeks and all of our guests LOVED them. They had the dance floor full the entire time. All of these little labours of love were so meaningful to us and made us feel so loved.
TELL US A LITTLE ABOUT YOUR HONEYMOON: We spent a week in Playa Mujeres, Mexico, at the Excellence Playa Mujeres resort and it was incredible. The resort surpassed our expectations in every way. We spent each day swimming in the ocean, reading, trying new cocktails, eating absolutely divine food and visiting the little French cafe each afternoon for gelato and coffee. Decompressing and making zero decisions for seven days was exactly what we needed.
IS THERE ANYTHING YOU WOULD CHANGE OR DO DIFFERENTLY? Stress less. Though that's easier said than done! A few details came together last minute (I know this is most often the case), so the week before the wedding was a little bit busier than I would have liked, but really, just know that it will all work out in the end and you will be married to the one you love, which is the point of it all! Day of, you do not notice if something isn't exactly how you planned, you're too busy being happy. Our programs somehow never got passed out and I didn't know until days later, haha!
A huge thank you to Calgary wedding photographer MILTON PHOTOGRAPHY for sharing this beautiful wedding with us. Justine is a valued member of the Magnolia Rouge Vendor Guide. Her style is a mix of fine art and photojournalism. "I capture naturally beautiful moments as they happen. I don't force things, and the results are photographs as unique and beautiful as you are. It is an incredibly humbling job, to be trusted to document couples life long memories, and that is what we focus on most; timeless imagery that will evoke all of the emotions you and your family felt on the day." Be sure to check out this Magical & Ethereal Sunrise Wedding Inspiration on the Greek Islands.