Ok I really need someone to get married in Provence and invite me! This four day celebration of Julia & Tom's captured by Auckland wedding videographer BUBBLEROCK looks like the most fun time! "A wine party at one of the most beautiful vineyards, the rehearsal dinner on the beach overlooking the sunset, the wedding on an Island and a brunch near the pool! The guests were spellbound by the beauty of the environment and the couple's goal was to make sure the schedule was always fun & memorable for each and everyone of them.
Planned by LOLI EVENTS, they let the natural surroundings of the gorgeous venue dictate their aesthetic. "We wanted to mix Mediterranean colours from the island with a traditional Provence vibe. We wanted to combine our love for the lavender fields of Provence with our seaside surroundings. In order to do this we mixed hints of lavender with lots of lush greenery and white florals. You can see this combination best in our invitation suite (which my sister hand drew) where lavender combines with the hotel's spectacular architecture and view of the Mediterranean" gorgeous bride Julia tells us.
"Our ceremony was set at the top of the island in the Garden of Neptune, which was fitting for it's views. Our mothers officiated our ceremony which created a very comfortable and loving space to establish our union. The ceremony included parts both in French and English to pay tribute to our different heritages and be inclusive to our multilingual family and friends. We decided to write our vows together ahead of the wedding as we wanted our promises to be a united demonstration of our love. Reflecting back we both felt a sense of calmness and togetherness. We felt united as one but also connected to the love and warmth of our friends and family. Tom is definitely a little more emotional than I am and I could see his tears as he watched my dad walk me down the aisle. It was hard to keep it together but I didn't let the emotion take over until right after we walked back down the aisle and shared our first moments as husband and wife."
After the ceremony they had a cocktail hour on the hotel patio overlooking the ocean. They then held dinner on the other side of the hotel overlooking the island's small marina and had a beautiful view of the sunset. "The food was incredible and we had an amazing wine selection from the region. Some of which came from the winery where we held our welcome event the night before. Both of our fathers gave speeches as well as Toms best man Andrew and my sister and maid of honour. We also topped off the evening with a quick speech thanking all of our guests for traveling from far and wide to be with us on our special day."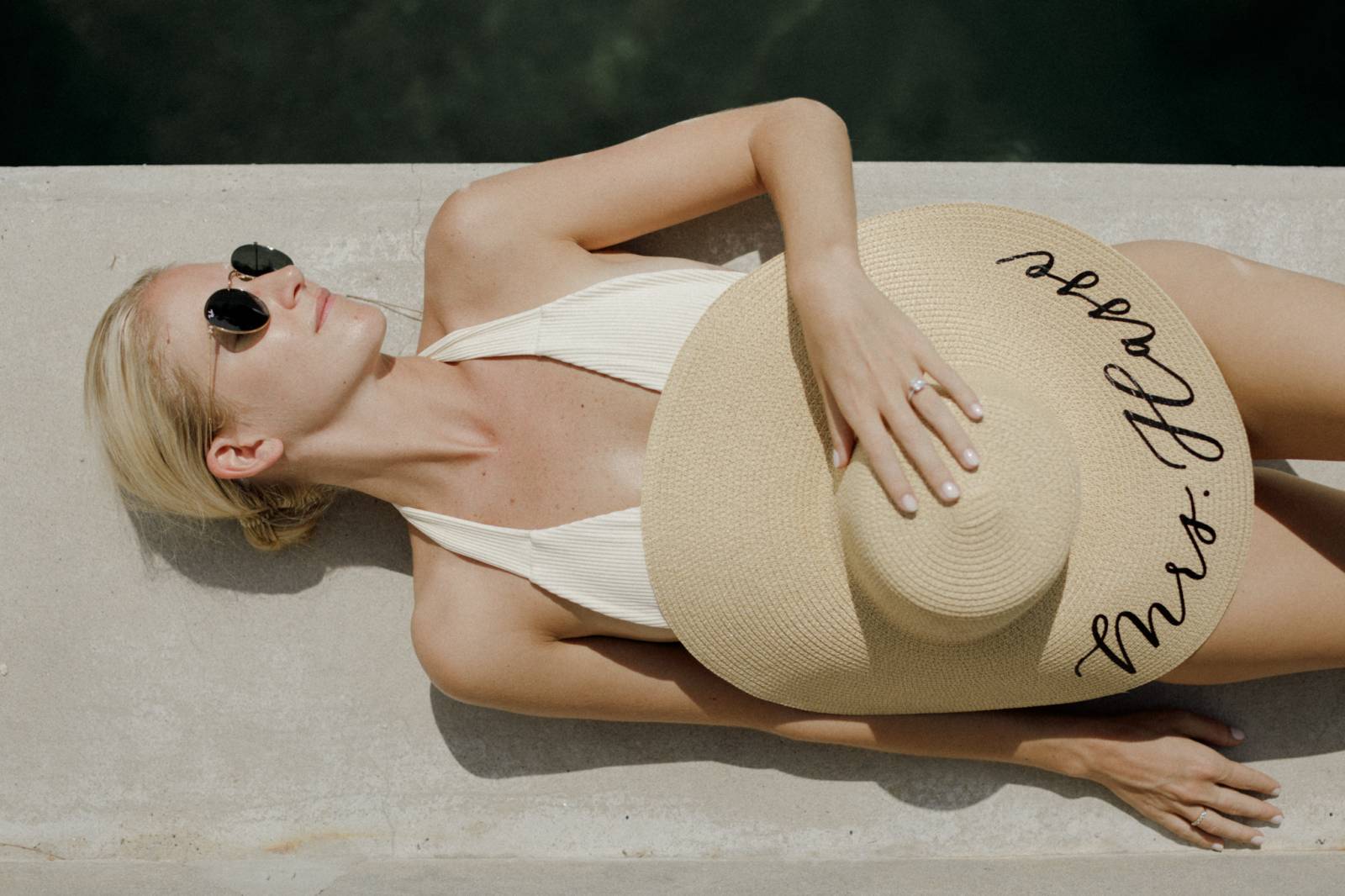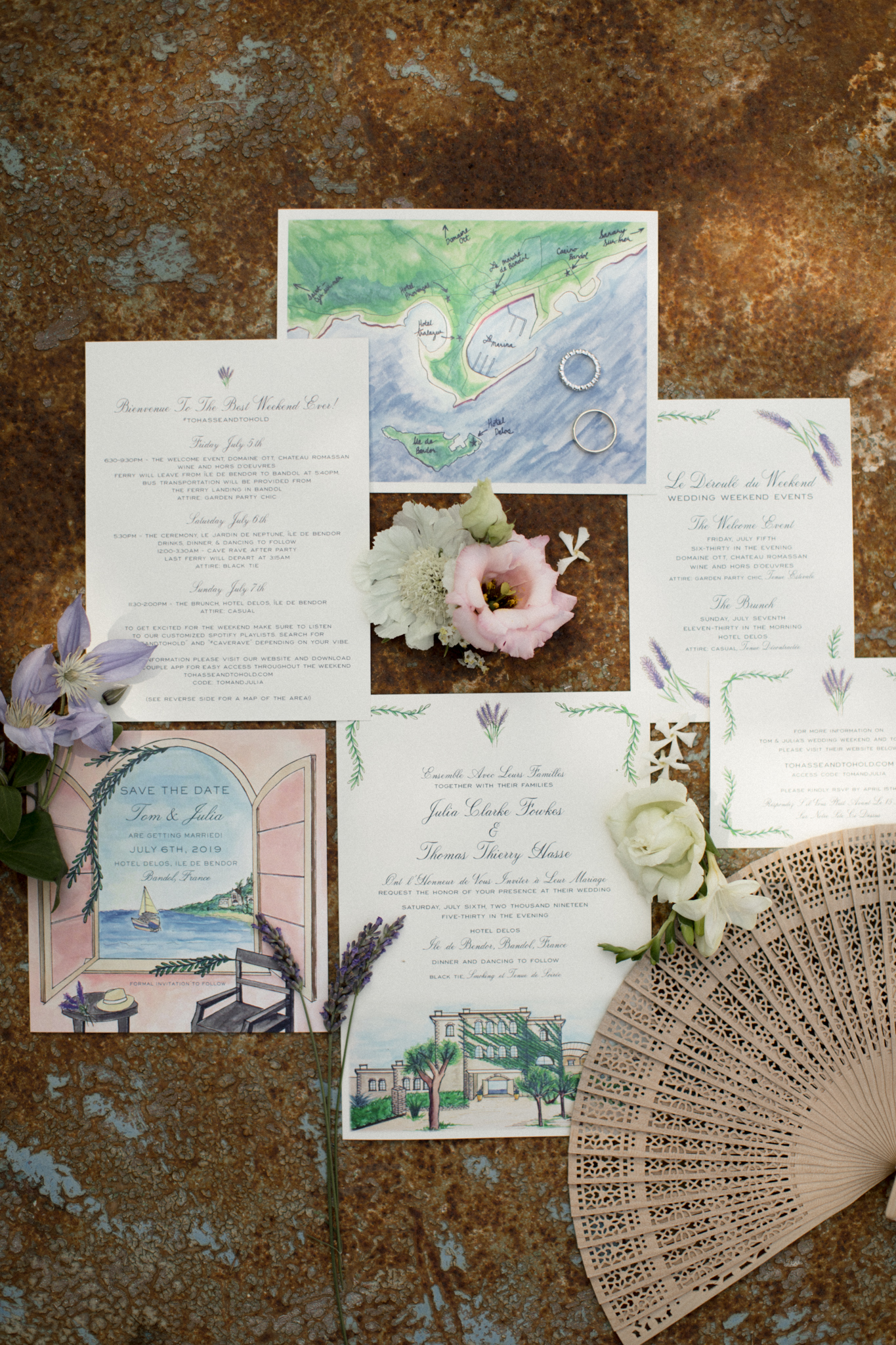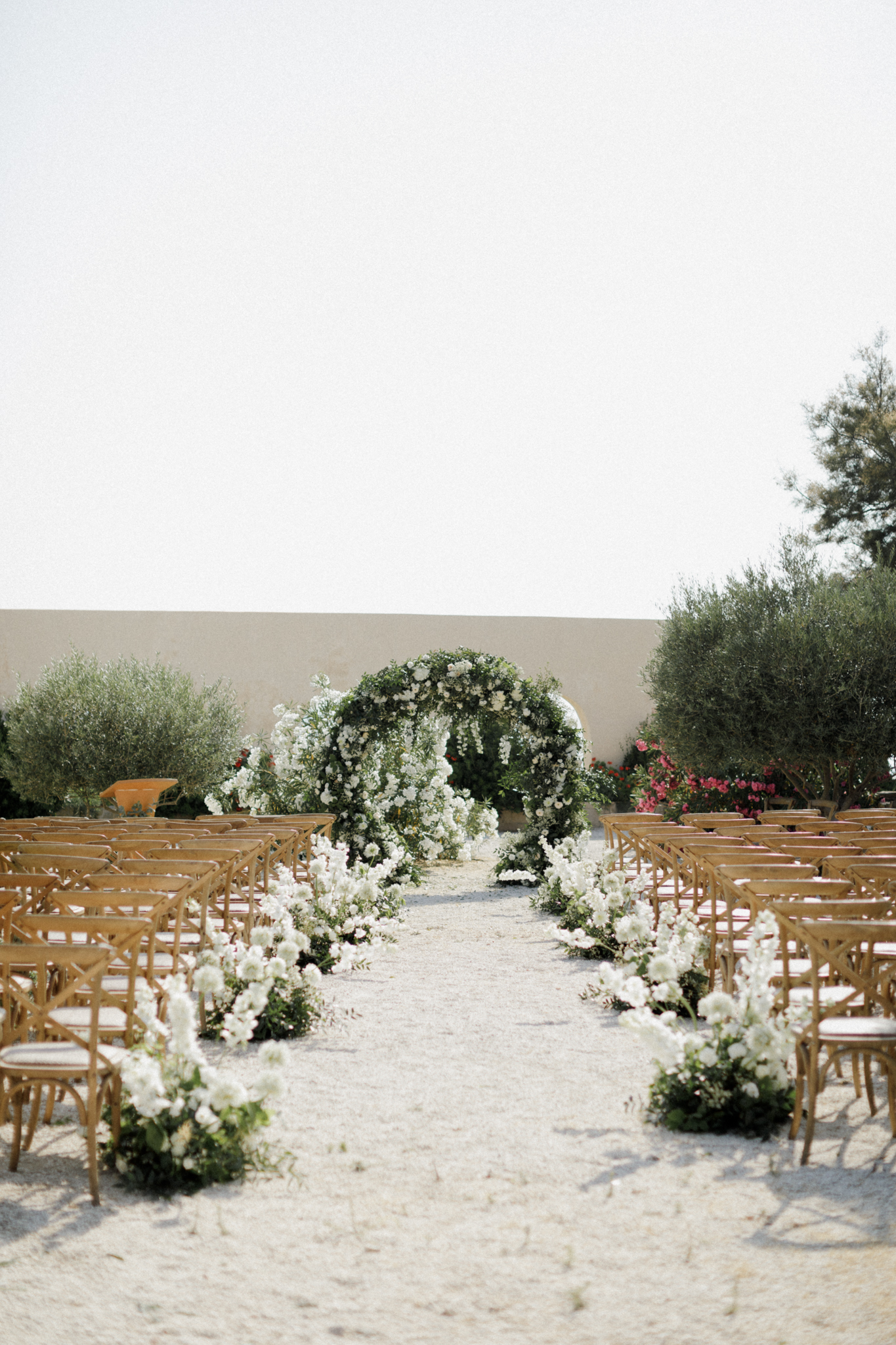 HOW DID YOU MEET? Tom and I met through a mutual friend after college when we both moved back to New York City, where we grew up. We actually went to rival high schools and may have even seen each other across the field in between our soccer games. It took about a year after meeting for Tom to finally ask me out on a proper date. Three and half years later, he proposed in that same spot. He told me I was going to a dinner to meet his co workers but when I showed up he had the private room set up for us with roses, champagne, a photographer and got down on one knee. He had also set up a big surprise at a bar down the street to celebrate with friends and family afterwards.
Once we were engaged we both immediately agreed on where we wanted to have the wedding. Tom's family is French and he grew up going to France every summer. His parents have an apartment in the South in a town called Bandol, where we visited early on in our relationship. Right off the coast there's a little island owned by a famous French family with links to wine and alcohol production. There are no cars allowed and the main attraction is a boutique hotel that overlooks the water with amazing views of one of the most famous wine producing regions in all of France. Tom and I visited one night on our vacation and were awe struck at the views, the foliage, the beauty, and serenity of this secluded island. We said to each other over dinner, if we ever wound up getting married, this would be the place.
TELL US ABOUT CHOOSING YOUR WEDDING DRESS: I chose my Dalaarna gown because I wanted to emulate the naturally romantic surroundings and also make a strong fashion statement. All I knew going into it was that I wanted an A-line silhouette. Once I tried on my dress I immediately felt very connected to it since the tulle appliqué on the skirt reminded me of ocean waves. When I saw that combined with the floral lace appliqué on the bodice I knew this dress was a perfect match. I paired it with pearl shoes to tie in the ocean theme and dainty jewellery to let the dress shine. My diamond earrings were an important aspect of the outfit as they were made from stones taken from my moms engagement ring from my dad. Tom gifted me a diamond tennis bracelet on the day to match.
Tom wore a white tux jacket with black tux pants and black smoking slippers. He made sure he and his groomsmen were in theme by creating custom pocket squares with the lavender motif drawn on our invitations. They each were also gifted a pocket watch engraved with their initials.
WHAT WAS YOUR FAVOURITE MEMORY OF THE DAY: When all our guests lined up with sparklers for our walk to the dance floor. It was so beautiful and we felt so loved in that moment. We then hit the dance floor for our first dance to Maggie Roger's song "Light On," which we chose because we both loved the song so much and are huge Maggie Rogers fans. One of our best friends gifted us Maggie Rogers concert tickets for their wedding present. We'll always feel so connected to that song and went crazy when we saw her sing it live.
We ended up dancing the rest of the night away on stage with our amazing band, friends, and family. We also had a great moment when our cake, which was a traditional French pièce montée, came out with sparklers onto the dance floor.
After the reception was over we told all our guests to change into festive after party clothes and come back to the dance floor where our DJ played an amazing set. We had so many fun after party favours like light up flower crowns, rings, glow sticks, and face paint to keep the party going all night. We called this part of the night the cave rave since this section of the hotel had so many rocks it felt like we were in a cave. All of our guests got very into theme and had a blast. Even some of our older guests didn't want to leave the dance floor. We didn't go to sleep until 6 am when the sun was starting to rise.
TELL US A LITTLE ABOUT YOUR HONEYMOON PLANS: A couple days after the wedding we left France and went on our honeymoon to Indonesia. We went to a few places in Bali as well as Lombok and the Gili islands.
Thank you to Auckland wedding videographer BUBBLEROCK for sharing this stunning Provence wedding with us. With a passion for life, for people and for capturing beautiful moments, BUBBLEROCK operate both out of New Zealand and France, and bonus - can not only photograph your day but film it as well. You'll also want to check out this Destination wedding in a 13th century castle in Florence.