From motors to marriage: following in their families' footsteps within the automotive industry, Kayla and Trey initially met through their jobs at Chrysler. Kayla's job as a Chrysler Area Sales Manager in Asheville, North Carolina, introduced her to Trey while he was working at his dad's Chrysler dealership an hour away in Hickory, and the rest is history.
Captured by North Carolina wedding photographer MADELINE TRENT, the couple exchanged vows last September in front of their closest friends and family in the picturesque Highlands, North Carolina. In the midst of many other weddings postponing, they chose to instead scale their party down to the approved gathering limit, as that date was such an incredibly special date and weekend for them personally. Not only was it the same weekend as Kayla's parent's 30th wedding anniversary, but it was also the exact date of Trey's grandparent's 62nd wedding anniversary. It was evident from the very beginning that family was such a foundational aspect of both of their lives, and it was their hope and dream to be married on this particular weekend because of the immense value it held for both their families.

During the planning of this celebration, COVID brought on more than a few roadblocks. What originally was anticipated to be a 150 person celebration, became a small, 25 person gathering due to state-wide gathering restrictions. Working with both their planner BECKON EVENTS and the venue, they decided to move their reception to be in the "typical" ceremony space at THE FARM AT OLD EDWARDS INN - the Orchard House - to create a more intimate atmosphere for their gathering. This new plan allowed them to hold their ceremony outside in the private, picturesque orchard. Church pews were tucked amidst the trees and a lone cross anchored the altar area, transforming the orchard to feel even more intimate and sacred for their faith-filled ceremony. Much to everyone's excitement, just four days before the wedding, the state-wide gathering restrictions were increased to allow more guests to attend; even with the short turnaround time, everything was able to be adjusted to allow more of their cherished family and friends to attend their reception.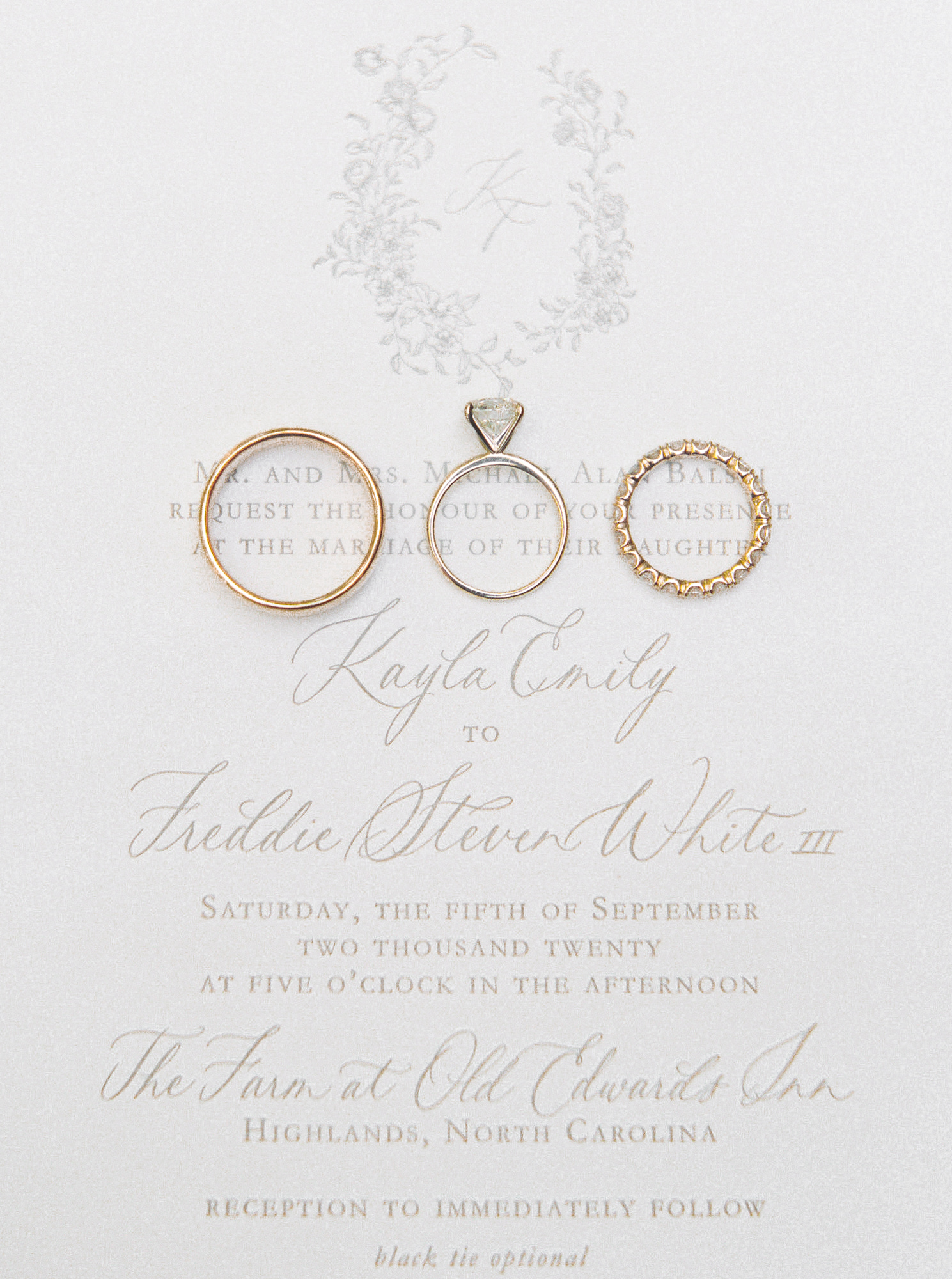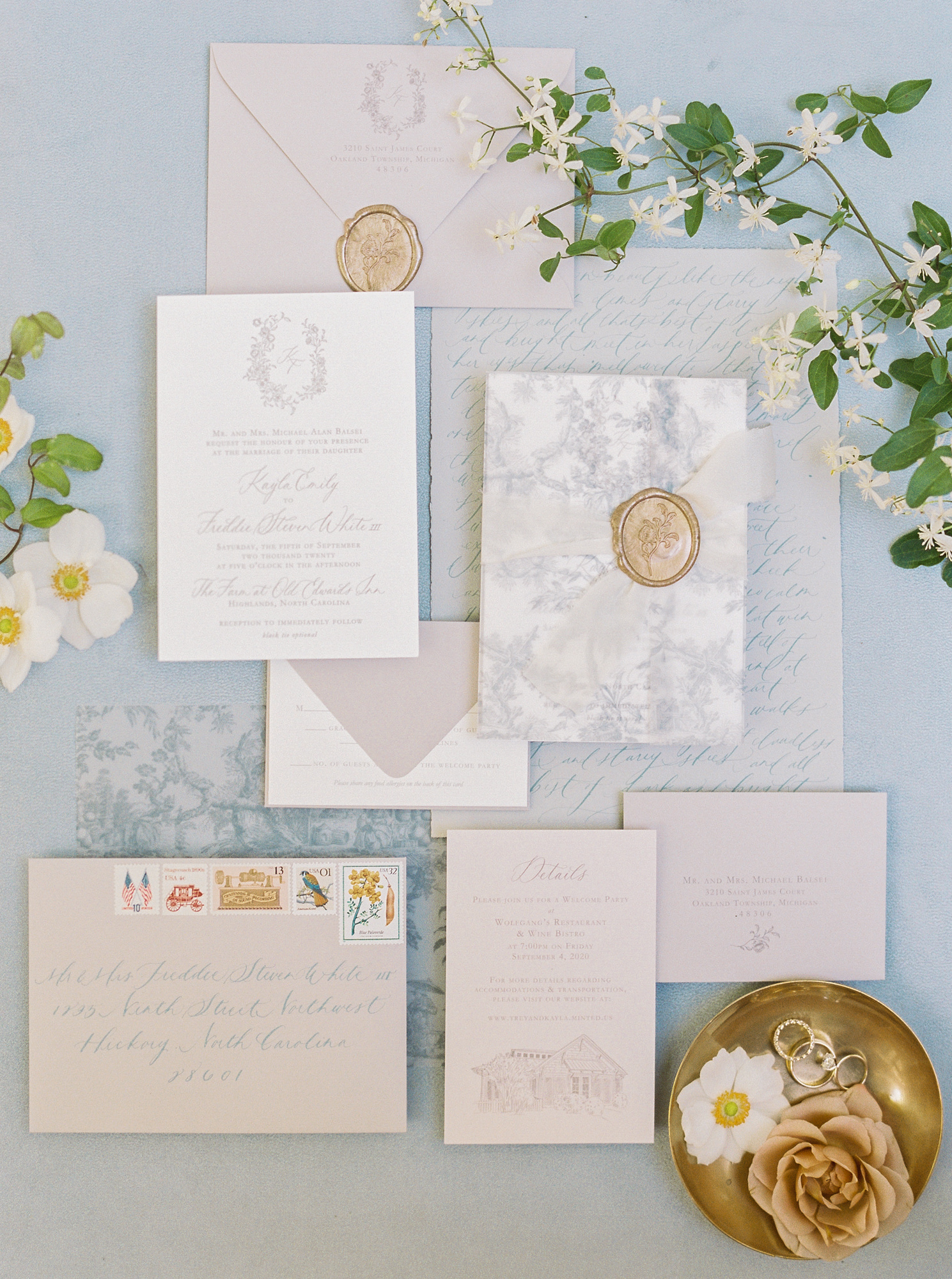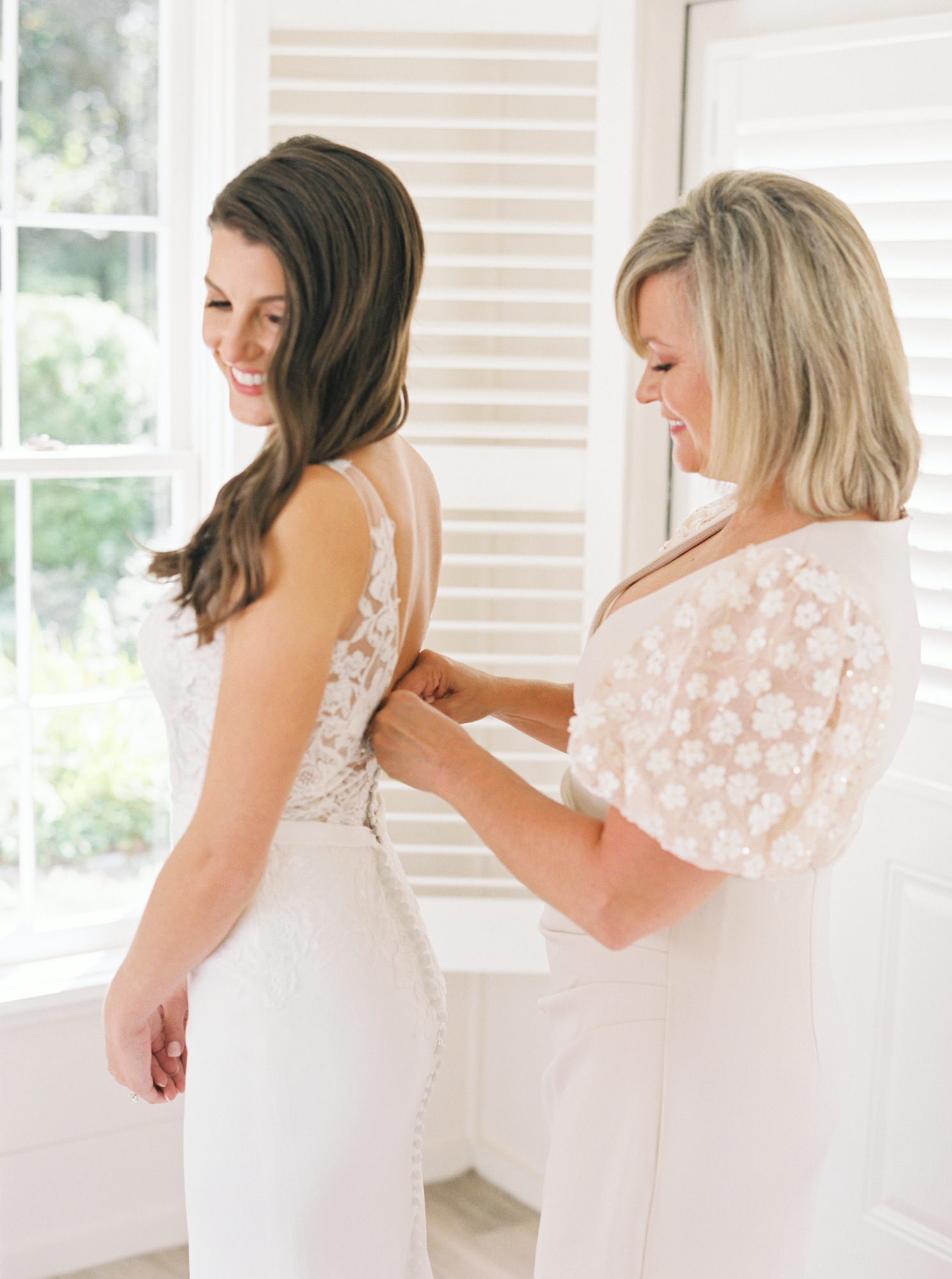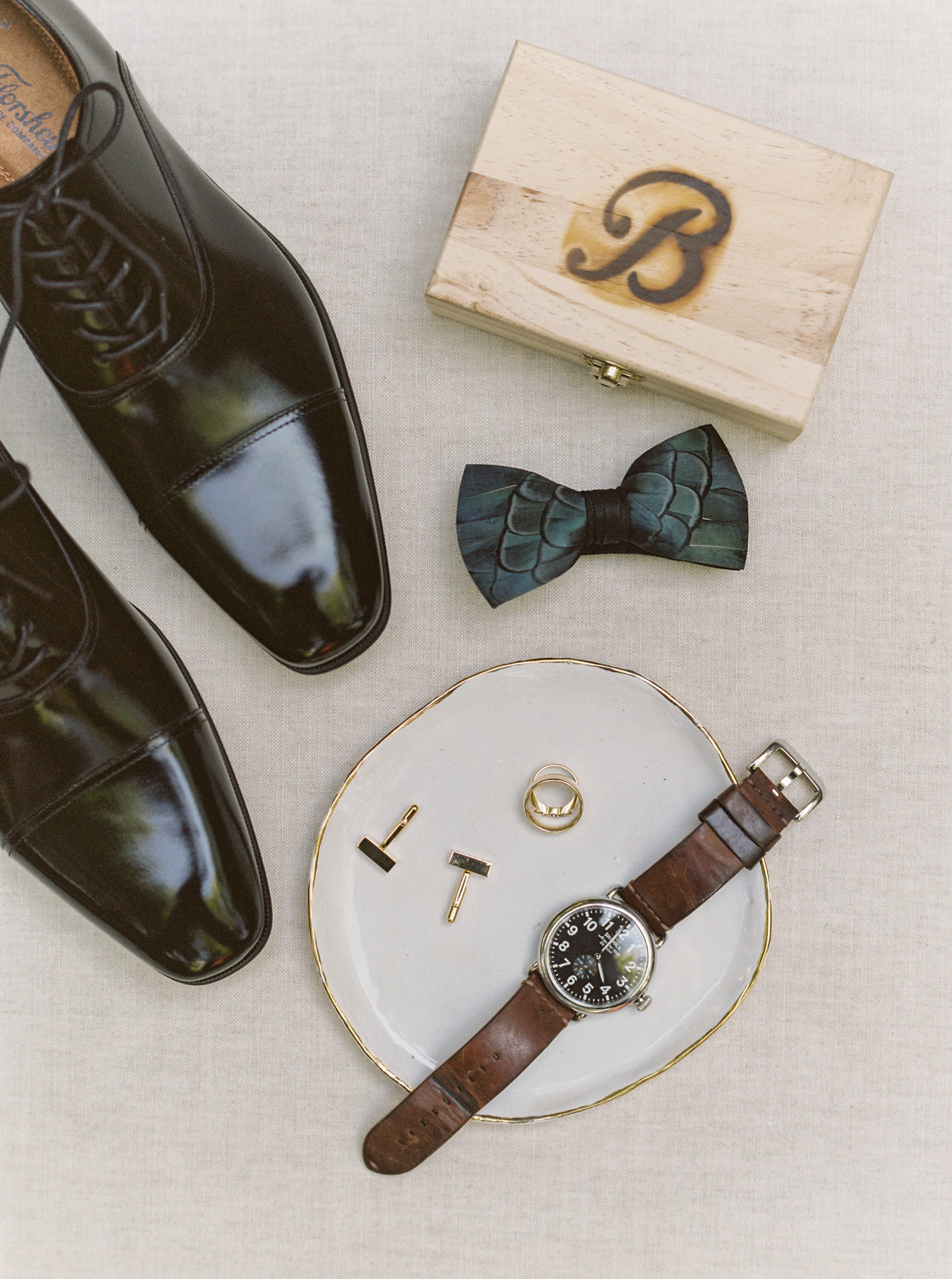 Throughout the planning process, Kayla was very intentional in how she wanted to include special, personal touches of both herself and Trey to the weekend's experience. As a nod to the industry that brought them together, guests were greeted upon arrival to town with welcome baskets featuring chocolate cars and "Motor City Mix" Sanders popcorn, a specialty of Michigan - the bride's home state. At the reception, each place setting was accented with a personalised leather keychain, with an iconic Chrysler key attached, which also served as the guest's place card. Even in learning more of the story of Kayla & Trey's relationship, it was clear that the couple are romantics through and through, which showed clearly in the soft, charming beauty of the day's look and feel—even down to the bride's personal attire details. Though mostly a warm neutral colour palette, pops of dusty blue were peppered throughout the event's design, starting with the invitation suite and throughout the wedding day. Chinoiserie Toile details hinted at the bride's family's time spent living in Asia, and were seen in the invitation suite, patterned linens, and even the chargers at the table. Under the glow of the crystal globe chandeliers, guests dined and danced all night to celebrate the newlyweds. When it came time for the celebration's end, the couple exited through a sparkling tunnel of cheering guests to their getaway car, a vintage champagne coloured Chrysler - the perfect way to conclude such a special evening.
A big thanks to North Carolina wedding photographer MADELINE TRENT for sharing this beautiful wedding with us. Based near Asheville, North Carolina her photography is romantic, joyful, and timeless, with an editorial style that is full of beautiful light and natural emotion. She specialises in romantic, whimsical, elegant weddings around the world. Check out more of her portfolio here and be sure to hop over to see this Romantic & delicately organic wedding inspiration at Bloomsbury Farm.