Nestled in a beautiful redwood grove in Northern California, MOUNTAIN TERRACE created a very intimate atmosphere for Naijia and Jingyu's wedding celebration. "When we first visited we totally saw us tying the knot in the grassy meadow overlooking the San Francisco Bay. Without hesitation, we believed this was the place."
Northern California wedding photographer STELLA YANG captured their wedding which embodied the warm and welcoming ambience they were hoping for. Working with wedding planner MANNA SUN EVENTS they wanted the space to feel like their own vision of their future garden. "We are both very into wooden elements, such as white oak and birch. They make feel welcomed and embraced, so we decided to choose wooden chairs and other wood furniture at the wedding. Jingyu works as an industrial designer, and we are both into arts and music, so we incorporated these things in our wedding with menus on sheet music, and a watercolour and wood paint palette. Manna and her team made the planning experience very personal and integrated pieces of our story into the plan for our wedding."
HOW DID YOU MEET? We started dating in high school and this year is our 10th year together. That is also why we chose to have our wedding this year. As every high school in China, teachers are strict on romantic relationships between students so we played some "hide-and-seek' during the years in High School. Thinking back, it was fun. Graduating from high school, we went to college in Boston but different schools. With busy new lives, we grew apart but when we realised it, we didn't just choose to break up, we sat together and talked through it. That was the moment that made us believe we are not only boyfriend-and-girlfriend but also life partners. Fast-forwarding to 4 years later when we graduated from college and we both thought we want to stay together as long as possible so we got our marriage certificate.
TELL US ABOUT YOUR PROPOSAL: We don't have a traditional proposal. It was more like a mutual decision. We sat at a Ramen place in Cambridge, MA and decided that we want to hold our life together.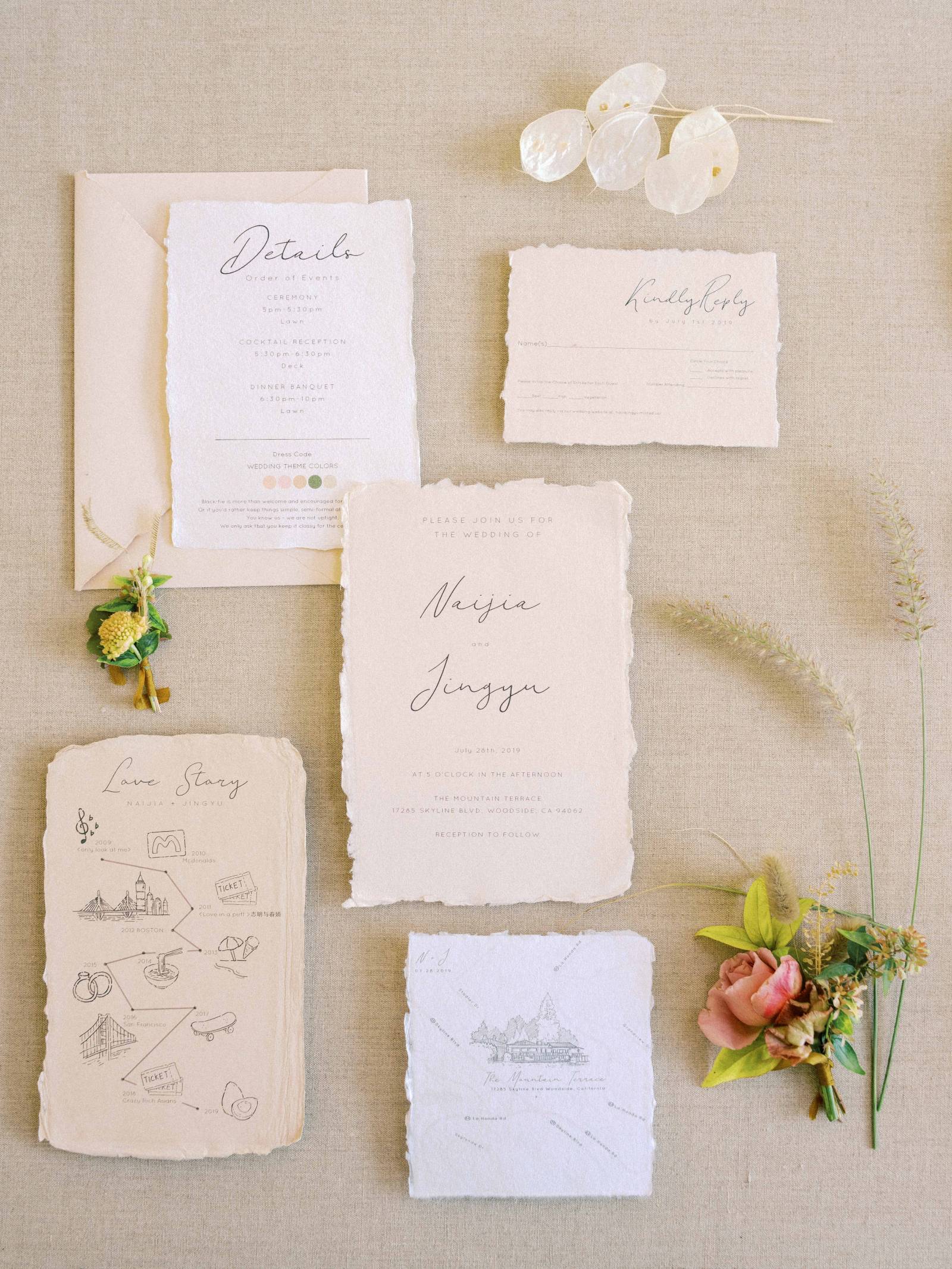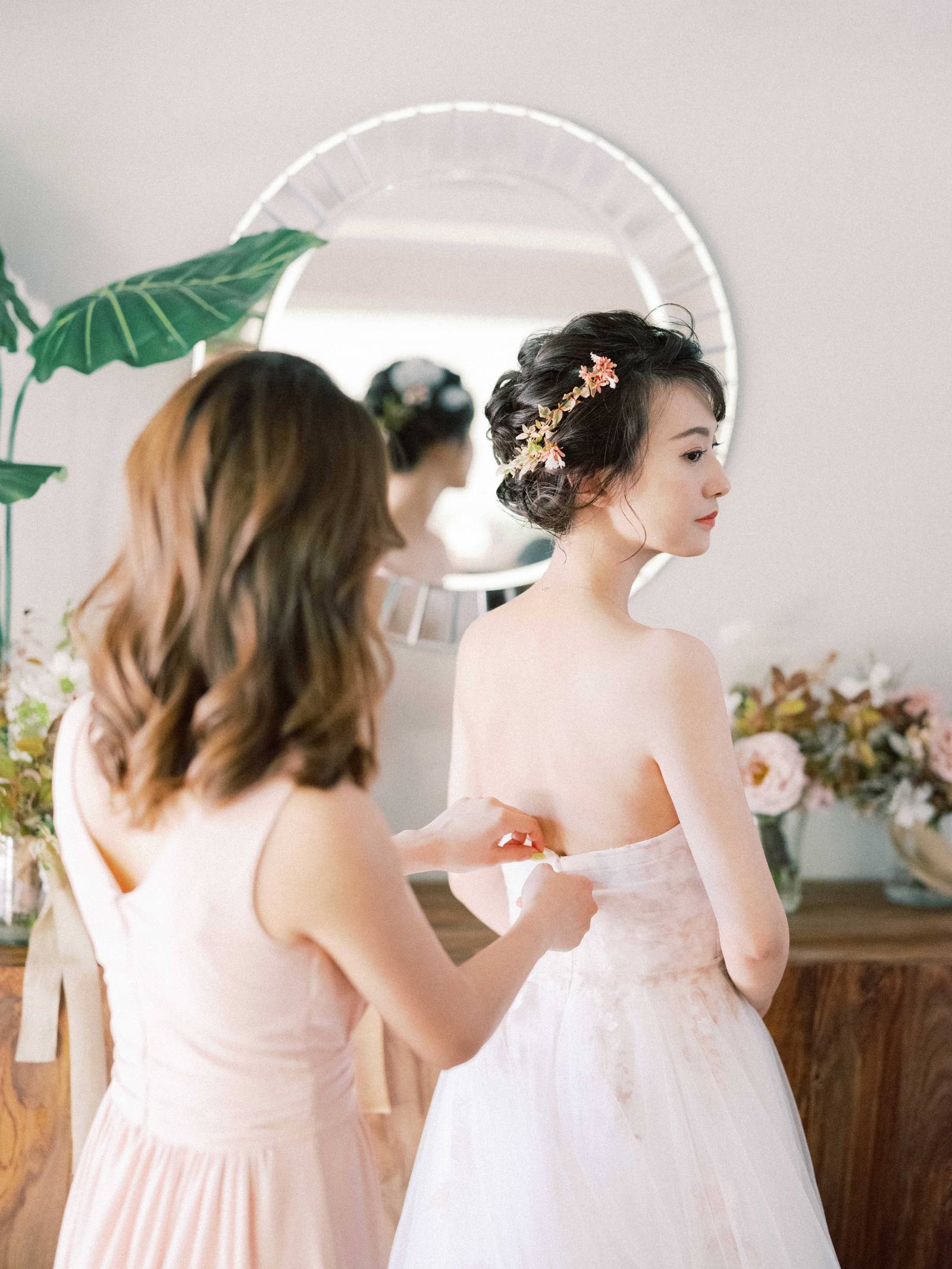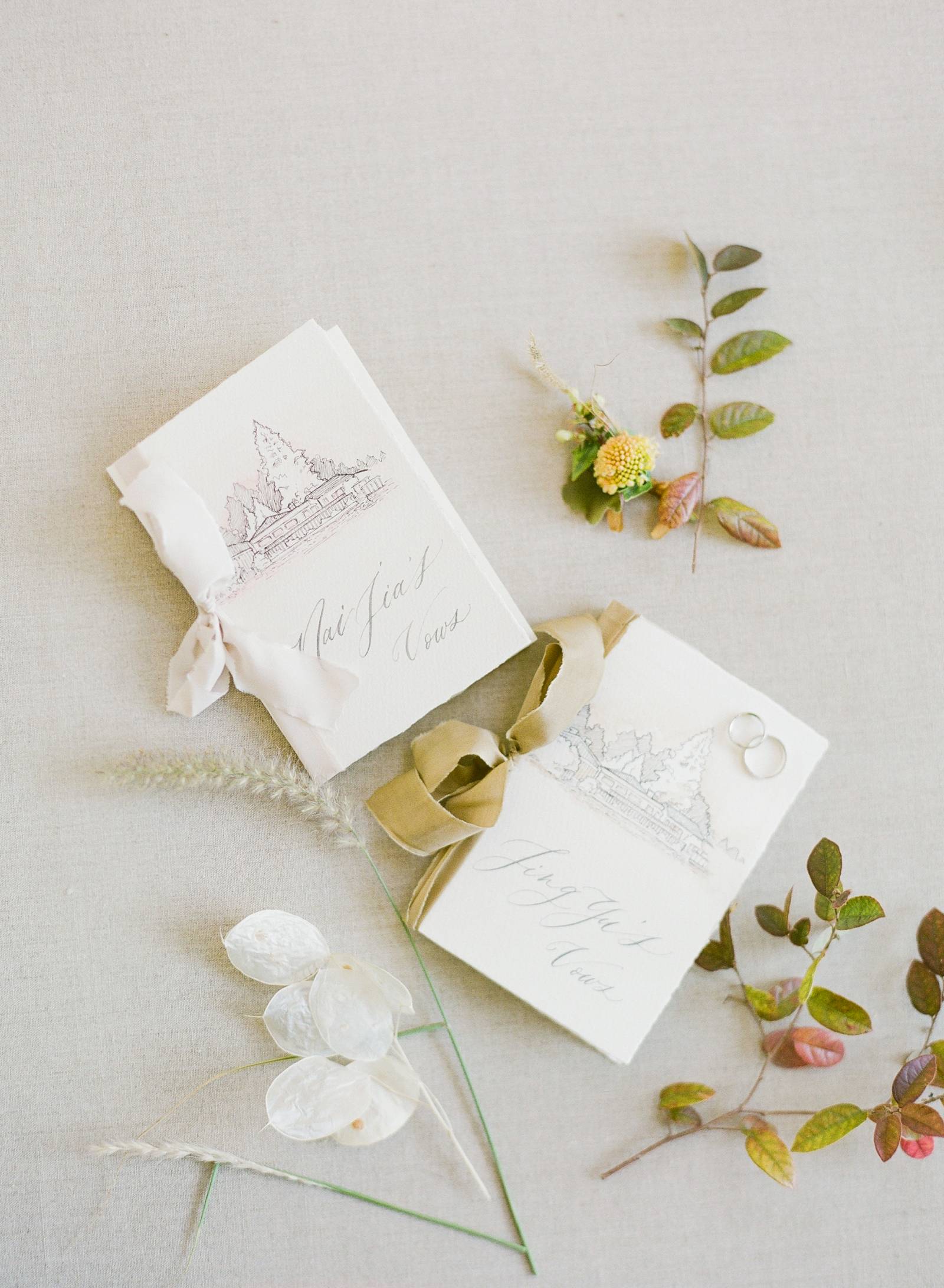 TELL US ABOUT FINDING YOUR WEDDING DRESS: I tried a lot of different dresses but couldn't find the one that make me "wow". I almost decided to go with the one that was best among the ones I tried. But when I called to order, the brand decided to discontinue the style so I continued my journey to find the one. I found the dress when I browser online and couldn't leave it without trying. I immediately called the bridal salon and luckily they have it available for try on. When I tried it on, I immediately felt the difference compared to the ones I tried before. I could imagine myself wearing it walking down the aisle. The gown is what I exactly wanted: light, breathable and low-key.
DID YOU HAVE ANY DIY ELEMENTS? We pinned all the important places in our relationship and made a sketch of key events and our favourite food. We found an artist and let him draw it as our seating chart to tell our love story. The welcome board was an unfinished painting, and we hoped each guest would fill in the colour because each of them had made our life colourful.
DESCRIBE YOUR WEDDING FLOWERS: Our flowers was designed by Laura's Florals. We would like it to be very breathable without too many flowers. We also wanted the decor to be really natural and to make us feel that all the flowers and plants were initially there. My bouquet was in free form and had a soft cream and gold palette of seasonal flowers, like hand-picked from the garden. The use of garden roses, lunaria, pampas grass, bunny tails, and dried herbs and greenery for the ceremony and as centerpieces for the banquet made our wedding feel ethereal, organic and graceful.
FAVOURITE DETAIL OF THE DAY: The entire décor was just so beautiful, and I want to keep everything as much I can, from my bridal bouquet to the place card. If I had to pick one, it would be the sign-in area. It was exactly what we want and showed our love story via an elegant and simple way.
MOST MEMORABLE MOMENT? Hire a professional wedding planner. Manna helped us very much during the whole wedding planning process. We were rest assured that our wedding will be as perfect as want. On the other hand, don't worry too much if every detail can be exactly you would want them to be. The most important part is to enjoy the day together as a couple.
WHAT ASPECT OF THE WEDDING WAS THE MOST IMPORTANT TO YOU AND YOUR HUSBAND? The most important aspect was to enjoy the wedding day. We are very thankful for all the vendors who set up everything for us on that special day and let us to fully embrace the moment to enjoy and celebrate.
ANY OTHER DETAILS THAT HELP TELL THE STORY OF YOUR DAY? The wedding day both felt long and short to me. It was long because we woke up at 8 am and slept at 3 am. But in another sense, I felt it was so short because we had so much fun and been through a lot of emotional moments during the wedding. As a couple, we were not the romantic type who will have formal anniversary dinner together or celebrate anything formally but the wedding for us was a really great memory and would last very, very long.
TELL US A LITTLE ABOUT YOUR HONEYMOON: We initially didn't plan on a honeymoon as we were too busy with our families from overseas after the wedding. It was also a precious time when we can have our close family members all together to celebrate.
IS THERE ANYTHING YOU WOULD CHANGE OR DO DIFFERENTLY? No, I would want our wedding exactly like the way I had it. I love the intimacy of our wedding. When I looked back at the pictures and the video, I was filled with joy and gratefulness.
A big thank you to Northern California wedding photographer STELLA YANG for sharing this beautiful wedding with us today. Hailing from China and fluent in Mandarin, Stella has the ability to relate easily with clients of many cultures and backgrounds. "I am equally as adept at photographing a modern, Western wedding as I am at respecting the etiquette of a tea ceremony. Capturing unique cultural traditions is one of the most beautiful aspects of wedding photography, and one that I am particularly adept at performing." If you're a California bride looking for a Northern California wedding photographer you can see more of her work in our VENDOR GUIDE.