You can't go wrong with having your engagement shoot in front of an iconic landmark like the San Francisco bridge! Captured by San Francisco wedding photographers BLUE NOTE WEDDINGS, Andrew & Stephanie had natural grace in front of the camera, making the job easy for Melisa & Laif.
The tell us, "The adorable pair were both interested in having their session at the very spot where they got engaged at, the PALACE OF FINE ARTS. It was a sun filled day in San Francisco and the light came streaming in through the Rotunda of the iconic structure giving off a warm glow from the terracotta building. The couple were dressed to impress. Stephanie's beautiful SCALA dress sparkled in the light when she moved pairing nicely with her metallic PRADA heels that added a little sass to her style. Andrew looked dapper in his suit and tie and played the part of a handsome groom-to-be so well. It was clear to me how in love the two were. Andrew doted over his bride-to-be and Stephanie had a warm angelic smile that lit up her face when she looked at him. We had a ball hanging out in the landmark building then headed to Baker Beach for a beautiful sunset shoot in front of the Golden Gate Bridge. Andrew mentioned he loved the ocean so much and I could see how the ebb and flow of the tide relaxed them bringing out their playful side. The tide was low and the water was chilly but you wouldn't know it with these two. The light wrapped around the couple in a pink halo of luminous bliss reflecting diamonds in the sand. Their engagement shoot turned even more amazing when Stephanie and Andrew got so tangled up in the excitement of the shoot that they ran into the cold January ocean completely unaware of the temperature. The two laughed and danced as the sun set painting the mountains a romantic rose gold hue. A frothy ocean foam washed up around their feet adding a bed of bubbles for them to stand on as they watched the sun set embracing one another."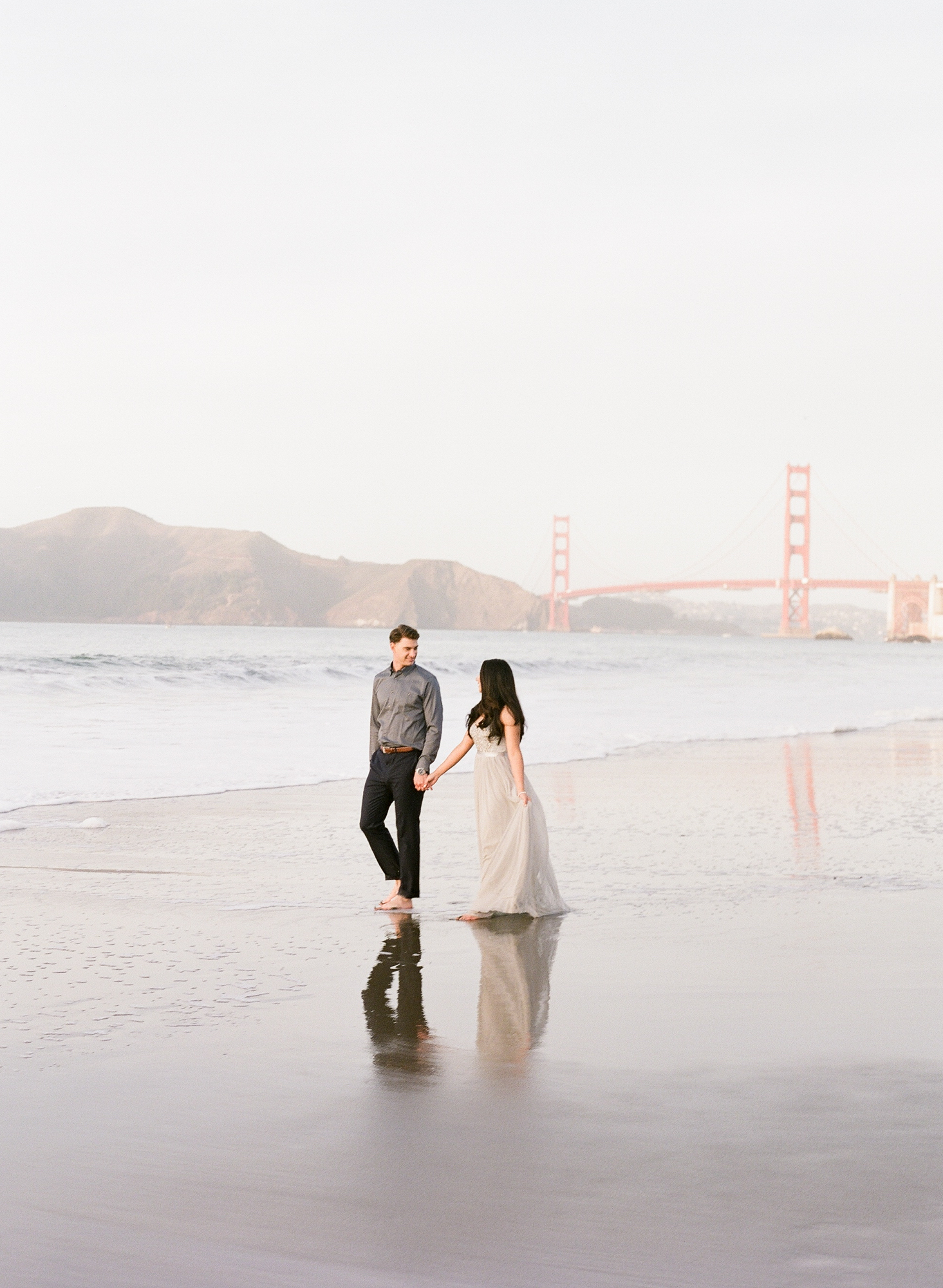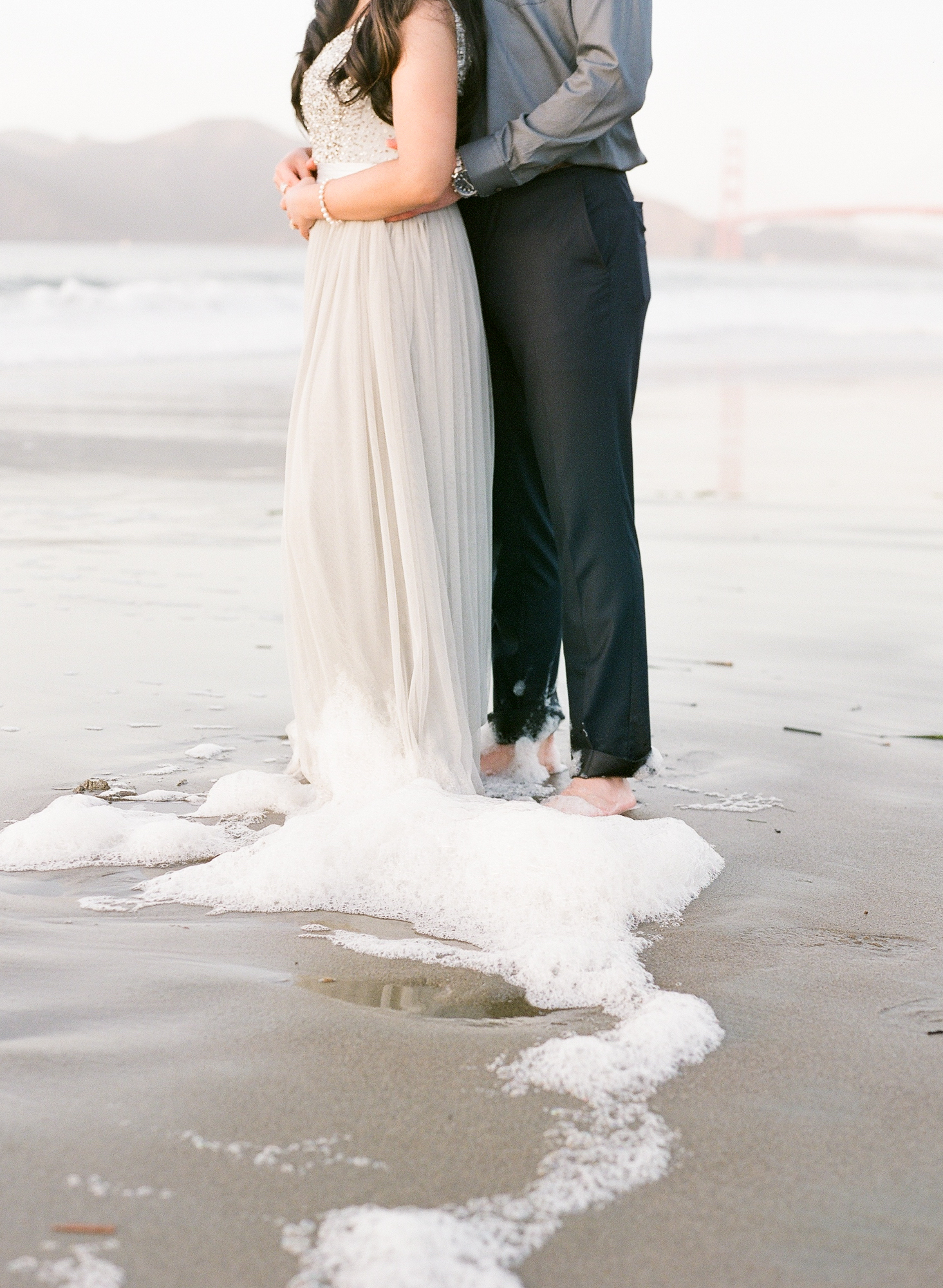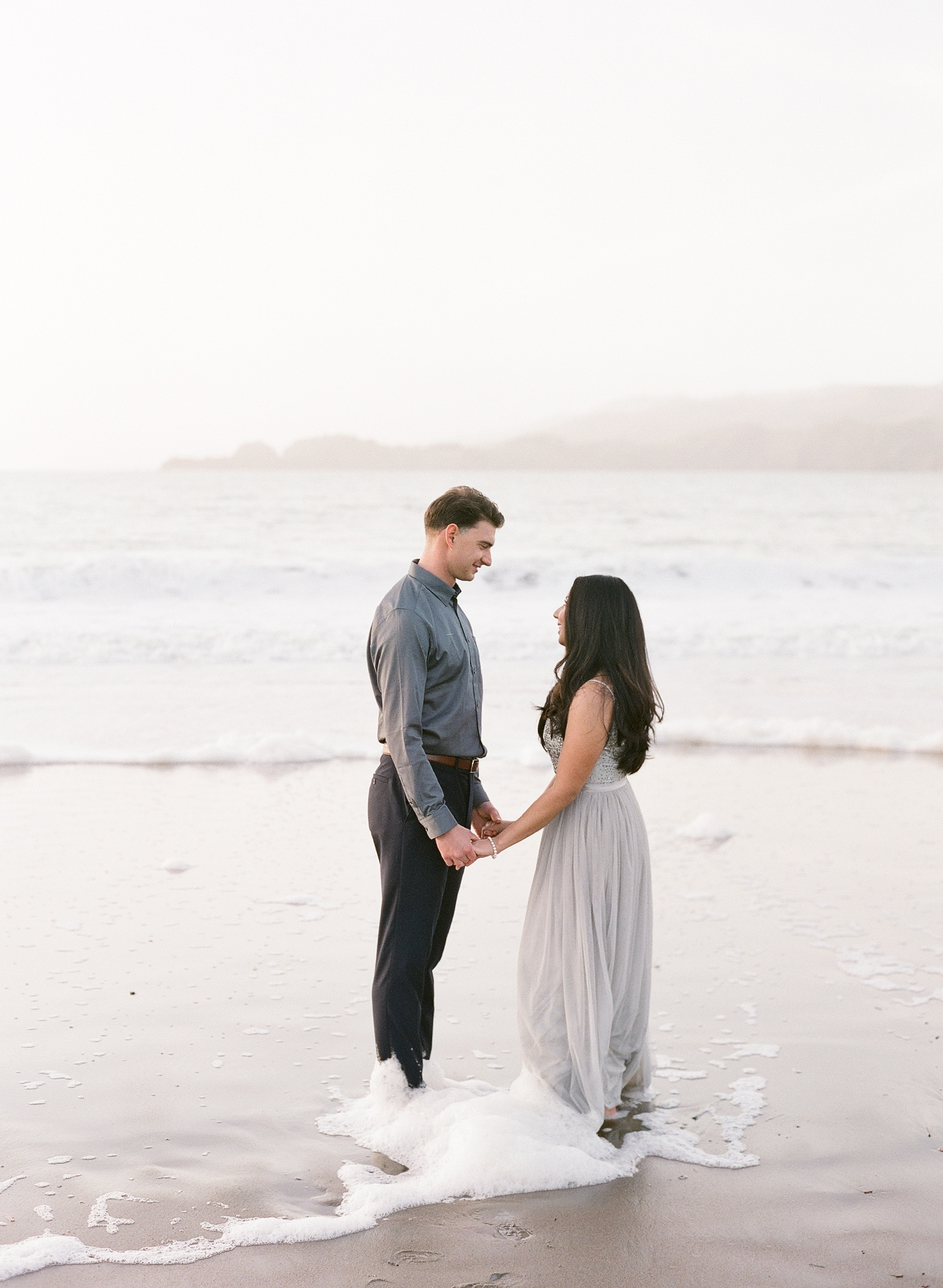 A big thank you to San Francisco wedding photographers BLUE NOTE WEDDINGS for sharing this gorgeous engagement shoot with us today. Married couple Melisa & Laif bring the highest standards of design and style, with an editorial edge to their work. They tell us, "It is the blueprint of our business to elevate the experience of our couples by offering communication, support, and quality. As a fine art curation of light and love, we believe everyone's story deserves to be told in a timeless, soft, and elegant way. Our imagery is born from the uniqueness of your story. We serve couples with big dreams, a keen sense of style and an appreciation for detail." You can check out more of their portfolio here.