Brandi and Jesús blended both their American and Mexican culture at their absolutely gorgeous wedding in the woods. They had a beautiful traditional ceremony in golden hour amidst the trees that Arkansas wedding photographer ERIN WILSON explains; "was one of the most magical feelings as the wind blew through the leaves and the golden sun gleamed through the trees." During the reception the guests were greeted with mariachi music and margaritas while they mingled and relaxed. During the dinner the bride and groom chose to serve authentic Mexican food and late night snacks of churros to incorporate their love for Mexican food and the groom's heritage. Overall the wedding style was very romantic and modern with beautiful surprising details and moments. All the romantic climbing greenery and florals had a very garden like feeling and made the entire space feel cozy and romantic for their wedding.
Working with BUZZ EVENTS the couple wanted a simple design which had a classic and elegant feel to it and their venue KINDRED NORTH offered them a lot of versatility with their spaces. Brandi shares with us, "I could picture how the night would flow seamlessly during my first site visit. The outdoor ceremony site is surrounded by forest-like trees and it was absolutely perfect, especially with it being fall in Arkansas."
HOW DID YOU MEET? We met through mutual friends during our junior year of college and have been together ever since! I say college sweethearts.
TELL US ABOUT YOUR PROPOSAL: I had been wanting to take professional photos for awhile since we didn't have any. For my birthday he surprised me with a session! We took photos here and there, as we were hiking our way up to the overlook at Devil's Den. Once we were up at the top, the photographer (Erin, as wellJ) staged us just so perfectly, that once I turned around he was down on one knee. It was magical and the photos are everything!! After all this excitement, we made our way down the trail. I was then blindfolded… talk about nerve wracking! At this point, I thought, what else could possibly be happening?! I was brought to tears when my blindfold was removed and I was greeted by all of our closest friends and family. We had a small engagement party by the fire. It was one of the best days!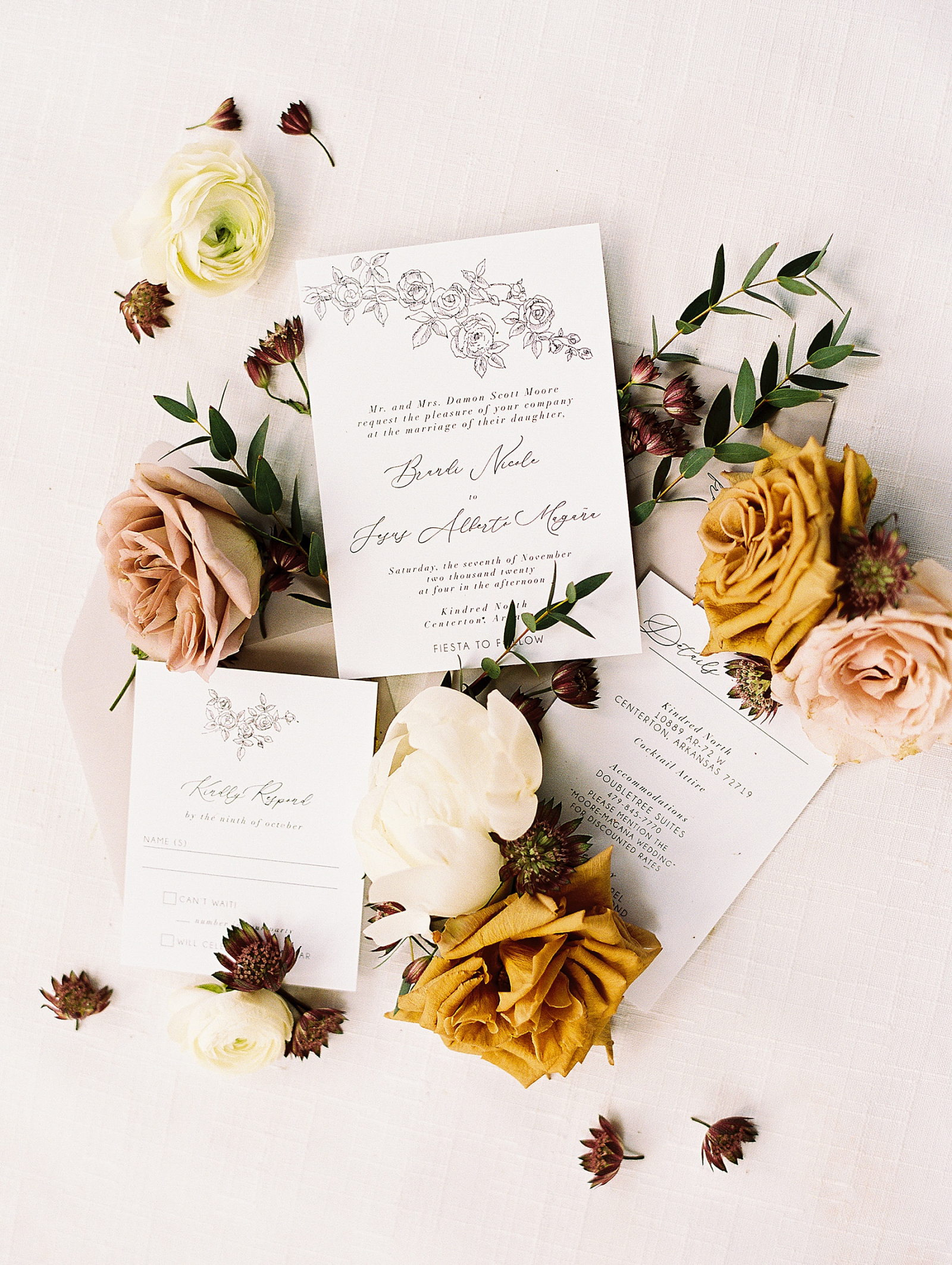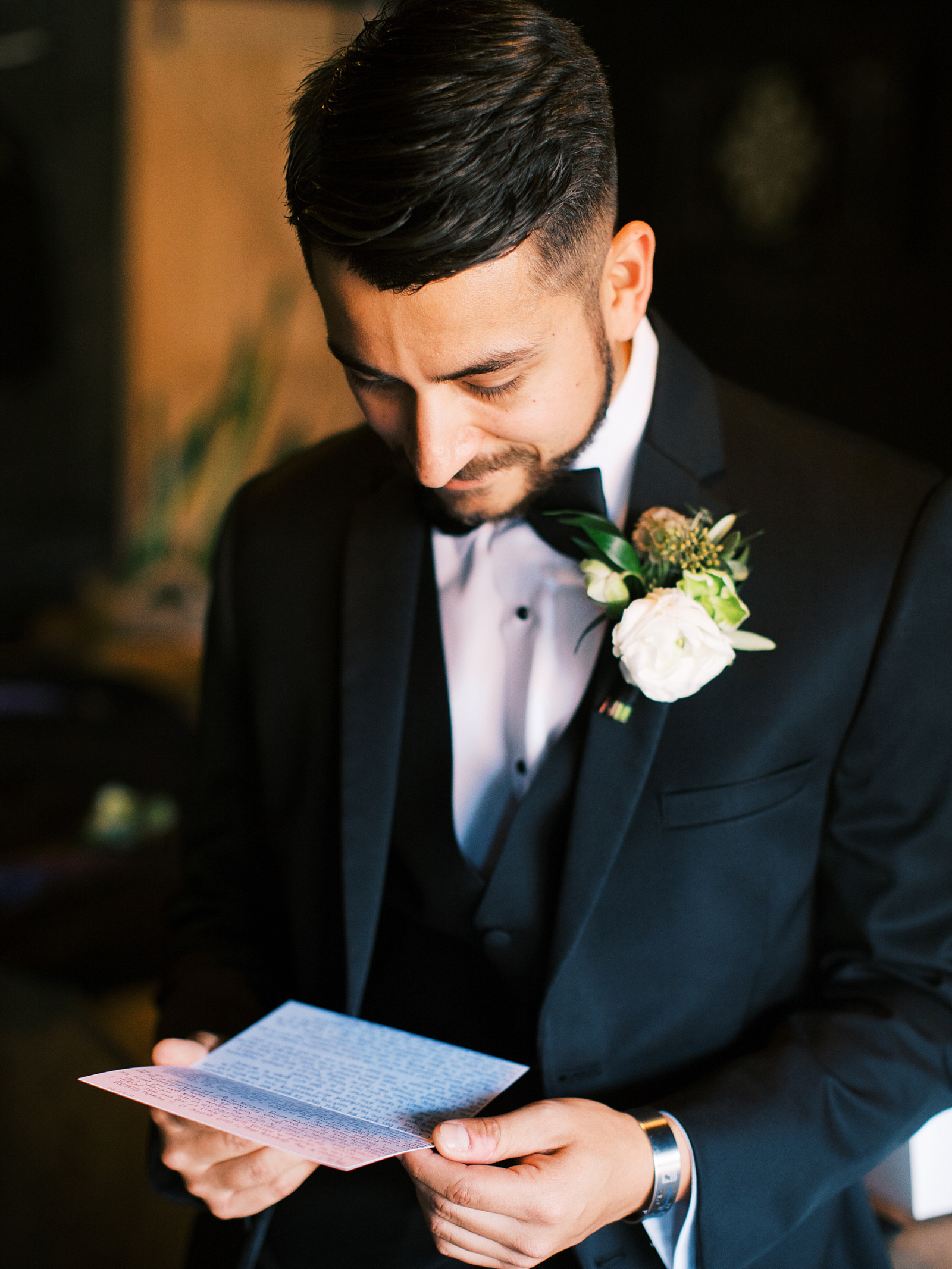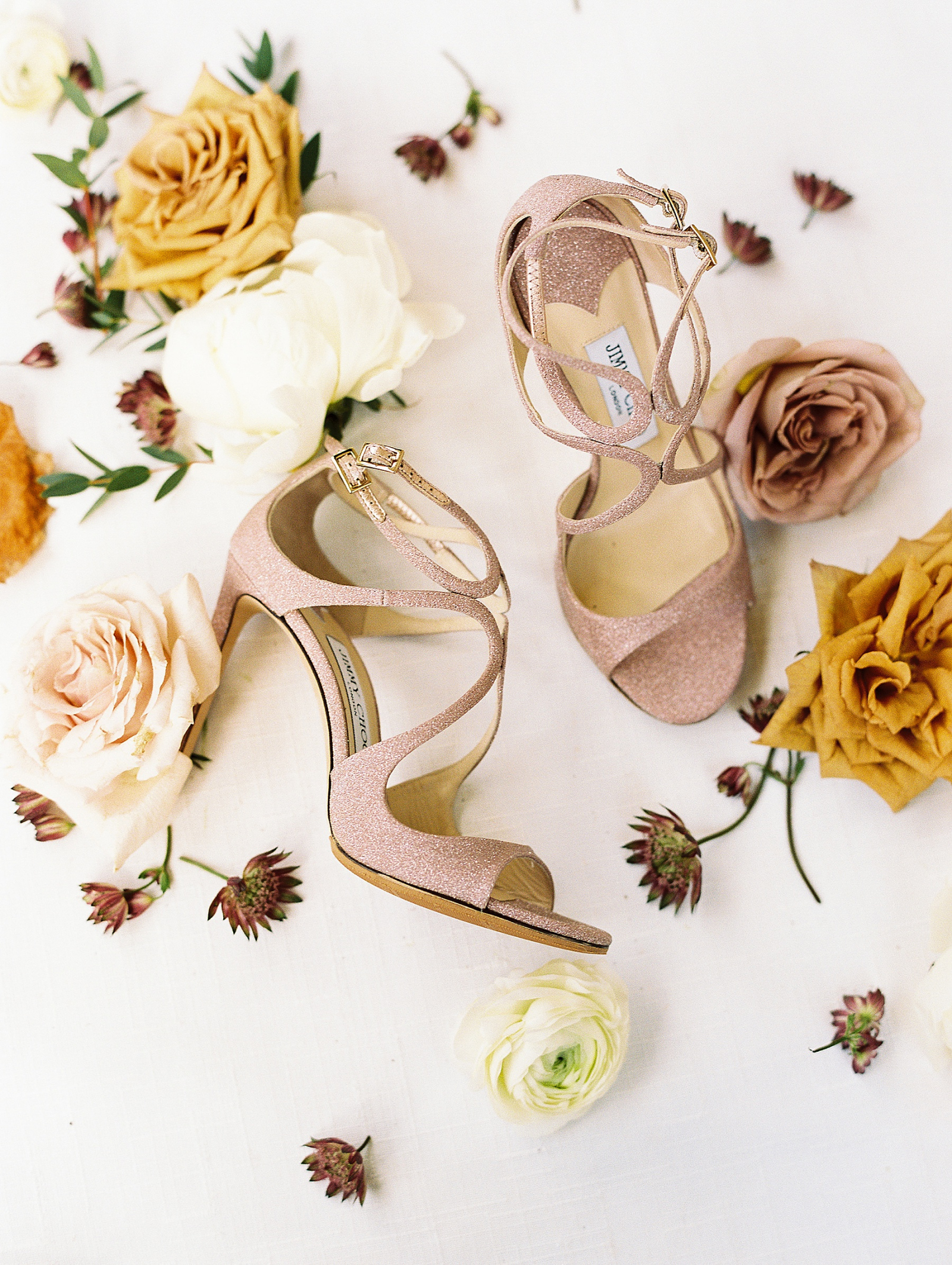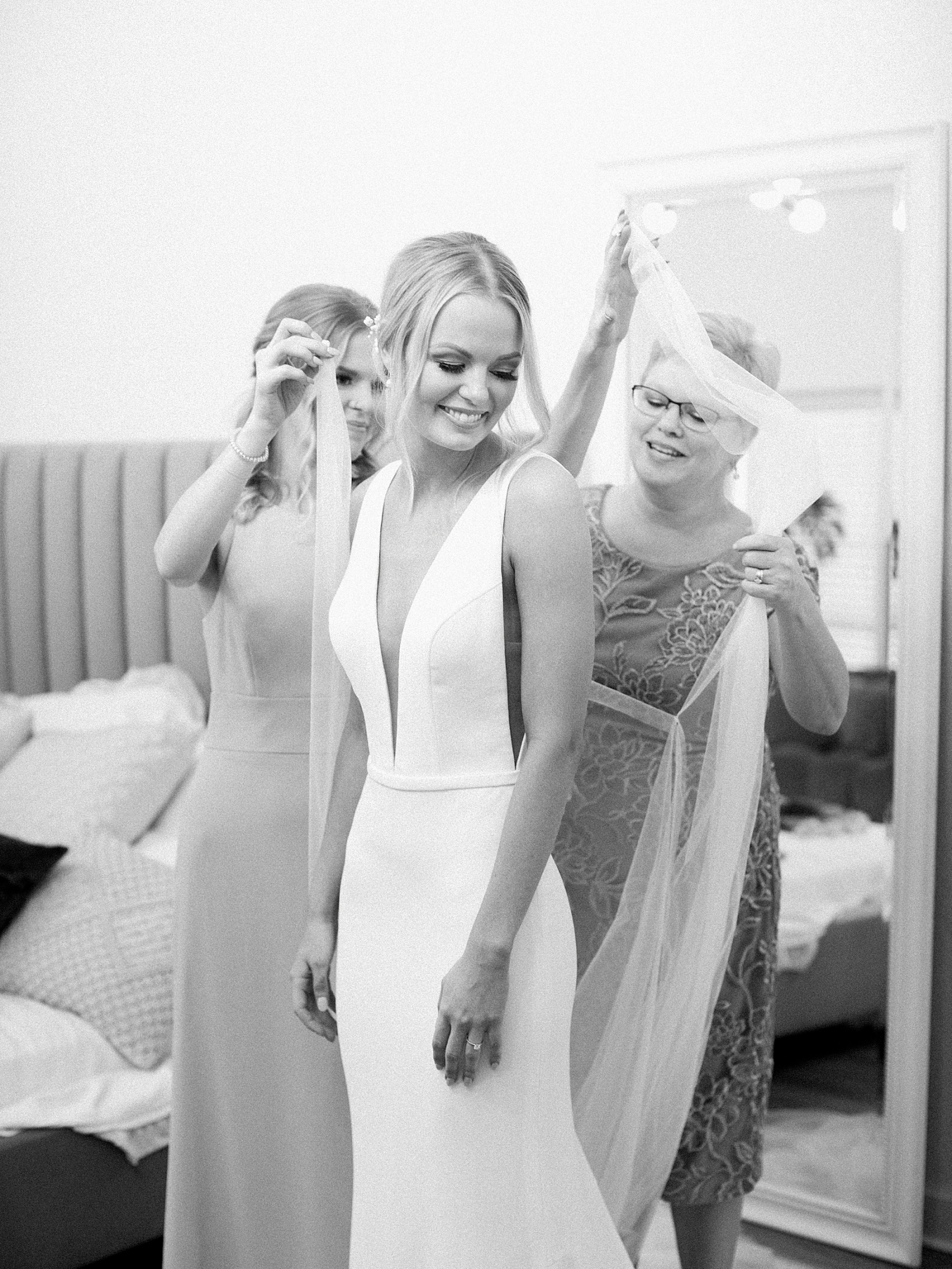 TELL US ABOUT FINDING YOUR WEDDING DRESS: I knew pretty much what I was looking for from the beginning but after going to three stores, I couldn't find it anywhere! Until one day, I was scrolling through Instagram and I FOUND IT! Brand new release from one of the designers I'd had my eye on. From there, I contacted a local bridal boutique (JOON BRIDAL) that I knew carried the specialty brand. Once it arrived at the store, I made an appointment, tried it on and I just knew! It was it! I felt all the feelings! I had the absolute best experience at JOON. They are personable and keep the experience light and fun!
DID YOU HAVE ANY DIY ELEMENTS? Not necessarily! I have a unique opportunity, since I work at Buzz Event Planning & Design, I was able to plan my wedding along with our team as part of my regular day-to-day! It was nice because everyone had a deeper knowledge of Jesus and I and who we are as people not just as a bride and groom. I think that special bond we have allowed for everyone to come together and make sure all of the important elements I wanted came to life!
DESCRIBE YOUR WEDDING FLOWERS: I wanted very soft tones and an overall whimsical feel, nothing too confined. I had been in love with the mauve and sand coloured roses for forever! I also wanted to incorporate purple as that is a favourite colour for all of the women in my family. I chose to use deep eggplant coloured ranunculus to have the purple element present while also adding a touch of moodiness and sophistication. The team did a spectacular job on bringing my vision to life!

FAVOURITE DETAIL OF THE DAY: My team surprised me with some stunning design elements that I didn't know where going to happen! They really came together to make everything so perfect and I was so surprised when they created this greenery-like canopy down the aisle. Truly unique and something we had not done before! So even though I was thoroughly involved in the planning, I was still surprised with little design touches throughout the day that made it all special.
WHAT ADVICE WOULD YOU GIVE OUT TO A COUPLE PLANNING THEIR WEDDING? Determine what elements are the most important thing to you as a couple and don't compromise on those. Everything else will fall into place!
MOST MEMORABLE MOMENT? This is a hard one! I think it's a tie between the first looks with both Jesus and my dad. They were both so special and emotional and it made everything finally feel real! It was just a rush of all the feels and a sweet moment to share with both of them before the chaos of the evening started!
WHAT ASPECT OF THE WEDDING WAS THE MOST IMPORTANT TO YOU BOTH? I think we both just really wanted to stay true to who we are. We didn't want the wedding to feel bigger than us! It was more about the celebration of the day and us than all of the little things involved.
ANY OTHER DETAILS THAT HELP TELL THE STORY OF YOUR DAY? We tried really hard to incorporate both of our cultures in a unique way. We had a mariachi, margaritas, traditional street tacos and truly made our reception a fiesta! I think those elements were so fun and made the evening memorable because a lot of our friends had not been to a wedding like that.
TELL US A LITTLE ABOUT YOUR HONEYMOON: With the pandemic still looming, we couldn't do our big trip to Greece, which is still on hold but we did take a few days off and drove through Austin, Texas. We stayed at these fun tiny campers @getawayhouse, went to wineries, explored nature and the city! It was nice to just decompress from everything and spend time together after the rush of the whole weekend celebration!
IS THERE ANYTHING YOU WOULD CHANGE OR DO DIFFERENTLY? Not one single thing! It was the most perfect day. I wish we could do it all over again!
A huge thanks to Arkansas wedding photographer ERIN WILSON for sharing this stunning wedding with us. Erin is known for her dreamy wedding photography and loves to serve others by encouraging their creative sides, reminding them how beautiful they are and being as positive and calm in wild situations. "I am extremely passionate about people, art and love. I photograph weddings on film and digital and very inspired by timeliness images that have a little artful vibe." You can see more of Erin's portfolio in our VENDOR GUIDE and you may also want to check out this Stunning Italian garden wedding inspiration.