Melissa & Jake's main objective for their wedding was for it to feel incredibly romantic and elegant, and with the unexpected snowfall I think they knocked this goal out of the park and then some. "All I could picture in my mind when I thought of the words romantic wedding was millions of candles creating a warm atmosphere on a cold day. Almost like being in a cabin without electricity in the middle of winter, where all you want it to be close to each other." Captured by Arkansas wedding photographer ERIN WILSON, the ceremony was at THORNCROWN CHAPEL, where the bride had once commented to her mom during her freshmen year, and "wouldn't this be the most incredible place to get married?". Whilst it escaped her mind for years after that, when Jake proposed the image of the windows flooded back to her, but she couldn't recall the name of the venue. She tells us, "I was finally able to find it in our research and I knew it was where we had to get married. I just pictured Jake seeing the marvel in the structure itself. When he saw it, it was immediately chosen as our chapel. As for the reception, we really wanted something that would fit the style of an all glass chapel in the woods (a hard thing to beat). THE WALTON ARTS CENTER, in our mind was "the party" version of Thorncrown. It stood up to the standard we had developed so perfectly."
HOW DID YOU MEET? We met at the rooftop of a bar the first week of our senior year. It turned out that we had spent all of college just missing each other as we knew all the same people and had spent the past three years going to the same social events. The first few weeks of dating the words "wait, you know ___?!" and "I was there too!" were said pretty consistently.
TELL US ABOUT YOUR PROPOSAL: Jake took me to my favourite place in all of Dallas to have a picnic, Lakeside Park. We spent the picnic laughing and making fun of the geese who kept trying to steal our food. After we ate we just spent time together, he proposed with champagne and my sister there to celebrate. He had also set up an entire catered party and had all of my closest friends and my family there to surprise me. He even had two of my best friends fly home to see us get engaged. It was really the best day ever (besides our wedding, obviously).
TELL US ABOUT FINDING YOUR WEDDING DRESS: My mom and I looked for months and at so many different dress shops for a dress I felt great in. I just wanted to feel like myself on my wedding day. When I put it on I couldn't stop thinking about it even after we left the store. We went back and purchased it the next week!
DID YOU HAVE ANY DIY ELEMENTS? We live in Dallas and our wedding was in Arkansas, for that reason we didn't really have too many DIY aspects for the actual wedding. The closest thing on the actual day would be that my best friend and bridesmaid did my makeup. We did, however, have our rehearsal at our Airbnb and we decorated everything ourselves. We only had our wedding party and immediate family. We had our very favourite late night hotdog cart catered and it was just so intimate and fun. We really wanted an intimate vibe for all aspects of our wedding weekend.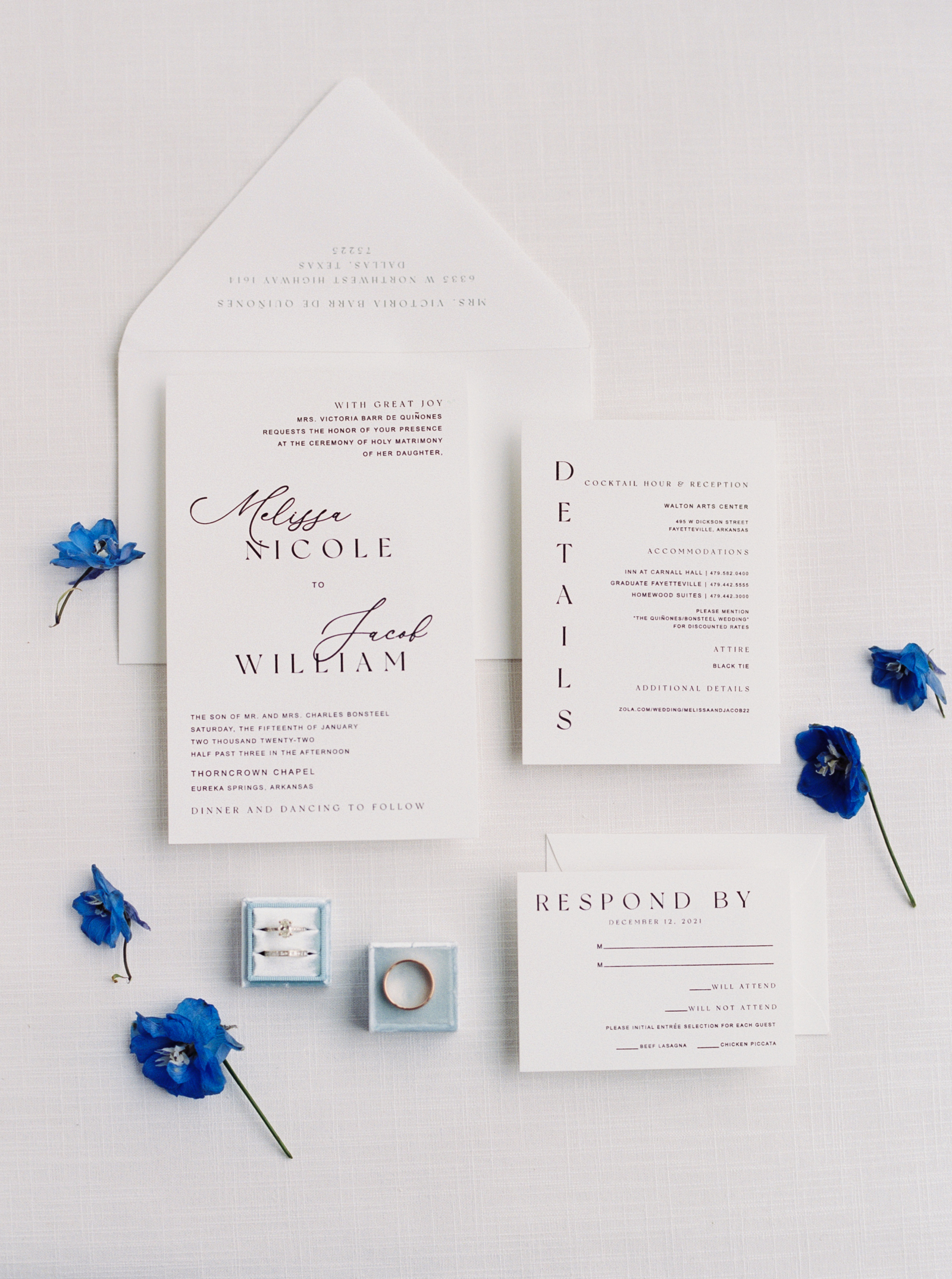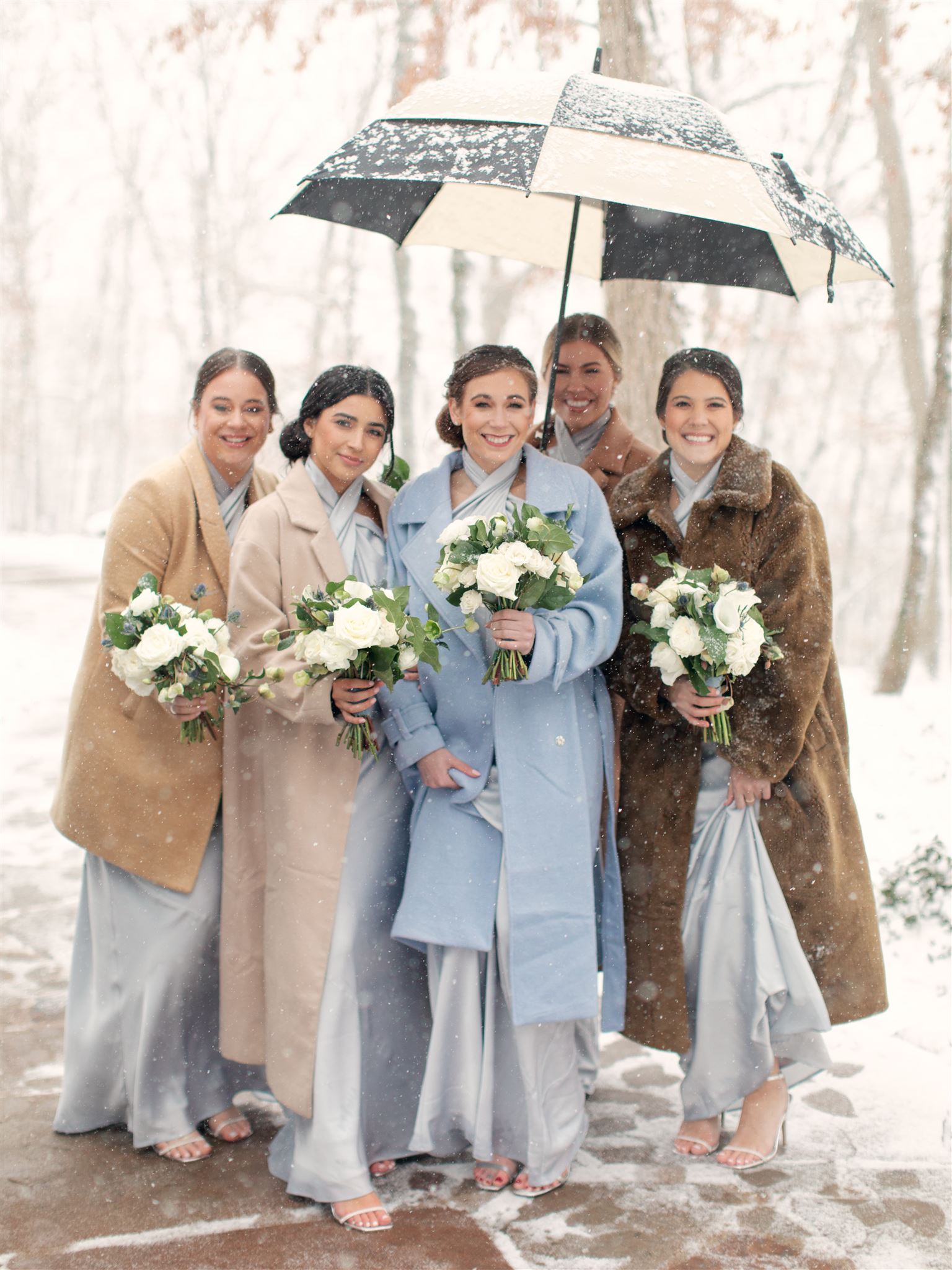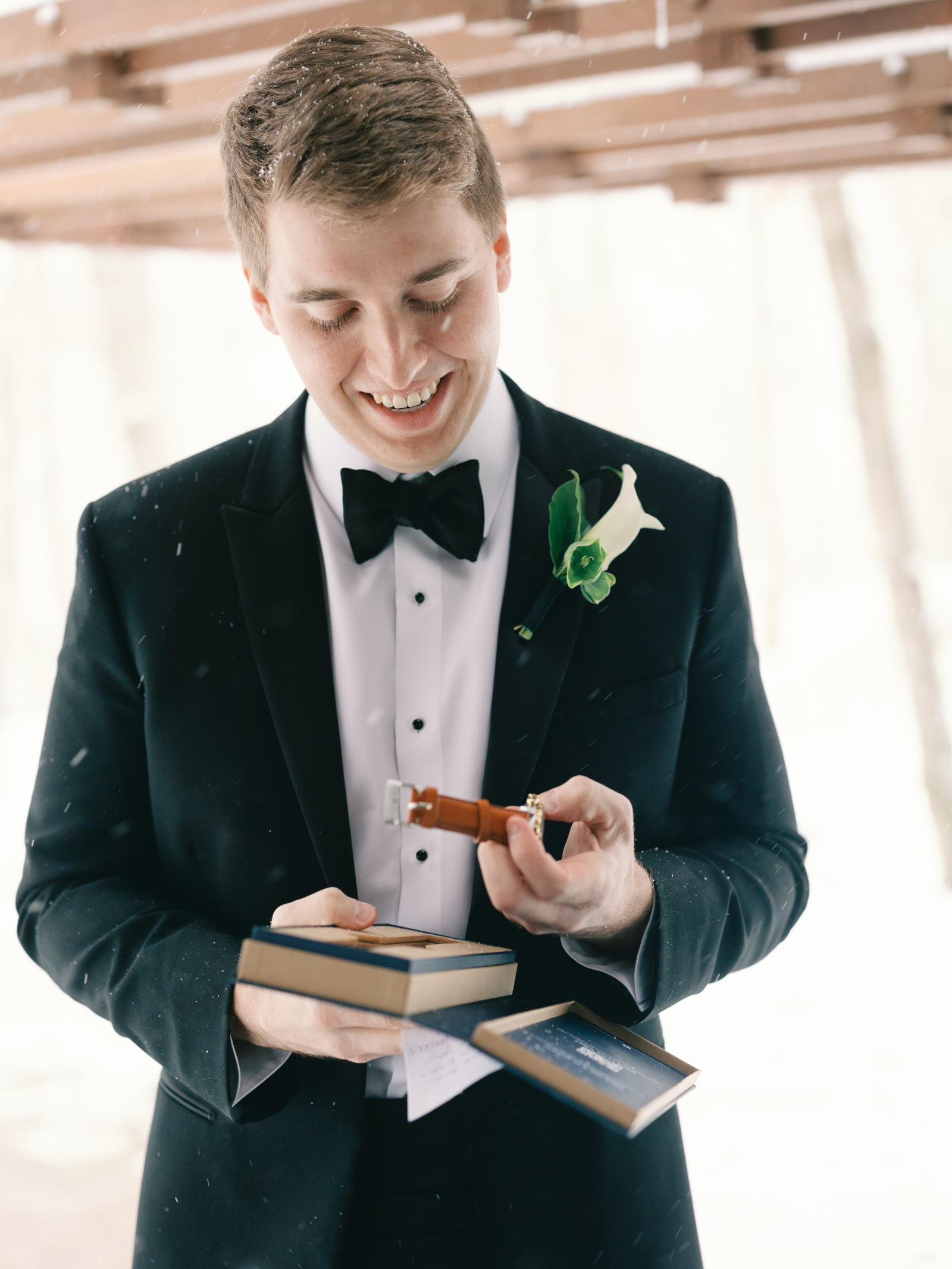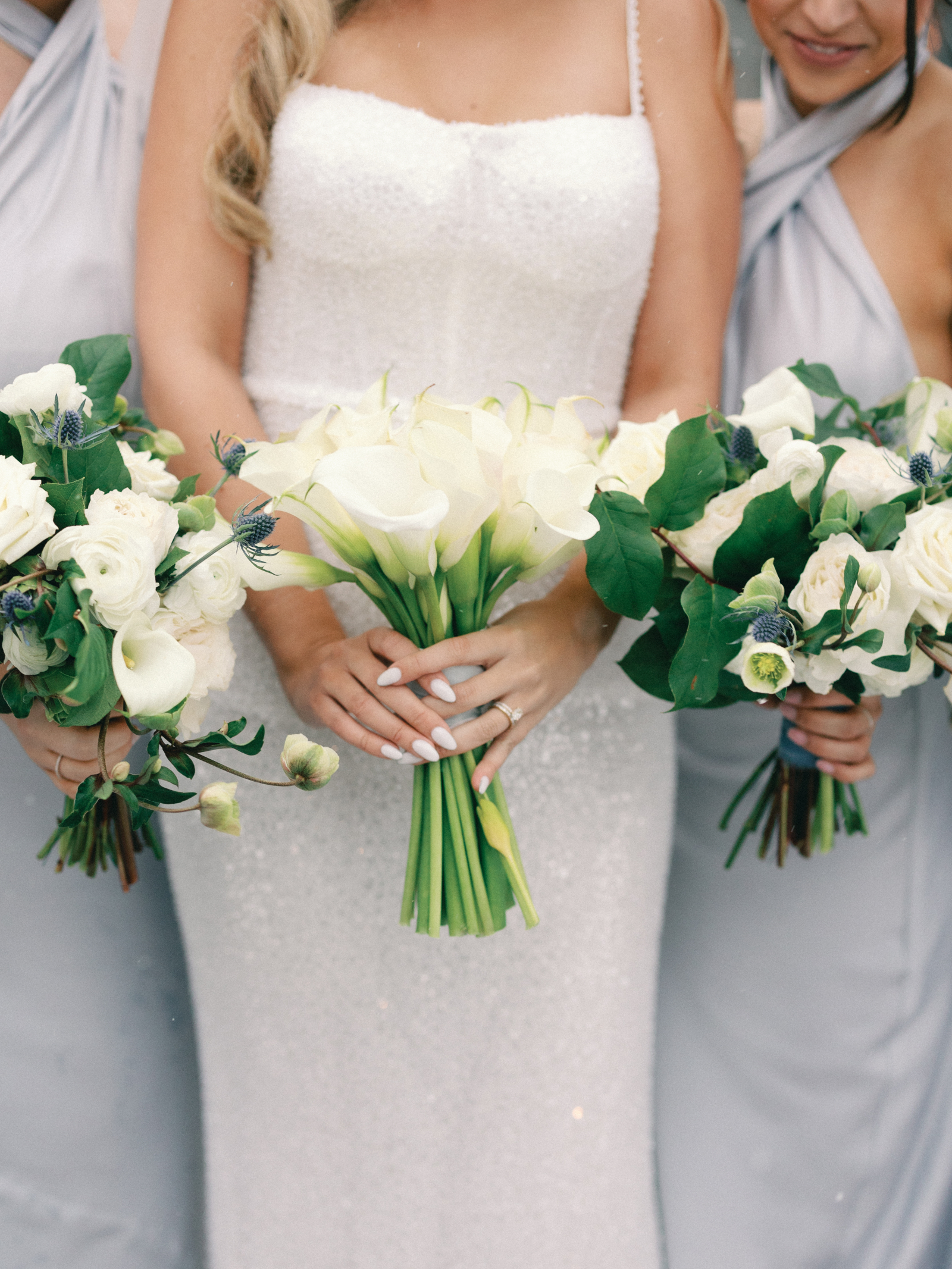 DESCRIBE YOUR WEDDING FLOWERS: My style has changed so much as I was growing up and into adulthood even that I never really had a consistent idea of what I wanted my wedding to be. Never even could decide on a dress style or colours, but I always knew I wanted white calla lilies incorporated. My dress was so simple and I didn't want to take away from that, so I just did a bouquet of only calla lilies. It was perfect.
FAVOURITE DETAIL OF THE DAY: This was not a detail we planned for, but the snow has to be it. It was the most perfect and fluffy snow I'd ever seen. It looked like a Hallmark movie. As for a planned detail, I would say our favourite was the candles at our reception. It was so elegant and romantic. Exactly what we imagined.
WHAT ADVICE WOULD YOU GIVE OUT TO A COUPLE PLANNING THEIR WEDDING? Relax. Everyone told me to just take it in and soak up every moment. I wish I did more of that.
MOST MEMORABLE MOMENT? There are a few:
The snow. Standing at the alter looking at each other and taking in the snow falling around us as if we were in a snow globe. It was absolutely incredible.
The ambiance. Warm, beautiful, romantic, everything we wanted.
Our entrance to the reception. We walked down a huge staircase to greet all of our friends and family. We walked down to "Can't Take My Eyes off You" by Frankie Valli.
WHAT ASPECT OF THE WEDDING WAS THE MOST IMPORTANT TO YOU AND YOUR PARTNER? We just wanted to have fun, feel loved and show love to all of our family and friends. We had a fairly small wedding and that helped so much with keeping it very romantic and elegant.
ANY OTHER DETAILS THAT HELP TELL THE STORY OF YOUR DAY?
I lost my dad at an early age, so my mom and I are very close. She got to walk me down the aisle, she got to have the Mother Daughter dance with me, she got to give the toast. I really treasure that so much. We danced to "You Are my Sunshine", a song she has been singing to my sisters and me our whole lives. She raised me by herself and I think it just really showed her how much she means to me and how much of my heart is with her.
Jake's mom was able to say the blessing before we ate and for her to do that meant a lot. Both of our families try to lead with God in our hearts, but she is especially good at it. This was her expertise and she hit it out of the park.
There were about 90 guests at our wedding including plus ones and we knew every single one of them very well. They were our very best friends and family. They had each been a part of our story in their own way and each a pretty big part at that.
I'll say it again – candles absolutely everywhere. It was AMAZING. It truly was a reception lit by candlelight. I had never seen anything like it. It was so intimate.
TELL US A LITTLE ABOUT YOUR HONEYMOON: We went to Jake's parents' lake house cabin for our honeymoon. We spent the whole week with a fire in the fireplace and looking out onto the valley of Tenkiller Lake hiding from the cold. Truly perfect.
IS THERE ANYTHING YOU WOULD CHANGE OR DO DIFFERENTLY? When it comes to the details, absolutely not. I think the only thing would be, again, to relax. I only wish that we had been able to spend a little more time together and talking to each other and soaking in our surroundings. The day goes by so quickly and is over before you know it.
A huge thanks to Arkansas wedding photographer ERIN WILSON for sharing this stunning winter wedding with us. Erin is known for her dreamy wedding photography and loves to serve others by encouraging their creative sides, reminding them how beautiful they are and being as positive and calm in wild situations. "I am extremely passionate about people, art and love. I photograph weddings on film and digital and very inspired by timeliness images that have a little artful vibe." You can see more of Erin's portfolio in our VENDOR GUIDE and you may also want to check out this Stunning Italian garden wedding inspiration.