After getting engaged Brittney and Byron discussed where they would like to have their wedding ceremony and reception. With friends and family scattered across the country, they both decided on Charleston, South Carolina as a destination for all of their family and friends to enjoy! Brittney's inspiration for her wedding was themed after her favourite movie, "Gone With The Wind." She even walked down the aisle to a beautiful violin version of "Tara's Song." The movie had so many meaningful themes including love, strength and constant change, to name a few. They knew it would represent their love story perfectly. And these stunning images by DECORUS PHOTOGRAPHY certainly do it perfect justice.
After meeting during their freshman year of high school this gorgeous couple became became instant friends; passing notes in the hall, calling each other on the phone late at night. It wasn't until sophomore year that their friendship blossomed into love and just like a scene from "The Notebook", they spent the summer fishing, going to movies and sharing ice cream. After high school they realised they needed to find their passions, learn and grow as individuals. Byron went to The Ohio State University and Brittney found herself at Miami University of Ohio. They maintained a great friendship throughout college and years after, calling each other every few months to check in. Fast forward to their late twenties when Byron called Brittney to tell her the news of a job transfer to Chicago. They were back in each other's lives and this time they weren't letting go. Four months later Byron began proposal plans.

Byron was extremely strategic on how to plan one of the greatest moments of his life. Equiped with an hour by hour itinerary Byron planned the perfect day. They stayed in Crystal Lake at Brittney's parents house for the weekend. Her parents lied and said they were going away for business (really they were staying in downtown Chicago awaiting the engagement surprise). Before heading downtown to meet friends for dinner, Byron suggested picking up a 6-pack of beer while they waited for the the train. They found a cozy beach near the lake to sit. As they sipped their beers, Byron began to profess his love and devotion to Brittney. He got down on one knee in the sandy beach, with a shaky hand he took the ring from his pocket and said "Brittney, will you do me the honour of spending the rest of your life with me?" Of course she said YES! Shortly after Byron took Brittney to the car and admitted that they were no longer taking the train to the city. As they drove downtown, Byron took a short cut and drove into a private airport where there was a bright red helicopter warming its engine, preparing to take flight. After the helicopter ride, Byron walked Brittney to their favourite bar "Untitled" where their entire immediate family was patiently awaiting their arrival with tear filled eyes and bursting hearts. They danced the night away to a live jazz band and old fashioned cocktails.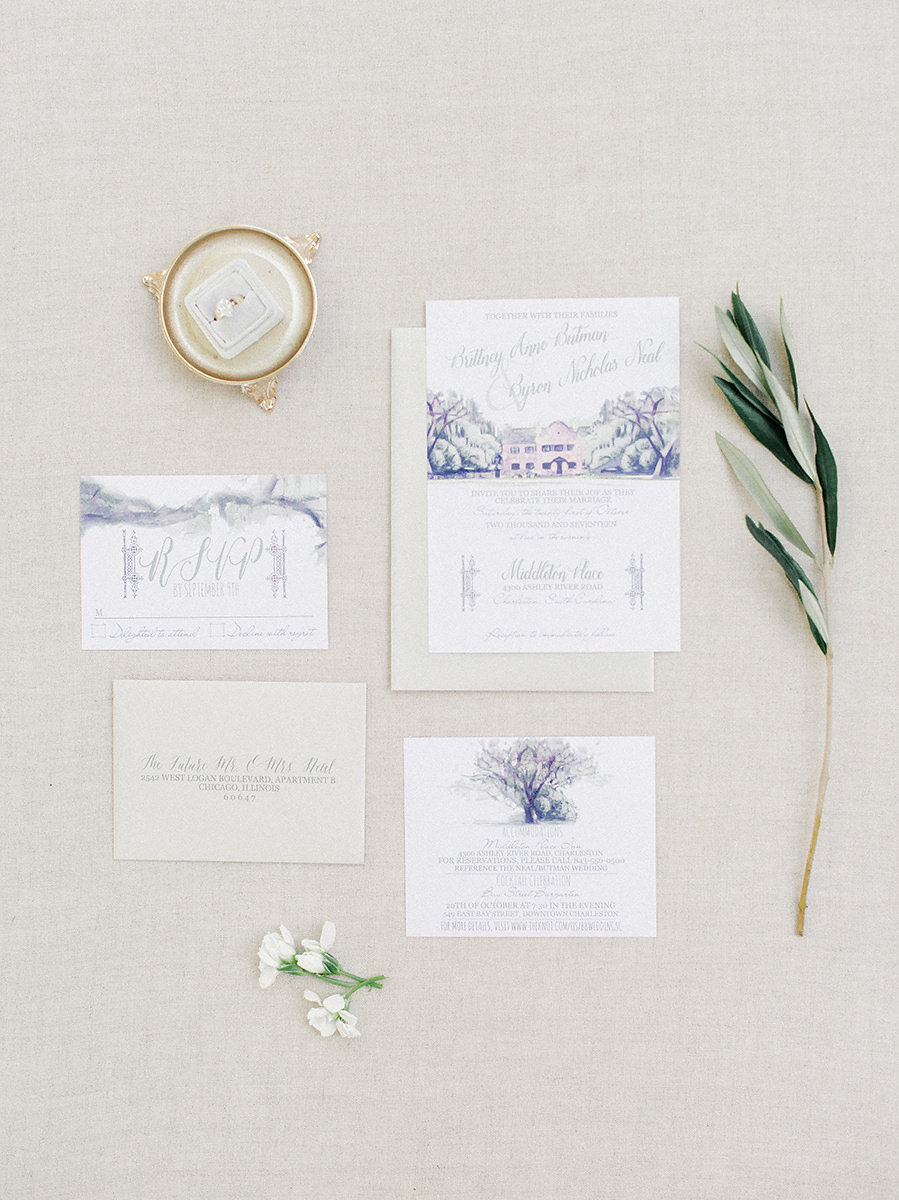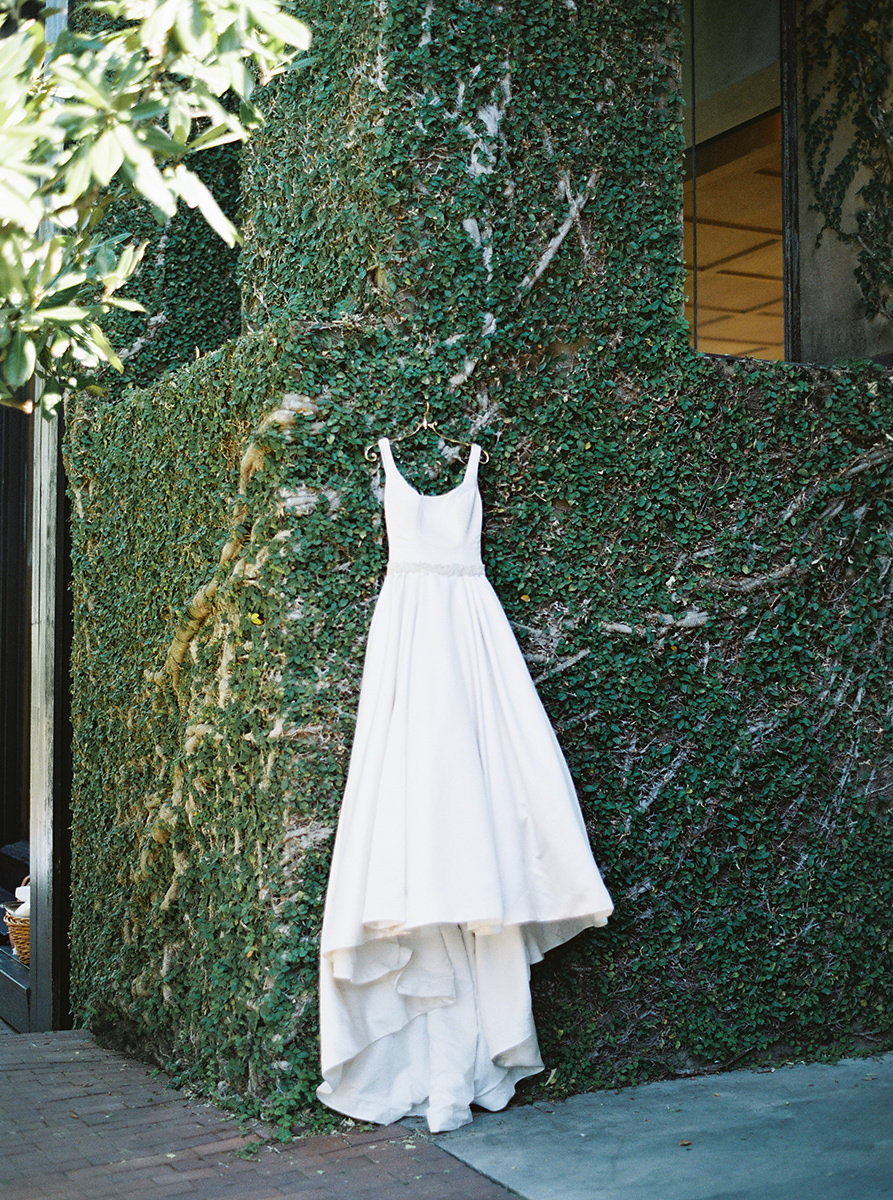 Brittney and Byron worked with Tassia from BEAUTIFUL BRIDE EVENTS to bring their vision to life. When picking the venue, they knew they wanted to get married outside under a tree. Trees hold a special place in Brittney's family. When she was a little girl, her dad traveled for work which meant they had to moved quite a few times. At each new house, Brittney would pick a special tree in the yard and call it their "prayer tree or wishing tree". Trees signify so many spiritual things to the Butman family so they loved the idea of incorporating them into their ceremony.

Brittney and Byron chose MIDDLETON PLACE because quite frankly, "it took our breath away." they tell us. They fell in love with the beautiful garden backdrop and the one thousand year old oak trees draped with whispering Spanish moss. They were both born and raised in the Midwest and had never seen trees so big and so old.

Today, Middleton has one of the most exquisite and manicured gardens in the country. If we look back in history, this wasn't always the case. Middleton has come a long way over the last 300 years. The fact that this specific plantation withstood so many natural hardships and cultural changes was extremely meaningful. They knew their marriage wouldn't be perfect and that they would eventually have to overcome obstacles together. They hope the spirit of Middleton will stay with them as a reminder to keep preserving and living with love.