There's no denying that wedding planning can be very overwhelming, and that's exactly how Marena & Mike felt until they met with their wedding planner AMBER VEATCH DESIGNS. The basic idea for their traditional Coptic Orthodox ceremony was simple yet elegant. Whilst the bride wanted to incorporate pastel colours she didn't want to 'overdo' it. Amber went on to create something above and beyond their expectations and Florida wedding photographer LOVE & COVENANT PHOTOGRAPHY captured it beautifully.
The chose the VINOY RENAISSANCE RESORT for their reception because of it's charm. "It had a vintage vibe that we loved and the ballroom was large enough to accommodate our extensive guest list. Not only was the hotel lovely, but the surrounding area was beautiful. We knew our traveling guests would love it as well. The area houses many lively and cute restaurants with a beautiful, scenic water view."
HOW DID YOU MEET? Michael and I met the first time at a friend's engagement. He approached me very politely (as politely as he could be!) and introduced himself. We had many mutual friends who hinted to each of us that we would be great together. After a few text messages back and forth we found ourselves really enjoying each other's conversations. Text messages turning into phone calls, phone calls turned into face-times, and face-times turned into him coming and visiting me in Florida from D.C.
TELL US ABOUT YOUR PROPOSAL: Michael planned a beautiful proposal at Fred Howard Park right near the edge of the water. He had me thinking we were going there for a birthday celebration for his sister. When we got there he took my hand and walked me up the sand to an area in front of the water where he had laid out a blanket with framed photos of us. He got down on one knee and lo and behold, I said yes! But the surprise didn't end there. He then proceeded to take me down to one of the park shelters where our friends and family were waiting to celebrate with us. It was perfect.
TELL US ABOUT FINDING YOUR WEDDING DRESS: It didn't take long to find the dress. It was my first day looking with my mom, dad, and sister. CC's bridal boutique was the second boutique we went to and after trying on only a few dresses, I wore the Calla Blanche dress. I knew it was the one. It was exactly what I was looking for. It had the perfect amount of lace and beading. Ultimately, I knew Michael would love it.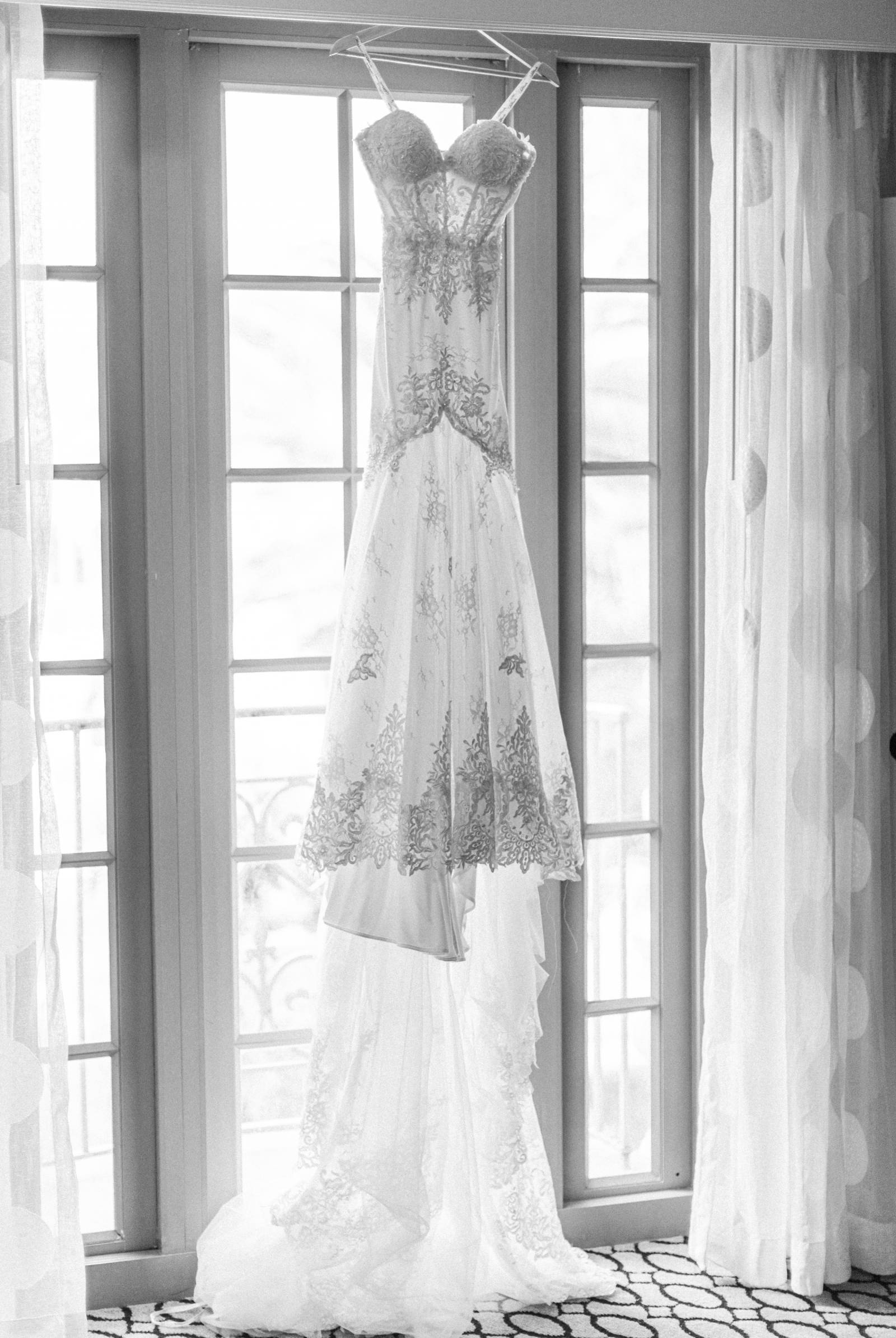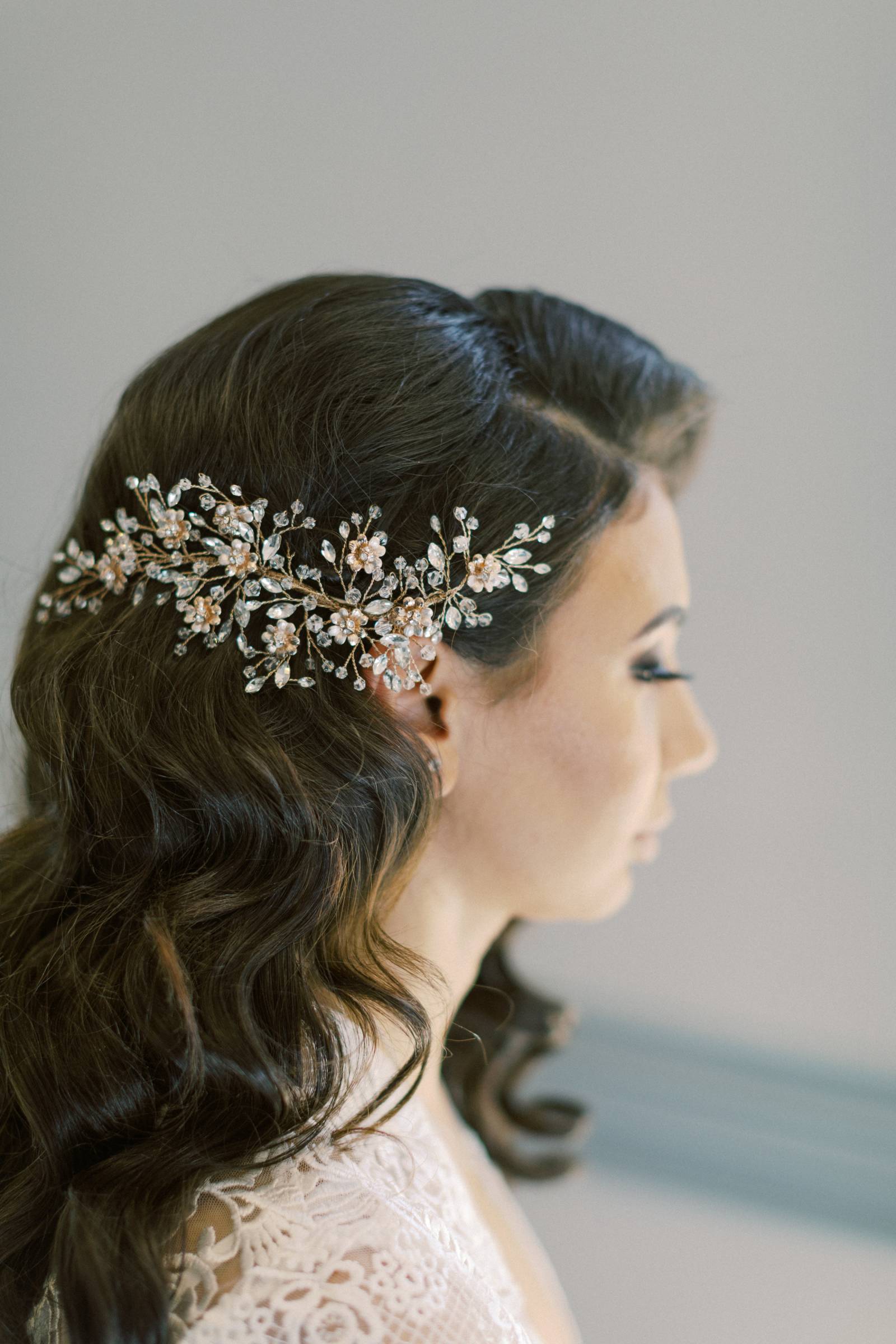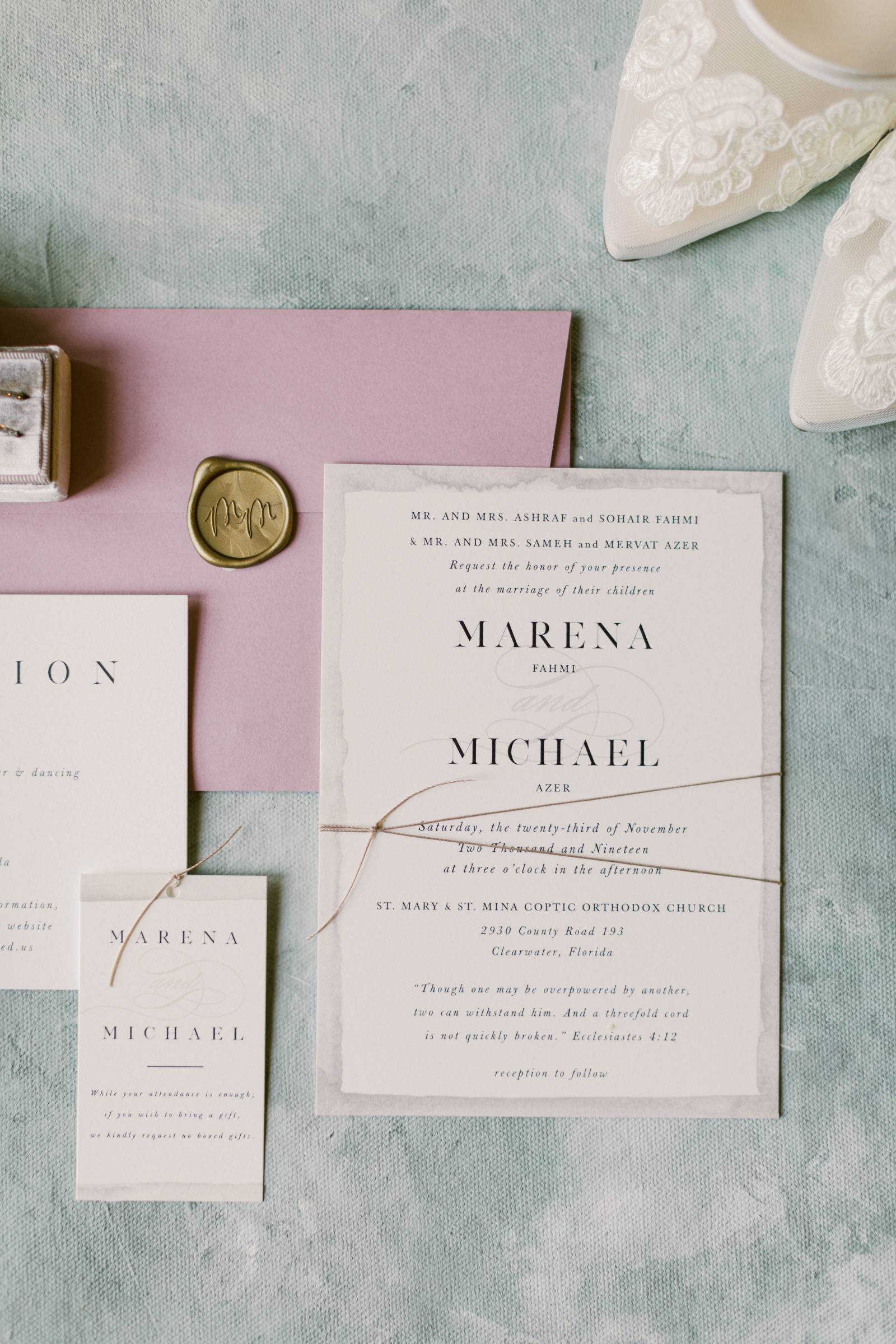 DID YOU HAVE ANY DIY ELEMENTS? We didn't have many DIY elements. However, when we got our invitations from Minted, I wanted to add a little something to them to make them a bit more unique. I ordered some dusty rose-colored string to add to the invitations. I think it gave it the "pop" I felt it was missing.
DESCRIBE YOUR WEDDING FLOWERS: The bridal bouquet was mostly white blooms with accents of dusty rose blooms and greenery. The bridesmaid's bouquets were similar but with a lot more coloured blooms. For the tables, we wanted a lot of greenery with some coloured blooms. We wanted the floral colours to be soft like dusty rose and blush.

FAVOURITE DETAIL OF THE DAY: Mike's favourite detail was the gelato and coffee carts we had outside the reception hall and he loved the Violinist that played during dinner. I loved the way the ballroom turned out. It was truly breathtaking upon first glance.. I loved all of the small details from the textured linens on the tables to the blush-coloured candles and statement floral centerpieces. I loved how neutral and elegant it looked. It was all thanks to Amber!
WHAT ADVICE WOULD YOU GIVE OUT TO A COUPLE PLANNING THEIR WEDDING? The biggest advice we would give is don't stress out! Try to enjoy every step of it because it flies by. We worked with lovely people that cared about our day just as much as we did. Not only were they a part of our wedding, but some of them have become lifelong friends. Our whole team was amazing but two stood out: Our wedding planner, AMBER VEATCH DESIGNS, and our photographer, ANGEL GUZMAN. These two went above and beyond our expectations. Take your time building your vendor team because that will make all the difference on your special day.
MOST MEMORABLE MOMENT? Our most memorable moment was our first look. We decided to do it in front of the lovely pink Vinoy Renaissance hotel. Our family and bridal party were lined up inside the balconies peeking (Michael said this part was super awkward). Our wedding photographer captured the moment perfectly.
WHAT ASPECT OF THE WEDDING WAS THE MOST IMPORTANT TO YOU BOTH? The most important aspect of our wedding was celebrating with our close friends and family. We just wanted the day to be fun and memorable and we wanted our guests to have a wonderful time.
ANY OTHER DETAILS THAT HELP TELL THE STORY OF YOUR DAY? We want to really thank our wedding team for the wonderful day but most importantly our wedding planner, AMBER VEATCH DESIGN, and our photographer, LOVE & COVENANT PHOTOGRAPHY, for really making it special. it wouldn't have been perfect without them.
TELL US A LITTLE ABOUT YOUR HONEYMOON: Our honeymoon was in Bora Bora. It was quite the travel for the long haul but well worth it. We wanted a place where we could relax and enjoy each other's company. Words or pictures will not do justice.
IS THERE ANYTHING YOU WOULD CHANGE OR DO DIFFERENTLY? There is absolutely nothing we would change.. We loved every moment of the day.
A huge thank you to Florida wedding photographer LOVE & COVENANT PHOTOGRAPHY for sharing this truly gorgeous Florida wedding with us. Located in Tampa, Florida he's fond of travelling far and wide to capture your love stories. "I have photographed weddings in Bali, Jamaica, St Thomas, Punta Cana, and all over the United States. I am a goofball that loves to capture subtle romance and the passion between two individuals. Your wedding photos and film will tell the story of two individuals in love for years and years to come. l love Jesus, my family, and some good food! Besides weddings, I have a soft spot in my heart for foster kids. Creating and telling a story to be able to show and tell your kids is what makes my heart full." Check out more of his work in our vendor guide here.