Being local to the bride's Cincinnati hometown, GREENACRES ART CENTER offered Amber & Brent the perfect outdoor wedding venue. Captured beautifully by CHELSEY BARHORST, the couple wanted a wedding that would leave their guests awestruck, but one that also included details that would speak to their personalities and relationship. "We wanted to include a lot of neutral colours, yet we also wanted some extravagant details. I personally wanted to incorporate many florals, while my husband was set on having an open bar. We did not want to have "traditional" wedding details and working with SAMANTHA JOY EVENTS made this incredibly easy for us."
HOW DID YOU MEET? We met in undergrad at The University of Kentucky. My sorority and his fraternity were paired for a philanthropy event which required partner dancing as we were matched together.
TELL US ABOUT YOUR PROPOSAL: We have two dogs, Boba and Chui. They are our WORLD. Brent had planned a nice dinner for us in Over-the-Rhine in Cincinnati. After the dinner we walked to get ice cream and then walked to a park where we normally walked to after dinner. From here, I was surprised by my father, mother, brother, and my two dogs. Boba had a sign around her neck that said: "Amber, will you marry me?" and Chui had a sign that said: "She said yes!". Brent then got down on one knee and proposed with the whole family there. It was such a great surprise and I loved getting to have our dogs incorporated into the moment.
TELL US ABOUT FINDING YOUR WEDDING DRESS/ATTIRE: I have always wanted an extravagant dress that made me feel 'sexy'. I also threw around the idea of having two dresses, one for the ceremony and one for the reception. It was also very important for me to be able to dance without any restrictions! I eventually narrowed the brand I wanted to PRONOVIAS. I was SET on the Pickford dress. I tried on three dresses, including the Pickford. I left the shop in less than an hour with the decision made on the Pickford.
DID YOU HAVE ANY DIY ELEMENTS? DIY from us personally, no. But I do know that Samantha Leenher and her team worked on many different elements that they either assembled themselves or created on their own such as the wedding invitations/designs, dinner menu, our bar sign which included pictures of our dogs and signature cocktails (Bobarita and Chui on the beach). I'm sure there are many other elements they did on their own just by a judge of how hardworking they are at SAMANTHA JOY EVENTS. I also want to mention that my husband and I gave our wedding planner an idea of what we wanted in mind for our big day, and they exceeded our expectations when it came to their entire design proposal.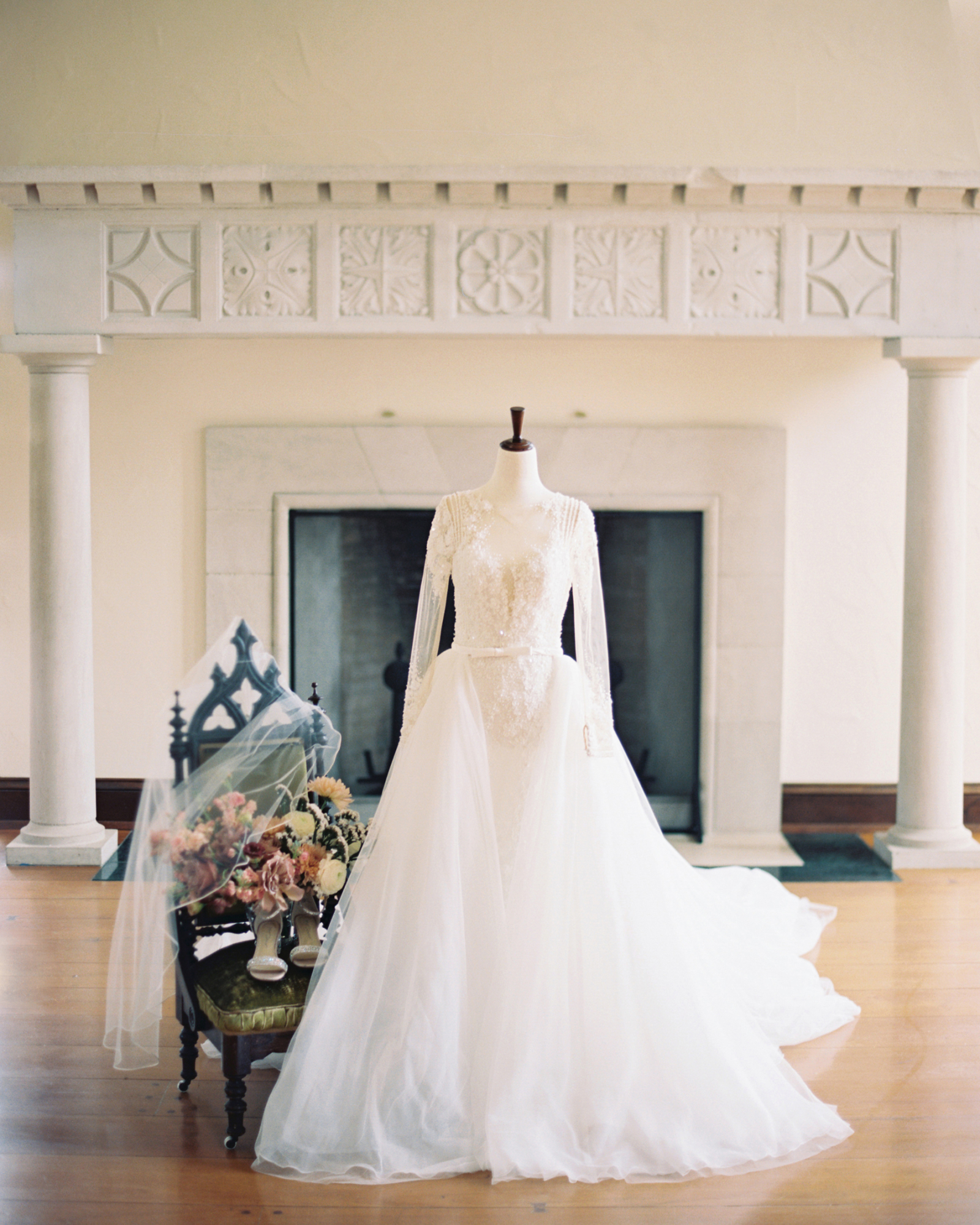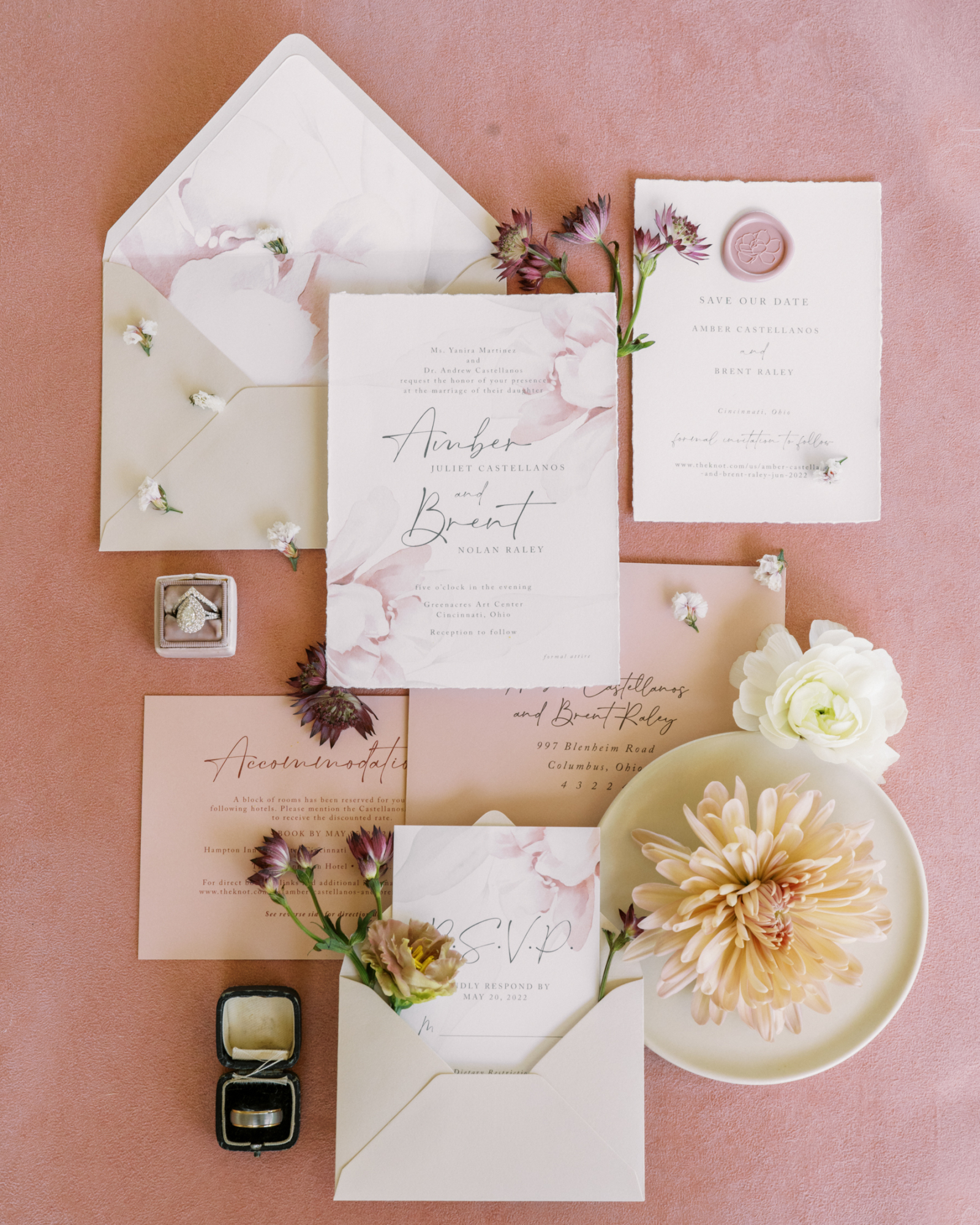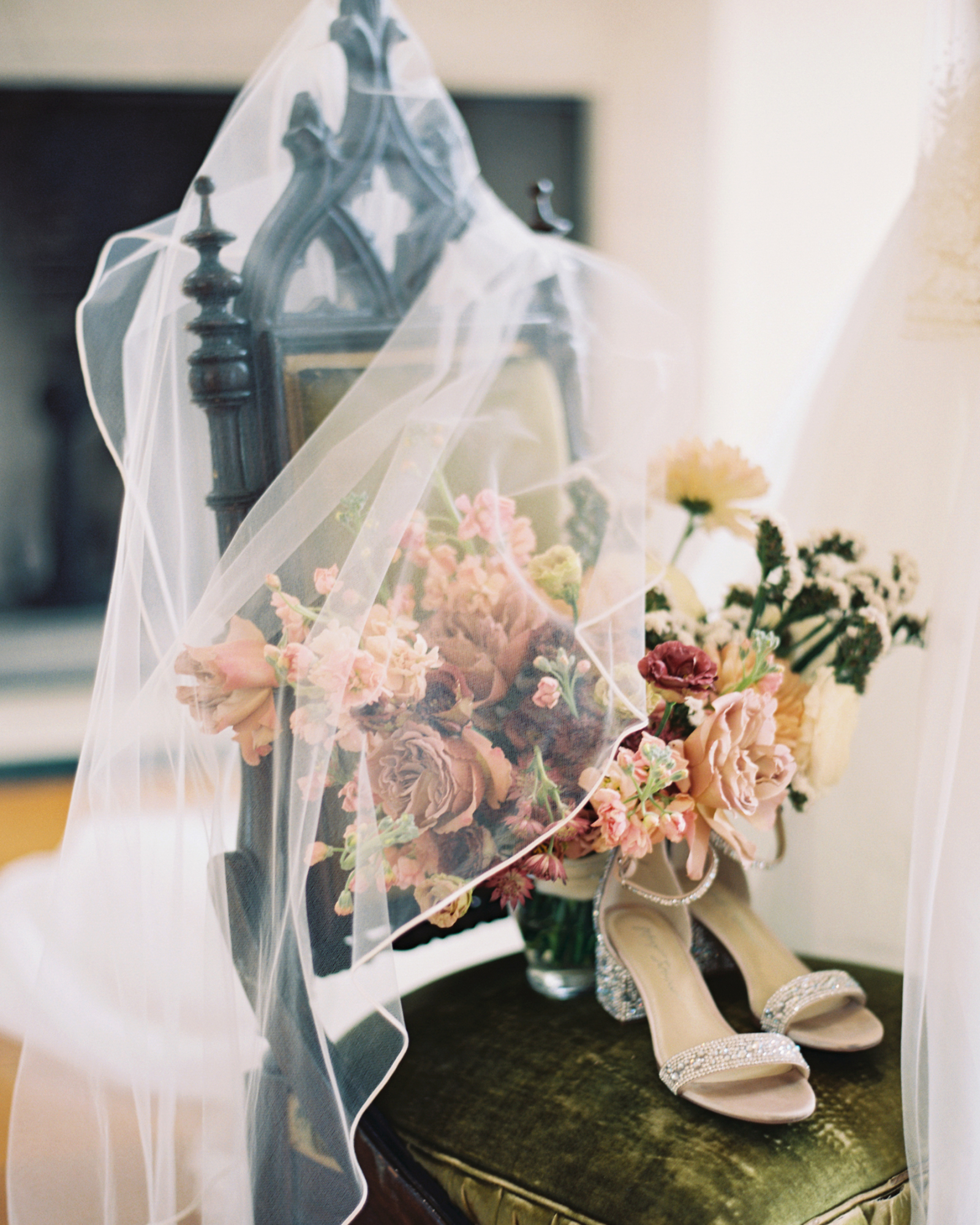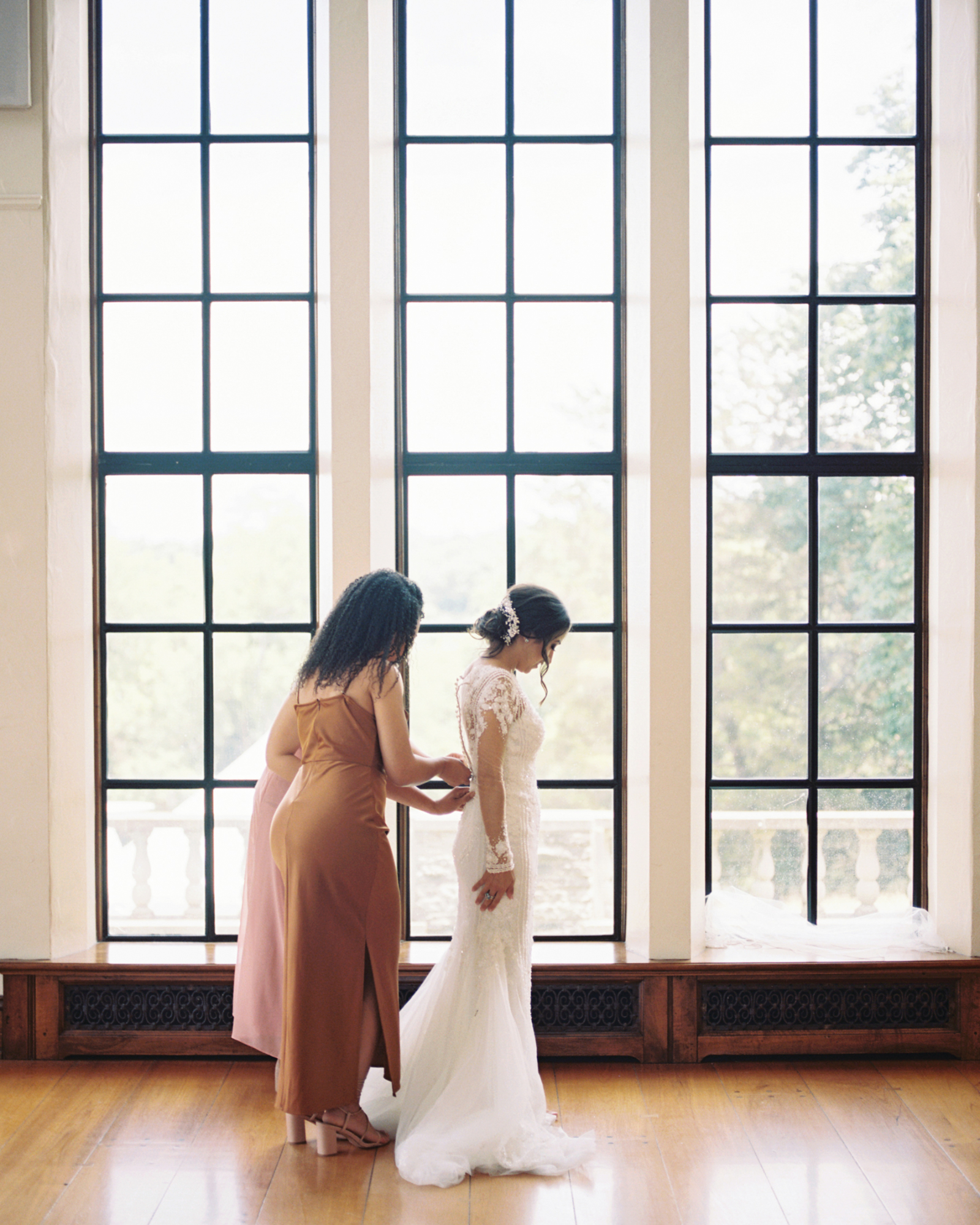 DESCRIBE YOUR WEDDING FLOWERS: I went over the top and I have no regrets! I had multiple hanging installations as well as centerpieces for the tables. ROOTS FLORAL DESIGN also crafted two large ceremony urns that were then used as large centerpieces for banquette tables. I mentioned earlier that I wanted elegant details, but I wanted them done in such an effortless and neutral manner. This included incorporating flowers like Café Latte Roses, Quicksand Roses, Lisianthus and Ranuculus, to name a few!
FAVOURITE DETAIL OF THE DAY: The setup of our bar and DJ, for sure! The bar was directly behind the dance floor. The panels covering the front of the bar were reflective and it was a real statement piece. The best part was the DJ, who was directly behind the bar, on an elevated platform that looked over the entire dancefloor!
WHAT ADVICE WOULD YOU GIVE OUT TO A COUPLE PLANNING THEIR WEDDING? Get a wedding planner. Be willing to be flexible with the caterers and many other people your planner works with, it is amazing how many tiny details go into a wedding and there are so many moving parts. Be open to different design ideas and inspirations.
MOST MEMORABLE MOMENT? The big reveal! Our wedding planner led us to our tent with our eyes closed and then asked us to open our eyes to see the finished design. This moment was astonishing! We got to take in every moment and appreciate all the hard work and detail on our own and it was truly a special moment for us both. We even included my parents later for their own version of the reveal and getting to see their faces light up was so heartwarming. The other special part of our big celebration was that my brother was able to officiate the wedding which meant so much to us. He had told us many times that he didn't think he could do it without crying but he knew how much it meant to us, so he finally agreed. He was fantastic and we couldn't have asked for a better person to marry us.
WHAT ASPECT OF THE WEDDING WAS THE MOST IMPORTANT TO YOU BOTH? The biggest thing that we wanted for this wedding was for our guests to be able to have a great time enjoying the celebration! We wanted to make sure that guests were able to enjoy cocktail hour in a laidback fashion, indulge in tasty food, and dance the night away with fantastic music.
ANY OTHER DETAILS THAT HELP TELL THE STORY OF YOUR DAY? We wanted to make sure that the wedding showed our families stories, so we incorporated things such as a string quartet playing some of our and our family's favourite songs and including Latin cuisine in our menu. The music during the reception ranged from Latin-salsa/reggaeton to early 2000s pop punk so that we were able to hear all our favourite songs from growing up!
TELL US A LITTLE ABOUT YOUR HONEYMOON: We decided to do a delayed honeymoon as I am currently still in medical school and our summer schedules were convoluted. We have planned a cruise to the western Caribbean in December to celebrate our marriage. Ultimately, once school is finished and we can find the time we plan to make our way to Europe to explore countries such as Italy, Greece, Croatia, and Spain.
IS THERE ANYTHING YOU WOULD CHANGE OR DO DIFFERENTLY? We absolutely loved our wedding but we both were shocked at how quickly the day and night went by. We tried our best to see all our guests but once the dancing started we moved our way to the dancefloor for the rest of the night. If we could do it again we think we would start walking around to see guests earlier in the night to make sure we saw everyone.