This 'France meets the south' celebration by Charleston wedding photographer ANNE RHETT sure is one dream of a wedding. Lauren - a native Southerner, and Alexandre - from France, blended their two worlds beautifully under the romantic oaks in Charleston. Working with an 'ethereal modern' aesthetic, the result is a charming celebration at the beautiful LEGARE WARING HOUSE.
The gorgeous bride tells us, "Whilst I don't consider myself a Southern Belle per se, my heart is deeply rooted in the romantic Spanish-moss draped mystery of the South. I wanted to assert and reconcile both of those distinct but (I think!) compatible aspects of my personality in the visual I was working up in my mind of how this day would unfold. As my sister, who played an incredibly huge part in bringing this day together (what luck that I had a built-in master graphic designer who had worked on so many chic, innovative and unique weddings), and I continued to talk through how this would manifest, we realised it meant drawing on tradition and romance, while not going overtly feminine or fussy. We used vintage prints of local flora and fauna for the invitation suite and programs intermixed with a loose but modern handwritten calligraphy designed for our wedding. There were very few flowers (none in any of the bouquets, apart from beautiful green hellebores and thistle) but there was softness and magic in the textures and palette. Dried pampas grass, like clouds in their big airy masses, was a key inspiration, and was ultimately incorporated into our design as a focal point in my bouquet, the arrangements lining the aisle, as well as an architectural sculpture suspended above the bridal party's table at the reception. We were so very lucky to get married at a stunning venue that brought plenty of drama on its own, and I love how the eucalyptus greens and slate blues prevalent in our design melded softly into the glory of the nature on site.
TELL US A LITTLE ABOUT HOW YOU MET: Like pretty much every couple we know in the Big Apple, Alex and I found each other via a dating app but I like to imagine our meet cute as the modern day You've Got Mail; our first date was only three blocks away from Café Lalo of Meg Ryan-Tom Hanks-rose-in-book-1990s-goodness fame. We spent hours talking on that Sunday evening. Turns out that in the big old maze of Manhattan we lived only five blocks from one another on the same Avenue.
Who would have thought that growing up over 4,000 miles apart, me in South Carolina and Alex in Le Mans, France, we would find each other amidst that crazy all-encompassing experience that is New York - and that we would match so perfectly. Alex and I have almost a comical love of finding items to be reused and re-loved and we have an uncanny sense for finding abandoned curbside treasures.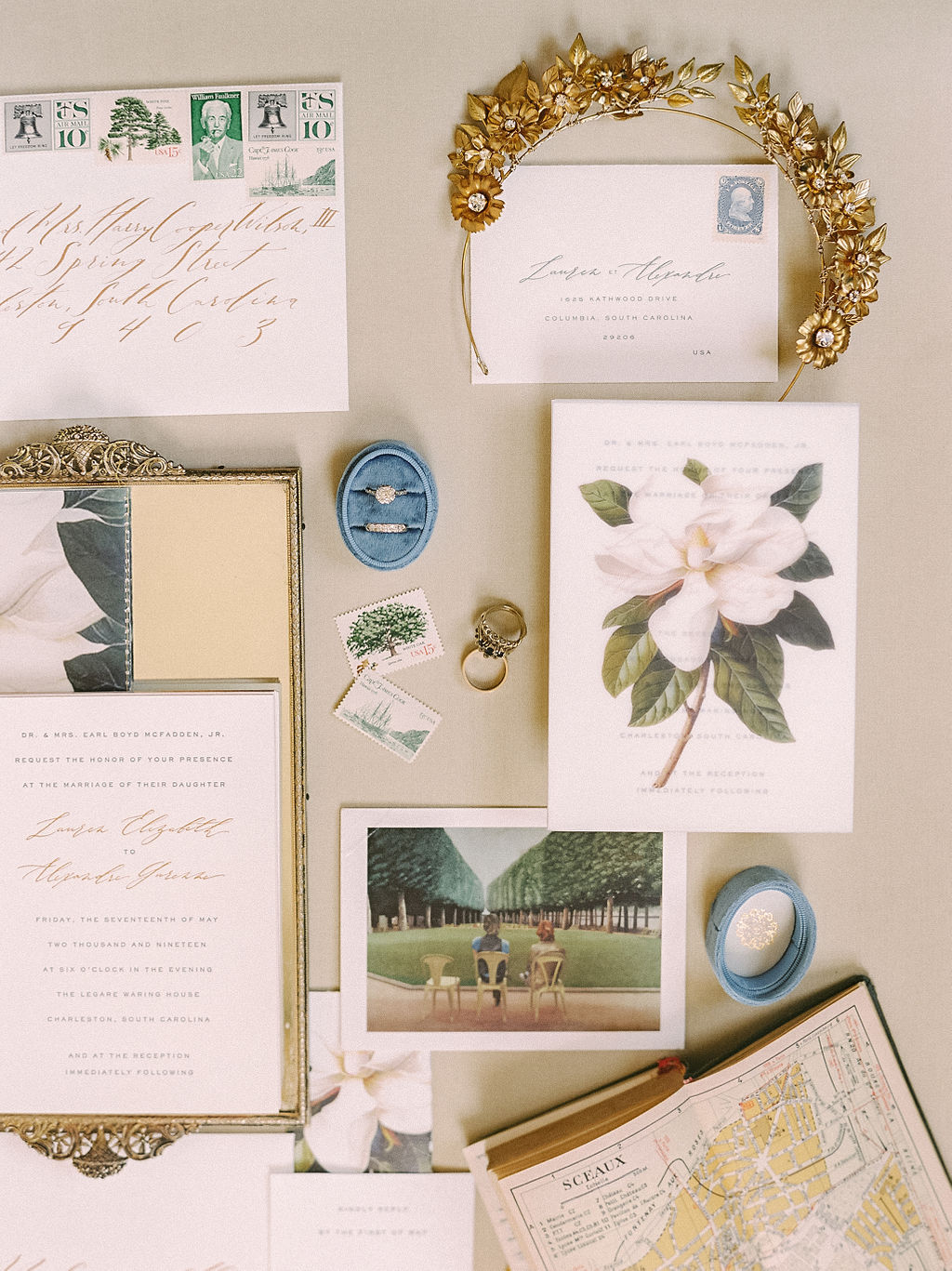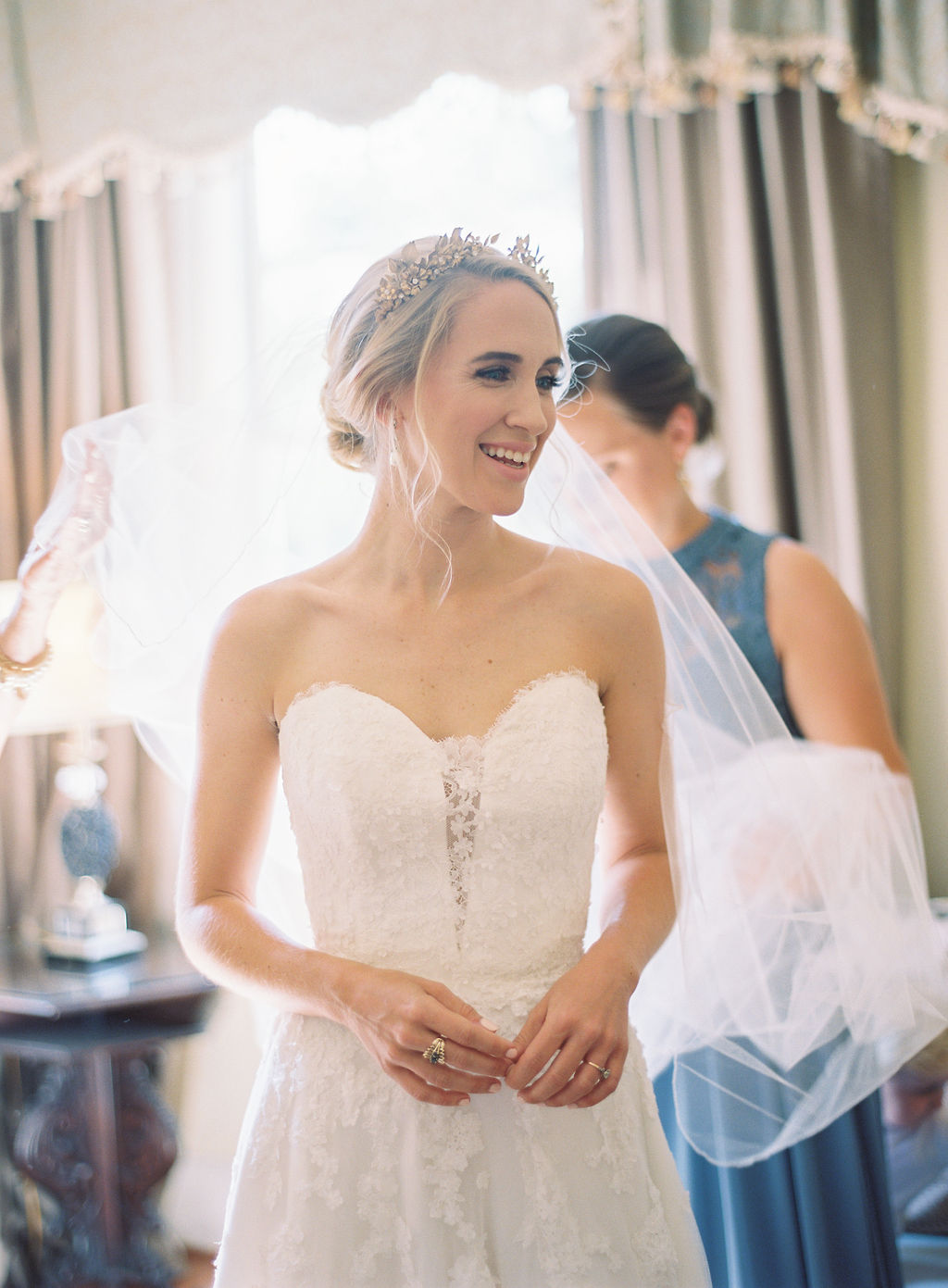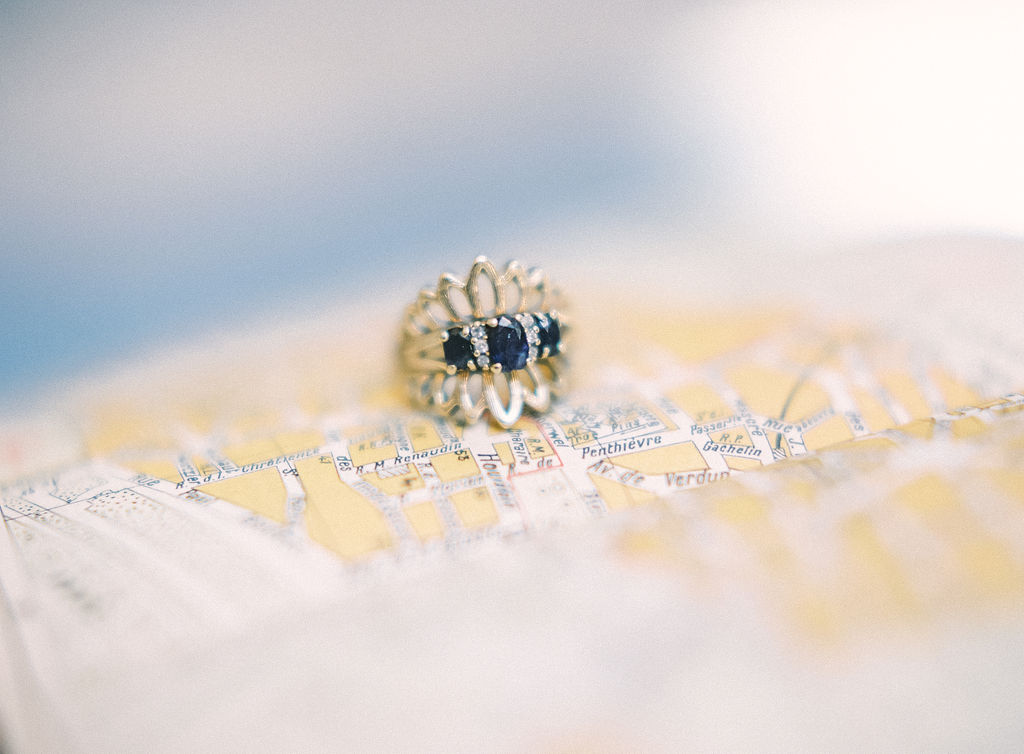 TELL US ABOUT THE PROPOSAL: Alex proposed in the loveliest most romantic of ways. We had been working in Paris for the week (ironically, once again, our offices only a stone's throw away on the Champs-Élysées) and had driven up to Belgium for the weekend to meet the newest addition to Alex's family, his precious nephew, Leo. But after a week of work and family, Alex suggested a day to ourselves. Neither of us had ever been to Amsterdam and when he asked if we should go, I said yes. I didn't know I'd be saying yes to a much bigger question while we were there. I'm not even speaking with the bias of rose coloured glasses when I say it was a perfect day. Our train pulled into town as the sun rose over the city. We ate breakfast canal-side. We took a small wooden boat under dozens of little bridges, flanked by houses that had me saying with increasing enthusiasm that each one after the other was surely my favourite. We biked to a brewery, played several hands of cards (we rarely leave home without them!) and made our way back with leisure, stopping at antique stores and speaking to the shopkeepers. I have a beautiful etching of local architecture that we bought before I knew just what a cherished memory it would become.
We were cruising along with no real destination when Alex asked if I would like to stop at a bench for a little while. As we people watched across the canal, or in Alex's case, always car-watching, he mused that Amsterdam was a very important place for us. What did he mean? We had never been here before. That's when he simply said - "The first time I saw you was on Amsterdam Avenue." And that's when my heart started to race. Was what I thought was happening actually happening? Alex reached in his backpack and pulled out a box - but not the kind you might expect! It was my favourite, Mere Poulard (do yourself a favour. Go. Get. Some. Now.), the special cookies that Alex brought home from every trip to France (admittedly at the great risk of bodily harm if he were to forget!). Each flavour comes in a different intricately decorated tin lidded box of yesteryear. They're lovely. But let me tell you, they're even lovelier when the person you love opens them up to reveal another box nestled inside among the shortbread. I said oui. Of course.
TELL US ABOUT YOUR DRESS: We ended up picking a French lace bodice with an illusion deep V and a skirt that I felt was a mix of just the right flare without weighing me down. Working with the designers there we added a lace overlay that matched the bodice and trickled down over the skirt organically.
The crown was designed and handcrafted by Mignonne Handmade, a husband-wife business out of the south of France that "seeks to carry on the traditions of fine quality workmanship that typified workshops and design studios of bygone eras." The brass used is made in the USA, but the components are hand assembled and soldered in France. A theme throughout, I enjoyed the quiet nod to the melding together of France and the States.
The look was topped off by the veil my mother wore when she married my father. I was so pleased when she pulled it down out of the attic and I was reminded of how stunning it is. The scalloped edges were perfection. A final detail was the six-pence coin (the often forgotten last bit of the something old, something new poem) that my sister had tucked in her shoe on her wedding day. I felt it was very important to carry with me pieces of the strong women who I love so much (ultimately incorporating pieces from my mom, sister and grandmother).
Another attic treasure that my mom had held on to was the beautiful blush pink pencil dress and blazer set that my grandmother wore to leave her own wedding in 1953. The silhouette was truly classic and I was so pleased that it fit and was in such great condition. I knew it absolutely had to be what I wore to leave our reception.
WHAT WAS YOUR VISION FOR THE PAPER GOODS? The formal wedding invitations really demonstrate the "ethereal modern" look I was going for. They were hefty, with a simple and strong sans serif typeface for the majority of the body, highlighted by a whimsical, yet elegant and clean handwritten calligraphy for our names, created by the magnificent Erin Boyce at Prairie and Sage. The letter pressing and painted gold edges added to the romance (thanks to the amazing Mama's Sauce in Orlando!). Mary Mac and I hand-tore and painted the reply cards late one night after my sweet nephew (one of our attendants!) had gone to bed. We also folded and sealed the vellum wraps that housed our invitations. A botanical print of a magnolia blossom - simultaneously precise and purely lovely, was printed onto vellum, allowing the contents of the invitation to peek through. The reply cards were tucked inside as well. The outside of the invitations was, in my opinion, just as stunning as the interior and I was so thrilled with how they looked as I handed them over at the post office. I had ordered a collection of vintage stamps on Etsy and loved how they quietly all had significance. One series displaying images of live oaks and white pines, native to South Carolina, another showing a boat at harbour in Hawaii, where my little brother, a US Marine, has been stationed for the past few years. He unfortunately was not able to attend the wedding due to a change in his deployment, and I was pleased to incorporate little reminders of him where I could. The William Faulkner stamps paid further homage to the south, while the air mail stamps remind me of old letters being sent back and forth across the Atlantic. The addresses were handwritten, again by Erin of Prairie and Sage, in a gold metallic to match the painted accents inside. Mary Mac designed a custom logo for the return label. Mary Mac also designed and we hand-sewed the programs, which featured the magnolia motif.
YOU INCLUDED LOTS OF TRINKETS & KEEPSAKES FOR THE FLAT-LAYS THAT HAD SPECIAL MEANING TO YOU. CAN YOU TELL US ABOUT THAT? Well, first and foremost the flat-lays featured my engagement ring, which I adore. Without any judgment of how anyone chooses to approach ring selection, I simply was not someone who was super eager to try on rings or pick something out for myself. Coincidentally, my childhood best friend (one of my bridesmaids!) had moved to New York earlier in the year and she thought it would be great fun to go try on rings. She asked me over and over and I kept dodging it, but finally I caved. I am a failure at picking out rings though. I think we left the shop with me having selected ten "favourites," all of incredibly different styles. It turns out my sweet friend had been acting in cahoots with Alex and my varying selections left him completely perplexed. So he decided just to go hunt down something himself, which I love.
The flat-lay also featured the following:
A vintage book full of maps of the neighbourhoods of Paris and surrounding areas, picked up at a sweet bookshop on our first trip to France together
The above-mentioned antique etching that we bought in Amsterdam together about thirty minutes before we got engaged (fun fact - the shop was previously a cookie factory, and an ornate one at that - it made me smile in hindsight when Alex's proposal involved my favourite cookies).
My something blue borrowed from my mother - a gorgeous sapphire ring, accompanied by a unique wrap ring that was my grandmother's (my mom's mom). The two of them are truly some of the very most important women in my life and I always try to incorporate things representing both of them on days that are meaningful to me.
A vintage purse, hand-beaded in France that I picked out to match my grandmother's going away dress that I wore when we made our exit.
My grandmother's Bible. Unfortunately, all of my biological grandparents have passed away but I was so pleased to incorporate my grandmother into the ceremony. She and I had been very close and when I was little I used to curl up beside her in the pew on Sundays and make small notes in her Bible. A few years after she passed away, my grandfather gave it to me on my birthday, showing me where she had written "For Lauren" on the inside cover. We used this very special Bible for the scripture readings in the ceremony.
A postcard from Alexandre, sent from France to Brooklyn that has a special place in my heart, which also had an influence on the colour palette.
YOUR EXIT WAS FABULOUS. WHAT WAS THE IDEA BEHIND THAT? Truth be told I really love sparklers and good old-fashioned confetti. When our venue told us that neither was a permitted option, we had to get creative. Again, this was the result of brain-storming with my genius sister. The image in my head was full-on Les Miserables. We ended up ordering hundreds of American and French flags of varying sizes - the biggest up to 6 ft x 8 ft. I wanted these majestic, bold, complimentary emblems to be sweeping above our heads as we made our way off into the night. One of the greatest pleasures of being with Alexandre over these years has been having the opportunity to immerse myself in French culture (and I hope the flip-side has been true for Alex as well!). Prior to meeting Alex I didn't speak a lick of French. But by the time we left New York we had an amazing French community - both through our awesome group of ex-pat friends and the lovely crew I came to know at my tiny French school in Williamsburg (I kid you not, my first level course was myself and 8 other girls who were dating French men. We deserved a sitcom). I loved the idea of this being the parting image of what I knew would be a perfect day. Given that the venue was so deeply southern (and our musicians and the cuisine), we really wanted to incorporate other little French touches throughout - our vows were in English and in French, the table numbers were enamel street address signs that were ordered from France, the place cards at the main table were hand-painted French macarons and our first song was Louis Armstrong's rendition of La Vie en Rose. Oh and of course we had to make our getaway in Alex's beloved 1987 Mercedes 560 SL! We had originally rented another car, but when we made a cross-state border trek to pick up this baby, we knew we wanted to incorporate it into these memories.
A huge thank you to Charleston wedding photographer ANNE RHETT for sharing this exquisite wedding with us. Anne is a valued member of our vendor guide. With a passion for creating beautiful memories, she loves to tell people's love stories. "I am humbled by the joys of my job and the way my clients invite me to be a part of such beautiful life milestones. I would be delighted to get to know more about you and your love story!" See more of her portfolio HERE and you might also want to check out this Secret garden elopement in Charleston.