It's not often we hear from both the bride and groom to be so we've enjoyed reading about Seth's proposal to Stevana which reads like something out of a romance novel. LIZA LITVINOVICH captured the beautiful moment which took place in Athens. Be sure to scroll to the bottom to read the bride-to-be's account of it too.
Seth tells us, "The story of Stevana's ring is a very special one. I told my parents that I was preparing to propose to Stevana about six months before the actual event. I was planning to have a ring custom made, and I informed my parents of this early on. Stevana is very dear to me and has a very particular aesthetic so naturally she would need an equally special ring. I spent some time looking into vintage rings and was enamoured with a late Victorian design that incorporated the diamond into a flower shaped setting. Whilst the design was beautiful, it was somewhat over the top and I felt that with some alterations I could create something new based on the same principal. Something that she would be happy to wear daily. Being that she's a wedding photographer I knew that an obstructive ring would cause problems so I wanted to reduce its presence down to something more suitable.

I communicated all of these things to my mother, who immediately suggested I get in touch with JD Hill, a local jeweller in my hometown of Brantford, and begin designing the ring in collaboration. At the same time I began to squirrel away my hard-earned tips & any other spare finances I could muster into a secret spot underneath the dresser.

On a subsequent visit several weeks later I would discover that something very special had occurred several days after that first trip. The event would make the ring even more personal and special than I initially imagined. "Should we show him?" my mother asked Brian, my stepfather, as we sipped our steaming teas in the small kitchen. A broad bestubbled smile, twinkle of the eye, and a nod. Down came the eggcup from the shelf. Resting inside, a century old European diamond.
Brian had proposed to my mother with an heirloom ring which was made in the latter years of the 1800s by his grandfather, a silversmith from Denmark. The ring held two diamonds and an emerald. Three years ago, in the process of moving from the farm in Paris to the home they would share in Brantford one of the diamonds was lost from its setting in the ring.

Fruitlessly they had searched, combing the grasses at the farm literally trying to find the diamond in the haystack. It never turned up. My mother had the empty setting in her ring filled with a modern diamond cut into a facsimile of the remaining stone. Fast-forward three years and about three days after I told my parents about my intentions. Brian is alone in the house, in the morning, shaving. For Brian, a mercurial semi-retired and self-professed curmudgeon, personal care days are infrequent. A morning shave is even more rare given his propensity for long drives first thing in the AM. As he puts his razor down and turns to fetch himself a hand towel, he sees it.
There, glinting between the linoleum tile of the washroom closet, the diamond.
It was incredible enough that it had resurfaced after three years of searching. After one considers the number of times the house had been swept, cleaned and vacuumed. Against all the odds, the diamond was there.
We can only assume that it had become snagged in a towel during the move and that it had been resting in the folds of the linen closet for all the years hence, apparently waiting for this occasion. The diamond, freshly recollected would become the centrepiece of the flower in Stevana's ring.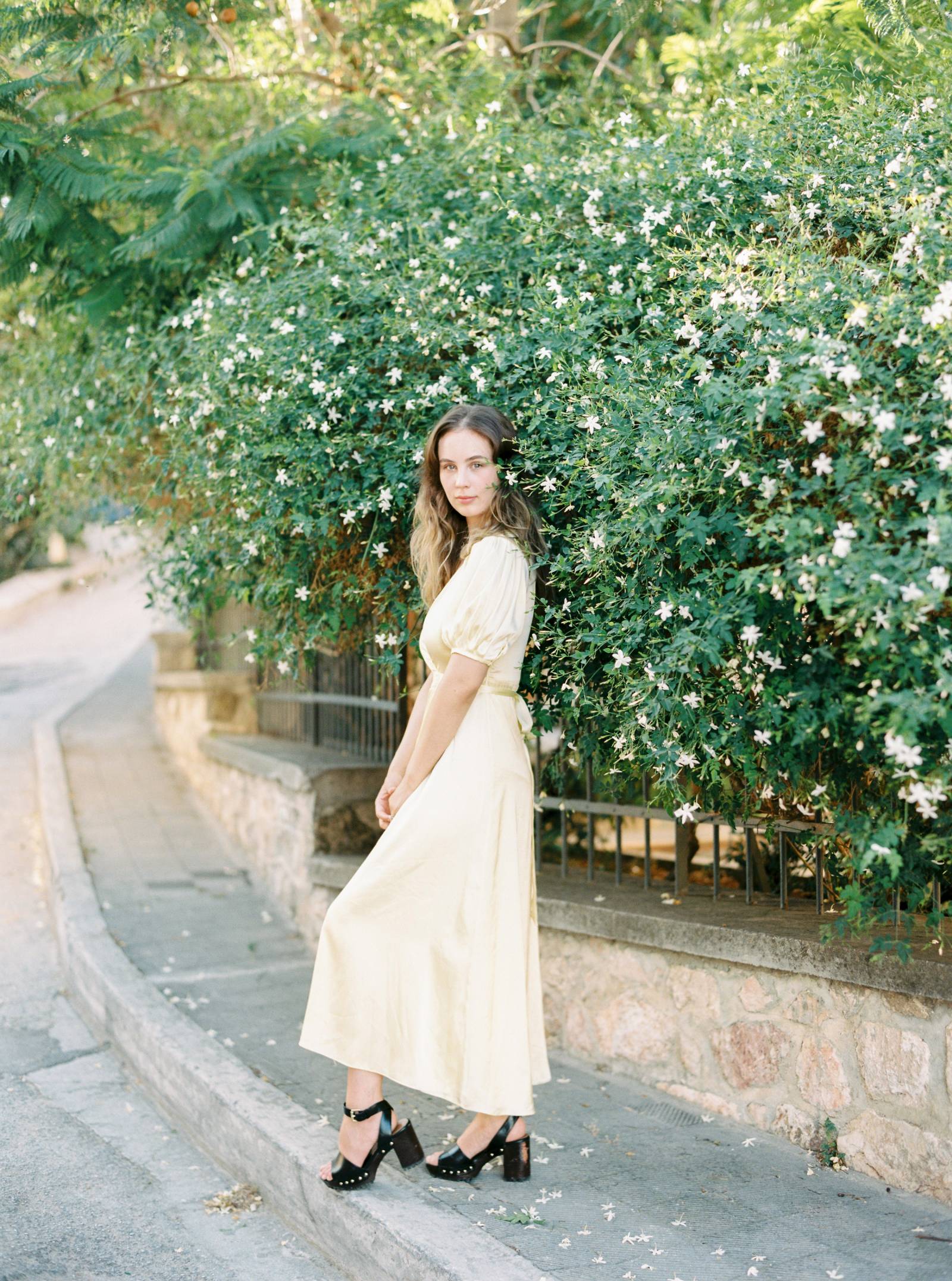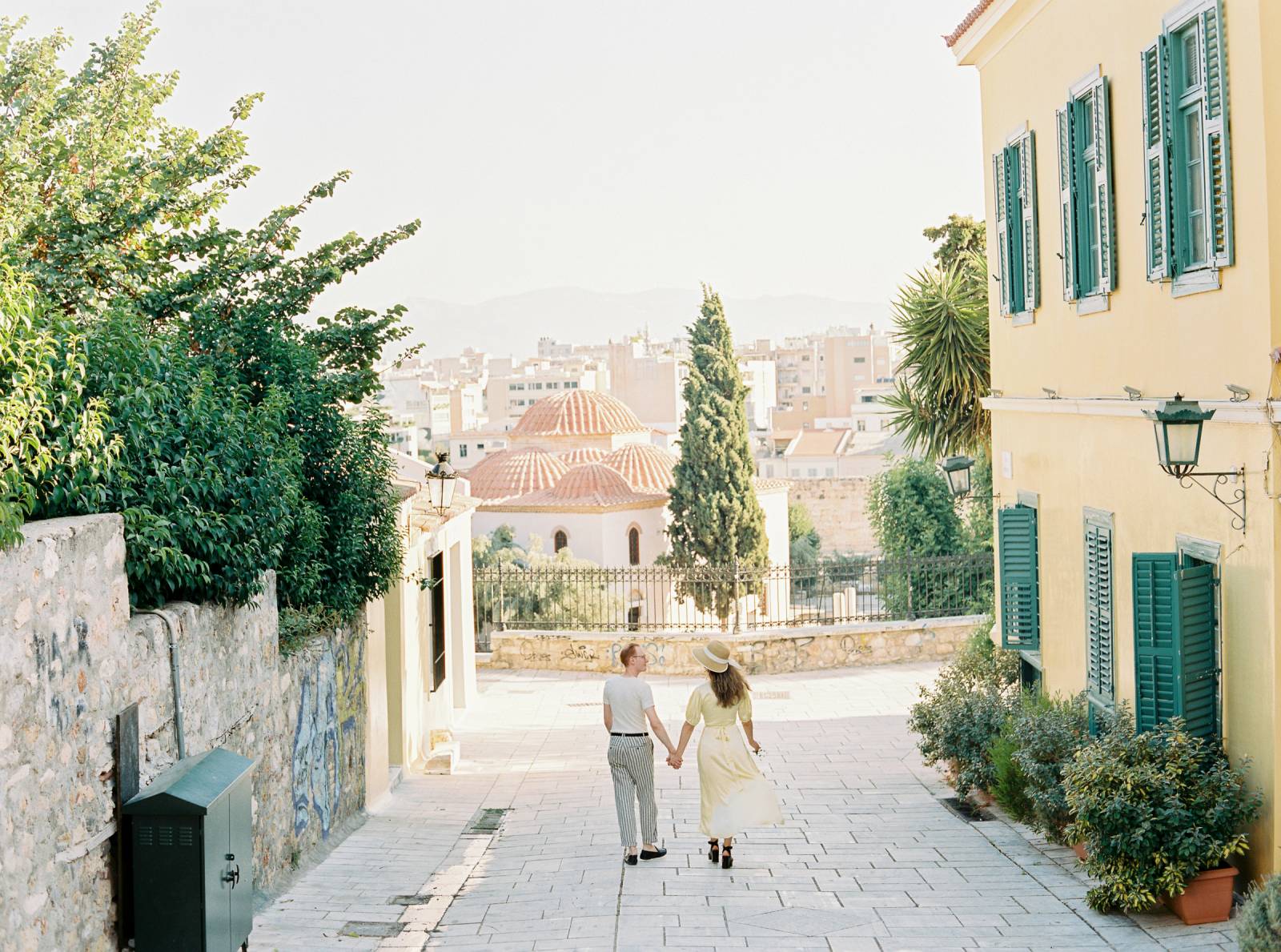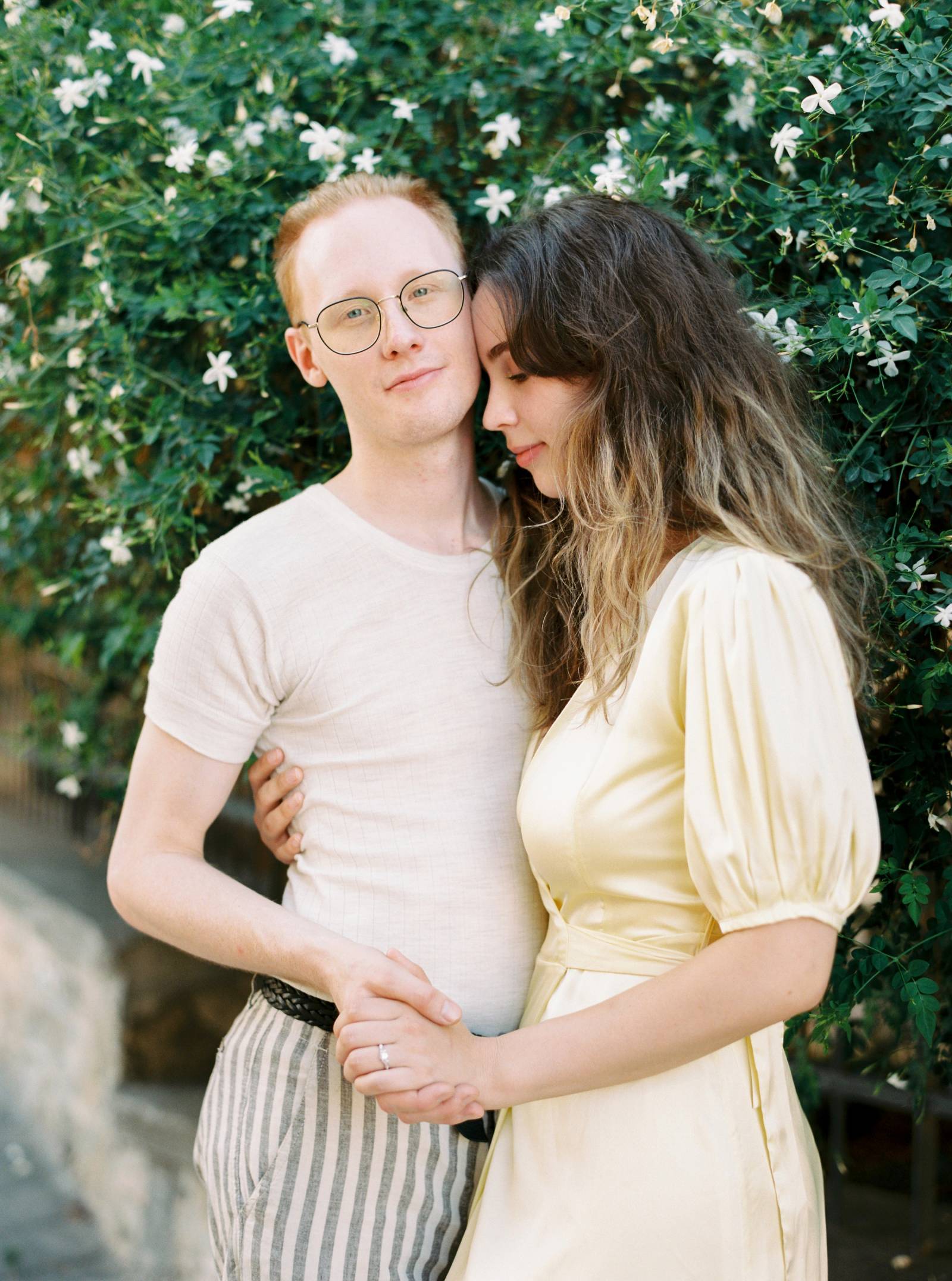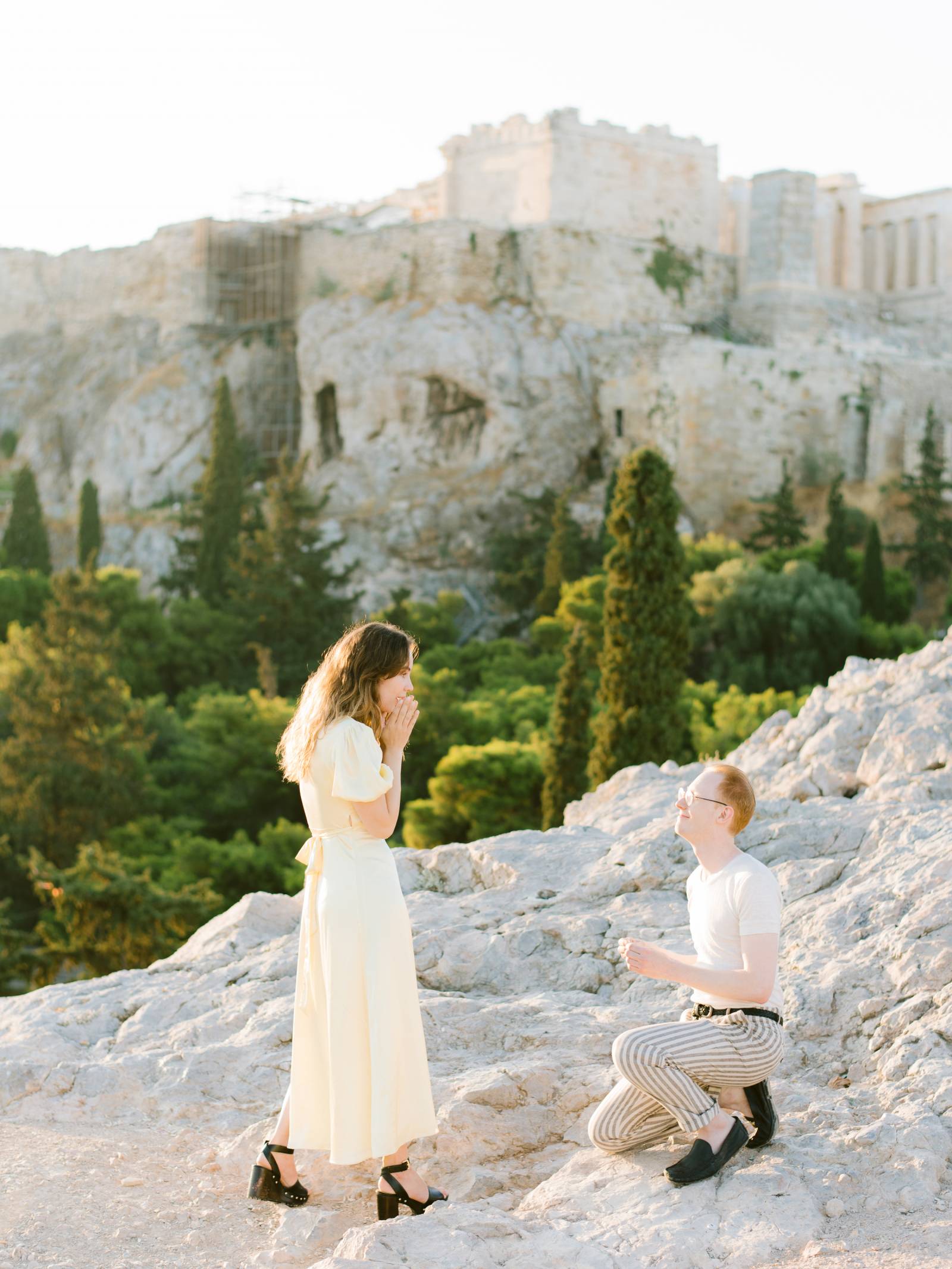 The bride shares her side of this beautiful story with us, "In 2018, I was assigned to second shoot a wedding in Greece with Liza, a dear friend and colleague of mine. During the planning, I had asked if she would mind if my partner Seth could join in our adventures. She said it was not an issue and we three set out to coordinate our flights to Corfu and Athens. The time came for us to travel to Greece and I couldn't be more excited.
We set out to travel to Athens where we would stay for three and a half days to explore the city. I had coordinated with my mum who lives in Belgrade, Serbia to meet us in Athens since we don't see each other more than once a year so her and my stepfather Sani drove down 12 hours just to see us. Things could not be more perfect!
That night we all met up at a little restaurant in downtown Athens called Lithos and our reunion was lovely. Whilst we enjoyed our meal, I was telling my mum of our plans for the next few days. Liza had asked me prior to our trip to model for her with Seth in Greece for a lifestyle session to add to her portfolio. I happily obliged and was excited at the notion, although the catch was we needed to wake up extra early to catch the soft morning light at sunrise. This was stressful to me because I am not a morning person and the idea of waking up at 5am to model was very unexciting.
The morning of the shoot arrived and I begrudgingly rolled out of bed and turned to Seth and told him with a long sigh "I really don't want to be doing this right now". Nevertheless, I managed to walk myself to the washroom where I adjusted my hair and put on a little makeup. I donned on my sunny yellow dress which I bought specifically for the occasion and was as ready as I was going to get for the photoshoot.
We started walking towards the city centre where we made our way up towards the Acropolis. The cobblestone roads led us to a set of stairs that guided us to the top of Areopagus Hill, a rock formation overlooking the entire city and showed a beautiful view of the Acropolis. Once at the top we immediately started with the session as we did not want to miss out on the beautiful sunrise that was happening right before our eyes. We started posing and Liza mentioned she wanted to shoot a little behind the scenes with her cellphone, I thought nothing of it and we carried on. I held Seth's hand and I quietly mentioned to him that I felt like a bride. We never have our photograph taken like this and the experience was a little alien to me.
About a minute after we exchanged some hugs and kisses with Liza photographing the entire time, Seth looked at me with a small smile and started to bend down to kneel in front of me. He slowly reached out his hand and presented me with the sweetest, sparkling little ring I have ever seen. My hands met my mouth as I gasped "Are you serious?" My heart felt as though it was going to fly out of my mouth I was so shocked. My head quickly whipped back to Liza who was snapping away, never to miss a moment. I look at Seth again "Are you joking?" to which he replies "Of course I'm not joking! Why would I joke!" with a nervous laugh. I'm not sure what was running through my mind but I could only describe it as a strange existential moment. It was strange to me that I have reached this point in my life where engagements and marriage were a thing and I was just being proposed to! Time flew right by and here we were, atop this beautiful hill overlooking an ancient city and the love of my life was asking me to marry him.
After a few seconds that probably seemed like a lifetime to Seth I quietly said "Yeah" with warm tears rolling down my face. I shook my hands out because they felt as though they were going numb and it finally hit me! I yelled out to the top of my lungs in the funniest way "Are you jokiiiiiing!?", "Is this for reeeeeeeal!?". We all laughed together and I just looked at him and said " Put it on me!". He slid the ring onto my finger and I bent down and kissed him with my tears wetting both of our cheeks. He then told me the story about how the ring came to be and my half shaken brain tried to listen even though it felt impossible at the time.
After the proposal we shakily walked down the hill and continued our photo session with Liza (who by the way conspired with Seth for 7 months on how to achieve this grand proposal!) We walked the streets and alleys, posed in cafes and peoples yards… It felt like a dream walking in the early morning with a glinting diamond ring on my finger.
After we had taken what seemed to be enough photographs to fill a 2000 page photo book, we settled ourselves in a cafe called Dipylo and ordered coffees and orange juice to start our morning. I called my mum and told us to meet us there as soon as they were ready and when she arrived I greeted her with a good morning and held out my left hand to her. She glanced down and then met my eyes… With a gaping mouth and a gasp she realised what had just happened and immediately hugged me till I couldn't breath. She congratulated both myself and Seth and allowed the news to sink in. A few minutes later her eyes welled up and it was probably the most special and perfect alignment of events to have my mother there as I enter this new chapter in my life. It could honestly not have been more perfect.