Winnie & Haydn's intimate and romantic wedding took place at historic HOPEWOOD HOUSE located in the heart of the Southern Highlands, south of Sydney. The day started at THE RIFT BOWRAL where they had their first look. A grand Victorian Italianate mansion, it's historic gardens provided a beautiful backdrop for their photos by Sydney wedding photographer WE ARE ORIGAMI who never fail to document the day perfectly.
The couple are fans of a simple and classic style but also wanted the day to reflect their relaxed nature and as such the celebration lent towards a more informal vibe. "We just relayed this information with our florist - LIME TREE BOWER - and I think she definitely tied our vision together. We both loved the outdoors and loved the idea of a spring/summer garden wedding. We also knew we wanted to find a place for both the ceremony and reception like a one-stop-shop. HOPEWOOD HOUSE'S beautiful estate manor set in its surrounding enchanting gardens won our hearts on the spring morning we visited it. We knew this was it before we even saw its gardens when we drove up it's beautiful tree-lined driveway. And Steven the peacock was there to greet us while we roamed around! There was just something magical about the place, and we are very lucky that Janet opens her home to hosts weddings. Having organised many weddings at Hopewood, she gave us the confidence in our decision to choose that as our venue for our big day."
HOW DID YOU MEET? About 5 years ago, we both swiped right. Can you guess it? - Tinder! We went on our first date at a now defunct Czech restaurant in Glebe and bonded amidst a flying pretzel from my plate.

TELL US ABOUT YOUR PROPOSAL: Haydn and I love the outdoors, we're always looking for the next adventure and place to explore. On one of our weekend hikes through the Royal National Park, we were meandering through a trail that intertwined between bush foliage and the tops of the exposed sandstone cliffs which overlooked the Pacific Ocean. We then decided to explore near the edges of a cliff when he gave a little 'yelp' from below. I was shocked and quickly peeked forward where he was slightly out of my line of sight. That's where I found him on one knee. My heart was half pounding from the thought of him falling and him on one bent knee. He did say he wanted to make it a moment to remember.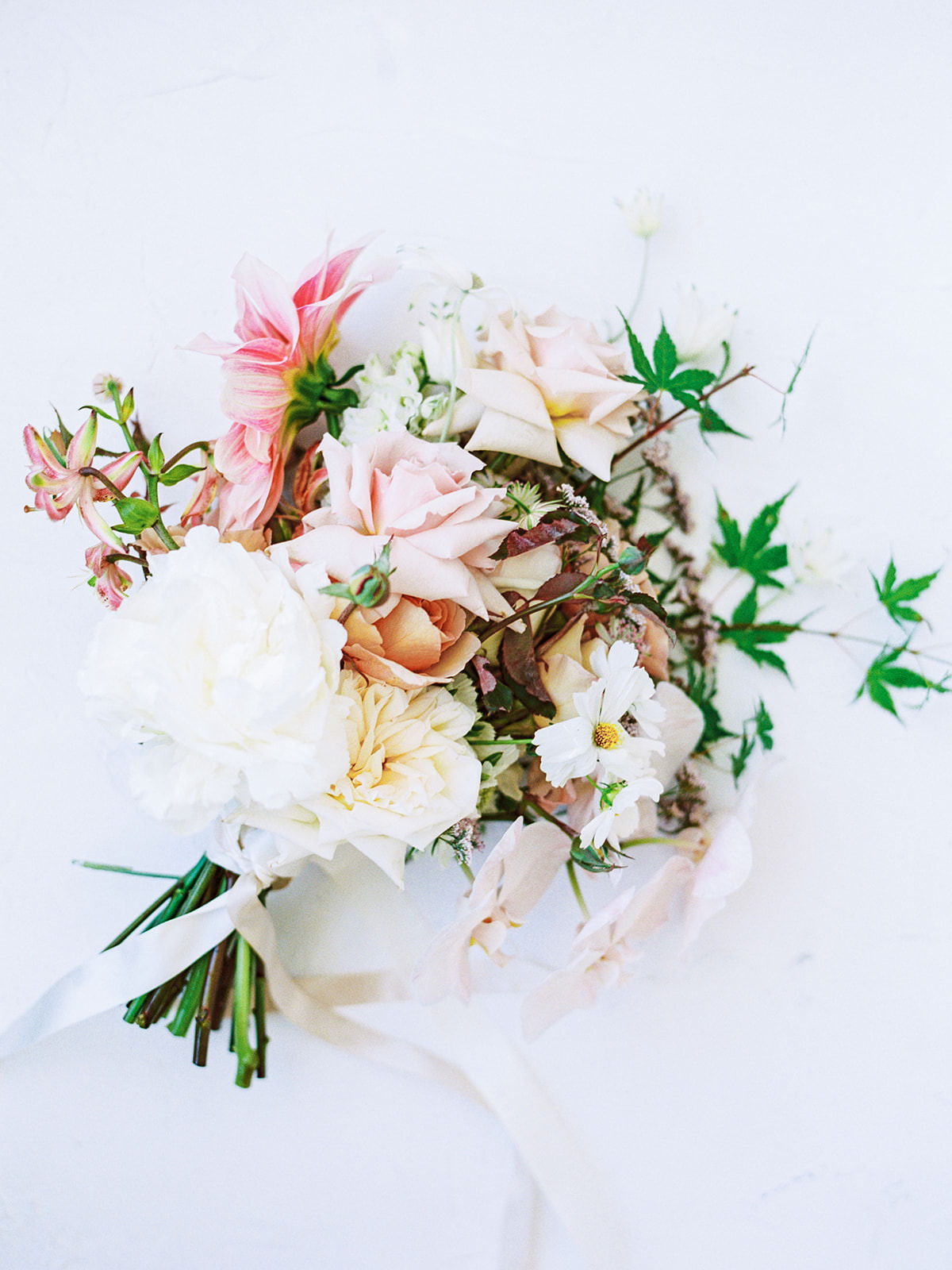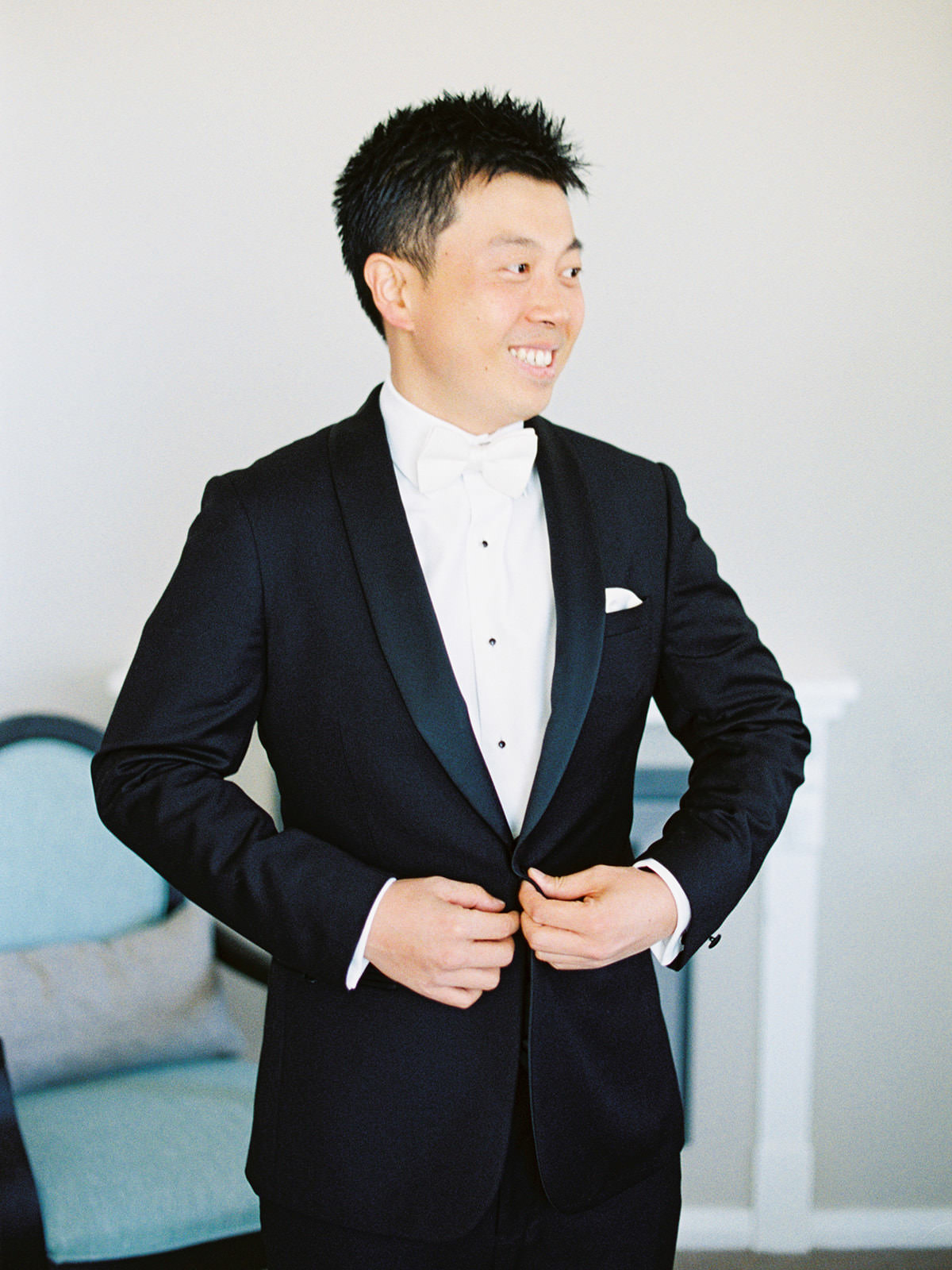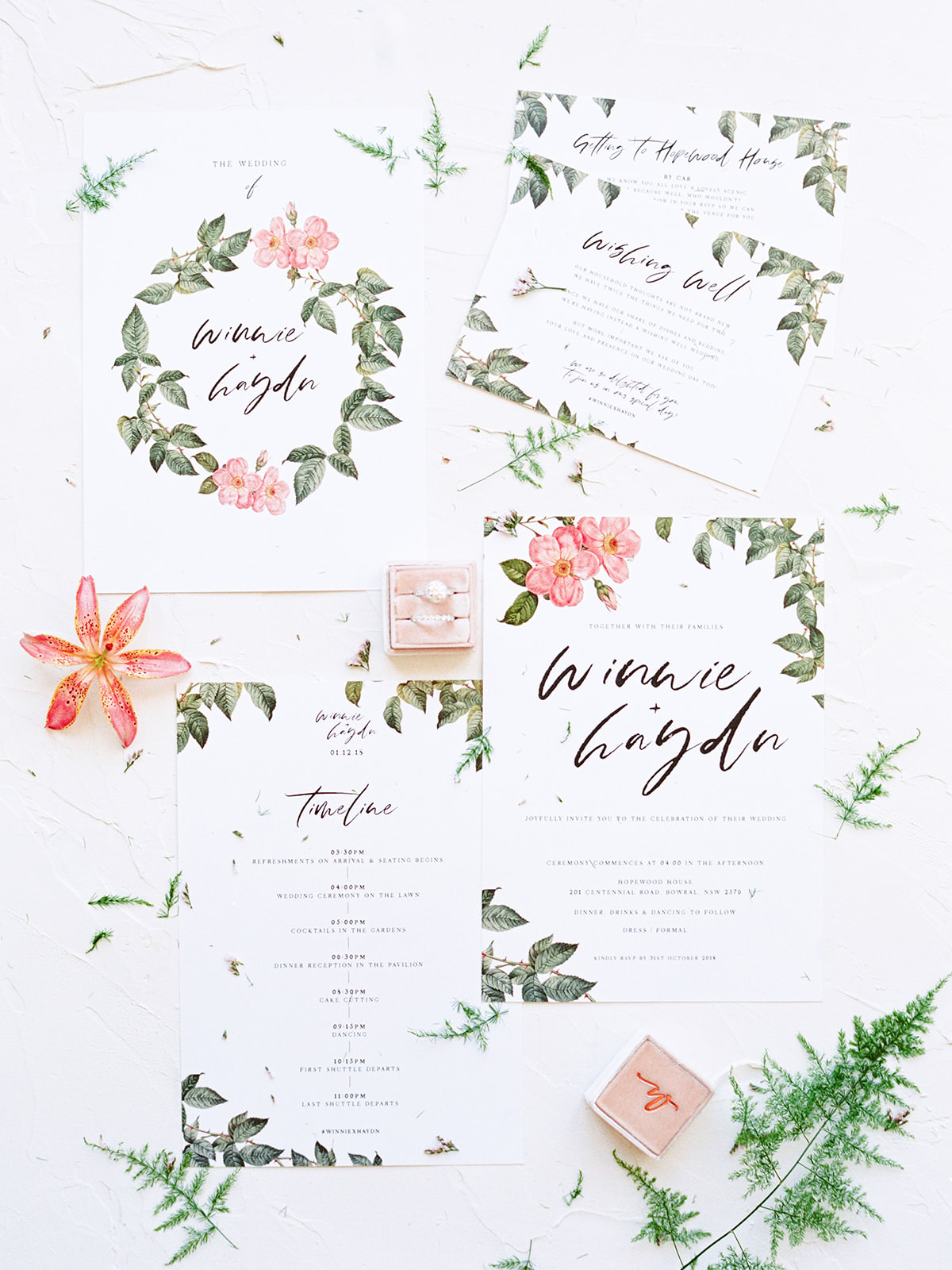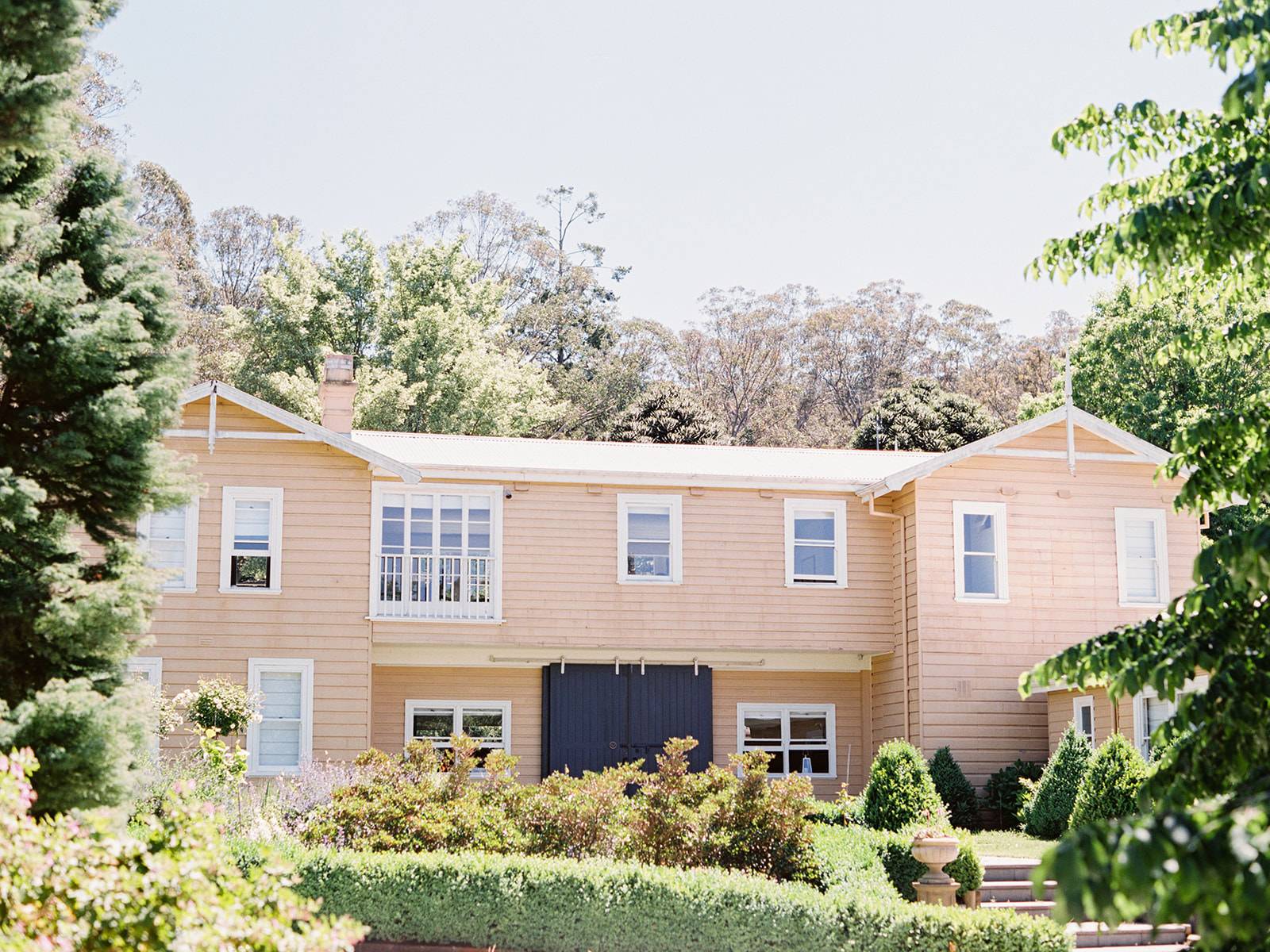 TELL US ABOUT FINDING YOUR WEDDING DRESS: This was hard! I am the most indecisive person ever and I think I drove my mum and closest friends a bit mad. After trying on about 30 or so dresses I was starting to wonder if the "right dress" was a mythical expression. I think I also made it difficult for myself that mum had to love the dress I picked too. Then at Helen Rodrigues, mum and I chanced upon this simple beautiful V-neck sheer bodice with lace applique that graduated down to a plain 'A' line skirt. I still wasn't sure, but after putting it on we both knew that this was the one.

DID YOU HAVE ANY DIY ELEMENTS? I think we wanted to keep everything as fuss free as we could, the least work I had to do the better! But because of my background as an Architect, I tried my hand in designing our wedding invites! It definitely helps me better envision the style of wedding we wanted to go for. I then had them printed at Sydney Wedding Printing.
DESCRIBE YOUR WEDDING FLOWERS: We were looking for relaxed elegance to go with the backdrop of the gardens of Hopewood House and left everything to Helen from Lime Tree Bower. She absolutely nailed it with soft nudes of pinks, creams and peaches. She paired roses, wildflowers and orchids into this delicious mix of muted Spring. And she also styled and designed the free-standing arbour where we exchanged our vows, and also the stairs leading up to the reception area.
FAVOURITE DETAIL OF THE DAY: This is hard! We loved everything about that day. Seeing it all coming together for the first time was amazing and unreal! Even after having verbally discussing our ideas and visions with our vendors, we were very pleased with how everyone pulled everything together perfectly on our day. I loved the flowers that Helen did. We also loved how beautiful our outdoor ceremony in the lush gardens turned out with our guests later enjoying themselves after the ceremony roaming around. I'm pretty sure Haydn's favourite detail was the seafood. And of course, the roving dessert table was the next favourite!
WHAT ADVICE WOULD YOU GIVE OUT TO A COUPLE PLANNING THEIR WEDDING? I think we can't stress how important it is to have fun throughout the entire wedding planning process. It's meant to be a memorable and happy year for you and your partner leading up to the big day. It helped a lot that we found good, experienced and reliable vendors. But we definitely couldn't have done a large chunk of it without our photographer David and Janelle, our wedding coordinator at Hopewood House. We worked out a lot of our wedding scheduling and visions with them. The entire team we worked with were stellar and very knowledgeable in this industry and each very helpful with their input throughout the entire wedding planning process.
MOST MEMORABLE MOMENT? I have to say it was our ceremony in the garden. As cliché as it sounds, walking down the aisle and seeing Haydn's face at the end it against the backdrop of flowers and lush greenery was my favourite detail of that day.
ANY OTHER DETAILS THAT HELP TELL THE STORY OF YOUR DAY? We had a little tea ceremony for our relatives that lend towards my cultural background. In Singapore, it's traditional to serve tea to the elders in your family to gain their blessings towards the marriage. So, we still tried to keep that traditional element present at our Sydney wedding.
TELL US A LITTLE ABOUT YOUR HONEYMOON: We are currently planning a trip to Eastern Europe! I think it has a good mix of everything we like, the great outdoors, old world charm, melting pot of different cultures and good seafood for Haydn of course!
IS THERE ANYTHING YOU WOULD CHANGE OR DO DIFFERENTLY? We'd definitely try to kick back and relax more throughout the day and not worry about keeping with the schedule. The whole day was over before you'd even know it. Let the stressing be the planning process and the big day be only about you and your partner, fully enjoying and soaking in the moments as they come.
Sydney wedding photographer WE ARE ORIGAMI is a valued member of the Magnolia Rouge Vendor Guide. If you're a Sydney bride head over to our vendor guide to see more work by WE ARE ORIGAMI (Sydney wedding photographer). As a hybrid photographer (shooting film & digital) they approach all their weddings and portrait sessions in an honest, fun and unique way that combines documentary and fine art styles. You should check out this feature by them; Stunning wedding stationery and paper goods by Silbia Ro.