For Carissa & Eric it was their love of the outdoors and of the French Countryside that inspired them to have a Tuscan themed celebration for their vow renewal. Captured by LAUREN OLIVIA PHOTOGRAPHY they held it at THE GRANARY and the stunning vineyards provided the perfect backdrop for these beautiful images.
HOW DID YOU MEET? We met back when we were in school through mutual friends. Not quiet high school sweethearts but feels like forever ago when we first met.
TELL US ABOUT YOUR PROPOSAL: Definitely not your classic proposal! We were both rather young and knew what we wanted to do. We had talked many times about it and went and chose the ring together. I was rather impatient and after we bought it on the way home i asked if i was allowed to wear it... definitely not your normal proposal.
TELL US ABOUT FINDING YOUR WEDDING DRESS/ATTIRE: Being in the industry i was very blessed to work along side the amazing Sam from BLOOM AUSTRALIA who gifted me the stunning Dillio gown by BO AND LUCA. A stunning lace & tulle gown with ethereal off the shoulder details. When we first got married eric was dressed in a classic black suit and we knew there was no one else we would go to other then Ryan from BLACK JACKET SUITING. The design, fit and colour of the rich navy was perfect.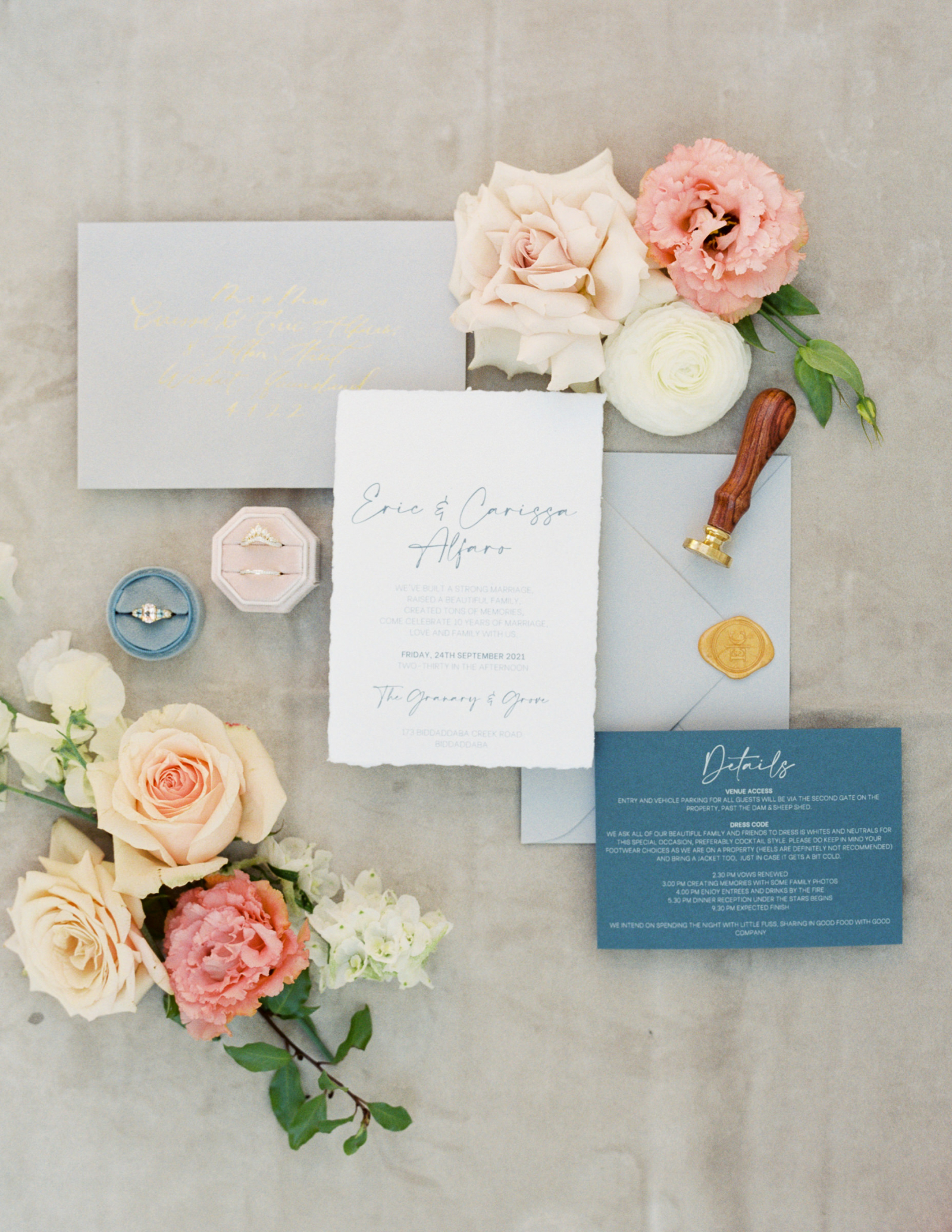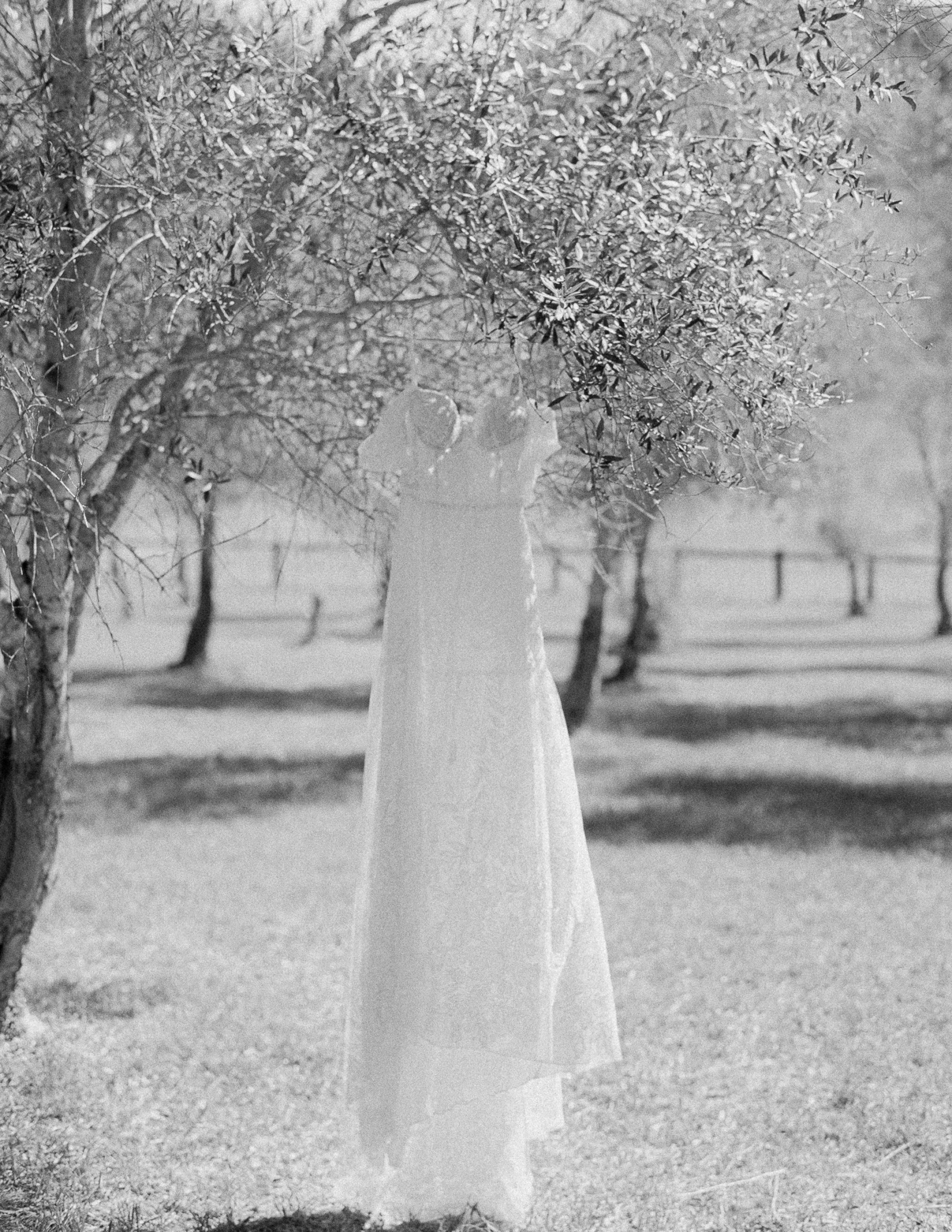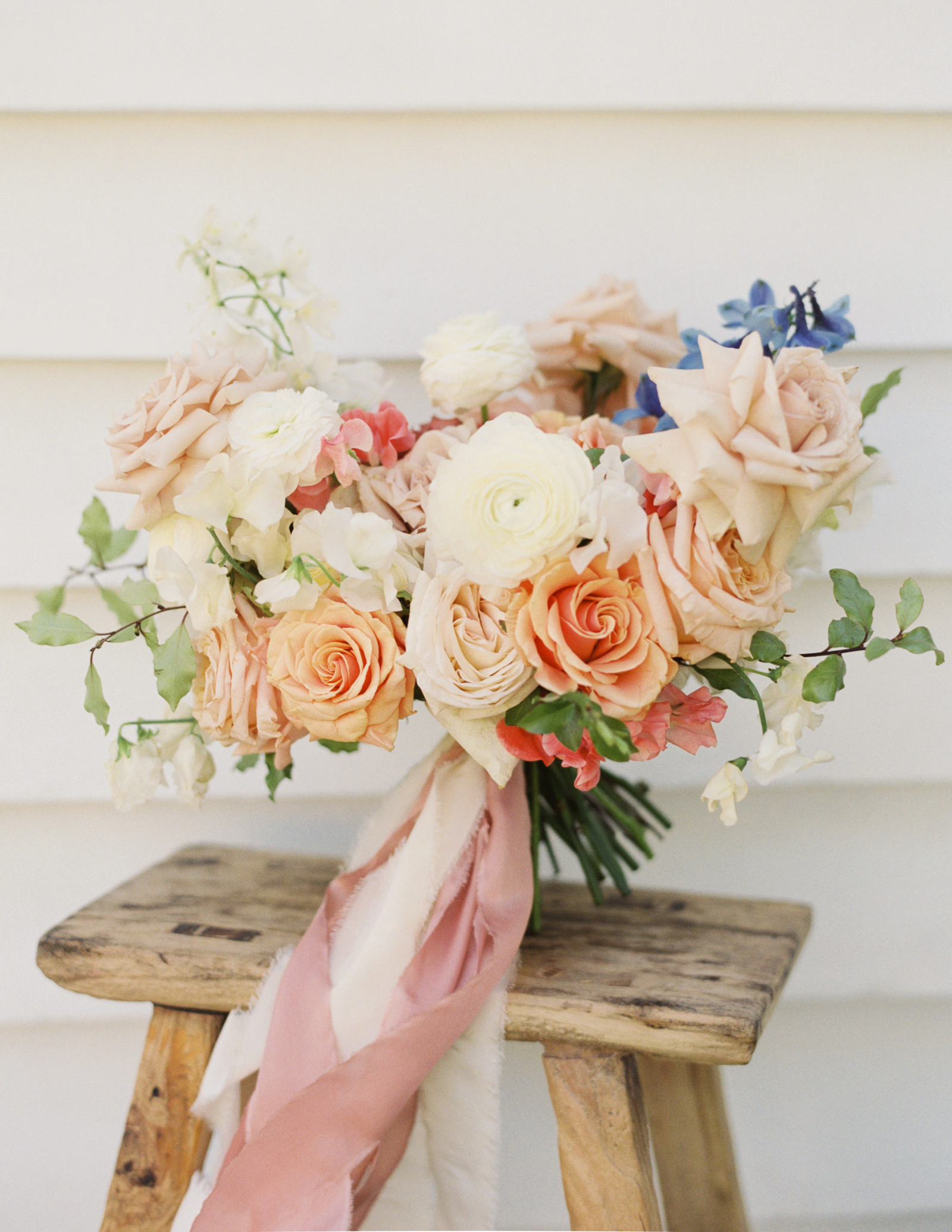 DID YOU HAVE ANY DIY ELEMENTS? It wasn't technically DIY as my business EMUNAH EVENTS owns all of the design & styling elements in which we used. I had my amazing team onsite along with our wedding planner & co-ordinators STORYBOOK AND CO. helping me to get everything set on the day.I did many concept designs in the warehouse prior to our day and don't know how many times i asked eric to come down and pick what he liked but that is all in a days work for us.
DESCRIBE YOUR WEDDING FLOWERS: The flowers where such a big piece of our renewal. I wanted them everywhere! I would describe our florals as romantic English garden style. Featuring scented David Austin roses, sweet peas and fluffy ranunculus. I knew exactly what my bouquet was going to look like and when picking my flowers I cried a few times putting it together. Our garden arch ceremony was perfectly curated and the soft movement of the blooms in the spring breeze through the grove was nothing short of magical. I definitely opted for a lush tablescape and wanted to do a variety of compote and garden style arrangements through the table.
FAVOURITE DETAIL OF THE DAY: A standout of our day was definitely our reception table. Sitting amongst the olive grove under the chandelier & fairy-light canopy was a dream and as the night went on it got even more beautiful.
WHAT ADVICE WOULD YOU GIVE OUT TO A COUPLE PLANNING THEIR WEDDING? Thinking back to our original wedding vs the renewal – remember the why. What the day is all about.
MOST MEMORABLE MOMENT? Having my children walk us down the aisle and my husband reading his original vows from 10 years ago was a moment i will never forget.
WHAT ASPECT OF THE WEDDING WAS THE MOST IMPORTANT TO YOU BOTH? Capturing the memories was so important to us. We don't have a single photo from our original wedding anywhere in our house or printed. I knew that investing in an amazing talent like lauren olivia was a no brainer im forwever greatful that she was able to capture every emotion, moment and memory of having our family and friends all together.
A FEW KEY ELEMENTS: New ring - when we first got married we didn't have a lot of money. We picked our rings together from a pawn shop and i think we spend about $600 on the both of them. I knew that one day i would be able to have my dream ring. For our 10 year we had my engagement ring custom made. We had my original engagement ring, a ring that my mother gifted me as a wedding present and a ring that eric gave to me when i was 18 melted down and redesigned into a stunning 3 piece. Featuring two aquamarine stones to represent our two children. A central pink morganite and a rare pink diamond to represent our love and a crown design was added as my eternity ring as the final piece. To simple how far we have come together. I designed the concept on the back of a napkin at a birthday high tea 6 months prior and with the help from argyle diamonds they created my vision perfectly. Well worth the 10 year wait!
WHY A 10 YEAR RENEWAL: Like any marriage you have your ups and downs and over the last 10 years we have had plenty. Todays world is definitely and renewing our vows just felt right to us and to show our children that marriage is a partnership and that no matter what we have each other. I held onto my husband original vows from 10 years ago. They have been carried around with me everyday for the last 10 years in my wallet and i knew that one day i was going to read them back to him at our anniversary. That didn't go exactly i think i cried so much during my vows i didn't even get to reading those out however eric did and it was even more perfec then the first time i heard him say it.