With the bride being from Romania, and the groom from France but them living together in Switzerland, this celebration was always going to be an international affair, but decided on which country to hold it in proved to be a challenge. They settled on Lyon in France where they met. Once they laid their eyes on CHATEAU DE VARENNES they knew it offered them the perfect venue. They went ahead to plan a simple, elegant and relaxed celebration captured beautifully by Provence wedding photographer ALYNA PHOTOGRAPHE.
HOW DID YOU MEET? We were colleagues in university but we needed almost a full year until we started dating.
TELL US ABOUT YOUR PROPOSAL: We were on holidays in Hong Kong. One evening we were watching the skyline and Mathieu told me that he found a nice rooftop bar in one of the towers we were watching and that we should check it out. We went there one evening and then at 7:50pm he told me he had a surprise and I should close my eyes and follow him. When we arrived, I was in front of a huge glass wall where we could see the entire city and a light spectacle just started in the city (at precisely 8pm). Then I looked at Mathieu and he was holding a blue Tiffany box and he asked The question. I don't remember much of what he said or what I said, but I know for sure that I said yes. We were actually in a suite in one of the tallest hotels in the world, until the next morning we were in the clouds both literally and figuratively. I found out later that he had not planned this in advance, he had gotten the idea when we arrived in Hong Kong and had bought the ring there.
TELL US ABOUT FINDING YOUR WEDDING DRESS/ATTIRE: I knew I wanted a GALIA LAHAV dress years before the proposal. So it was obviously the first thing I tried. I tried many others after that and when I tried my GALIA LAHAV, my mother, who accompanied me, became so emotional, so I knew that was the one. I wanted different looks during the day so we made the sleeves detachable and I removed them for the dinner and the dance. Then I had two more dresses for the rest of the night, both made by a Romanian designer, Loulou the brand.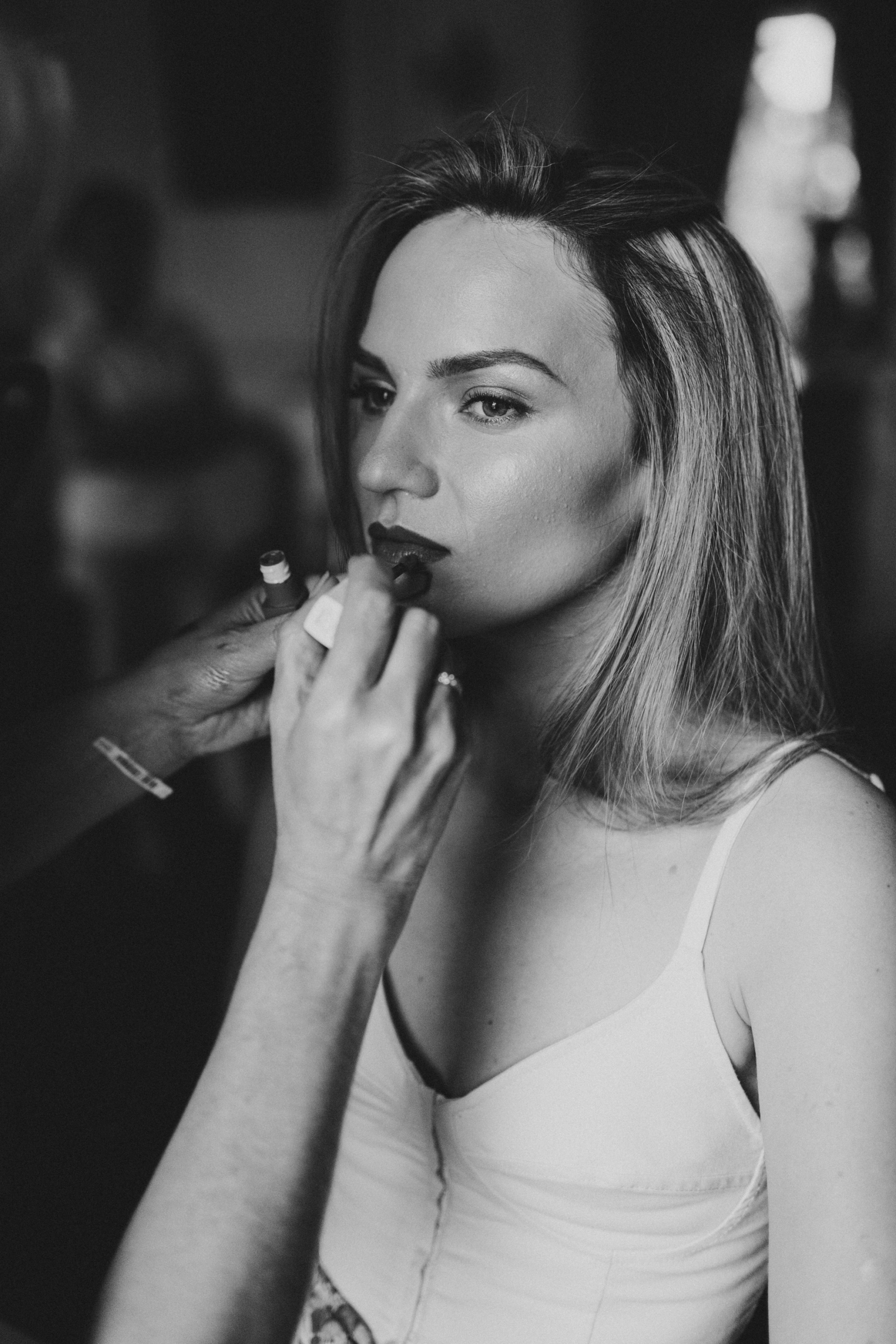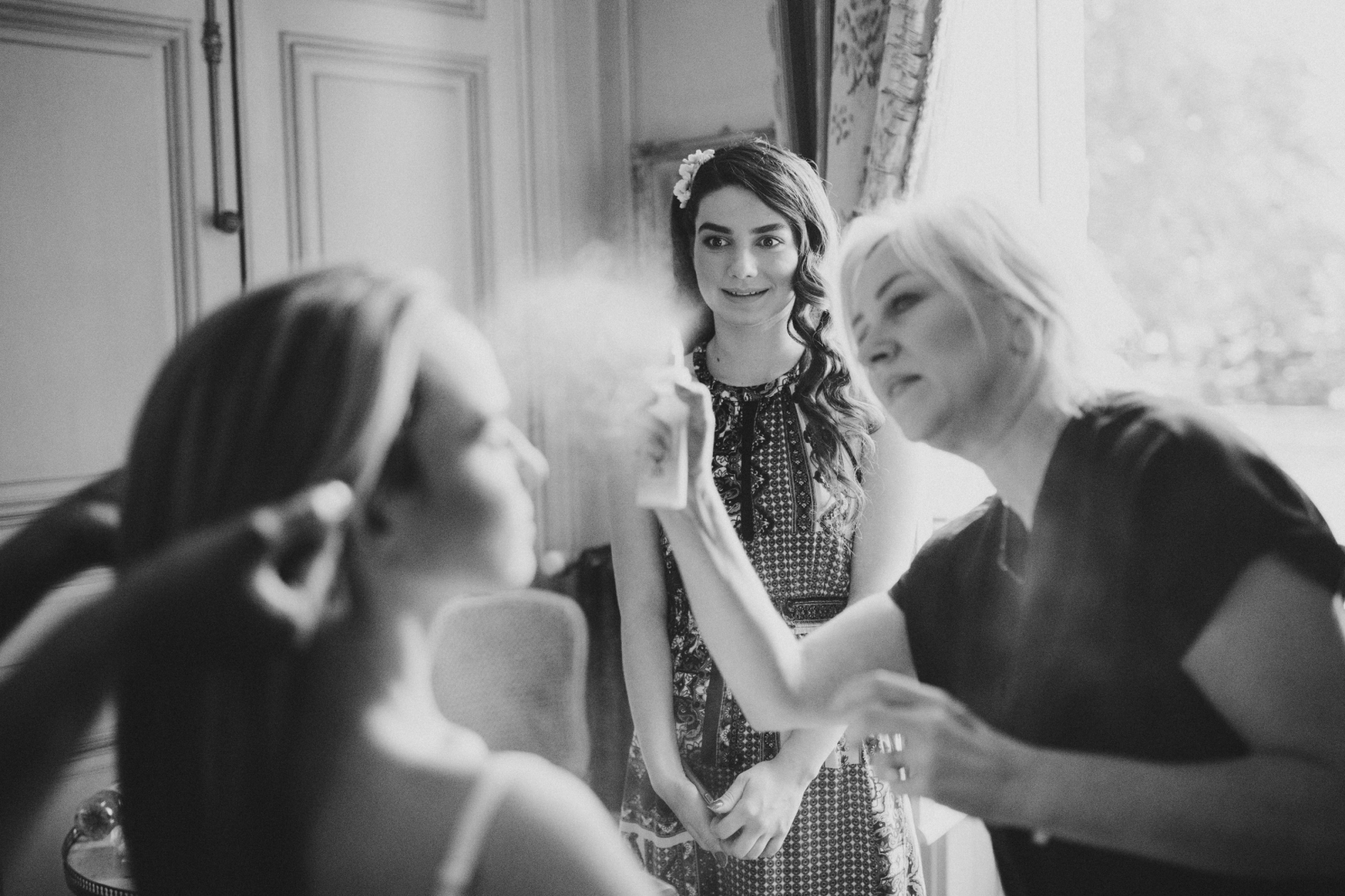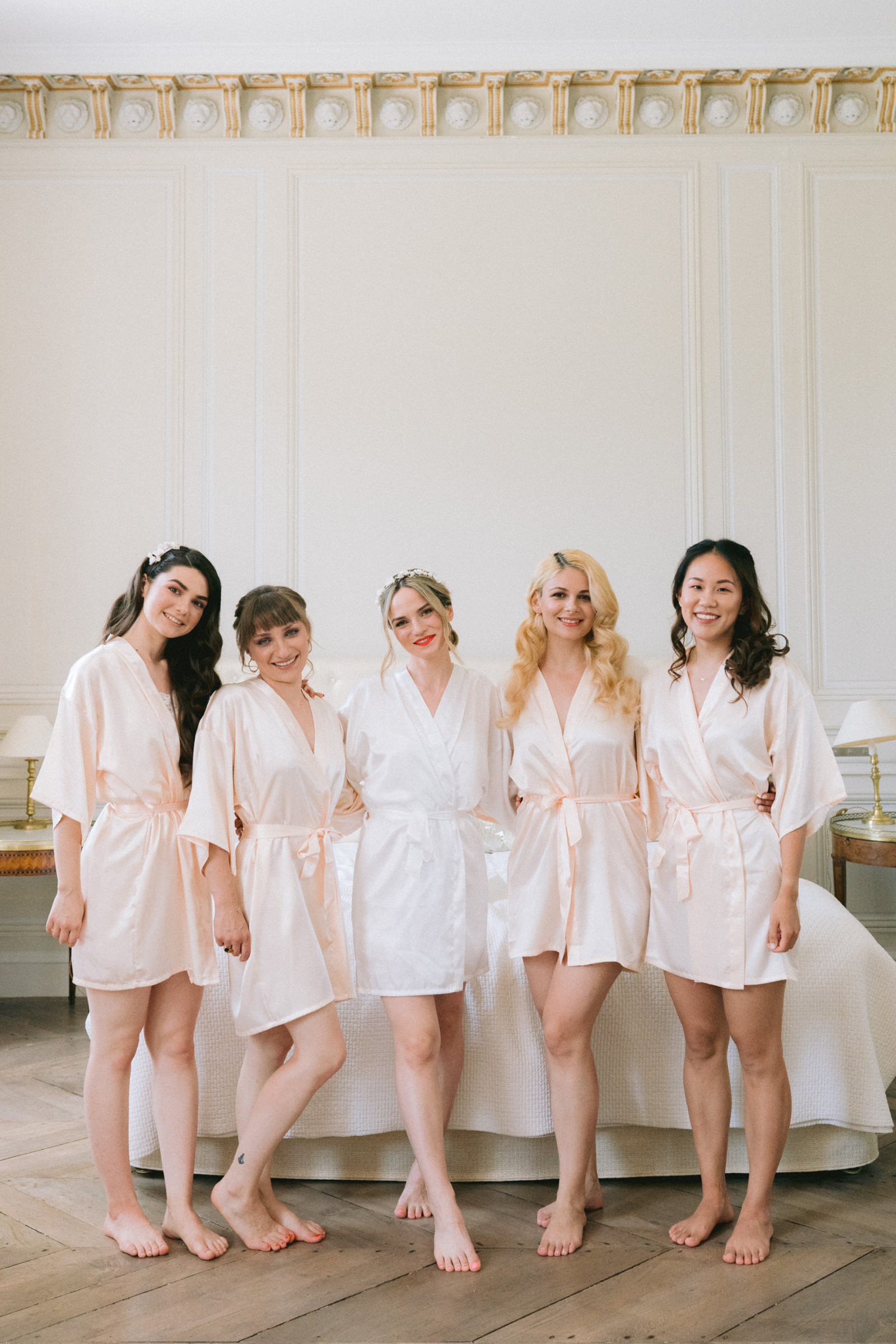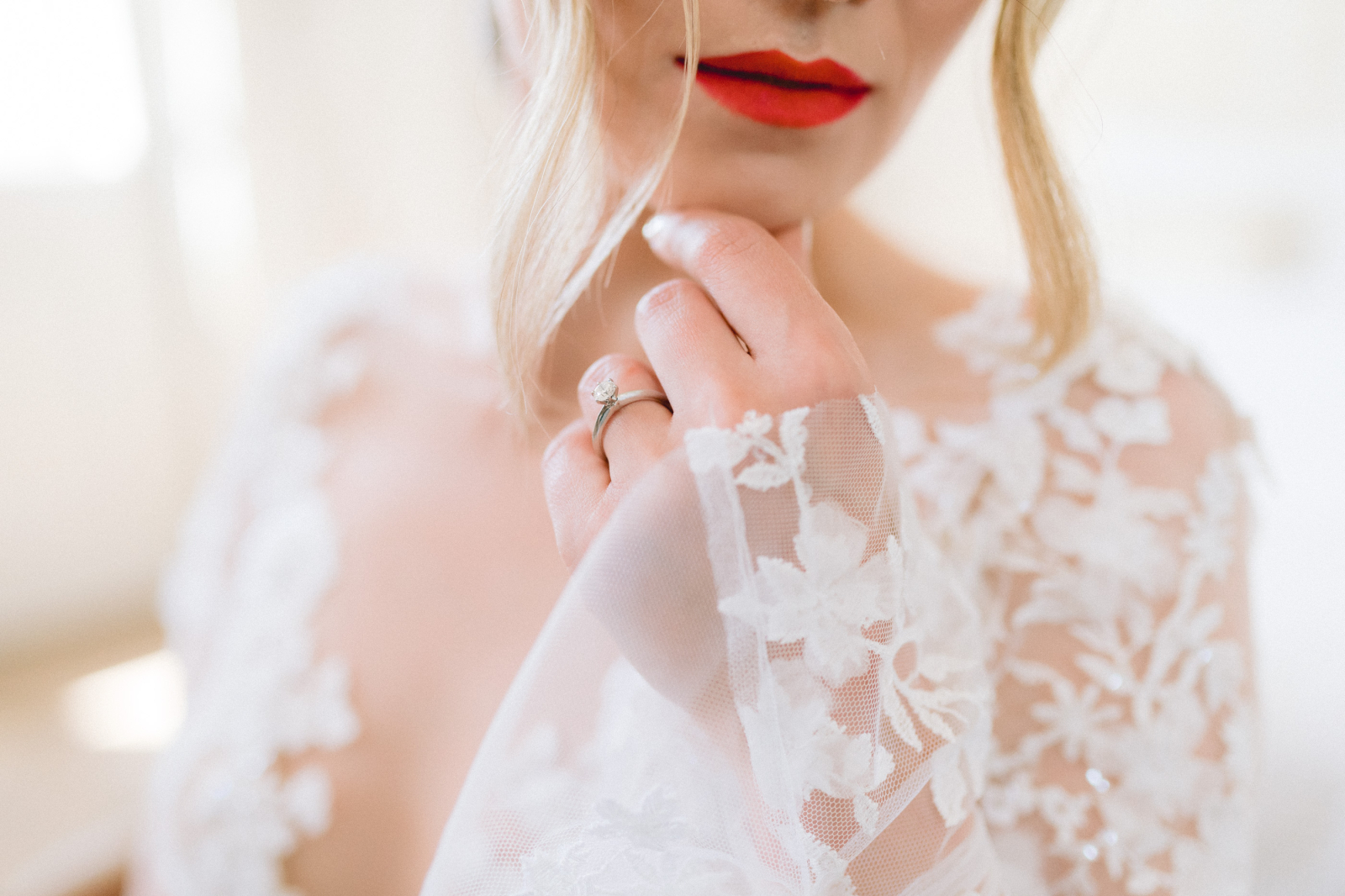 DID YOU HAVE ANY DIY ELEMENTS? Yes, we did have a few DIY elements in the decorations, but my favourite is a gift from my sister. She made a painting of the Chateau which made a very sweet welcome sign.
DESCRIBE YOUR WEDDING FLOWERS: We wanted something that would inspire joy, happiness, youthfulness but that would also be delicate, so we went for pastel colours with peonies and carnations. For the ceremony we wanted something original instead of the classical ceremony arch, so our florist created a very beautiful flower cloud that matched the rest of the decorations.
FAVOURITE DETAIL OF THE DAY: We had these small olive trees which had the place card for each guest and were also part of our gift for the guests. We thought it was a great symbol for our union: we both love olives, Mathieu comes from south of France where olive trees are everywhere, and the olive tree itself is a symbol of longevity. It makes us so happy every time we receive a picture from guests with the trees growing.
WHAT ADVICE WOULD YOU GIVE OUT TO A COUPLE PLANNING THEIR WEDDING? Start very early, have a plan for everything, but be very flexible. The most important thing is that the two of you will be together in front of all the people you love, the rest doesn't really matter.
MOST MEMORABLE MOMENT? By far the ceremony. To say you want to share the rest of your life with your chosen one in front of everyone you love, to see the emotion and happiness in the eyes of the most important people in your life, this was pure happiness and the most intense emotion we've ever felt.
WHAT ASPECT OF THE WEDDING WAS THE MOST IMPORTANT TO YOU BOTH? We wanted to make the most out of it. This is why we decided very early in the planning process that we wanted a 3 days wedding. It would probably be the only occasion in our life to have the people we love together and we wanted to enjoy it for as long as possible.
ANY OTHER DETAILS THAT HELP TELL THE STORY OF YOUR DAY? Well, one thing that was particular about our wedding is that our guests came from so many different countries and there was no common language for all of them. Even with 2 languages we did not cover everyone, so we had to have everything translated in 3 languages (Romanian, French and English). But it was not a problem at all, people managed to understand each other and we could all dance together until the sunrise.
TELL US A LITTLE ABOUT YOUR HONEYMOON: We haven't had our honeymoon yet, we want to wait for when travel will come back to normal.
IS THERE ANYTHING YOU WOULD CHANGE OR DO DIFFERENTLY? Not much, but there are a few small things we could have planned better. For instance the dance: we took dance lessons and we got to a point where our wedding dance was quite nice (although none of us is a good dancer). But we did not account for the fact that the wedding dress is very long with lots of layers and we did not practice at all with the dress. So during the wedding dance it was very hard to move around the dress without stepping on it and to turn without getting lost in all the layers. So it wasn't as good as when we practiced, but our guests were kind enough to tell us they didn't see that we almost fell a few times haha.
A big thank you to Provence wedding photographer ALYNA PHOTOGRAPHE for sharing this exquisite beauty with us. Inspired by freedom and adventure, Alyna's life is made up of happy encounters and discoveries. Mother to two lovely girls, Alyssa & Lina, and married to a handsome farmer, the live in the countryside of Burgundy, France. "My style is pure, light and poetry-inspired.
My photographs are timeless, soft and bright. My experience allows me to anticipate any situation and to be fully prepared to capture your most precious moments. I am here to capture those sweet laughs, intense emotions and your beautiful vows." See more of her work in her portfolio here.