We always love a timeless wedding and this summer celebration in Boulder, Colorado captured by Colorado Wedding photographer CARRIE KING was perfectly elegant and romantic with some fun over the top details. With planning by BELLO AND BLUE EVENTS it was held at ST. JULIEN HOTEL - a place that held special meaning for Ryleigh & Blake.
WHY DID YOU CHOOSE THIS LOCATION? It's where we met! We originally had plans to get married at an out of town venue, but our plans changed due to Covid. We ended up deciding on St. Julien to stay close to home because travel was so up in the air. We wanted a location in a beautiful setting that would be easy to get to for our friends and family and St. Julien was such a blessing. The hotel is truly a second home to us and is such an important place not only because it's where our love story began, but because we have met so many of our closest friends there. The whole hotel treated us like family and made our day absolutely perfect. Looking back it was the perfect place for us to start our new chapter as a married couple.
HOW DID YOU MEET? We met in our last year of College working at the St. Julien Hotel. We both attended the University of Colorado at Boulder and are both from Texas, but our paths never crossed until senior year when we were introduced by co-workers at the hotel.
TELL US ABOUT YOUR PROPOSAL: Blake proposed to me in Steamboat at what was set to be our original wedding venue. Steamboat was the first place we ever travelled to together and over the years has become one of our favourite weekend getaways. We decided to have a romantic Thanksgiving just the two of us and go up to Steamboat for the long weekend. While we were there he suggested we take a tour of the location he knew I envisioned as our wedding venue. We arrived and took a full tour of the venue, he really had me fooled! At the end of the tour we walked out to the most gorgeous overlook of Catamount Lake and the mountains, before I knew it he got down on one knee and asked me to spend forever with him.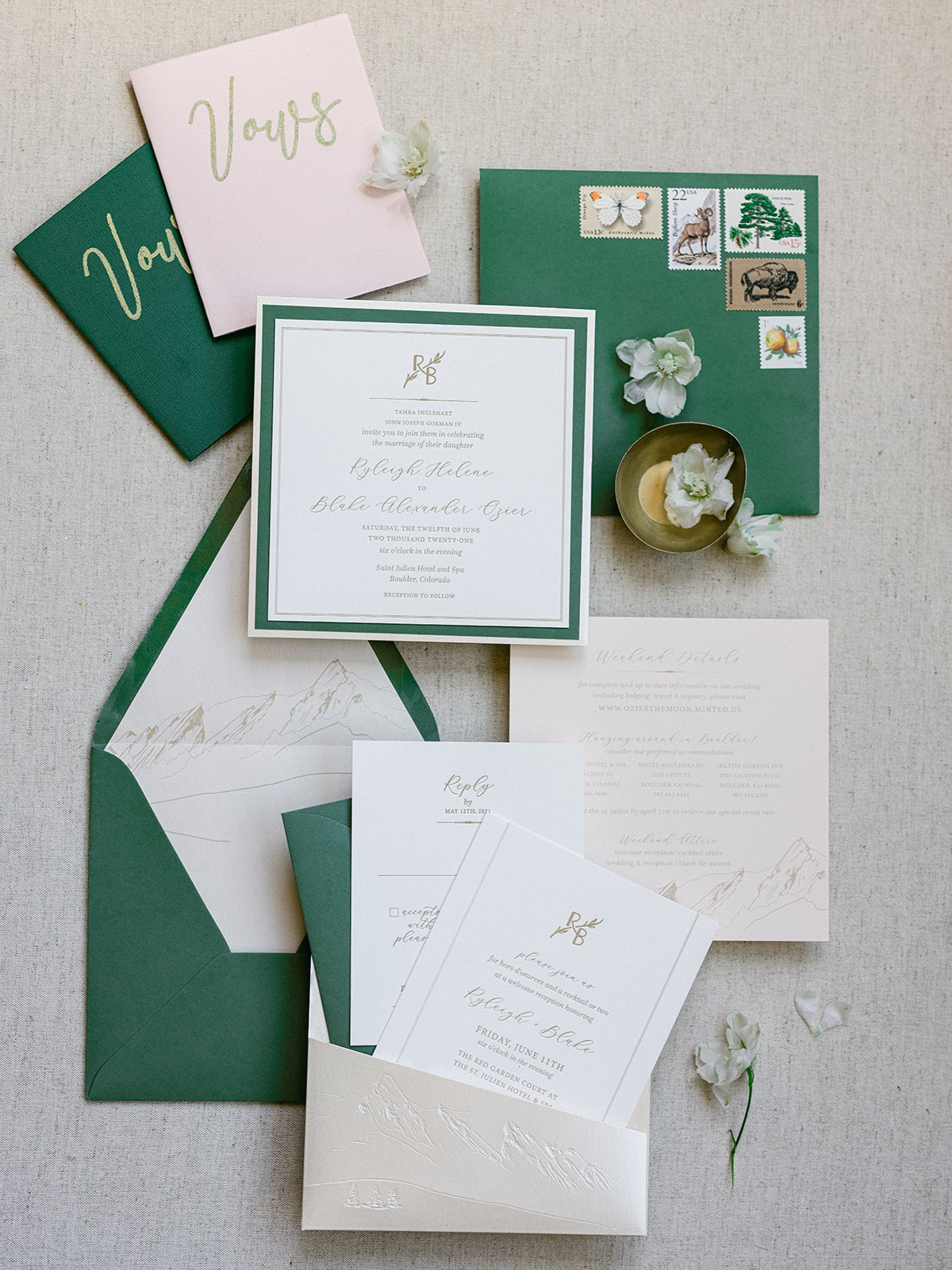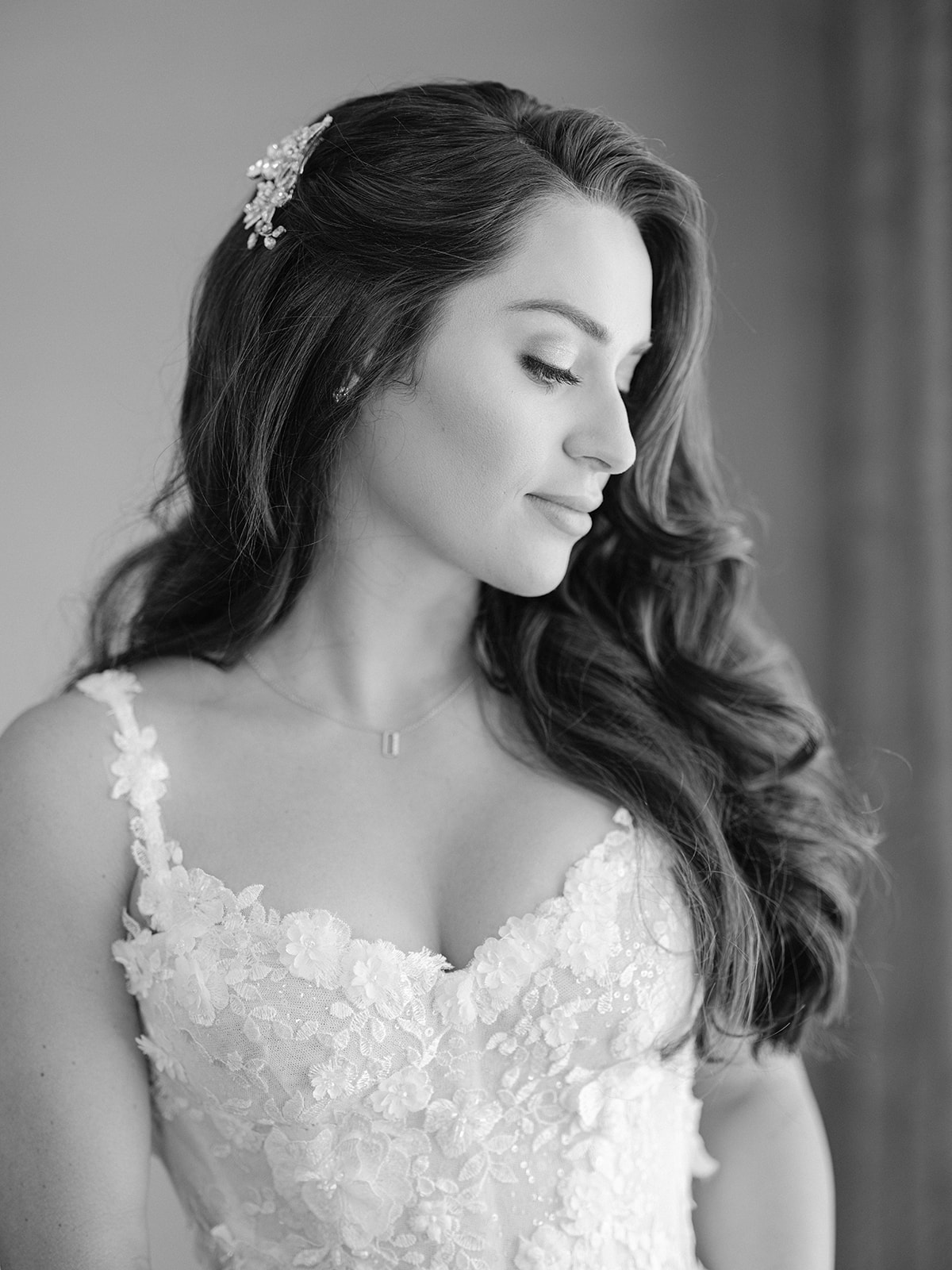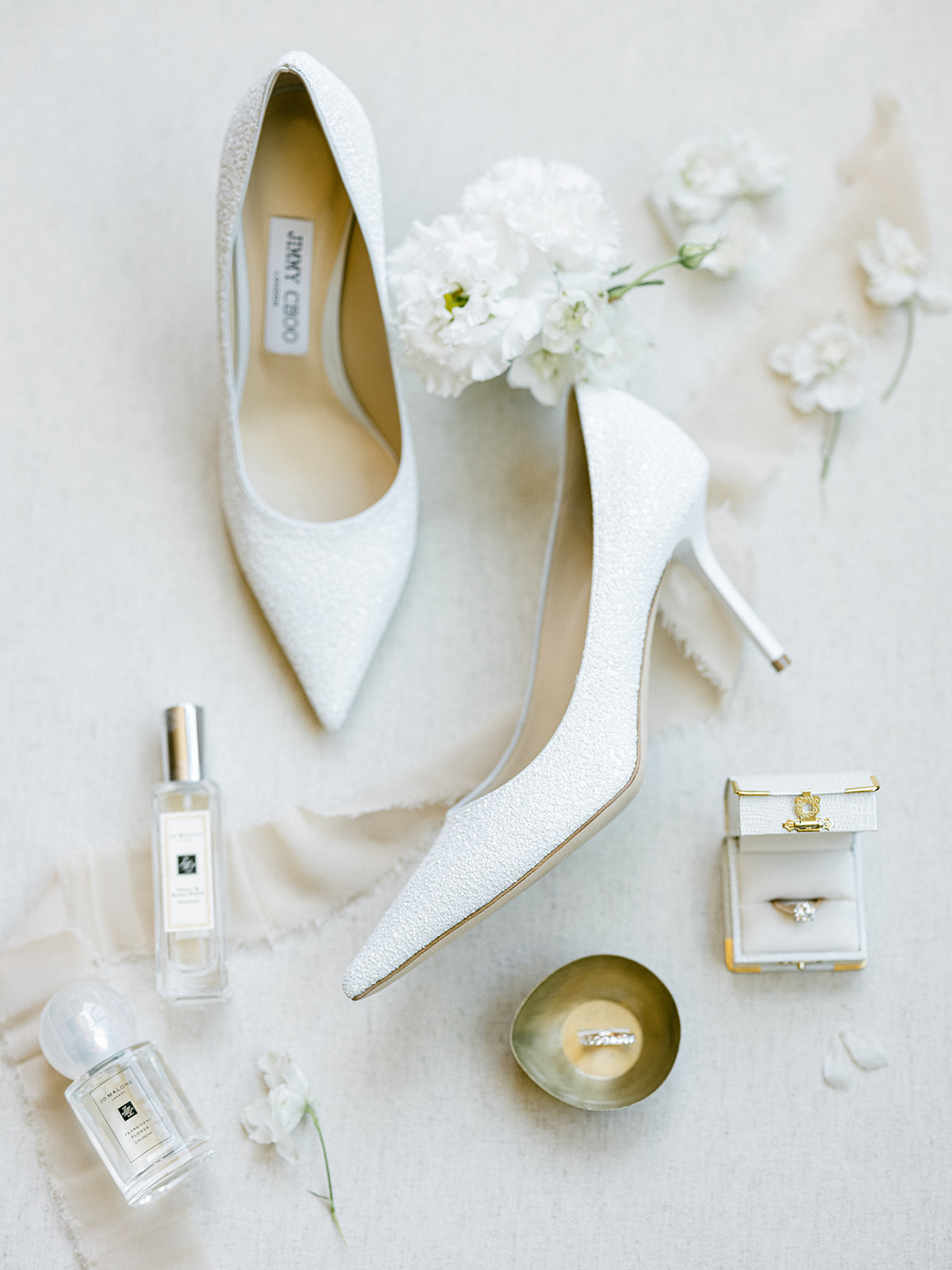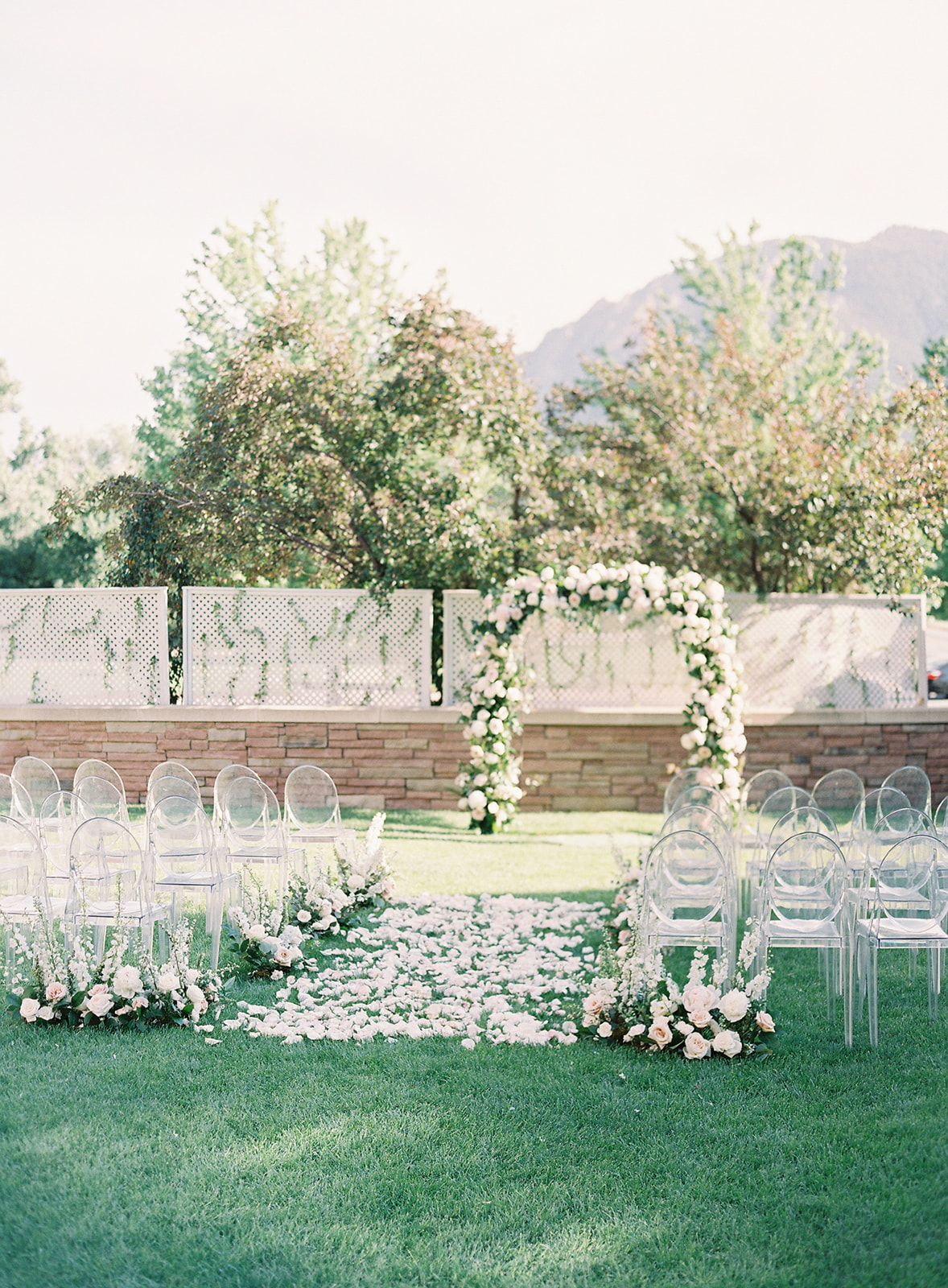 TELL US ABOUT FINDING YOUR WEDDING DRESS/ATTIRE: I found my wedding dress at Ivory Bridal Atelier in Houston with my mum, her best friend and three of my bridesmaids. It was spectacular and sparkly. A sophisticated ballgown that was chic and romantic all at the same time.
DID YOU HAVE ANY DIY ELEMENTS? One of my favourite parts of the wedding were the small details, they were all important to me. Putting together my welcome boxes was SO fun. We took months deciding what would go in there and exactly how we wanted them to look. Putting them together the week before the wedding was something I looked forward to for a long time and for me it was the pinch me moment where I finally felt everything coming together. I also came up with the design for the bar, cocktail signs & napkins, stir sticks and lots of other small details, but would never have been able to turn them into a reality without my amazing planner Kate with Bello & Blue Events.
DESCRIBE YOUR WEDDING FLOWERS: Dreamy, lush neutrals with pops of the perfect blush. Full of peonies and roses - they were beautiful.
FAVOURITE DETAIL OF THE DAY: Oh this is so tough! I think the cocktail bars were my favourite details. We had two outdoor bars. One was blush, feminine and romantic and featured the phrase, "can't take my eyes off you" which was also our first dance song. The other was moody and masculine. It served all different types of whiskey and my husband's signature cocktail was an old-fashioned. There was a really cool metal sign that had the Boulder Flatirons cut into it and it said "Blake's bar". It also displayed a very special 18 litre bottle of wine that my parents purchased in 1996 to serve at my wedding one day. We served the wine with dinner and it was delicious.
WHAT ADVICE WOULD YOU GIVE OUT TO A COUPLE PLANNING THEIR WEDDING? My top advice for couples planning their wedding is if at all possible to hire a wedding planner - at least for the month leading up to the wedding day and day of. Have some sort of after party because you don't want the day to end, we did a silent disco and it was a huge hit! Do a sweetheart table because this is your only real chance to have a moment just the two of you where you can really sit back and appreciate your day! Lastly the day goes by SO fast - enjoy it!
MOST MEMORABLE MOMENT? Walking into our reception room for the first time! We completely transformed the space with different carpet, draping and lighting. It looked like a brand new room. We had a few moments to really take it all in. Before the guests came in we had the band play our first dance song and we practiced our dance one last time, it was so special!
WHAT ASPECT OF THE WEDDING ARE THE MOST IMPORTANT TO YOU? Guest experience was so important to us. We wanted the day to be as special for our friends and family as it was for us. We knew we had to throw a good party because for many it was the first time in over a year that people could dance and celebrate! From the fabulous live band at our reception to the silent disco after party everyone was on their feet dancing the whole night!
ANY OTHER DETAILS THAT TELL THE STORY OF YOUR DAY? One of my other favourite details were the wedding cakes. I surprised my husband with a groom's cake that was shaped like a golf bag that had the logo of his favourite Texas burger spot Whataburger. We also had a small cake with a fondant figurine of our dog Nugget that we froze and saved and plan to eat on our first anniversary.
TELL US A LITTLE ABOUT YOUR HONEYMOON? We decided to wait to go on our honeymoon to allow time for the travel restrictions to ease up. We are finally going this fall to Greece and Italy. We are both so glad we had time in between the wedding and honeymoon because it has given us time to enjoy being newlyweds and have a fun trip to look forward to.
A big thank you to Colorado Wedding photographer CARRIE KING for sharing this gorgeous wedding with us. Carrie has been photographing couples all over the world since 2009. Her style captures the balance between a fine art editorial aesthetic, and the real life moments of a wedding day. Bringing sophistication and attention to detail to a wedding day, combined with a true emotional connection to her clients. Carrie is a seasoned photographer that truly understands not only the process of a wedding day, but the love and real moments that make it so special. You can see more of her portfolio in our vendor guide.