Simple elegance is what Ashley & Tommy were aiming for with their wedding at THE FARM AT OLD EDWARDS INN in the Blue Ridge Mountains of North Carolina. They wanted to keep the overall look timeless and these images by SARAH INGRAM demonstrate that perfectly. Working with planner ALEXANDRA BARHAM they stuck with a neutral palette for furnishings, florals and overall decor, and ensured it had the right balance of organic life and tailored composure.
HOW DID YOU MEET? We actually met through the equine world—and through his mother. I went to work (as an equestrian, trainer & coach) at Tommy's mother's barn, where I got to know Tommy. He worked there helping his mom out in the barn, and we fell in sync quickly.
TELL US ABOUT YOUR PROPOSAL: We were actually engaged for over three years by the time we actually got married, but Tommy surprised me in a quiet, private proposal—just the way he knew I would like it, privately between us.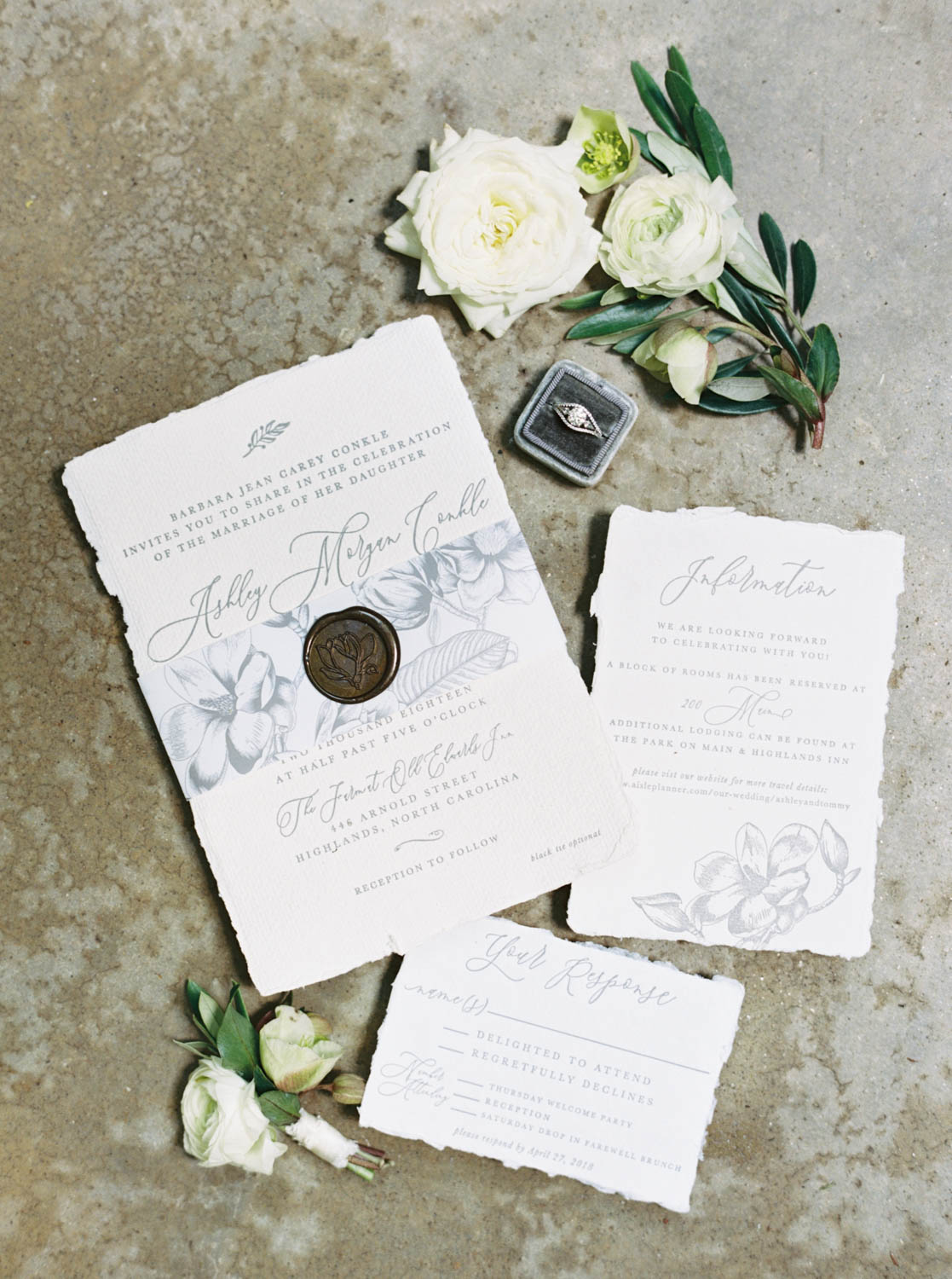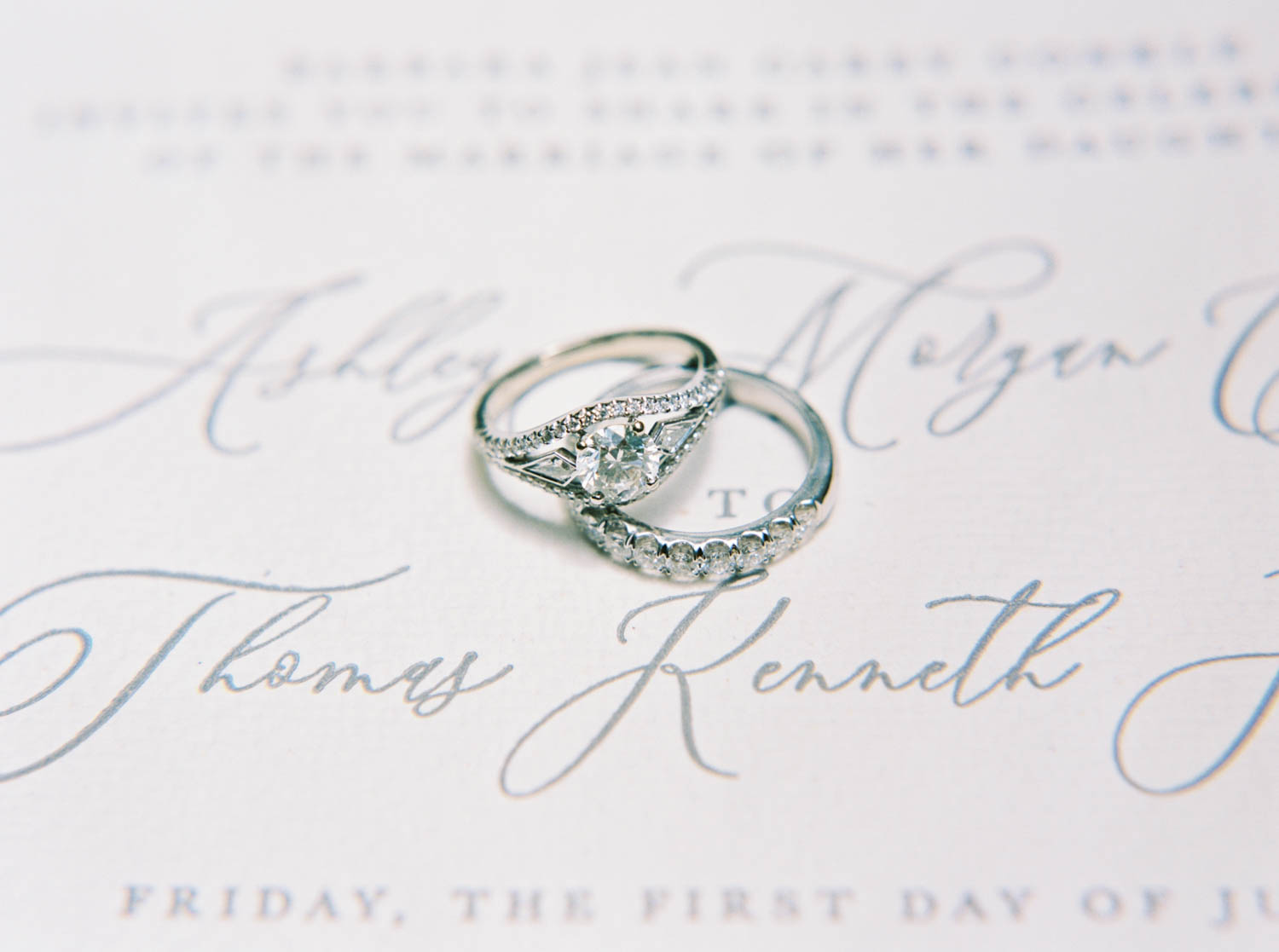 TELL US ABOUT FINDING YOUR WEDDING DRESS: Along with my mother and a few of my bridesmaids, we flew up to NYC for my appointment at Kleinfeld's. I don't get super emotional about much, but the moment I put this dress on and stepped out, I locked eyes with my girls and mom and the tears started flowing; there was no question it was the one. It was only the 5th one I tried on, and the bead detailing on it was simply exquisite.
DID YOU HAVE ANY DIY ELEMENTS? My mom and I curated, sourced, & assembled the welcome gift baskets that all guests received upon check in. We included cookies in the shapes of the states we were from, some of our favourite snacks, fresh coffee beans to take home, and our favourite sparkling water, flavoured Pellegrino.
DESCRIBE YOUR WEDDING FLOWERS: Kate was a magician; I told her how much I loved magnolias (they were even all over my invitation suite, and crafted in sugar on the cake!), and a clean tailored look—but also loved the organic feel of the forest, like mosses. During one of our last meetings, we started talking about cloches, and how the one from Beauty and the Beast always held an appeal for me; she incorporated them into our head table along with other glass vessels and blew me away. She and Allie were so in sync when it came to creating the vision and ambiance I had dreamed of. How she brought it all together was just stunning.

FAVOURITE DETAIL OF THE DAY: How can I just pick one? It was the ultimate party that really reflected us as a couple, style wise, but also the experience we really wanted to share with all our loved ones.
WHAT ADVICE WOULD YOU GIVE OUT TO A COUPLE PLANNING THEIR WEDDING? Twofold: First, hire a capable, passionate planner who gets your vision and truly strives to carry it out, and then trust their experience and input. From helping choose the best vendors for your style (and budget), to clear, constant communication with you and your vendors. Your planner gets to know you better than any other vendor, and really helps become your voice and your hands—in your team of vendors, they are the coach. Second, choose a photographer whose work really encompasses all the details—not just pretty photos of people. I love every shot of us together, but the day went by so fast it was hard to take in all the details we had planned so meticulously. Having really beautiful photos of the details helped recount the story of the whole day. Sarah captured it in such a way that it was almost better through her lens than in real life!
MOST MEMORABLE MOMENT? How can I pick just one? Though undoubtedly standing there and marrying my best friend takes the cake, I was absolutely blown away by the reception reveal. Allie & Bri were able to sneak Tommy and I in to see the space before any guest, and it took. my. breath. away; quite literally brought tears to my eyes. Everything I had imagined in my head—it was surpassed by what was laid out before me.
ANY OTHER DETAILS THAT HELP TELL THE STORY OF YOUR DAY? We wanted every aspect to be an incredible experience for our guests—we wanted to really show them all how much they meant to us, and how thankful we were to have them come celebrate this milestone in our lives. From the gift baskets upon arrival & welcome party where we were able to really connect with everyone early on, to their place cards tied onto customised local olive oil bottle favours, to the impeccable and impressive variety in both the menu and bar, it was all geared toward helping them experience the joy and festivities that we were already feeling.
TELL US A LITTLE ABOUT YOUR HONEYMOON: I travel often for work, so we scheduled the honeymoon for a bit later after the wedding. We finally escaped to St. Lucia, and had quite a hard time coming back to reality!
IS THERE ANYTHING YOU WOULD CHANGE OR DO DIFFERENTLY? No, it was honestly everything I could have dreamed of!