Natalie and Jeremy wanted a laid back and fun but elegant wedding in the mountains with their friends and family. Initially, they were getting married in August of 2020 in Beaver Creek—where they often visit from their home in Denver. But five weeks before their wedding they found out their venue wasn't reopening due to Covid. So a quick pivot was necessary. Sadly, there were many road blocks after that, from transportation issues to lodging closures. It soon became clear their wedding date had to move. They toured DEVIL'S THUMB RANCH and secured a winter date for their 80 person wedding. But then a few months later, the couple realised they didn't feel comfortable with such a large guest count, so they shifted once more to just 18 of their closest friends and family members, including their three children. The flow of the day was reconfigured, with a first look at the location where the larger ceremony had been slated to take place. The ceremony took place just before dusk, and after a cocktail hour, everyone moved inside the barn for an intimate dinner at floral-covered tables, followed by s'mores around the firepit and toasts that had everyone laughing. These beautiful images by Colorado Wedding Photographer SARAH PORTER really capture the essence of their day
WHY DID YOU CHOOSE THIS LOCATION? It was actually not our first choice- but ended up being the perfect choice. We originally were having a summer wedding and had chosen a location in Beaver Creek, CO, but the venue ended up closing because of Covid. Then we found another location in BC and had a similar outcome. We knew we didn't want to wait until the next summer and that we wanted a mountain location where our families could stay, and Brittany suggested we take a look at Devil's Thumb. Once we saw it, we instantly knew it was perfect. We are both from Wyoming, and it reminded us of home. It also had options for us, if we were able to have a bigger wedding, or if we were only going to have family. The setting was beautiful and everything just fit.
HOW DID YOU MEET? It's a crazy story! We met almost 15 years ago, when Jeremy was a police officer and I was a prosecutor in the same jurisdiction. We actually dated at that time and ended up having our amazing daughter. We ended up going our separate ways and each marrying someone else. Of course we still remained friends, since we were raising a daughter! Eventually, we both divorced and after some time, realised we wanted to be together. And here we are! We have our daughter and my son from my previous marriage.
TELL US ABOUT YOUR PROPOSAL: Our daughter and Jeremy planned a special dinner for us one night. They were acting strange, and when they suggested we take a drive up a mountain road where we could see the city, I had a hunch something was up! We got out to take a picture of all of us with the city lights in the background, and when I turned around Jeremy was down on one knee. Our daughter handed him the ring and he proposed! It was a joint effort!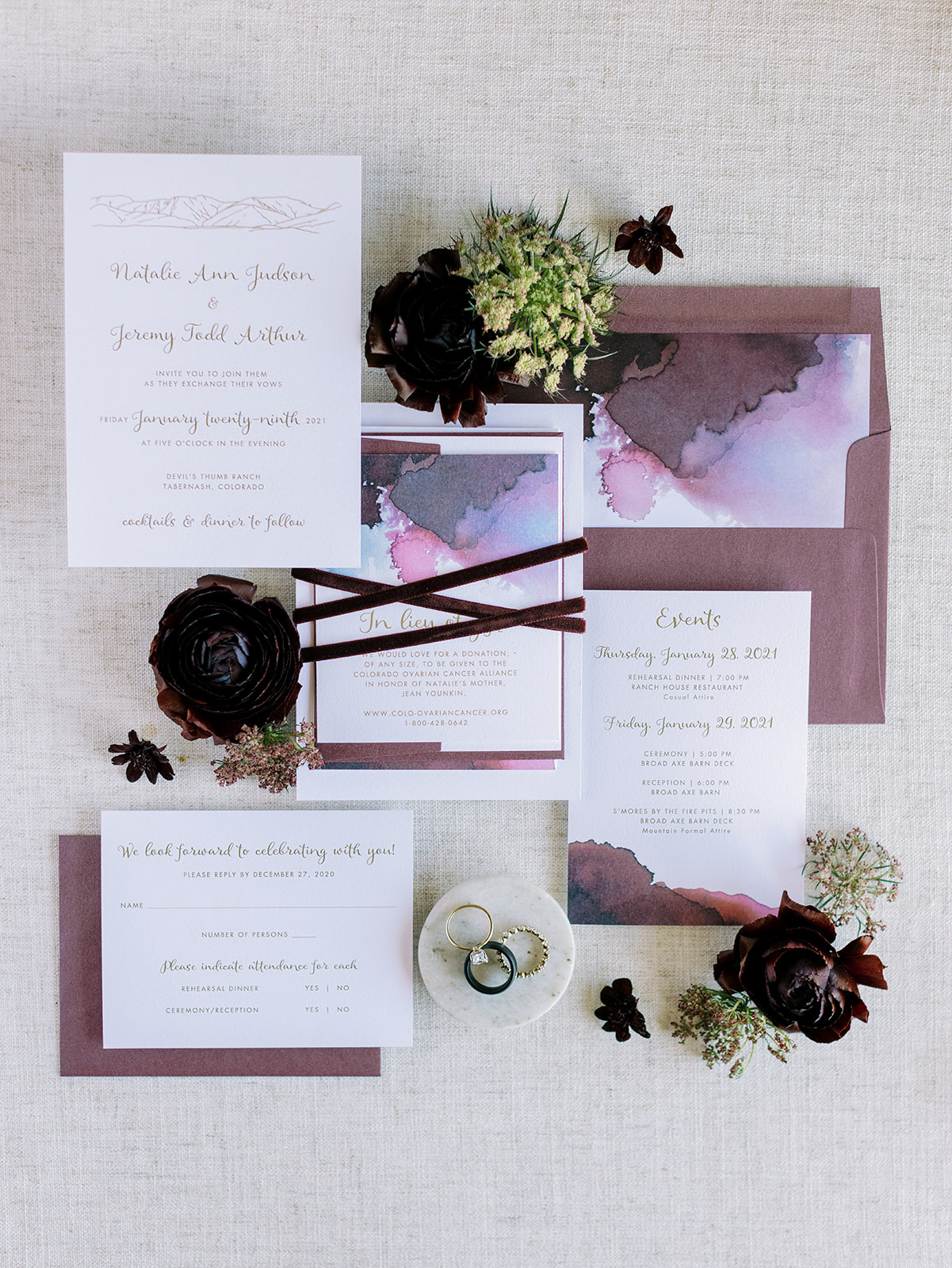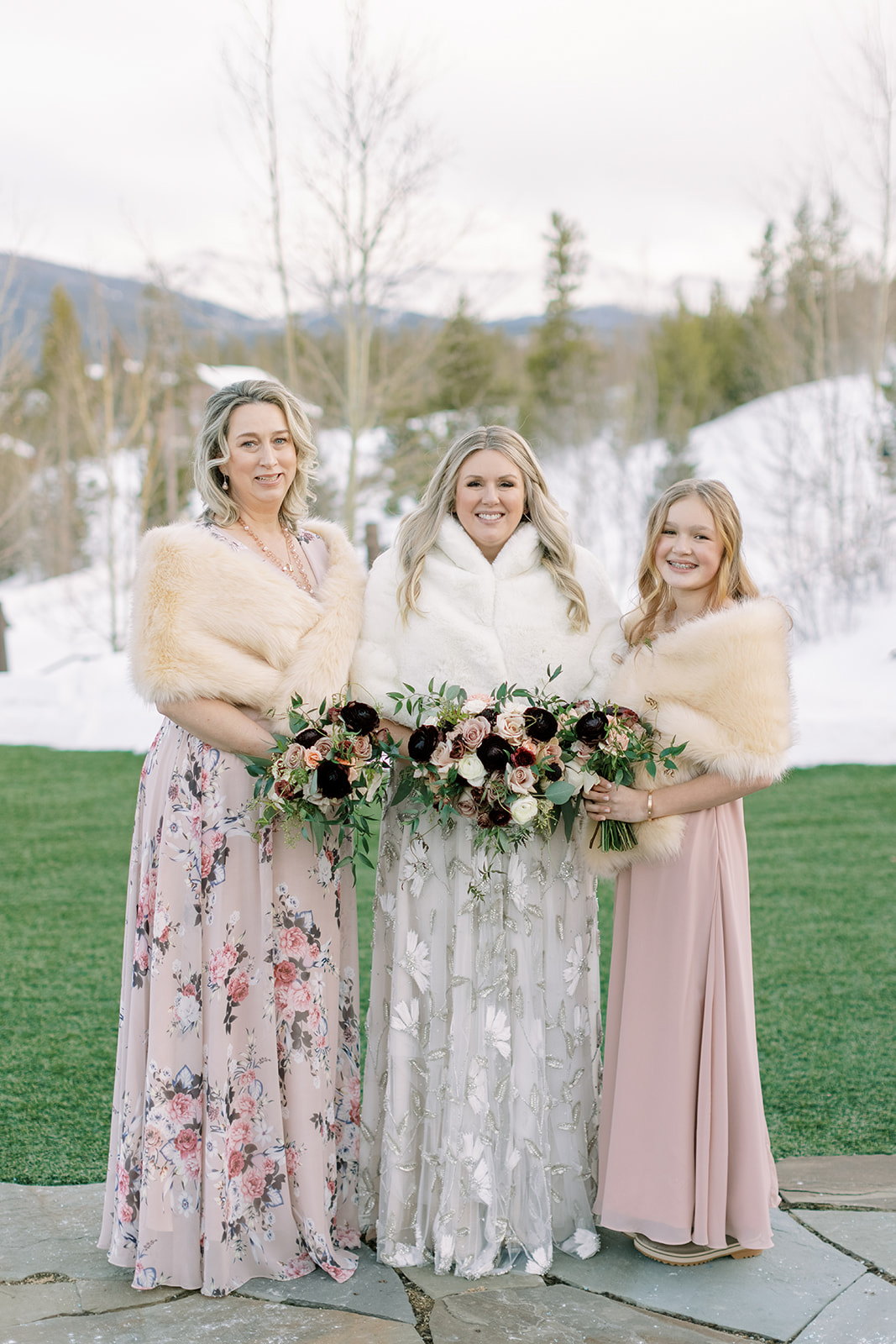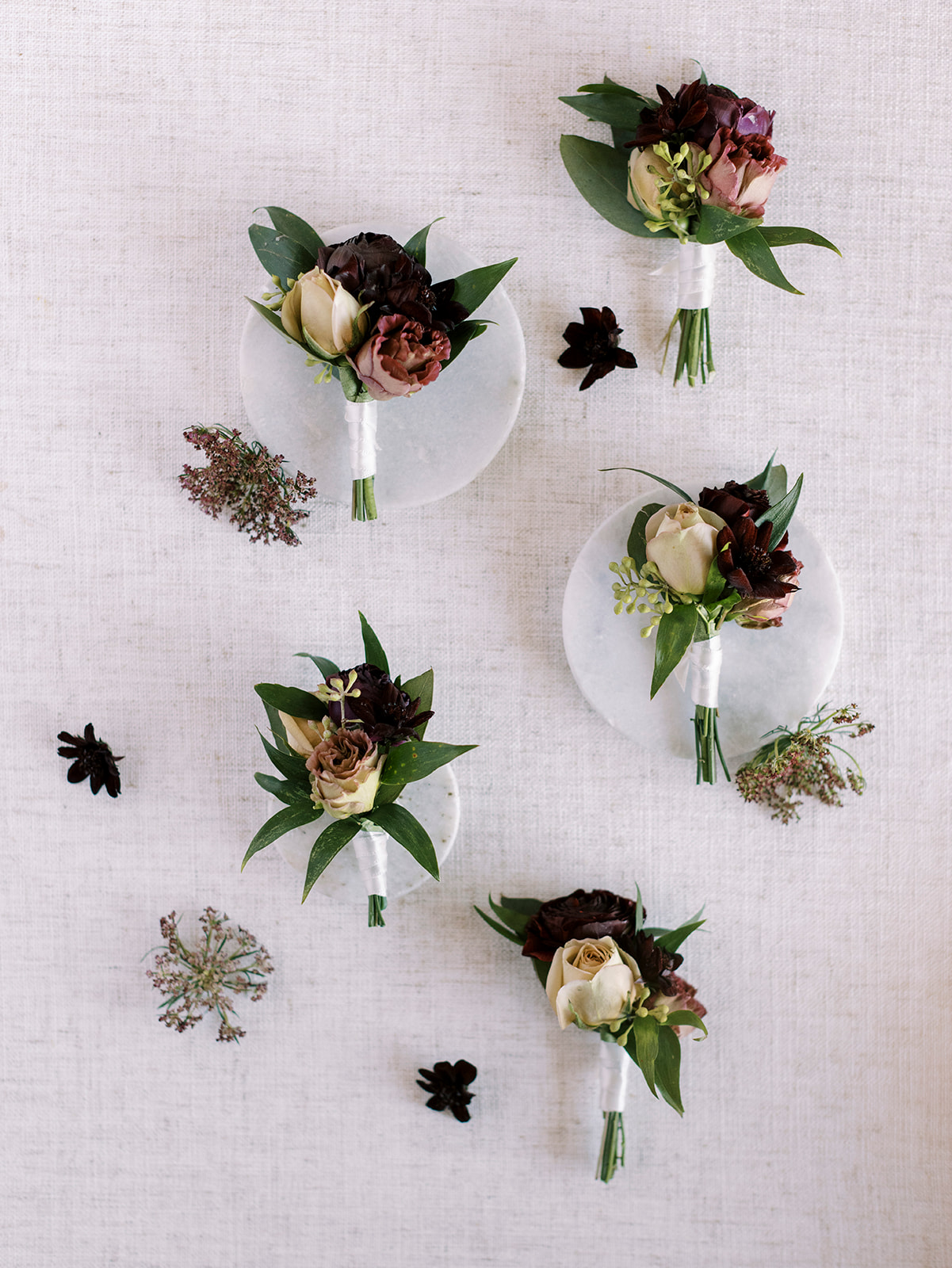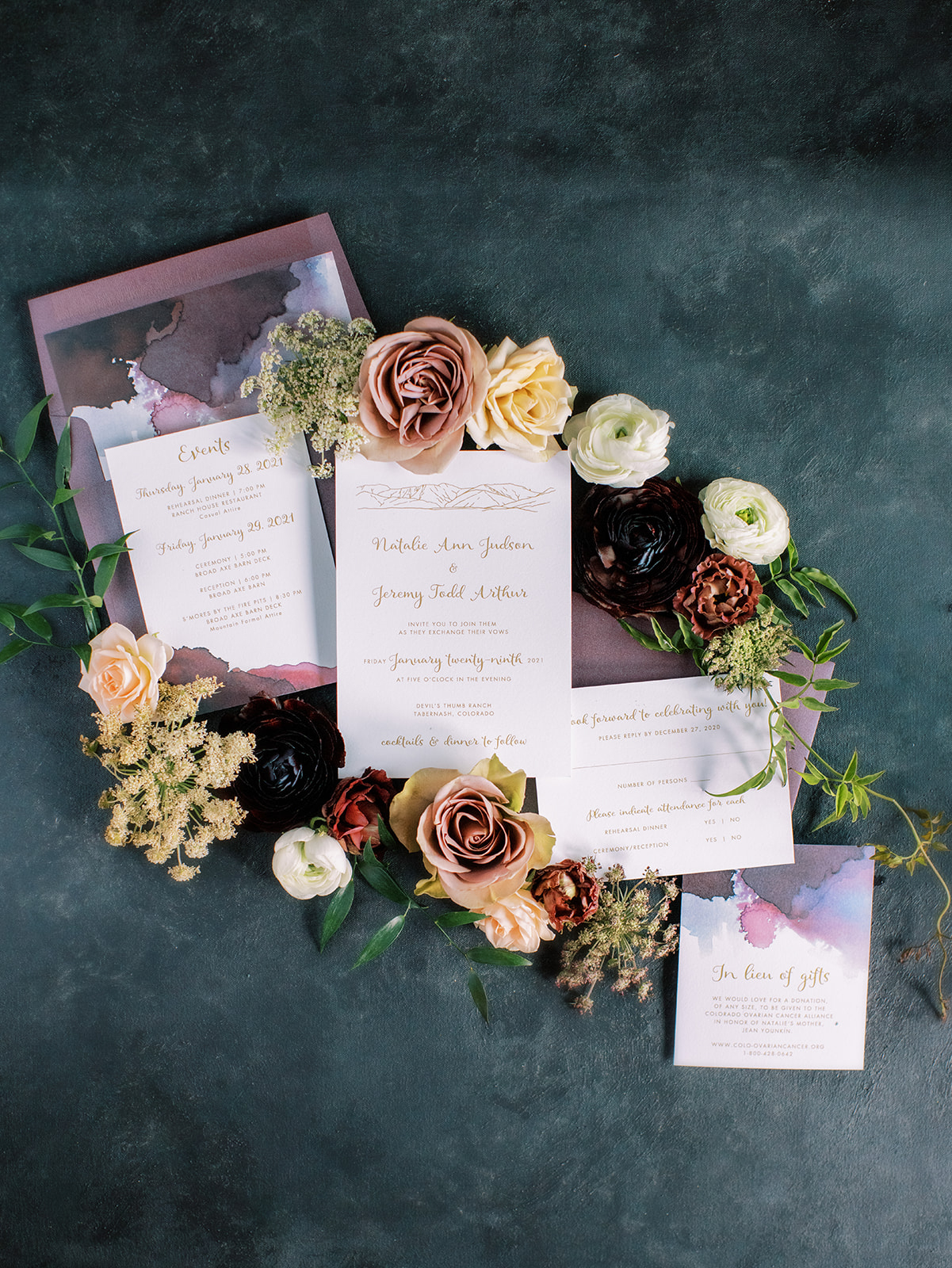 TELL US ABOUT FINDING YOUR WEDDING DRESS/ATTIRE: My best friend, my daughter and I flew to New York with the specific purpose of finding a wedding dress. We went to several boutiques and ended up finding my dress. It was so special, being able to share the experience with my daughter. We actually ended up finding a beautiful faux fur that looked great with the dress, even though we were planning a summer wedding at the time. But it worked out perfectly when we moved the date to January. The only hiccup was getting the dress sent to Colorado and altered. We had planned to return to New York for alterations and to pick up the dress, but Covid literally shut everything down about 3 weeks later.
DID YOU HAVE ANY DIY ELEMENTS? We did put together special welcome bags for everyone, and chose special little gifts to put in each. Since our wedding ended up being so small, it was easy to personalise everything.
DESCRIBE YOUR WEDDING FLOWERS: Gorgeous. Our florist was amazing! We wanted very natural colours, that fit the outdoor, snowy setting. Looking back at pictures we still can't believe how beautiful the flowers were. La Rue Floral nailed it! She even included a small bouquet of daisies for my Mom, who had recently passed away and placed daisies in several other locations, since they were my parent's wedding flower.
FAVOURITE DETAIL OF THE DAY: Brittany created a special seat for my Mom at the ceremony. It had a bouquet for her, a blanket (she was always cold!) and a little sign reserving her seat. That meant so much to us. And after the ceremony, my dad, brother and I spread a few of her ashes nearby.
WHAT ADVICE WOULD YOU GIVE OUT TO A COUPLE PLANNING THEIR WEDDING? Just roll with it. We had to reschedule several times. We changed venues. We went from a wedding with 85 guests, to a wedding with 18 people- including us! And it still ended up being perfect.
MOST MEMORABLE MOMENT? Honestly, the whole day is memorable for us. Being able to look around and see all the people that we are the closest with, sharing our day with us, in such a beautiful setting. It had been so long since we had all been able to even be around each other, much less at the same time! And of course, becoming husband and wife was amazing!
WHAT ASPECT OF THE WEDDING WAS THE MOST IMPORTANT TO YOU BOTH? Having our family there and part of everything. Jeremy's dad performed the ceremony, our daughter was a bridesmaid and my son was our ring bearer. It meant everything to share our day with the people we love the most. Because our wedding was small, we got to talk to everyone and had a great time.
TELL US A LITTLE ABOUT YOUR HONEYMOON: We went to the Maldives. We actually went before the wedding- it was scheduled for after our original wedding date. So it was a pre-honeymoon. After the wedding, we snuck away to Telluride to ski for a few days.
IS THERE ANYTHING YOU WOULD CHANGE OR DO DIFFERENTLY? It would have been great to share our day with all of our friends and extended family. However, we were limited to a number that fit within the guidelines of the county we were in. But it will just be an excuse for another party! In the end, everything worked out perfectly.
A huge thank you to Colorado Wedding Photographer SARAH PORTER for sharing this beautiful Colorado wedding with us. This fine art hybrid photographer is constantly inspired by the unspoken moments shared in the deep connection between two people completely immersed in love. "So much beauty exists in-between moments that I notice, unposed and vulnerable. These are the moments I would love to help you capture in your story. Every time I pick up a camera, it's an opportunity for connection. My process will revolutionise your perception of photography from fear to enjoyment. It is important that you experience the instances that leave you speechless and occasions that take your breath away on your wedding day." If you're looking for a Colorado wedding photographer you can see more of Sarah's work in our vendor guide.