It doesn't get much more beautiful than this setting at La Bastide de Gordes for Eliza & Rohan's wedding. Captured by South of France Wedding Photographer JEREMY FERRERO, the couple wanted everything to complement the setting. Provence and La Bastide de Gordes are so breathtaking already they had the luxury of keeping things simple so chose simple wooden tables and floral arrangements. "We added touches that paid respect to both of our upbringings; for example, at the ceremony, we had important women in our families read blessings in three different languages."
HOW DID YOU MEET? We met in business school – we were on a class trip in India and met on the airplane flying from Mumbai to Delhi. Rohan asked a mutual friend to introduce us and ask if I would sit in the empty seat next to them.
TELL US ABOUT YOUR PROPOSAL: Rohan is from Germany. We were visiting his family in the town where he grew up for the first time, and he pretended we were going to tour an old castle. When we were on the tour of the castle, he proposed!
TELL US ABOUT FINDING YOUR WEDDING DRESS: It took a long time! Originally, I thought I wanted something with lace and sleeves. At the last moment, I went to a secondhand and vintage wedding shop and found this Carolina Herrera dress. I immediately fell in love with the classic elegance of the dress.
WHY DID YOU CHOOSE THIS LOCATION? We wanted to create a "wedding weekend" getaway experience for our guests. Almost everyone at the wedding stayed at La Bastide de Gordes, and we had the whole place to ourselves. Some of my favourite memories are the moments in between the events - seeing everyone at breakfast in the morning or groups of friends and family sharing a coffee on the terrace.
DID YOU HAVE ANY DIY ELEMENTS? We created boxes to go in each guest room that had little gifts from places that are special to Rohan and me: chestnuts from Germany, chocolate covered blueberries from Maine, olive oil from Provence, and an herbal tea blend with herbs from Maine, Germany, and Sri Lanka.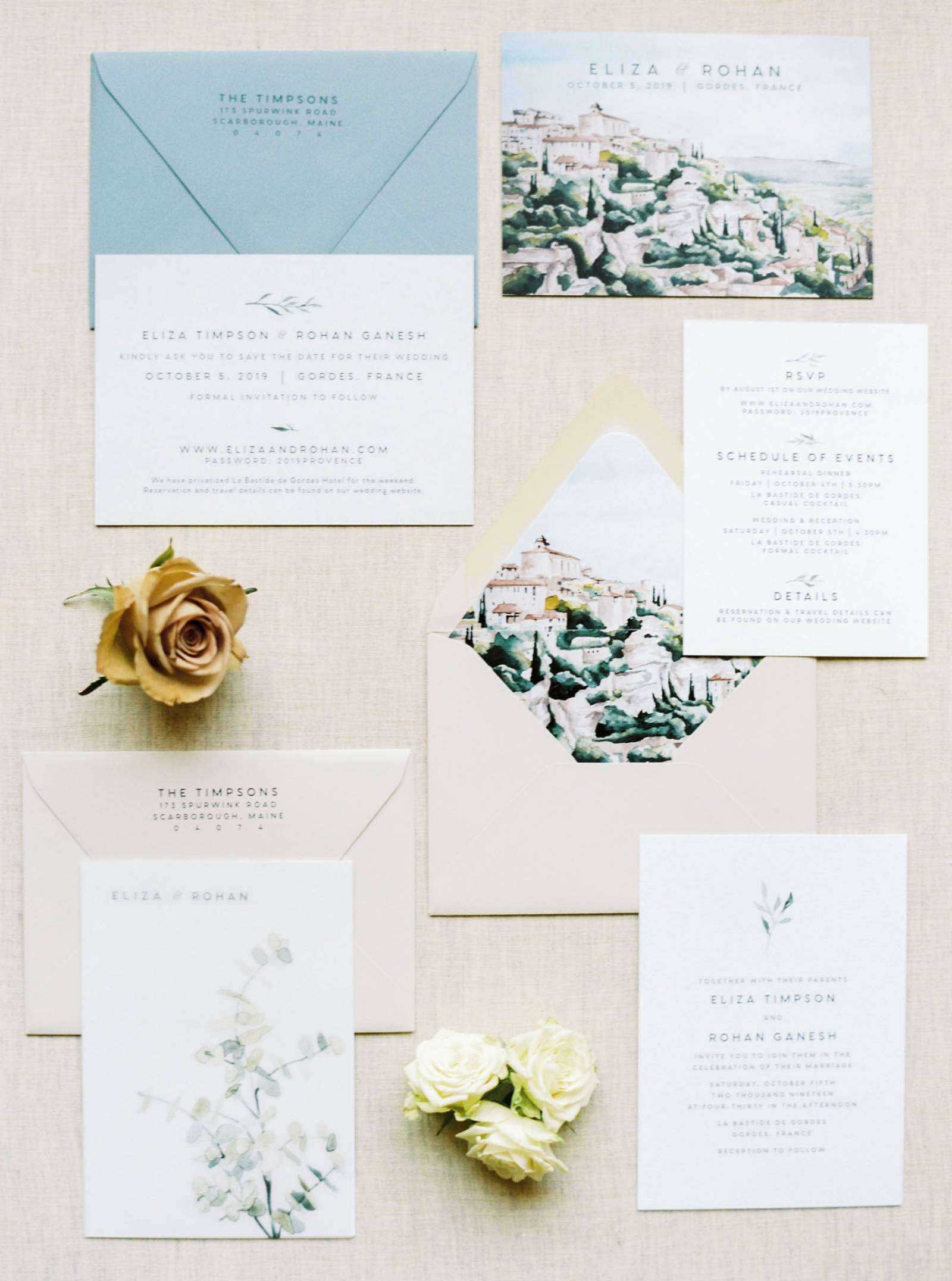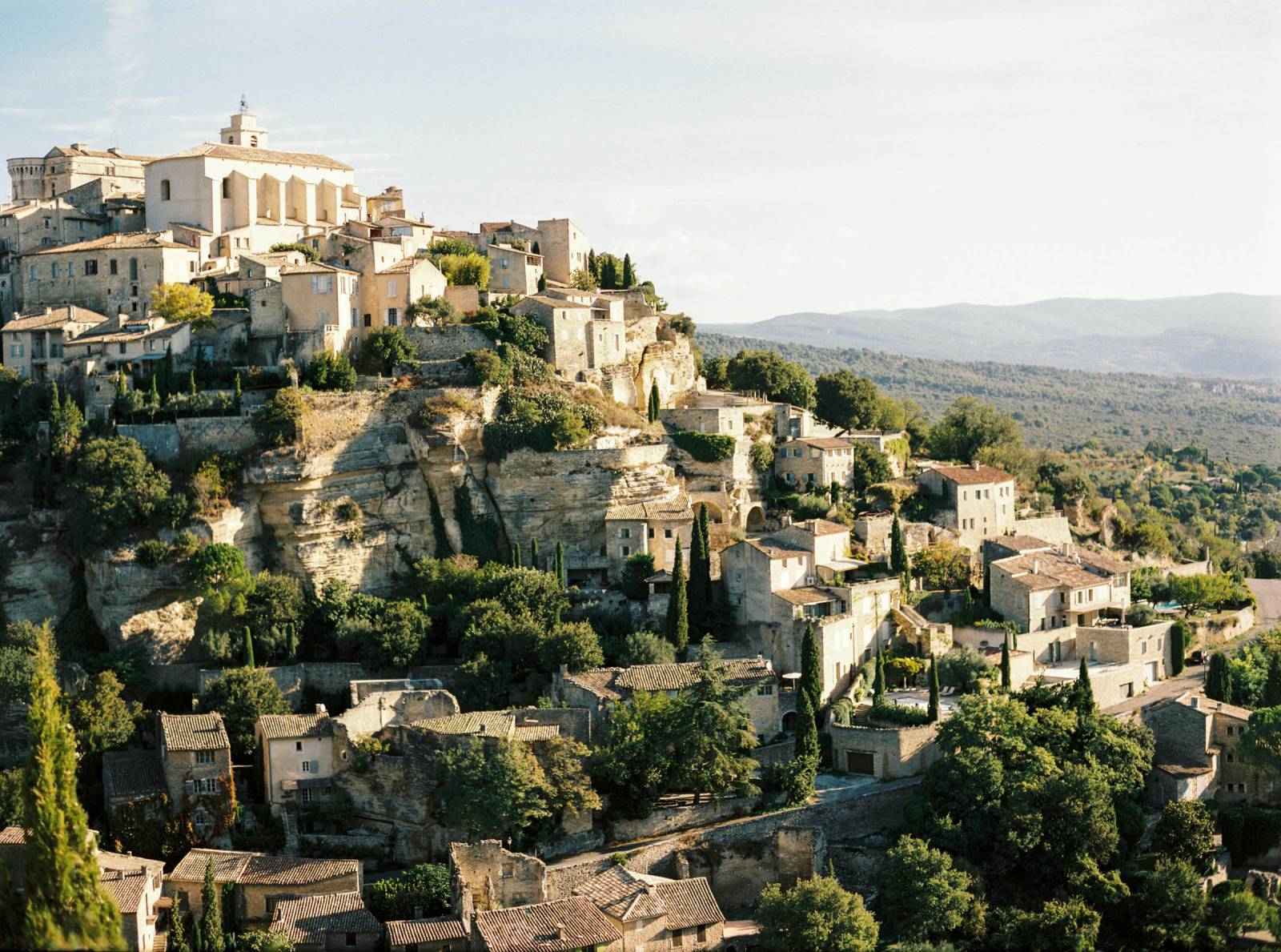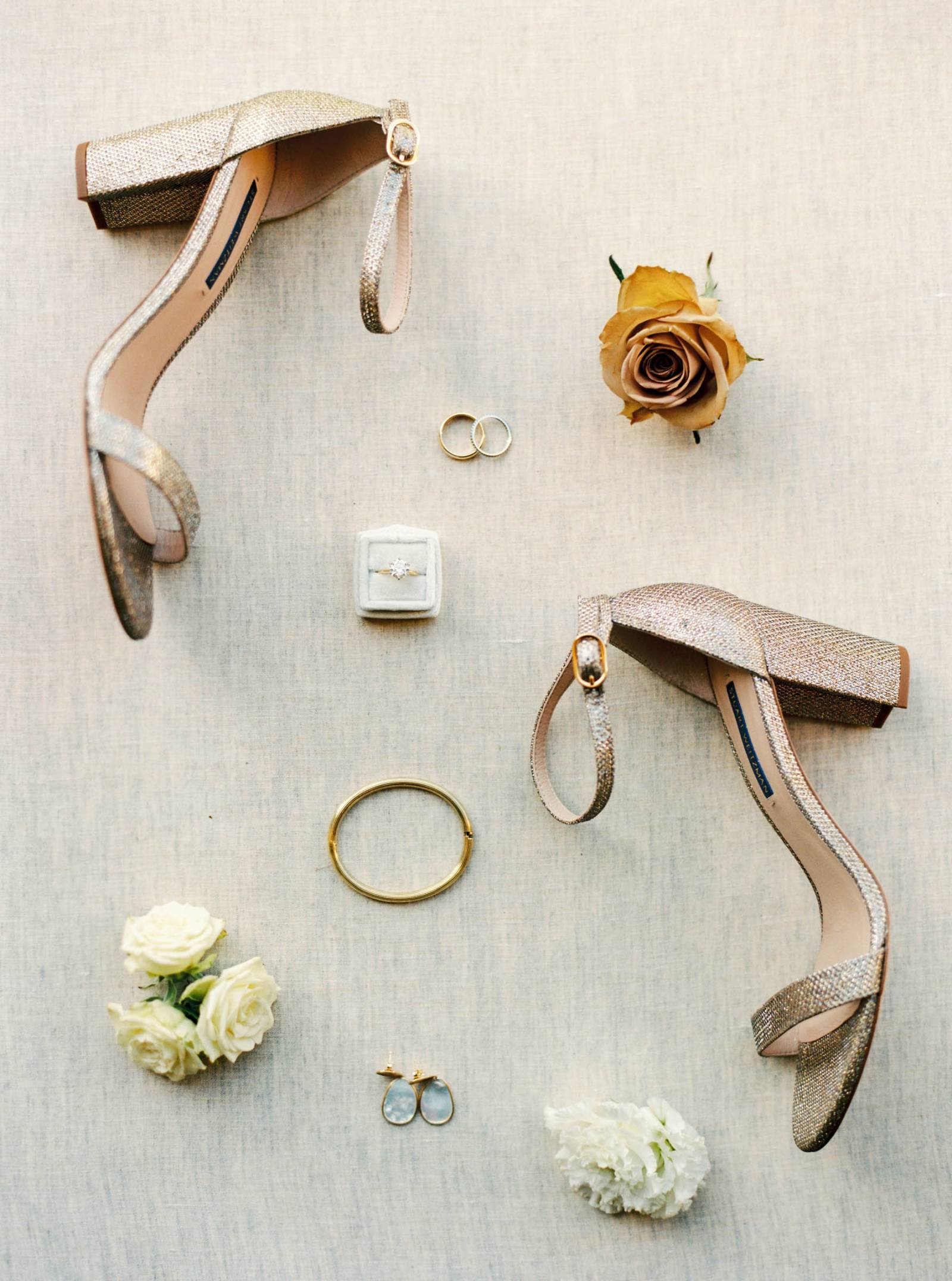 DESCRIBE YOUR WEDDING FLOWERS: For the rehearsal dinner we keep the decor simple but different than the wedding day – greenery and with kumquats as accents. On the wedding day, we wanted the colours to compliment the beauty of Provence in the fall – white, sage green, and mauve.
FAVOURITE DETAIL OF THE DAY: The toasts from our families and the specialty cocktails – they were out of this world!
WHAT ADVICE WOULD YOU GIVE OUT TO A COUPLE PLANNING THEIR WEDDING? Consider a destination wedding – it usually means it will be a smaller, more intimate setting, and there is something special that happens when all of your friends and family come together in a new place.
MOST MEMORABLE MOMENT? Rohan and I saying our vows to each other. I'll never forget that.
ANY OTHER DETAILS THAT HELP TELL THE STORY OF YOUR DAY? Our save-the-date cards and invitations had a watercolour of Gordes – it was such a fun way to get our guests excited about the incredible place they were about to visit.
TELL US A LITTLE ABOUT YOUR HONEYMOON: We went to Greece and ate our weight in feta and spent countless hours in the ocean! I highly recommend it.
A big thank you to South of France Wedding Photographer JEREMY FERRERO for sharing this absolutely beautiful inspiration with us. Jeremy is a valued member of our VENDOR GUIDE. If you're thinking of getting married in the South of France - or anywhere in Europe for that matter - head on over to his profile and find out more about him. Be sure to check out this beautiful wedding by Jeremy too - Elegant Chateau wedding in the heart of Provence