When it comes to your wedding there are many things that may influence the style of it. For Peri it was a painting by Matisse and his art in general. Having always loved his work and his use of pattern and colour, Peri ran with the idea to create an artistic experience for the guests at her wedding to Andrew. They even had a live artist painting the reception - how cool is that? These two did things their own way: rather than having the traditional ceremony followed by a reception, they held the reception the night before - an outdoor cocktail party with an abundance of cake! Everyone loves cake right? The following day they held an intimate wedding ceremony in the Phoenix LDS Temple with just their family and closest friends in attendance. JONNIE & GARRETT PHOTOGRAPHY captured all the special moments of their celebration. You can also see their incredible FIRST LOOK SHOOT here.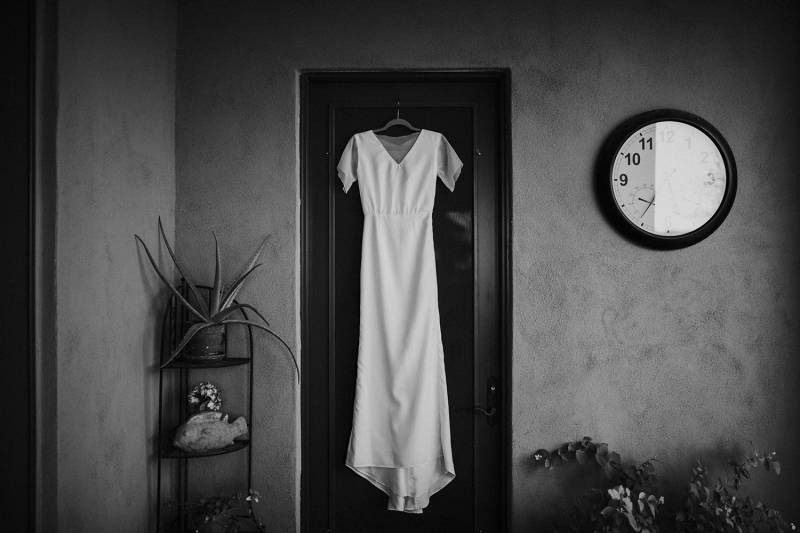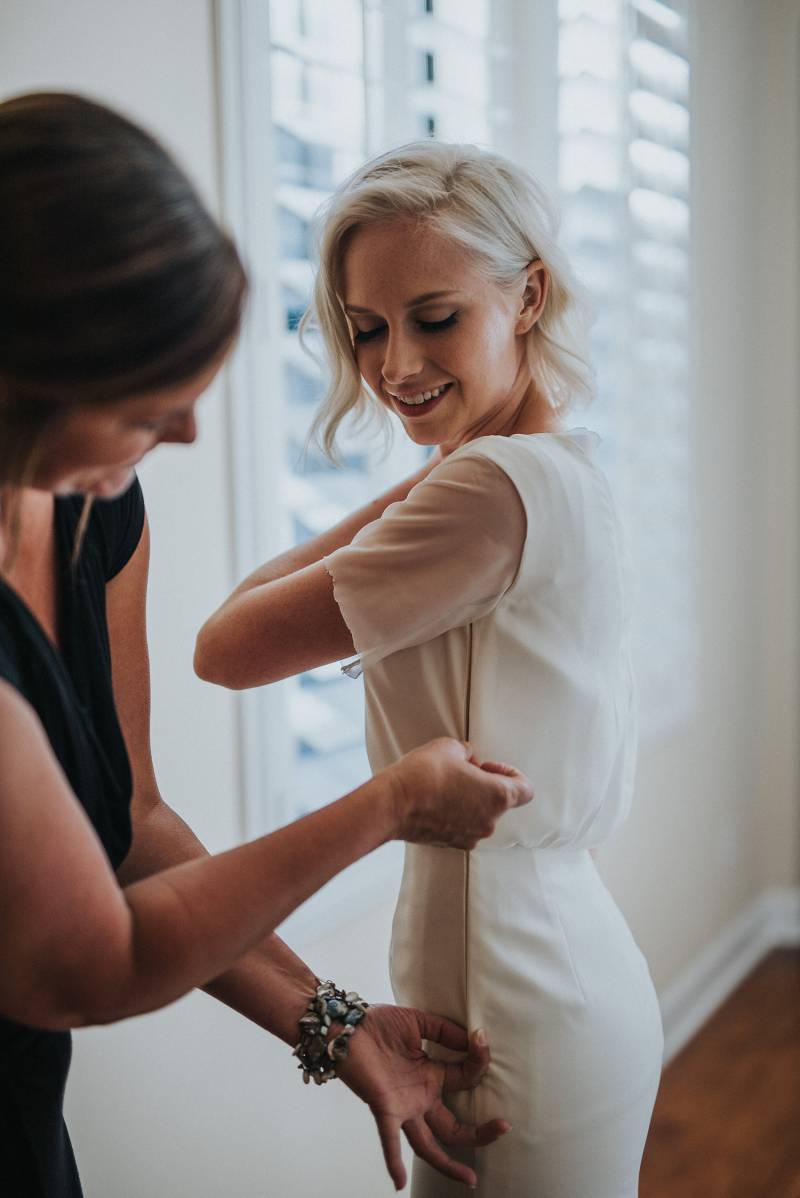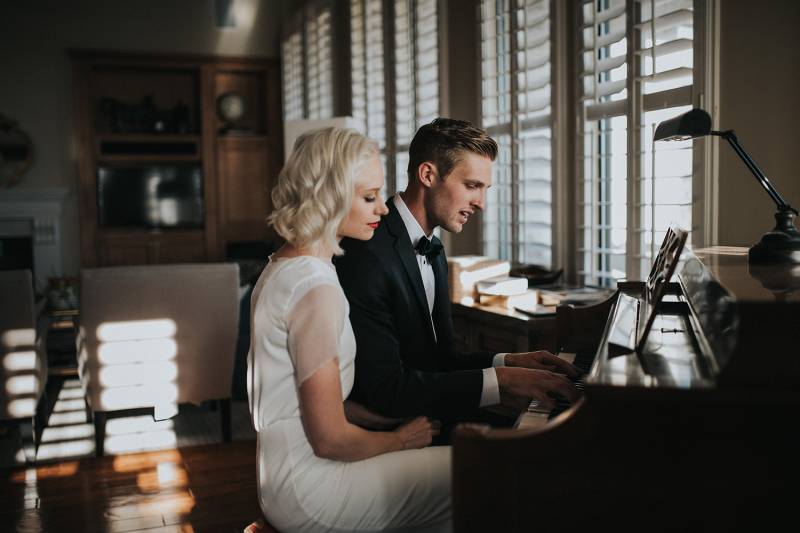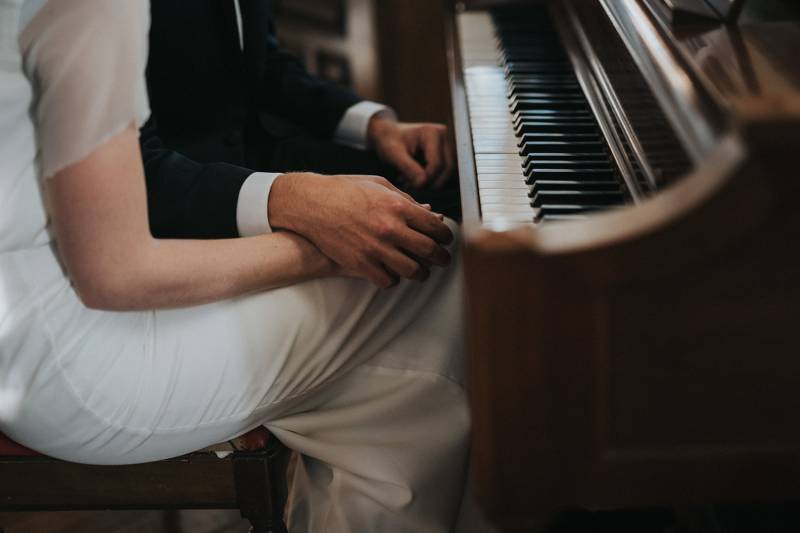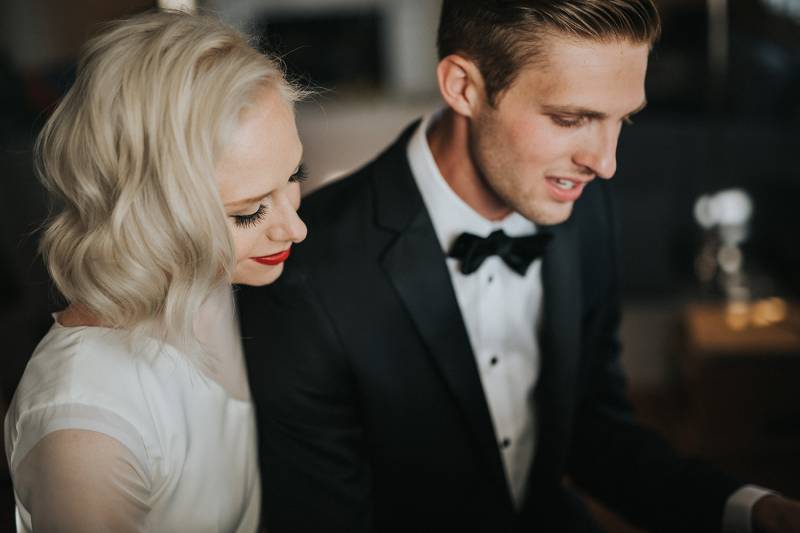 HOW DID YOU MEET? Andrew met my parents while serving a mission in Phoenix. They eventually became friends with his parents as well (they regularly visit San Diego). They got invited to his sister's wedding and I tagged along. We met then and fell in love almost instantly.
TELL US ABOUT YOUR PROPOSAL: Throughout my travels I've collected little leaves and flowers from my favourite places around the world, and I display them in little shadowboxes in my room. I have two empty ones, and I told Andrew that I was going to fill those with something from the place I get engaged and married. On New Years Eve Day we were in Palm Springs with family. He took me to the Annenberg Gardens. While we were walking I picked a leaf, and he got down on one knee.
TELL US ABOUT FINDING YOUR WEDDING DRESS: I was working in Paraguay while we were engaged. I found a seamstress down there and designed my dress with her. It was kind of hard, since my Spanish was limited. But I loved being so involved in the making of my dress.
ANY DIY ELEMENTS? My husband and I personally picked 100 oranges from a tree for the dinner. Arizona oranges are absolutely delicious, and they added a fun pop of colour to the table.
DESCRIBE YOUR WEDDING FLOWERS: I met with the florist, Malori (Hoot + Holler) before the wedding. She was so fun to hang out with! We put together my bouquet... making sure it reflected the wild nature of the desert as well as the colourful palate of Matisse (one of my favourite artists). You'll see especially the incorporation of the three primary colours-red, yellow, and blue, as well as grey roses! I loved that neutral addition. Each bridesmaid had a different bouquet, consisting solely of one of the flowers in mine.
FAVOURITE DETAIL OF THE DAY: I had Susan Diehl, a world-renounced Artist, paint my wedding reception as it happened. I grew up on the same street as her, and frequently sat for paintings. It set the tone for the evening, and we can't wait to hang the painting in our apartment!
WHAT ADVICE WOULD YOU GIVE OUT TO A COUPLE PLANNING THEIR WEDDING? Don't think you HAVE to do anything. Wedding traditions are nice, but pick only a few to follow. We didn't do a garter or bouquet toss because I've always thought it was weird. Make your wedding your own!
MOST MEMORABLE MOMENT? Andrew played our song for me on the piano. It was a quiet moment together before all the hustle and bustle of the party. It was so nice to have yet another peaceful confirmation that he's the one for me.