It was the great outdoors that brought Jennie Bartlett and Tom Finnigan together – the pair met on a summer camping trip in California – so it seems only appropriate that for their wedding, they chose Colorado's spectacular mountain scenery. "Tom and I have a deep connection with the mountains," Jennie tells us. "The first trip we ever took together was to my family's home in Aspen and, although Tom felt the dizzying effects of such a high altitude, he immediately fell in love with the area, just as I have been for about 20 years." With the location an easy choice, the couple selected Pine Creek Cookhouse as their venue, and enhanced its cozy log cabin feel with simple, elegant table décor, including white linens and candles, gold edged plates, and lush, textured greenery running down the tables, with punches of deep reds on the cocktail tables, around the party favours and on top of the cake. From the outset, Jennie was intent on having family-style food service: "I was convinced that having long tables and family-style serving would create a feeling of togetherness," she explains. The food was all fresh and local, including ruby red trout and buffalo tenderloin. These beautiful images by LISA O'DWYER also appeared in Issue 17 of MAGNOLIA ROUGE MAGAZINE.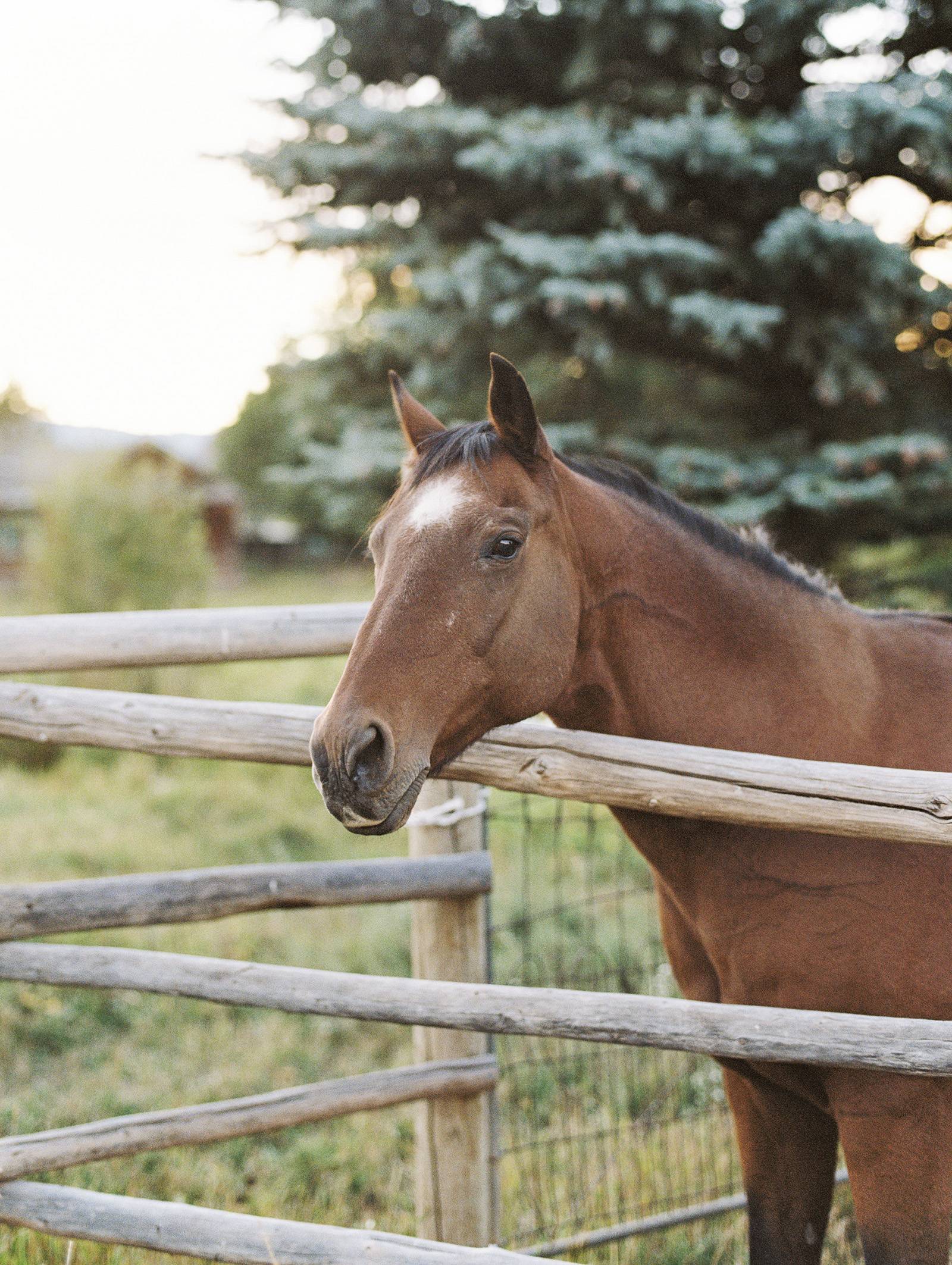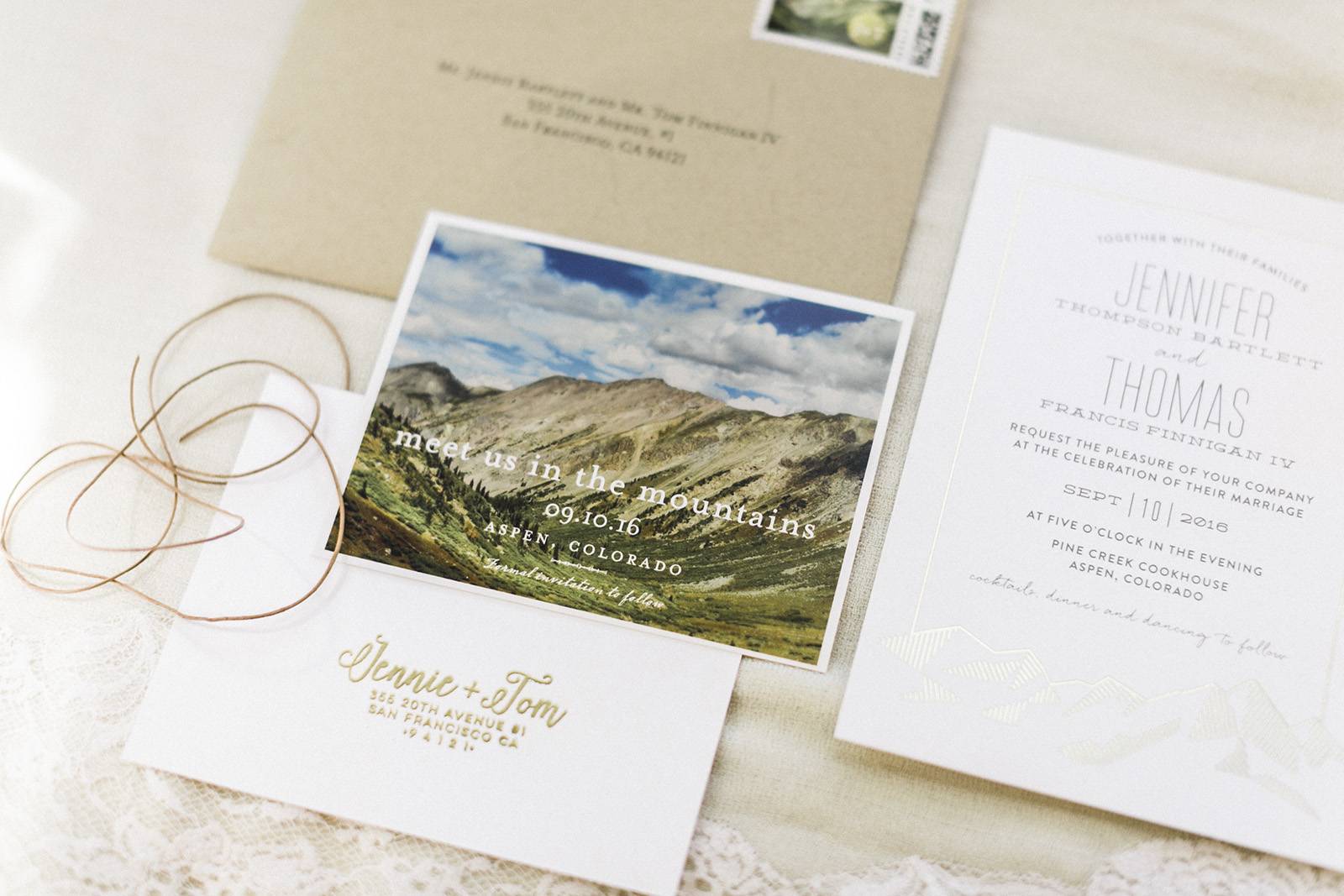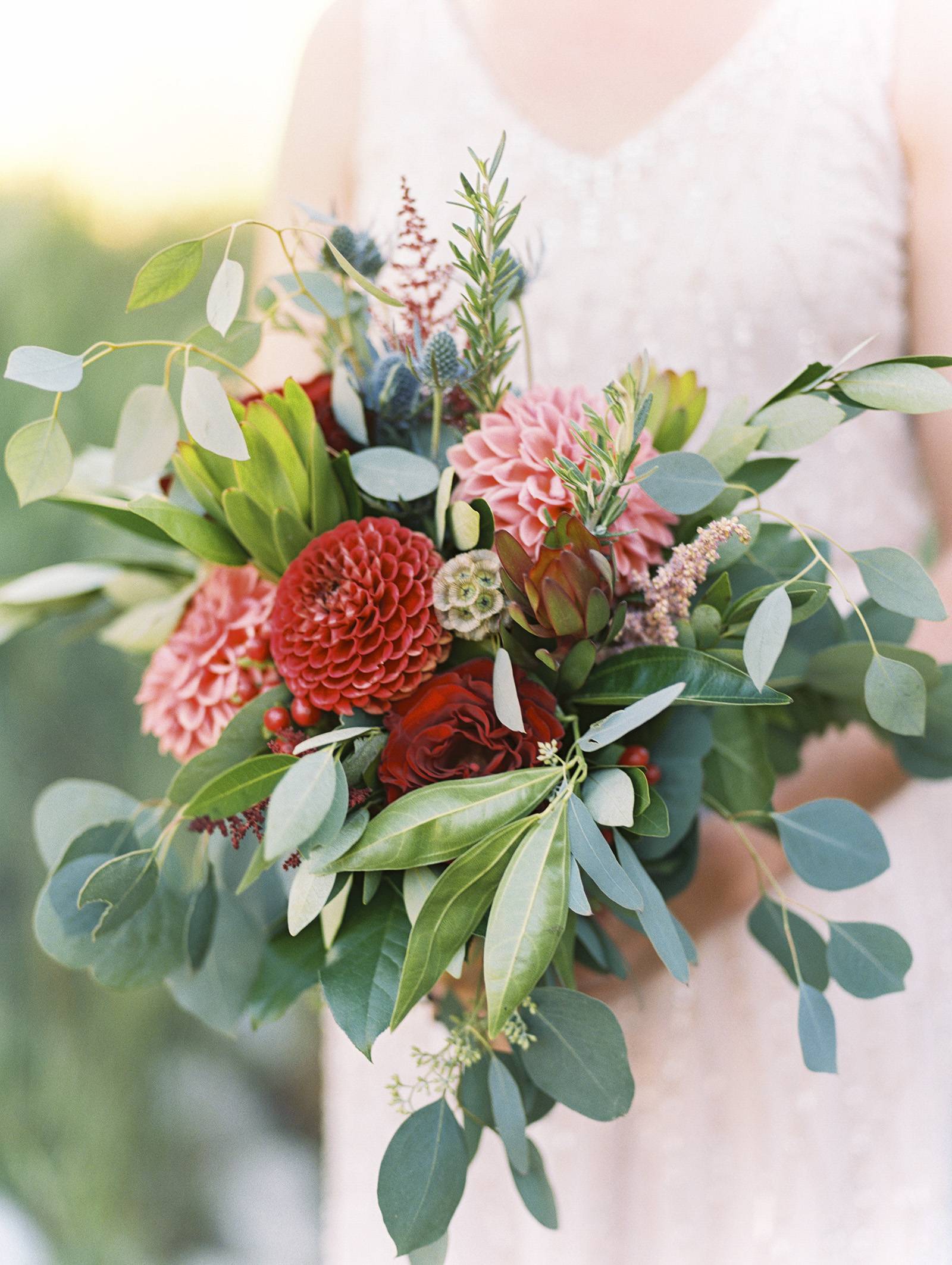 HOW DID YOU MEET? On a camping trip on a very hot August weekend in Sonoma County, California; the first part of the trip was spent floating down the Russian River through wine country – the water level in the river can get low by the end of the summer and there were a few spots where we had to get up and walk our rafts through shallow water. Tom and I bonded as we were working together to drag a few of the rafts through shallow water.
TELL US ABOUT YOUR PROPOSAL: Tom and I love to cycle – first road biking and then we got into mountain biking about a year into our relationship. Every year San Francisco has "fleet week" where Navy ships enter the harbour and an air show is held over the weekend. The blue angels, the Navy's elite fighter pilots, perform and they are my favourite part of the whole weekend. Tom insisted that we go for a mountain bike ride across the golden gate bridge and into the Marin headlands where we could watch the end of the air show. As we were standing on the top of the headlands, with a full view of the San Francisco bay, the Farallon Islands, the city and Golden Gate bridge, in front of a crowd of people, Tom got down on one knee and asked me to marry him, right as a Blue Angel buzzed the top of the hill!
"For the ceremony, The Aspen Branch created a fence covered in greenery and flowers in various shades of red, a cozy, elegant seating area, and deep red Turkish rugs running down the aisle that were lent to us by a very dear, generous family in Aspen. Standing in front of 14,000-foot snow-capped peaks, expressing our most intimate, personal feelings for each other, committing to a life-long partnership, with our closest family and friends as witnesses, was our most memorable moment.
It was extremely important to me that the gown I chose was locally made. My wedding dress was designed and made in San Francisco by Amy Kuschel, a silk Mikado faille gown with a dramatic cathedral-length train that was the most sophisticated dress I had ever seen. I knew immediately that its simple, clean, architectural style would add an unexpected element to our mountain wedding. The juxtaposition of my gown against the bridesmaids' ornate, sparkly dresses was extremely dramatic – somehow the sum of our parts equaled spectacular artistry in the mountains! All the groomsmen wore suits from T.F. Finnigan's, Tom's dad's clothing store in Saranac Lake, NY."
WHAT ADVICE WOULD YOU GIVE OUT TO A COUPLE PLANNING THEIR WEDDING? Make it what you want! Once you determine your vision, stand by it and find really talented specialists to help enhance or completely manage any component that you want. Also, if you can't take your honeymoon immediately following the wedding, I strongly encourage the bride and groom to take the week off after their wedding and go someplace where you can recoup. We didn't take our honeymoon right away (still haven't taken it) and I wish I had at least taken a mini vacation, without any family, after the wedding. I didn't think I was going to need it but I was completely wrong!
MOST MEMORABLE MOMENT? Standing in front of 14,000 foot snow-capped peaks, expressing our most intimate, personal feelings for each other, committing to a life-long partnership, with our closest family and friends as witnesses.
ANY OTHER DETAILS THAT HELP TELL THE STORY OF YOUR DAY? We held a welcome reception on Friday night at Kemosabe - an outrageous cowboy/cowgirl store in the centre of Aspen. Surrounded by walls of cowboy boots, hats, incredible turquoise jewellery and western wear, the event set the tone for what would be a unique, interesting, dynamic wedding weekend. All of the wine was made by Salamandre – our close family friends wine production – and the event had the same feeling as the wedding day – unique and personalised with products, drinks, food that are deeply personal to us. Tom and I didn't feel strongly about having a wedding in general and when we made the decision to host a celebration we wanted the weekend to be about our friends and family – the people who make us happy, better, more interesting husband and wife!