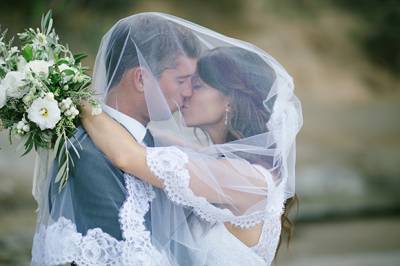 For Hannah & Tom there was never any question that they would hold their wedding ceremony on Red Beach, just north of Auckland. The groom has lived in Red Beach his entire life, and the gorgeous bride used to holiday there as a child and now the couple live just a stones throw from the spot where they said there "I do's". It holds an incredibly special place in their hearts… so yes no question. With large pohutukawa trees, rock terraces and ocean creating a stunning backdrop they kept with a natural feel for the rest of the wedding; adding a few rustic touches but otherwise letting nature do its thing. Williams Photography, assisted by Anna Allport have captured all the beauty is such a gorgeously natural way. Naomi from Leaf and Honey – as always – has created some lovely florals and I just love that it's not what you expect from a beach wedding.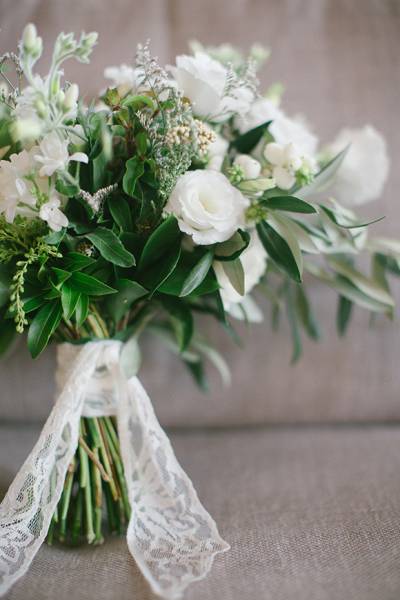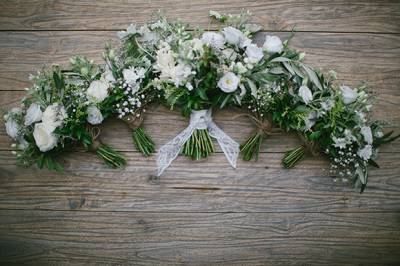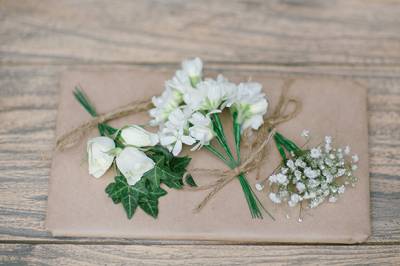 How did you meet? We met by chance down in Dunedin – I was at Otago University and had been watching the South Island Surf Champs with Tom's brother Mike. I popped back out to the beach later that day and realised I was out of gas and didn't have my wallet on me. Tom was the only person I saw who I recognized (having just met him that morning) so I had to bundle him up for $5 gas money. He was prepared to lend it to me, however asked if I knew anywhere close that was good for dinner. So before putting gas in the car, it was pizza and beer at the St. Clair Esplanade. There was a real chemistry between us so we stayed in touch and nearly 6 years later here we are. You find love in funny places. Over the years, we grew together as a couple and as people, learning not only about each other but plenty about life. And during that time, like became love and then love became marriage!
Tell us about finding your wedding dress: I'd had a image in my mind of the type I'd wedding dress I wanted for a long time - I knew I wanted something classic and beautiful, but was never one for a poofy dress. I also wanted to use lace as my Mum had done, and be able to incorporate some of her lace that she'd held on to. Anita from Vinka Design had been recommended to me by a colleague at work, so it was the first (and only) place we visited. One chat with Anita and the wheels were in motion - Anita completely understood the concept I had in mind and that one consultation was enough for me to know I'd found the right dress maker - I only ended up trying one dress on which was similar in style to what I was after. We sewed in a couple of pieces of my mother's wedding dress lace on the satin base as my something 'old'. The low back lined by the scallop of the lace was my favourite feature. In the end, the bridesmaid dresses had beautiful low backs to match.
Describe your wedding flowers: Well first of all, I cannot rave about Naomi from Leaf & Honey Flowers enough – she is completely amazing. All I had was an image in my head of how I hoped the flowers would look, and she managed to bring this to life in the most stunning way possible based off my haphazard descriptions (my flower vocabulary was very limited!). I knew I wanted them to look wild and free, and to stick with gorgeous whites and luscious greenery with a pop of blue on the arch way and at the reception. So Naomi just took it from there. Each stage of the wedding was such a neat surprise – from our beautiful bouquets being dropped off, to seeing the archway all dressed, to walking in to a sea of stunning flower boxes at the reception. And of course the boys dapper look was topped off by the pin holes. In keeping with the rustic theme, we used twine to bind the bridesmaids bouquets and pinholes, and used a beautiful lace ribbon for my bouquet. I couldn't have imagined more perfect flowers.
Favourite detail of the day: There are a couple I can't choose between here so I'll share them both! We asked each set of our grandparents & parents to write us a wee note of advice for a happy marriage, which my bridesmaids collected to ensure they stayed a secret from us. They were put into blue mason jars along with a picture of who the advice was from on their wedding day, and read out as part of the wedding ceremony by each member of the bridal party. It was a really emotional moment for Tom and I - hearing what our grandparents (both passed away and present) wanted us (or would've wanted us) to know, but also very entertaining with a few quirky suggestions in there too! We'd also asked my godmother to read a poem out for us during the wedding ceremony - following the reading, she surprised everyone by reading out a poem she'd written especially for us entitled 'The Sky & the Sea' - it was so touching to have someone go to that effort and was such a beautiful poem.
Most memorable moment? Walking down the aisle with my Dad and seeing Tom there waiting for me was something I'll never forget. There were so many things I hadn't seen (as the boys had done all the set up at the beach - from the lemonade stand, to the archway, to the swing) but I didn't notice any of it until after the ceremony, I couldn't tear my eyes away from Tom! I'd never seen Tom in a suit and tie before either - so that probably all added to it. And of course the way he was looking at me warmed my heart. Another particularly memorable moment for us was the first dance. Neither of us had much of a clue where to start, so we asked one of my bridesmaids father (who is a Ceroc teacher) to show us a couple of moves. He ended up choreographing us a full dance, so we figured we'd give it a shot. It turned out to be really fun and I'm sure we surprised a lot of the guests (thankfully we pulled it off after a quick practice outside before it was time to go on!!).