Feeling inspired by the light and colours that Autumn provides, French wedding photographer MAYA MARÊCHAL wanted to capture the fleeting beauty of the season. Maya tells us, "We wanted to focus on and highlight the elements and words that for us represent autumn-- warm colours, harvest, poetry, and free-spirit elegance. The exquisite florals and foliage by ARROSOIR DE MARGAUX were intended to provide vibrancy. The food is a nod for the harvest and gathering season and the beautiful french garden and chateau epitomise poetry. And lastly, the gown and model illustrate the free-spirit elegance. Thanks to the amazing team, everything has been carefully curated to create an inspirited vision of change that autumn brings."
The planner BY MADEMOISELLE C says; "It was the beginning of autumn when the idea of a fall shoot was born. It's the poetry season, when the light is at its best to create some magic and when nature starts to unfold its beauty. When we think about this season we have the image of amber-coloured autumn leaves and the other beautiful warm colours like marsala and burgundy. We decided to use marsala as the main colour and create a cosy atmosphere with wood, leather, and a touch of gold. We also added foliage and light pink to bring in some light."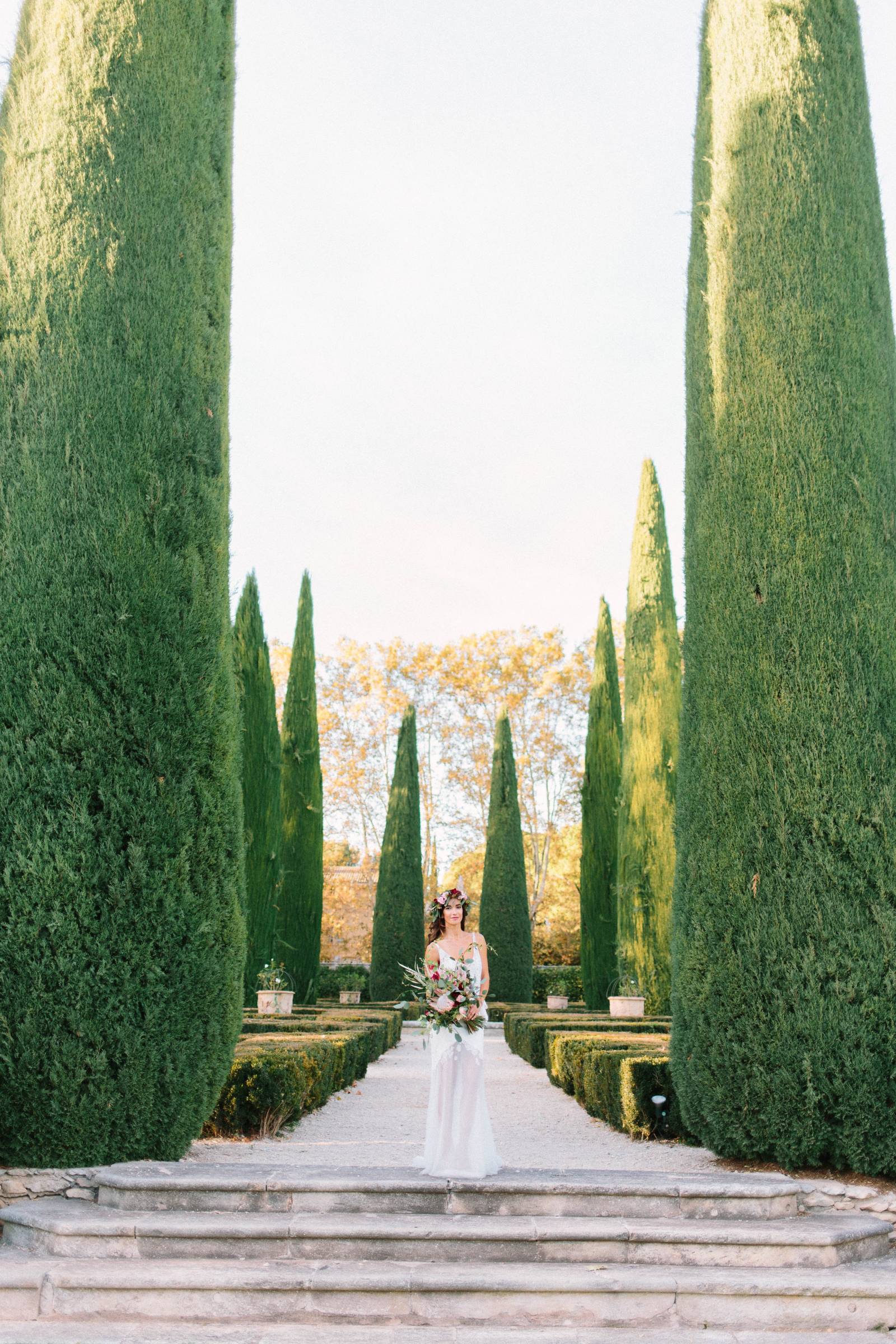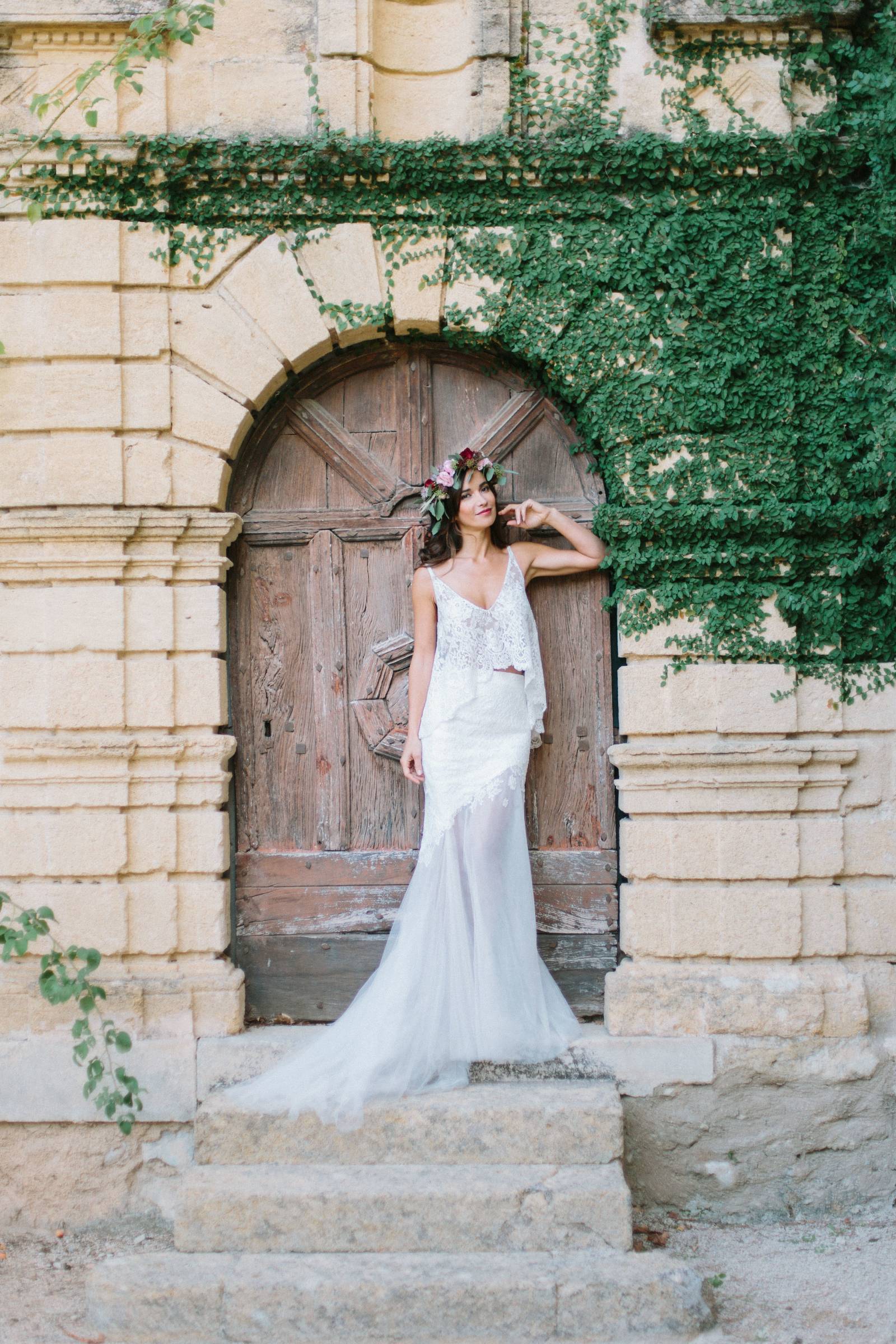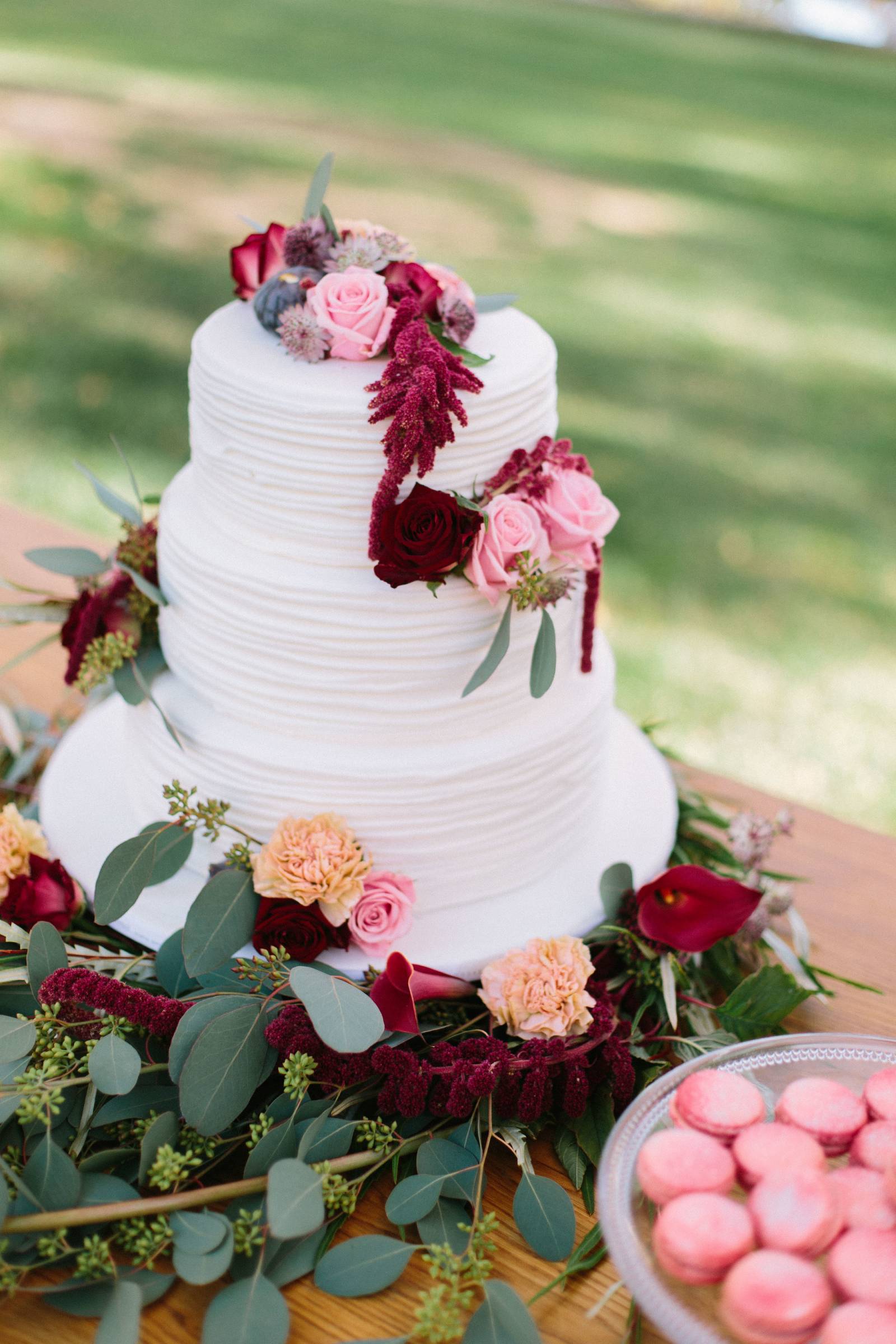 The place was also so inspirational with stunning jardin à la française, with insanely beautiful indoor pool, and its impressive bastide. We followed this luxury vibes to bring in some elegance in our shoot with beautiful crockery, linen napkins, Chesterfield sofa, and a lush garland runner with gorgeous flowers like protea, amarante, roses, and delicate eucalyptus.
We also wanted to incorporate food and beverage in the session to represent thanksgiving. We created a table of sweets adding in some touch of deep violet and red using figs, pomegranate, red berries, pink macaroons, and white cake with red flowers and eucalyptus to keep it aerial and fine. There was also a pink cocktail and a yummy cheese buffet!
Finally for the dress and the bouquet, as we have a bohemian heart we have decided to bring this mood with the bride. We had the idea to create a poetic but impressive bouquet and a lovely crown to match with and played with the red colour. For the dress, Manon Gontero was the perfect choice since her style was perfect to match with our mood. We have chosen a top and a gown to create a free spirit mood with refined lace and fabrics.
A big thank you to French wedding photographer MAYA MARÊCHAL for sharing this beautiful inspiration with us. Based in South East Asia as well as France, Maya's work is often admired either for its romantic and pastel toned aesthetics or moody chiaroscuro-inspired style. Her work is heavily influenced by an editorial style and is inspired by nature, music, fashion, and the burning desire to travel. You can see her full portfolio in our vendor guide.