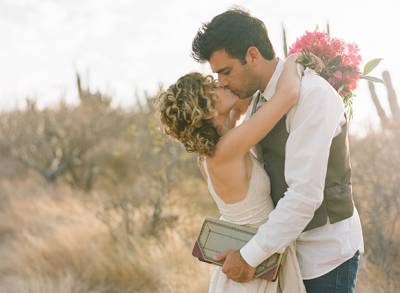 Jonathan proposed to Jessica in Baja Mexico over four years ago, so it was only natural that when this husband and wife design team (they own Disregarden) were planning a vow renewal, they would return to the rugged beauty of this coastal desert. Together, they gathered various treasures from their large prop collection, stuffed them in several oversized suitcases, and headed south of the border.
Their love for Mexican folk art and colonial architecture, along with a hunger for adventure drove them to leave the well-trod roads of the resorts and beaches of Cabo. They renewed their vows at an abandoned century-old lighthouse, spent a second honeymoon night at the estate of a sugar baron from the 1870s, and set off to a ranch where they rode Lolo the Donkey, renown for his beer-guzzling abilities. Jonathan describes their marriage thus far as having "required that we find strength and beauty amidst the reality that life is more dusty than we often expect".
The long weekend was filled with a sumptuous five-course feast at Huerta Los Tamarindos Agave Farm, where all ingredients are grown in the fields surrounding the overgrown terrace, a day of exploration in the art-rich town of Todos Santos, and several cactus-surrounded sunsets overlooking the Pacific.