Summer & the outdoors were our driving force for Ashley & Will's Santa Barbara wedding. Being in the wedding industry herself the bride wanted to ensure she could still surprise her friends and guests with a few things. Having always dreamt of a destination wedding where family & friends could gather and relax over a few days, heading to the California coast offered them all they wanted. Held at BACARA RESORT the reception took place on their outdoor lawn space which feels like you're enclosed in an intimate garden thanks to the surrounding tall hedges. Using rustic farmhouse tables with plenty of lush greenery and vibrant florals the overall look epitomised a summer soiree. Of course with summer comes some delicious food choices and their guests were treated to fish tacos, sliders and other California inspired dishes. J. ANNE PHOTOGRAPHY captured these beautiful images of their day.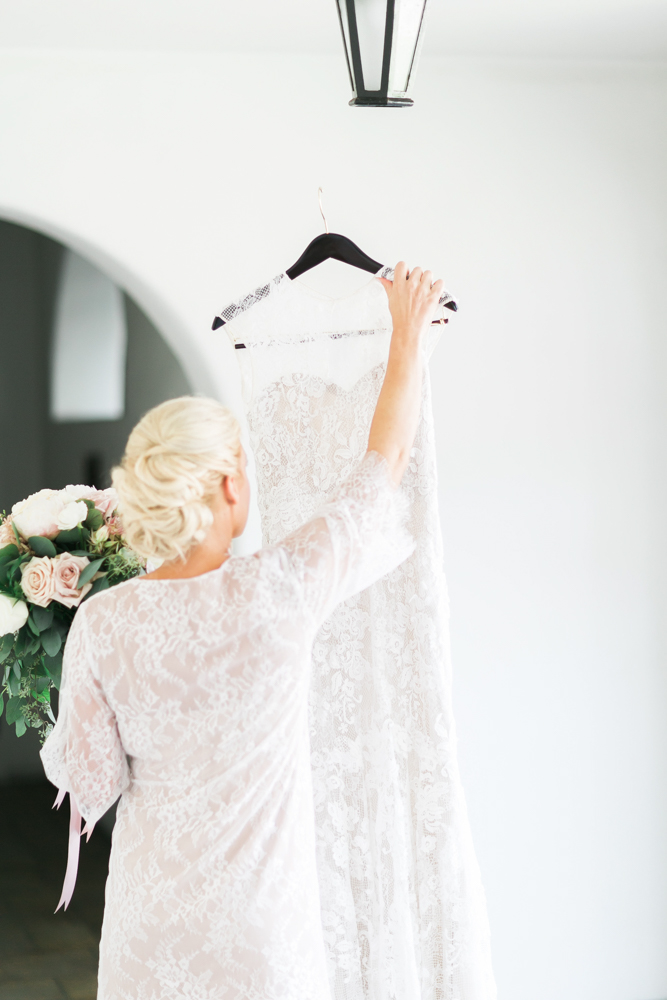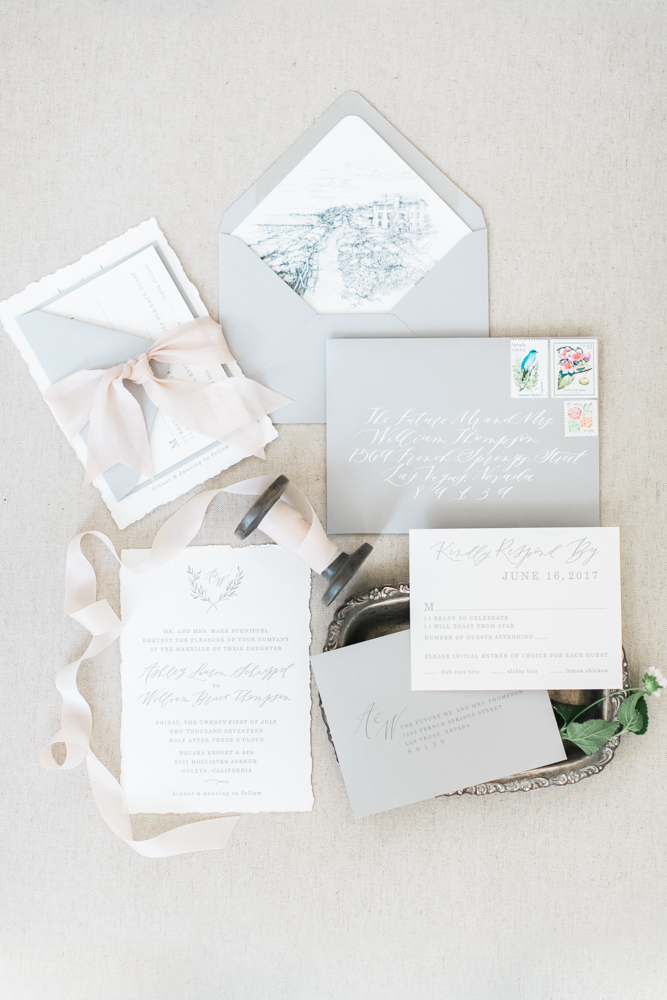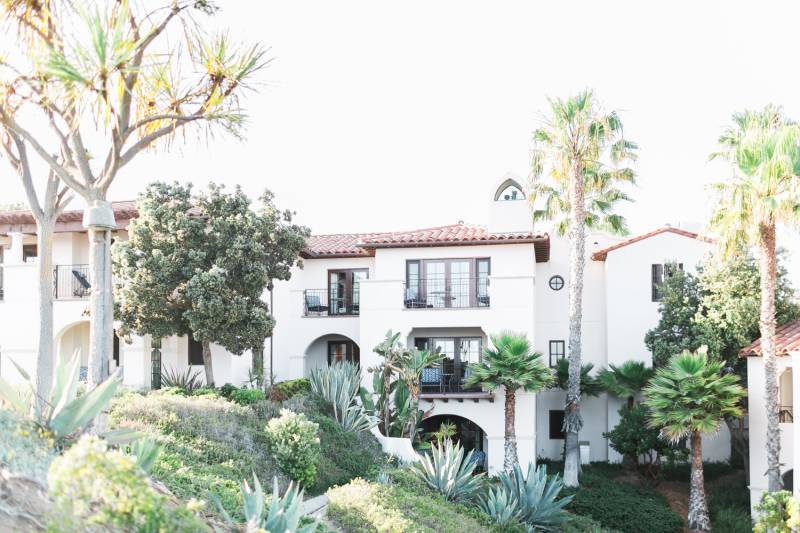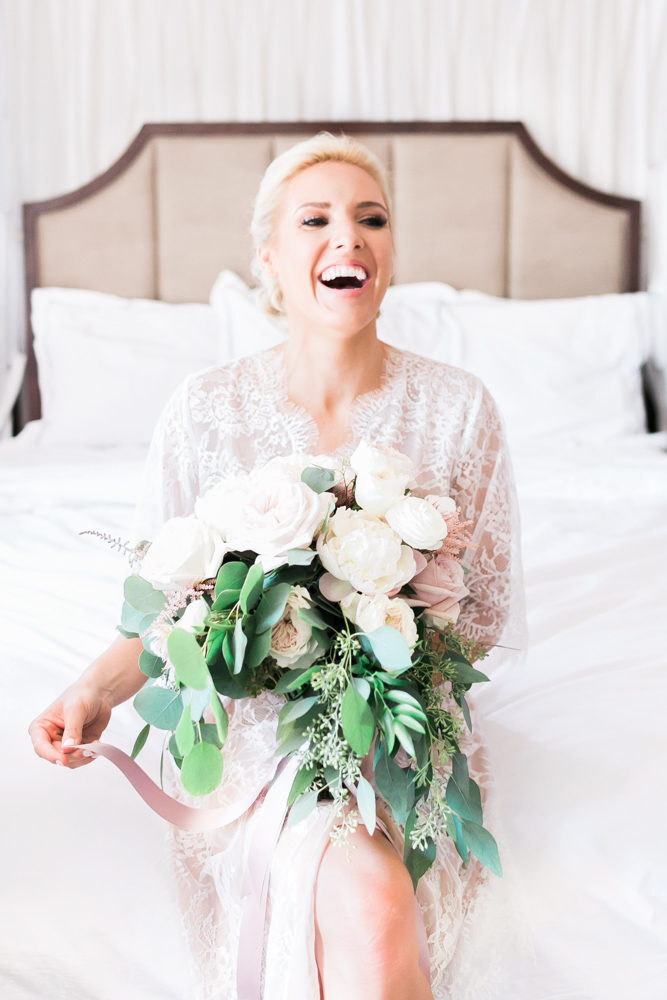 HOW DID YOU MEET? Sixteen years ago, back in the days of chubby faces, braces, and tucked in polo shirts, we met as sixth graders at our private middle school. Through the seven years we spent together in middle, high school and beyond, we became closer as friends as the years went on. Fortunately, even with life paths that sent both of us in vastly different directions, we stayed great friends throughout college, and both moved back to Las Vegas after graduation. Between English class, prom, football games, bad college decisions, great career advances and more… we had seen the best and the worst of each other. Staying friends for as long as we have has certainly paid off because we quickly realised that we have a love for one another that is so much more than friendship. Although we were once awkward ten-year-old friends, we are now twenty-somethings in love committed to happily ever after.
TELL US ABOUT YOUR PROPOSAL: As a wedding designer and a previous wedding planner, it is very hard to plan something for someone as type-A, perfectionist, control freak like me. I plan everything! So Will thought, what better a way to get her to cooperate and to surprise her if she plans her own proposal. And that is precisely what happened.
A few weeks prior, my dear friend Jodi from J.Anne Photography called me and asked if I would help her put together a styled shoot. We talked back and forth about who would model, what they would wear, what kind of decor and florals needed to be involved, where, when and everything in between! We came to the conclusion that we would have our friends Jace & Olivia be the stand-in "Bride & Groom" as they were just recently married and would be more than willing to go out to the middle of the desert with us for a random photo shoot. Jodi kindly ask me if I would be willing to stand-in as the "bridesmaids and groomsmen" in the shoot along with Will and my little sister, Kelly… with much hesitation, I finally decided to get dolled up and be in front of the camera for a change.
The day of the photo shoot arrived. The girls sat at the dinner table laughing and enjoying being pampered by the team at Your Beauty Call while the boys sat in the living room watching sports. I was so excited for what I thought was to be a styled shoot- just a fun evening with friends, hanging out with our favourite photographer, and pretending to be the highest paid models in town! Little did I know, this Saturday evening was soon to start a new chapter in my love story with Will- my best friend of 15 years.
I arrived at the photo shoot location and was in complete awe of how beautiful it was– the sunset, the desert in its purest form was just breathtaking. After a few group photos and bride and groom shots, Jodi asked if Will and I would just take a few relaxed and candid "bridal party" pictures. We obeyed her wishes and after a few photos, she asked us to face away from each other and on the count of three, she would ask us to turn around and face one another.
TELL US ABOUT FINDING YOUR WEDDING DRESS: After visiting a handful of dress shops from Las Vegas to Southern California and beyond, I finally landed on a dress in Salt Lake City at Alta Moda Bridal with the help of my mom, sister & best friend, Courtney! The dress I landed on was a Monique Lhullier gown that was head-to-toe in lace. I wanted it to be uniquely me, and ultimately match the overall look of the evening.
DID YOU HAVE ANY DIY ELEMENTS? My love for design and my profession as a wedding designer allowed me to plan every little detail around the wedding. I really wanted every detail to catch the eye, and make the day extra special for both of us and our guests. My Stationary Artist, She Paperie, designed and printed these AMAZING cotton menus for us. Will and I were tasked with the job of hand ripping each menu to give it the rough, rustic edging we were going for.
DESCRIBE YOUR WEDDING FLOWERS: For my wedding bouquet and the centerpieces, we wanted the flowers to have a gardenesque, romantic look based on our soft and neutral colour palette. To achieve this, we used natural foliage, silver dollar eucalyptus, quicksand roses, tons of garden roses, and a touch of white hydrangea for fullness.

FAVOURITE DETAIL OF THE DAY: My favourite details were the small nods to the things in the wedding that were so uniquely us as a couple. We are a laid back, fun, family & friend oriented couple so we wanted foods that were had a little bit of a laid back flair (i.e.- the fish tacos & sliders & the ice cream cone "cake cutting!") Also, I loved the hand drawing of our wedding venue on our wedding invitation created by my coworker.
WHAT ADVICE WOULD YOU GIVE OUT TO A COUPLE PLANNING THEIR WEDDING? 1. Enjoy the process and take in every minute! This is a once in a lifetime moment; so even though the process can be stressful, make it fun! (that's what wine is for!) 2. Hire a planner!
MOST MEMORABLE MOMENT? Oh, how do you pick just one! We both had written our own vows that we read to each other during the ceremony. There were moment of laughter & full tears. I was so nervous to have to speak in front of people, but once we were up there in that moment, I don't regret it for one second. It was such a beautiful moment between the two of us.
ANY OTHER DETAILS THAT HELP TELL THE STORY OF YOUR DAY? Our wedding was a weekend affair with friends and family. It started with a Rehearsal Dinner where we took off to Deep Sea Tasting Room on the Santa Barbara pier in a school bus that read "Willie T & Ashley" on the side. We had wonderful wines paired with Mediterranean bites overlooking the sunset on the beach. From there, we met the rest of our wedding guests at Santa Barbara Brewing Company! We wanted to give people the best taste of what we do when we visit!
The day after the wedding, we had everyone meet us on the beach for a full day on the sand. At sunset, we jumped on a trolley bus that took us down the coast to State Street where we got to experience the fun of downtown Santa Barbara. It was truly a full wedding weekend built for our family to enjoy the best parts of a place we love so much!
TELL US A LITTLE ABOUT YOUR HONEYMOON: Our honeymoon was in Playa del Carmen, Mexico only a few days after the wedding. We spent 5 wonderful days soaking up the sun and eating as much ceviche as we could handle!