It's not hard to see why Hayley & Nick chose this beautiful location for their wedding. GORGE CREST VINEYARD in Washington's stunning Columbia Gorge has a traditional barn style winery and offers stunning views of Hood River Valley and majestic Mt. Hood. The gorgeous bride took inspiration from past weddings she'd been involved with but most of all they just let the location shine. MARIA LAMB captured their day beautifully on film and SEVENTH STEM created the most beautiful florals!
"When you see it, it's easy to understand why we picked this location. I found the venue online from Atlanta, and we sent my dad and Nick's dad up to the venue together to look at it for us. They Facetimed us from the venue, and we knew it was the spot when they used the words "fabulous" and "stunning". The venue owner later told us it was the first time they have ever had just two dads come look at the venue together, which they were very proud of."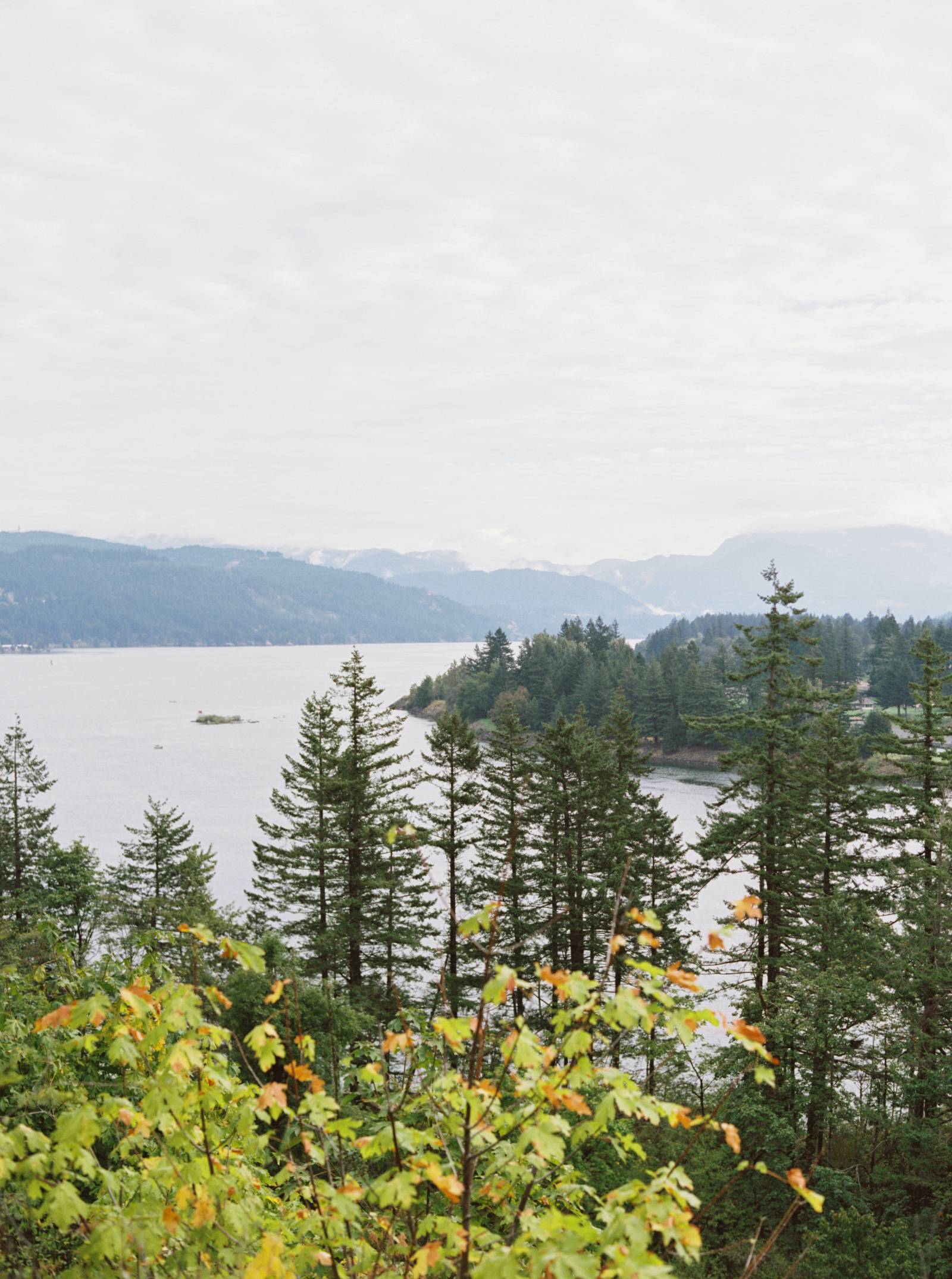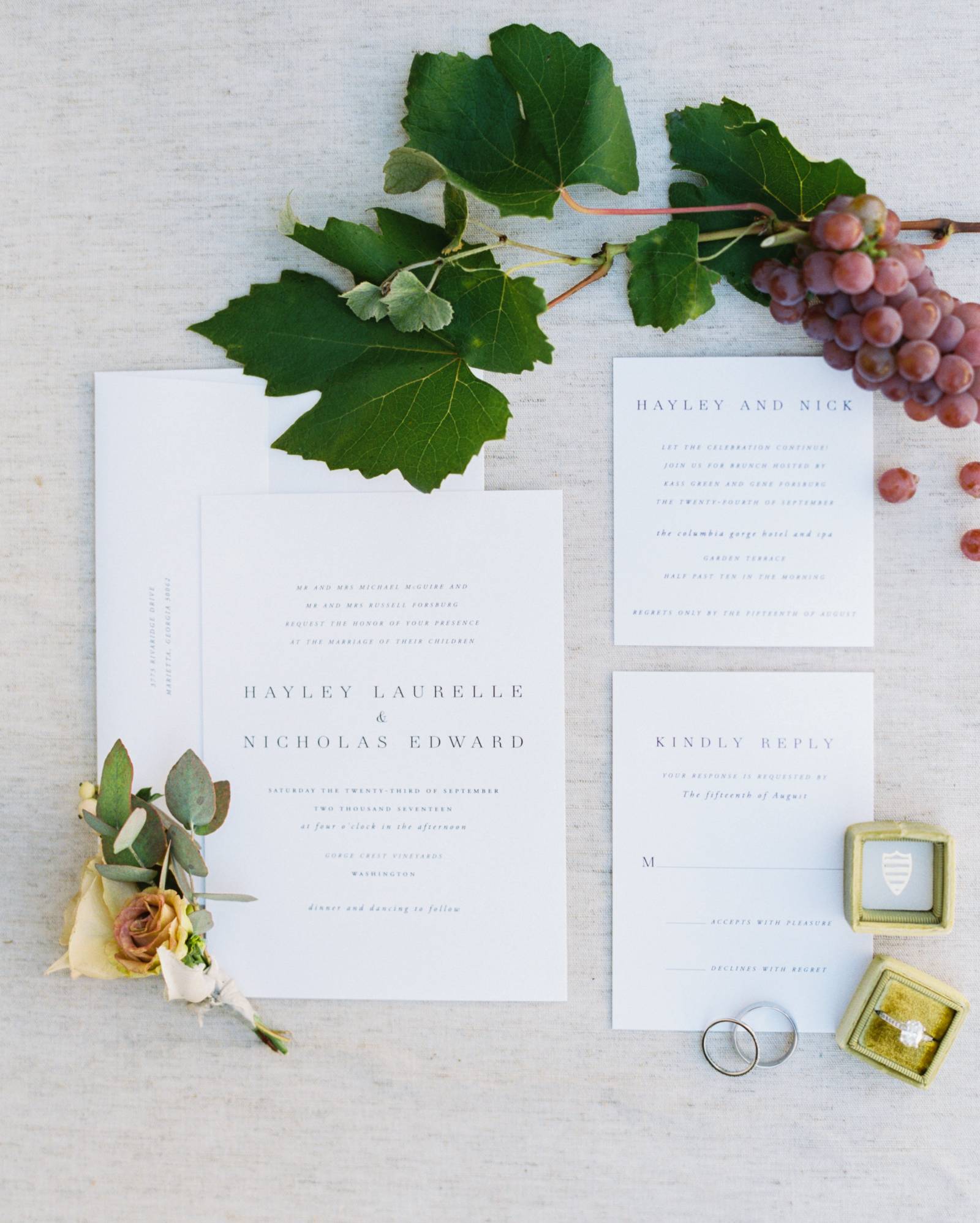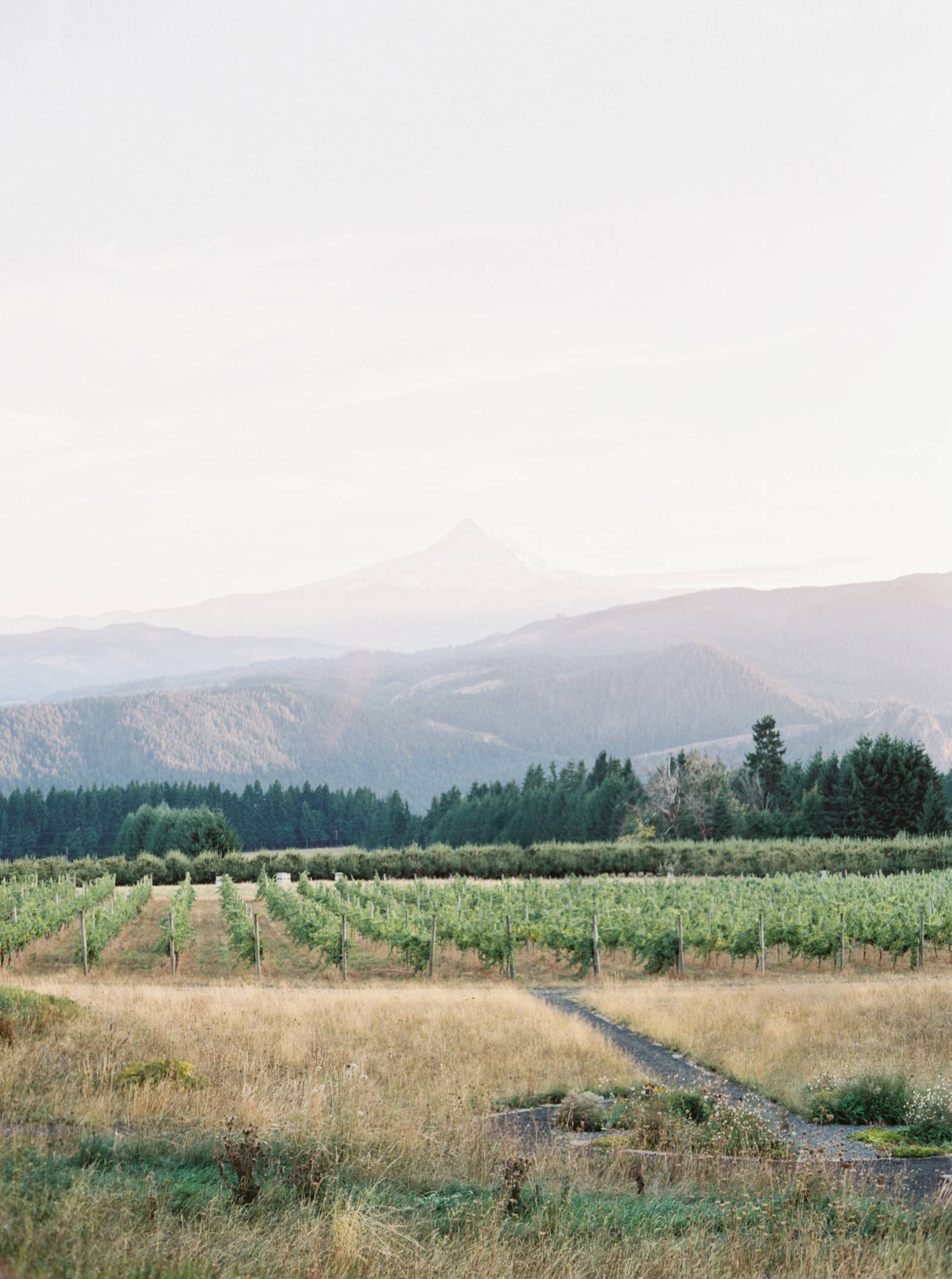 HOW DID YOU MEET? We met as undergrads at Oregon State University. I studied Animal Sciences and he studied Forestry. We were best friends all through undergrad - just never started officially dating. When we graduated, he accepted a job in Longview, Washington working for a timber company, and I had accepted an internship working for a top horse trainer in Lexington, Kentucky and I was to leave in September. I went to visit him in Longview over Fourth of July and we realised that we had been "sneak dating" for quite some time and it was time to make it official. I left for Kentucky in September and we did two and a half years of long distance- seeing each other maybe 3 or 4 times a year, constant Skype dates, and phone calls whenever we could with the time change, and crazy work schedules. In 2013, Nick accepted a full ride scholarship to the University of Georgia for his Masters in Forestry Resources, and I decided I had been away from him for far too long.
TELL US ABOUT YOUR PROPOSAL: Nick took me to North Georgia to visit the wineries for the day one weekend; something we had wanted to do for quite some time. After visiting a few wineries, we went to Three Sister's Vineyard, which had a patio that we could sit and have a picnic lunch and sip wine. After lunch, Nick and I walked to a gazebo at the top of the property that looked out over the vineyard and the Blue Ridge Mountains. While I was taking in the view, he had dropped down to one knee. He didn't even get out the full question before I shouted "YES!".
TELL US ABOUT FINDING YOUR WEDDING DRESS: Because I live in Atlanta, and my whole family and bridal party lived in Oregon, I knew that I wanted to shop for my dress in Portland. We made a few appointments for various shops around Portland just before Thanksgiving of 2016. I was joined by my mother, my older sister, who was also my Matron of Honour, a few of my bridesmaids, my grandmother, and my aunt. Generally, smaller parties are better for shopping for dresses, but living so far away, I knew that spending this day with these amazing women would make it that much better. We spent a wonderful day together smiling, laughing, and enjoying each other's company. We found "the dress" at Charlotte's Weddings- our last stop of the day. It was obvious to me the second my consultant brought it out that it was my dress.
DID YOU HAVE ANY DIY ELEMENTS? I did most of our décor myself. I hand painted our menu and bar menu on linen fabric, lettered our card box, water coloured and hand lettered our guest book sign, drew and designed our can koozies with our dog, Harper on them, painted all our lawn games and signage. It was honestly very cathartic for me during the stress of planning, and ended up being one of my favourite pieces of the wedding process.
DESCRIBE YOUR WEDDING FLOWERS: Where to even begin! Brooke and Kelley of Seventh Stem Floral Design completely outdid themselves. I could not have asked for anything more perfect than what they designed for our day. Brooke has been one of my best friends for over seven years, and so naturally she was one of my bridesmaids. Initially, we weren't sure if it would be too much to have her do our floral design and be a part of the wedding party, and honestly I'm still not sure how she did it all. I gave her a few design ideas that I liked, but ultimately she designed everything from palette to table design herself. Everything they did that day was nothing short of jaw dropping, and truly made the event perfect.
FAVOURITE DETAIL OF THE DAY: Honestly, there are so many details that it's hard to pick just one. I think my favorite thing was seeing everything finally come together so perfectly after a long year of planning.
WHAT ADVICE WOULD YOU GIVE OUT TO A COUPLE PLANNING THEIR WEDDING? Ultimately, it is about celebrating your love and devotion to one another, and as long as you are together, and end up married, it's a perfect day. The rest of it is just extra!
MOST MEMORABLE MOMENT? Walking out with my dad, and seeing Nick, and all our friends and family in front of that incredible view. It honestly took my breath away.
ANY OTHER DETAILS THAT HELP TELL THE STORY OF YOUR DAY? The two weeks leading up to our wedding were quite stressful- there were devastating wildfires in the Columbia River Gorge that threatened the venue and closed the highways to access the venue. The day Nick and I flew in to Oregon, we couldn't see out of the windows of the airplane because the smoke from the fires was so thick. We had to find an emergency backup venue because we weren't sure that we would be able to get to Gorge Crest safely. I relied on my dad, a retired firefighter, and our wedding coordinator, Shelley, to give me daily status updates leading up to the wedding. We finally decided a few days before to stick with our original venue. We woke that morning to clear, smoke free skies.
Also, our officiant flew in all the way from Hawai'i to marry us. My family has known "Krash" for upwards of 15 years. He performed my parent's vow renewal on the beach in Waikiki about 10 years ago, and we knew when Nick and I got engaged that we had to have Krash be a part of our day. He graciously agreed to make the trip, and it was so incredibly special to all of us.
TELL US A LITTLE ABOUT YOUR HONEYMOON: We went to Kona, Hawai'i. It was the perfect choice for us - so laid back and relaxing, after an incredibly stressful month leading up to the wedding. We hiked, explored, soaked up the sun, and made it our mission to find the island's best Mai Tai (Don's Mai Tai Bar)!
IS THERE ANYTHING YOU WOULD CHANGE OR DO DIFFERENTLY? Honestly, no. We were so fortunate that everything came together as it did. We picked the most incredible team who truly went above and beyond to make our day incredible. Our friends and family being there made the day unforgettable.