We're head over heels for the beautiful timeless quality of BRITTANY MAHOOD'S photography, and the tones in her images are just perfection so it's always a pleasure to feature her work! When they began to plan their wedding, PINERIDGE HOLLOW was the place Jillian & Nate envisioned starting their lives together. "The beautiful grounds and being outdoors while celebrating with our closest family and friends was something we had been looking forward to for years and it could not have imagined a more perfect September day."
Florist Tatiana Penner from OAK & LILY created beautiful loose hand-tied arrangements with slight variations for each bridesmaid. In keeping with the fall theme there were seasonal blooms such as garden roses with vines, in shades of deep burgundy and wine with ivory.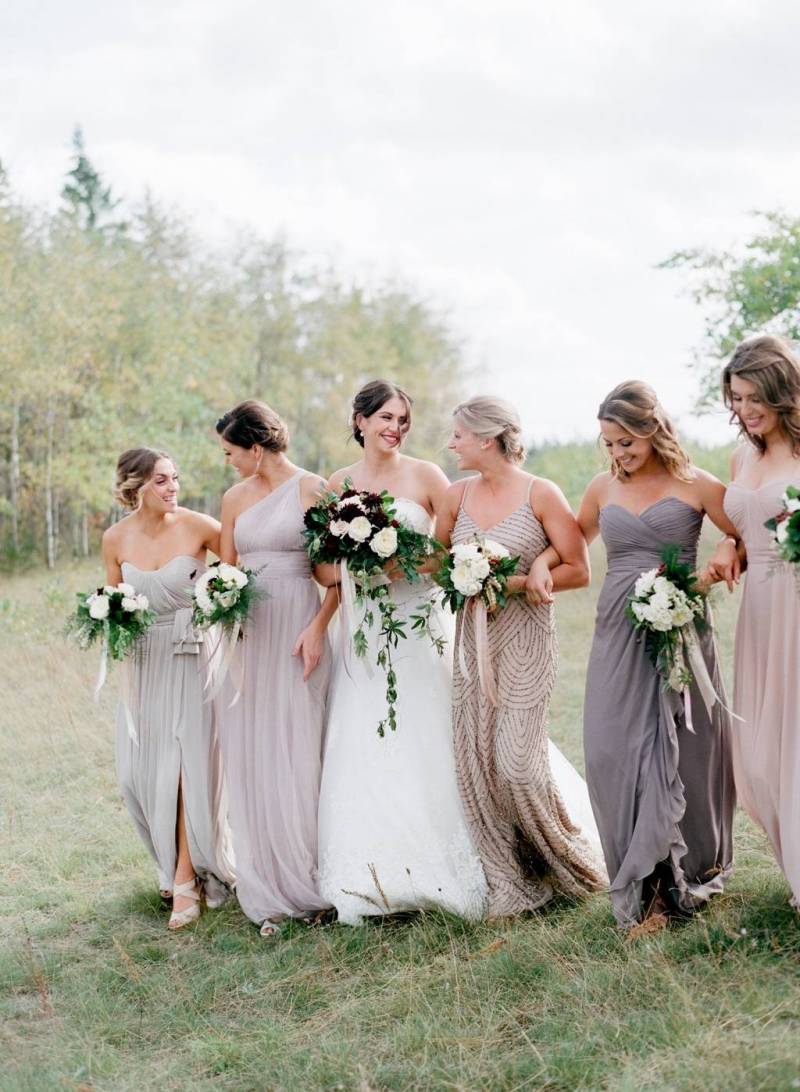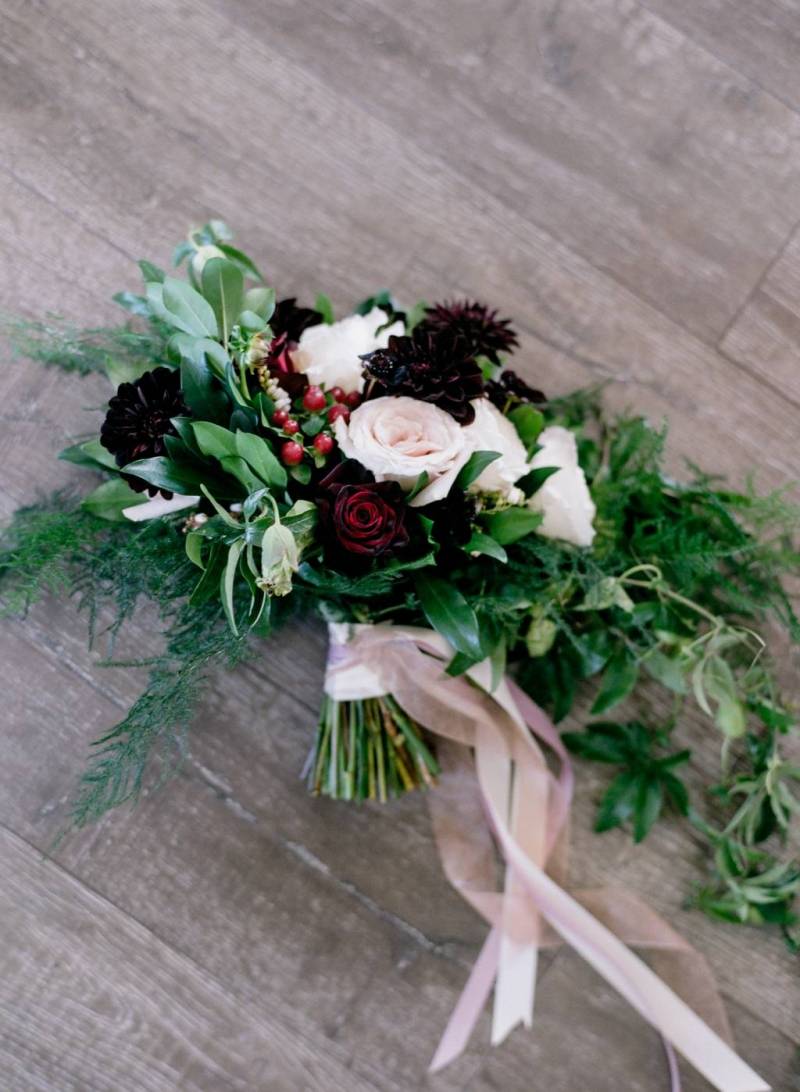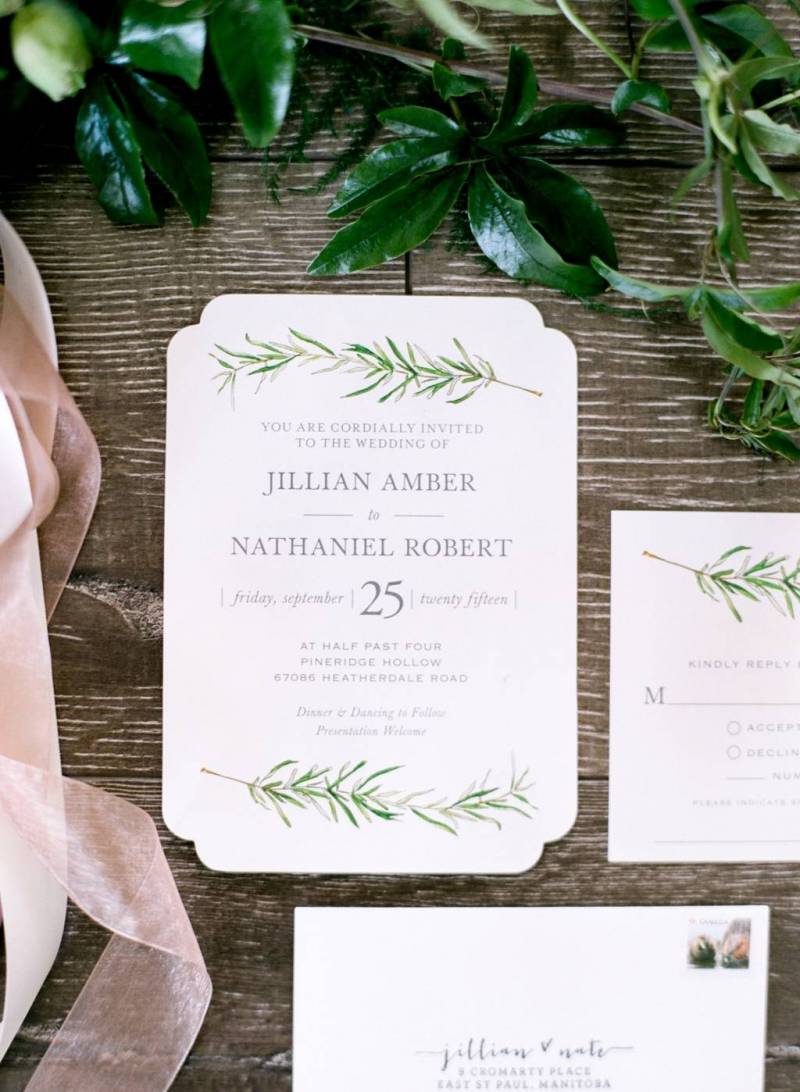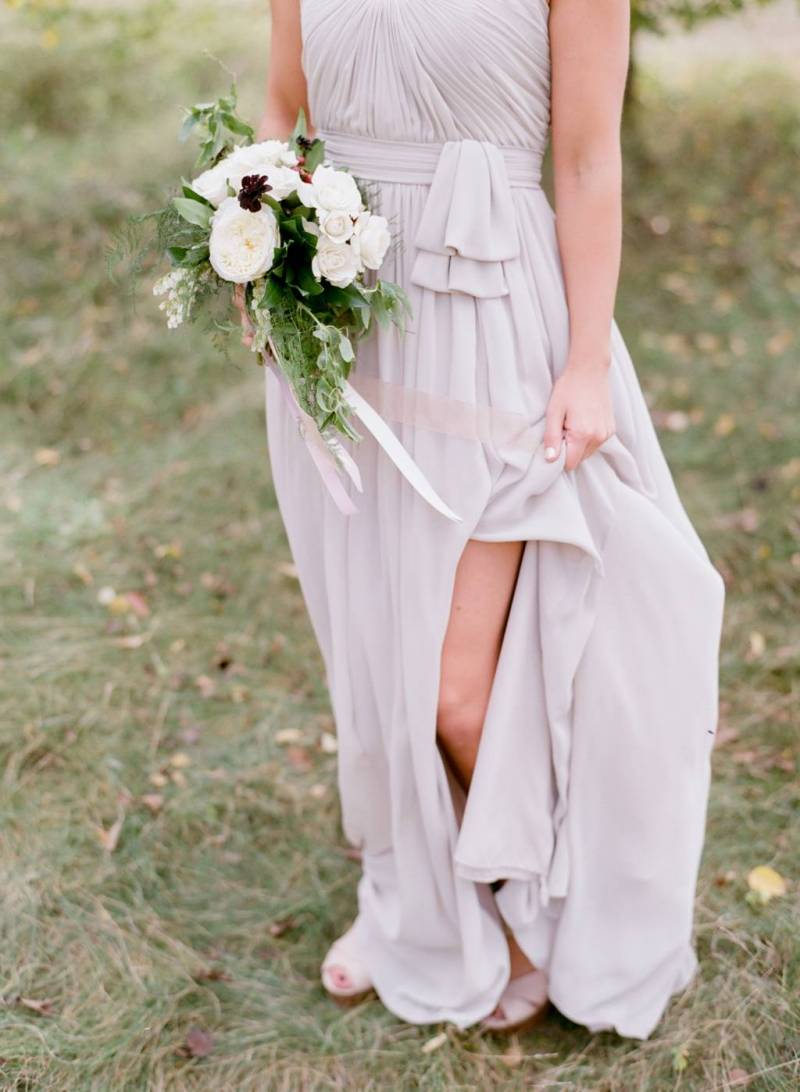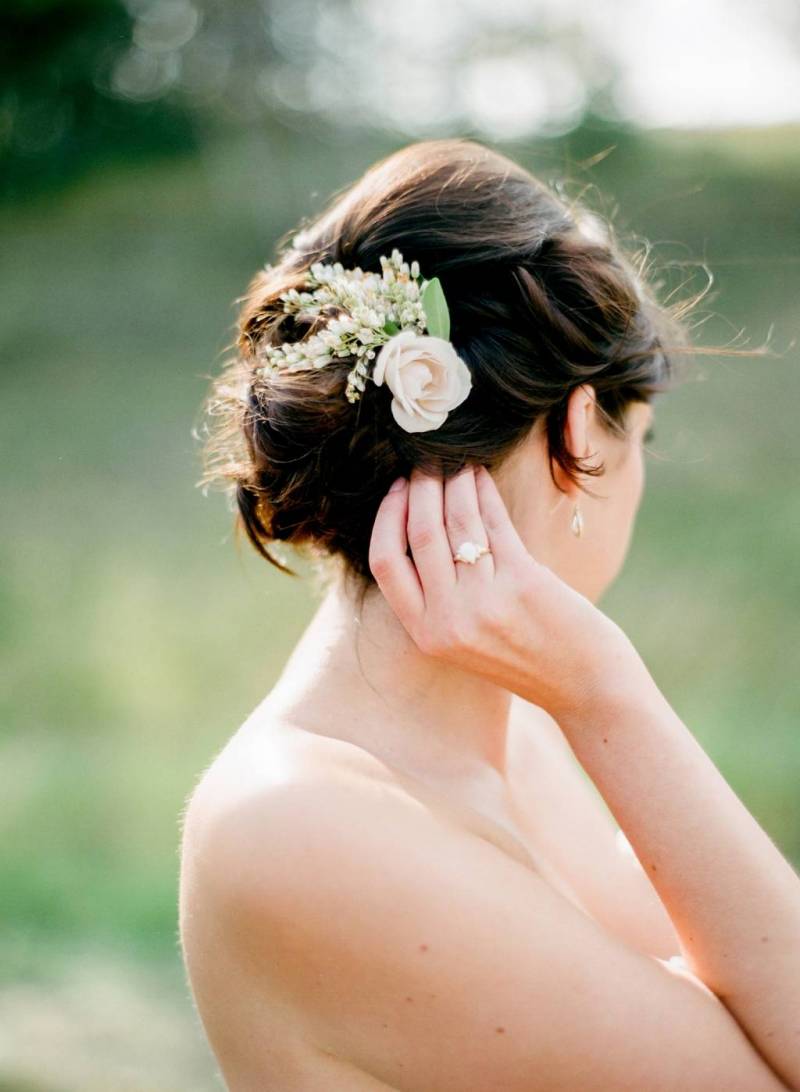 HOW DID YOU MEET? Nate and I met playing summer softball...the usual chemistry between pitcher and back catcher quickly turned into something more than just on field play haha. I knew I was in love with Nate because he could make me laugh, was laid back, and always up for doing anything with me. He has been my biggest supporter, loyal companion and there for me during my darkest hours and brightest days. The transition from friends to dating was easy for us both, because as cheesy as it sounds we truly are each other's best friend
TELL US ABOUT YOUR PROPOSALl: Jill and I had planned a road trip to the east coast where I knew I was going to propose just not how. We made our way up north from Halifax to drive the Cabot Trail for two days but Jill fell ill so I put off the proposal for a day. When we started to drive and got into the park I decided on one of two options; Whilst whale watching as Jill is an animal lover or at a waterfall after a short hike. I quickly realized that whale watching wasn't an option when we were in a 12 foot boat with 8 other people. We finished whale watching and took a 15 minute hike where we came to a secluded waterfall. Jill was trying to snap pictures and almost knocked me into the stream at the base of the falls. I was finally able to sit her down, got down on one knee and ask her to spend the rest of her life with me. I was lucky enough for her to say yes and couldn't have asked for a better place to share that moment that we will always remember.
ANY DIY ELEMENTS? We refinished an old antique ladder and door (we had gone "shopping" at a garbage dump near our cabin at the lake) that we used to hang out seating table cards and pictures of us throughout the years. We also refinished some old antique bats that we used as our signing books for our guests.
​
FAVOURITE DETAIL OF THE DAY: Wearing my Grandma's ring. She had passed away prior to the wedding and it would have meant the world to be a part of it. This was my way of having her be a part of my special day.
WHAT ADVICE WOULD YOU GIVE OUT TO A COUPLE PLANNING THEIR WEDDING? Enjoy the ride! This was one of the most stressful years of our lives but you realize that this is only going to happen once. Have as much fun as you can and try and slow down to take it all in.

MOST MEMORABLE MOMENT? The entire day came together so beautifully, so elegantly, that I couldn't possibly pick just one memory. Every detail was perfected beyond what I could have envisioned. Tucked away in a rustic outdoor venue, the rich seasonal September florals and loose greenery assembled between candle light & blush tones gave an effortless fairy tale feeling. Looking back on this day, and all the details that went into making our dream wedding, the best memory of all is knowing how much love surrounds us in our life together and getting to be married to my best friend.