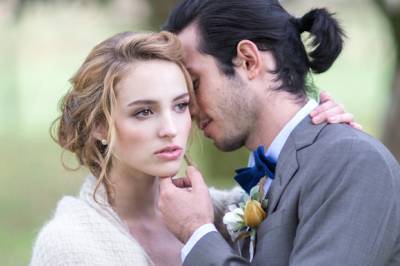 "He's more myself than I am. Whatever our souls are made of, his and mine are the same."
Inspired by the beautiful words of the Bronte sisters, MARU PHOTOGRAPHY collaborated with Tahnee from CELSIA FLORAL to put together this beautiful shoot they affectionately coined 'I have found you'. It tells the story of an intimate elopement on a family's rural property. The couple, Emily and Alexander, have returned to the bride's farm where they have their first look together before exchanging vows over a candle ceremony in the overgrown apple orchard. The ceremony is followed by a harvest-style dinner at the family home. Continuing the connection to the setting, the shoot incorporates sentimental elements such as novels, the bride's heirloom engagement ring, vintage flatware and china, and a family crest wax seal used on the marriage certificate and hand-made stationery suite.
The natural environment is complemented by the neutral palette which extends from the florals to the food. Shades of antique blue and tones of gold and mustard are used as accents throughout in a range of textures such as linen, velvet and raw silk.
"I have finally found what I can truly love. I have found you."