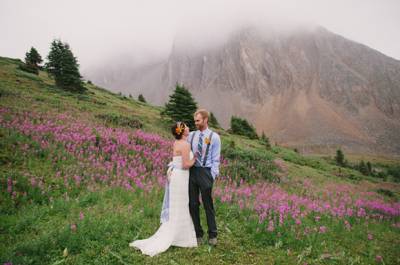 Did you catch the MISTY ENGAGEMENT shoot we featured by DARING WANDERER yesterday? Well this is the equally cool mountain elopement that Dorothy and Ryan had the following day at Ptarmigan Cirque in Alberta, Canada. They wanted to be surrounded by a handful of their closest family and friends in a beautiful landscape so they decided to pack up their wedding clothing and of course some bottles of champagne and glasses to celebrate at the top. I'm digging this style of intimate celebration that also involves a bit of adventure! What an amazing thing to be a part of. Read the brides story of the day below.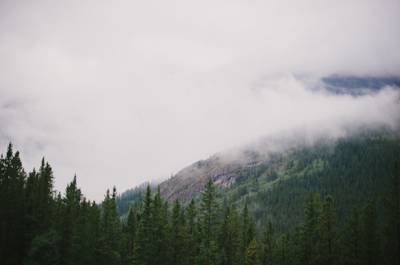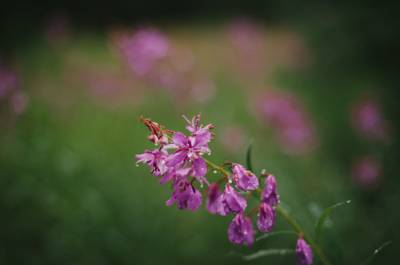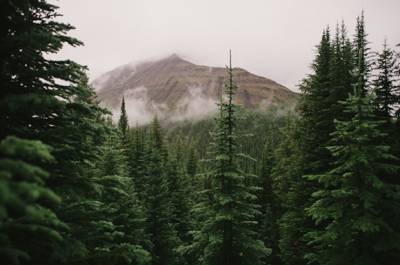 HOW DID YOU DECIDE ON A MOUNTAIN ELOPEMENT? Well, when we first started dating, we did a lot of hiking. Not growing up in the rockies myself, I had never had the full experience. I fell in love with the mountains and we fell in love with each other. Both of our parents eloped and neither of us ever pictured having a big cinderella wedding. An intimate wedding with the people we care most about in the surroundings of mother nature was perfect for us; it reflected our life and relationship so well.
WHAT WERE SOME OF YOUR FAVOURITE MOMENTS? Although it was pretty chilly and putting a sweater on was delightful, we actually did love the weather. The cool mist gave an amazing ambiance. We knew those gigantic peaks were just behind us, but they hid in the mist. I loved reading our vows to each other, they were a surprise and there is something very honest and almost exposing of yourself to commit to another person, for life, in front of everyone.
ANY SPECIAL ELEMENTS YOU INCLUDED? It was nice to have my sister for my witness and Ryan asked my brother which meant a lot. At the last minute I ended up wearing my grandmother's engagement ring, my mother's garter (made by her mother), a homemade sash from my sister and handmade earrings from Ryan. The guys were also wearing ties from my late uncle and tie clips from my grandfather. So even though the immediate family was with us for the ceremony, we did have a lot of extended family ties as well. Of course we got to toast with champagne to warm up too. Lastly, I also loved that we all packed our outfits up and changed at the top. That was key in the wedding dress shopping: "can I fit this in my backpack?" Hahaha.
ANY ADVICE FOR NEWLY ENGAGED COUPLES? Planning can be a little overwhelming to start, so plan things in stages. For our wedding, we would book a couple things and make a few decisions one month then not do much for the next. Then go back at it again as the date arrived.
It's okay to depend on people! You'll find there may be a lot of last minute things to do, and your loved ones like to feel included and of course there was usually wine and lots of laughs involved. And lastly, remember, you are the ones getting married! Don't change your plans or preferences for what you think everyone else will want. It's your day to remember, so do what is going to make the two of you happy!
Photography DARING WANDERER / Location PTARMIGAN CIRQUE, KANANASKIS COUNTY, ALBERTA / sourced from CALYX FLORAL / Dress DAVID'S BRIDAL / Groom's attire MOORES / Hairband & garter WISELY CRAFTED ORIGINALS BY NANCY & handmade by Bride's mother / Ties & tie clips FAMILY HEIRLOOMS / Sash HANDMADE BY SISTER OF THE BRIDE / Bridesmaid dress THIRD FLOOR STUDIO / Commissioner RICK KUNELIUS