This uplifting and empowering spin on the Covid-bride's journey by Seattle wedding photographer JANET LIN is sure put a little pep in your step today! When your wedding has been postponed one, two, maybe three times; when your carefully crafted guest list has been slashed to next to nothing; when the day you've dreamt of and waited for for a lifetime has been abruptly cancelled and reimagined in the name of a pandemic, it can feel hard to see the good in the situation.
Janet tells us, "Being a "covid-bride" means a lot of things. It means disappointment, sacrifice, flexibility. It means you've sat on the edge of your seat, heart pounding in your chest, waiting for news of yet another announcement of closures and lockdowns that will once again postpone the biggest day of your life.
However, it also means you have endured something uniquely challenging along-side brides all over the world. If there is anything these Covid-brides have learned over the past year, it's this; they are strong, they can endure, and they can find joy and beauty in their hardships with the right mindset and a little help from their friends.
These three women decided to do just that; they shifted the focus from what they've lost to what they've gained - a powerful bond and beautiful friendship with other women who have endured the challenge of being a pandemic-era bride. Friendships forged through one of the most unique shared struggles they might ever experience. This beautifully designed event allowed these women to come together and wear the dresses they never got to wear, enjoy the cake they never got to serve, and toast to friendships gained through their shared mutual struggle.
With beautifully designed stationery from KRISANNA ELIZABETH, the invitations set the tone for the event; beautifully feminine, soft tones, and the incorporation of romantic florals throughout. For the champagne glass stems, she crafted gorgeous vellum name cards, honouring each of the brides individually."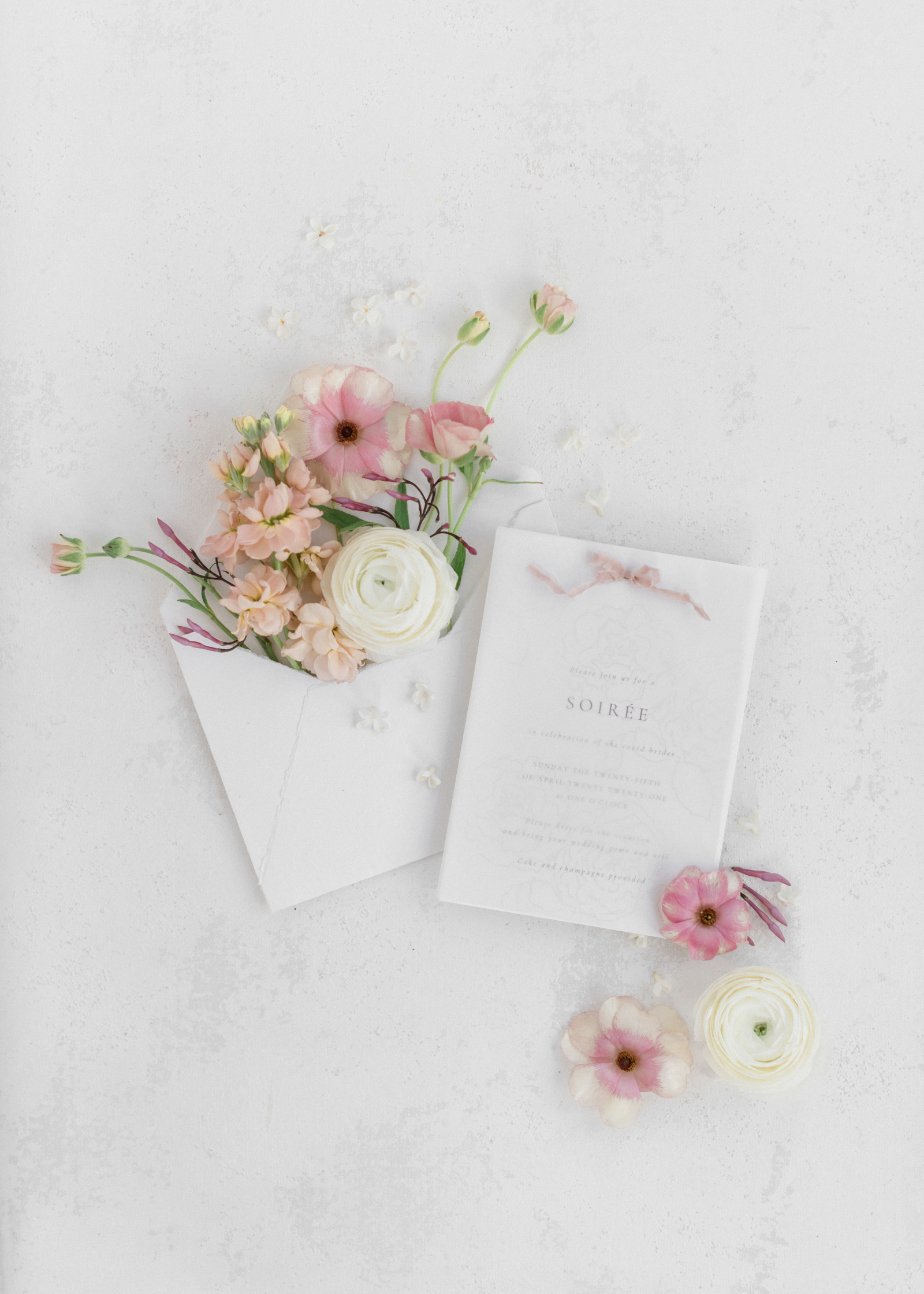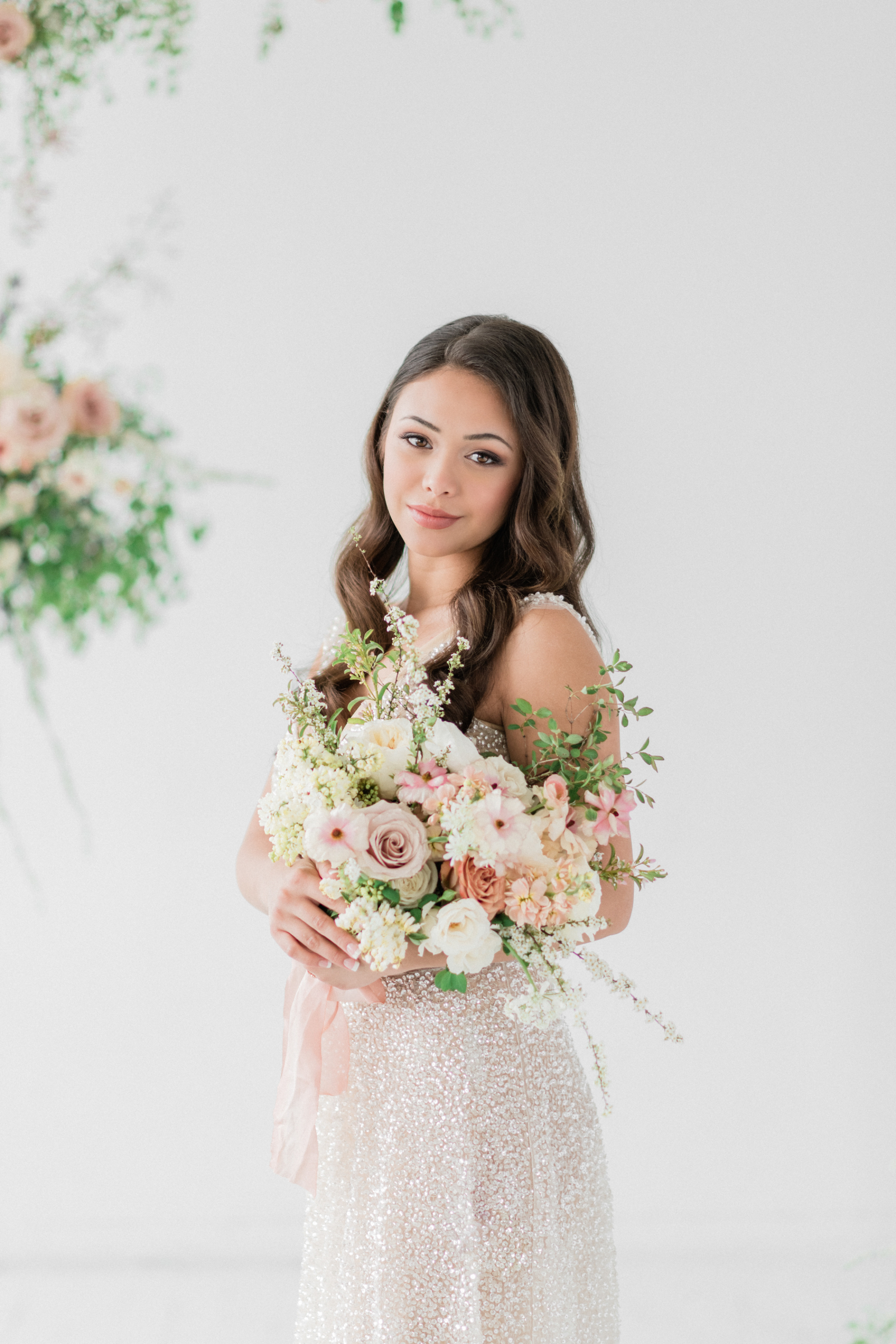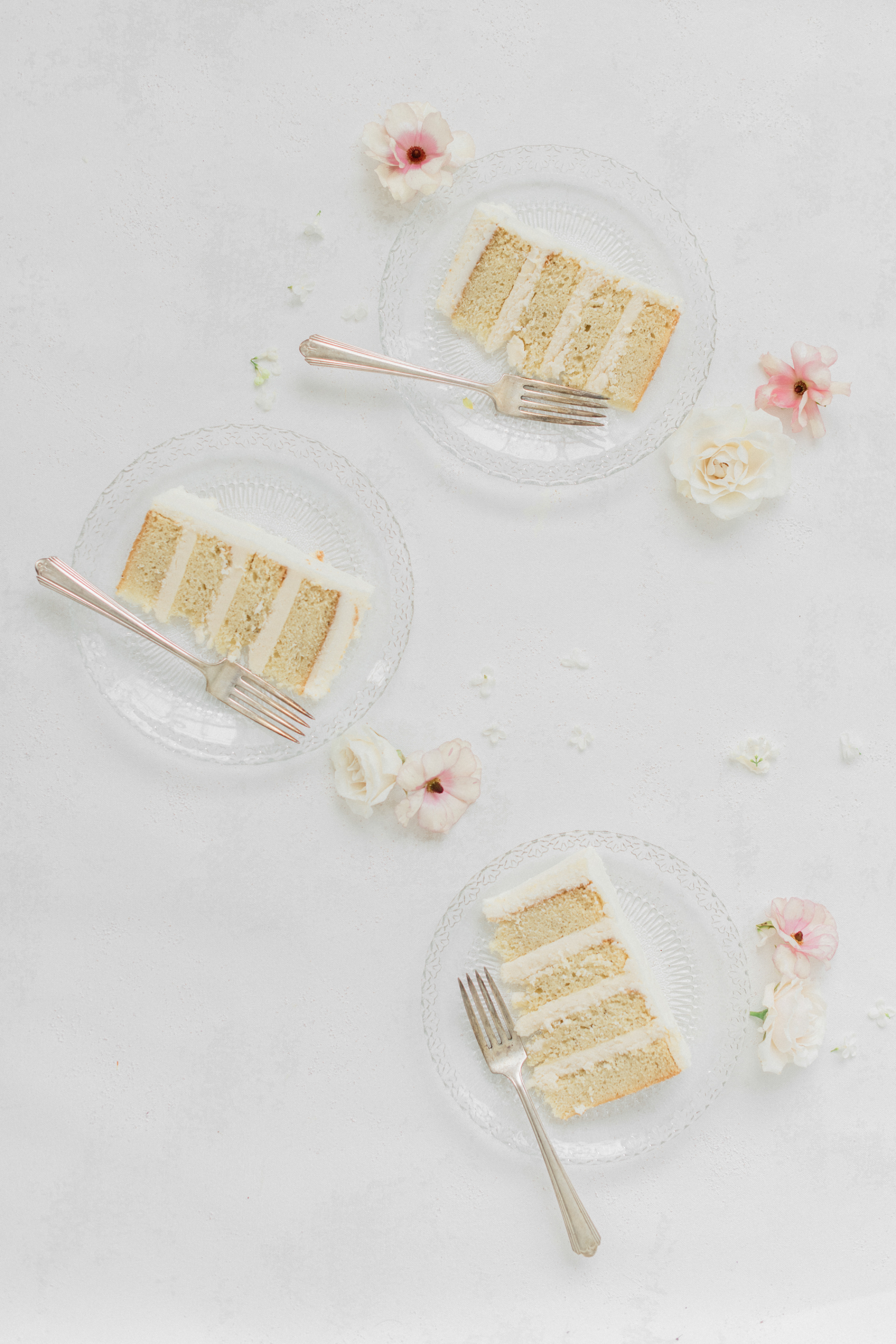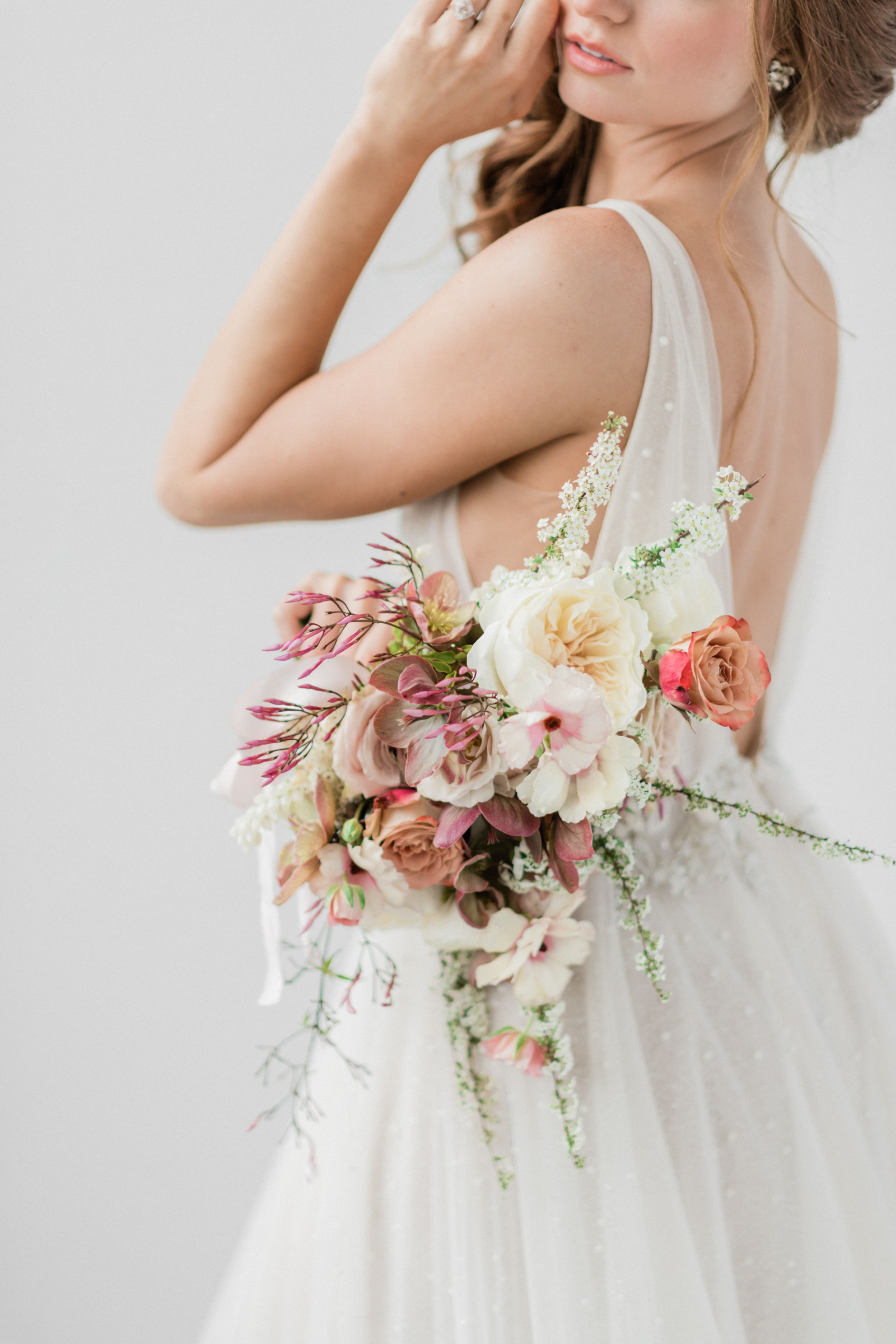 "The florals by LILYPUT FLORAL were a centerpiece for the event. We wanted to go all out, ensuring our covid-brides felt the sense of grandeur they had hoped for on their wedding day. Each bride's bouquet was uniquely crafted to reflect elements from her original wedding plans. The hanging installation, showcasing a three-tiered floral creation, was expertly designed to include colours and textures from each woman's wedding day and bouquet, bringing the white, pale blue, and soft pink together.
The day wouldn't have been complete without the opportunity for these ladies to be utterly pampered. ZO & CO STYLING provided their luxurious hair and make up services for each bride, honouring their unique personalities and sense of style with vastly different but equally beautiful hair and make up styles, from a sleek and elegant ponytail to a whimsical, romantic braid.
The two-tiered cake from PASTEL CAKES BAKERY featured a vanilla buttercream top their and orange zest on the bottom, with the most decadent American buttercream frosting you've ever tasted. Adorned with smoothed buttercream and a delicate floral stencil design, it married perfectly with the feminine, floral elements of the soiree.
Dear Covid-couples, hang in there. It's okay to grieve your losses and to feel the sting of disappointment. But don't forget to find joy where you can, celebrate what you have, and acknowledge that you are strong, inspiring, and have a beautiful future ahead."
A huge thank you to Seattle wedding photographer JANET LIN for sharing this gorgeous inspiration with us. Janet is a fine-art wedding photographer based in Seattle, Washington and serving destinations worldwide. She grew up in the dark room of her father's photography studio, watching people's memories come to life in images through a seemingly magical process. With a passion for loving people, learning their stories, and documenting human connection, the decision to pursue photography was an easy one. Janet's goal is to capture the true essence and spirit of a moment, creating timeless wedding images that will serve as cherished artefacts of your marriage. On a wedding day she strives to balance a quiet documentary approach with an artistic and editorial perspective. You can see more of her work in her portfolio here.