It started with a friendship, but from the moment Rose Anna and Jarrett McGovern met, they both sensed they were destined for something more. And so it was to be that, after a Christmas proposal, they headed to Nashville for a wedding that was as personal as it was lovely, and paid homage to Rose Anna's country upbringing in style. "Jarrett fell in love with Tennessee the first time I brought him home to the South," the bride says. "We wanted to showcase the things we both love about the city: Southern charm, hospitality, and the ability to be modern and chic while effortlessly classic, laid back, and comfortable at the same time." With great food and music as their top priorities, the couple also incorporated Tennessee details like welcome baskets stocked with glass bottle Coca Cola, Goo Goo Clusters and Jack Daniels, letterpress state-shaped save the dates, and buffet line that included Hattie B's Hot Chicken! The incomparable ERICH MCVEY captured these beautiful images of their day which was styled by JESSICA SLOANE.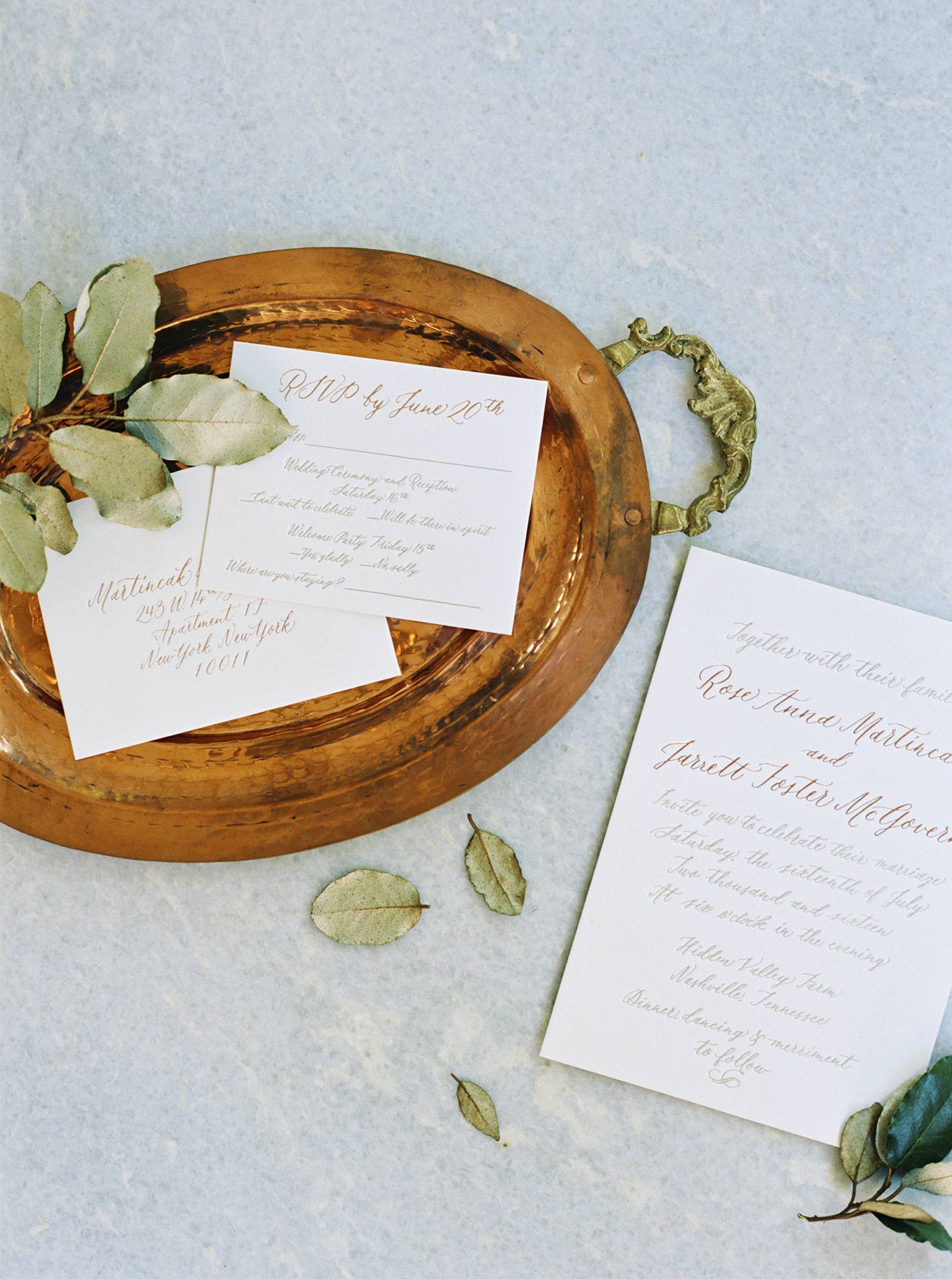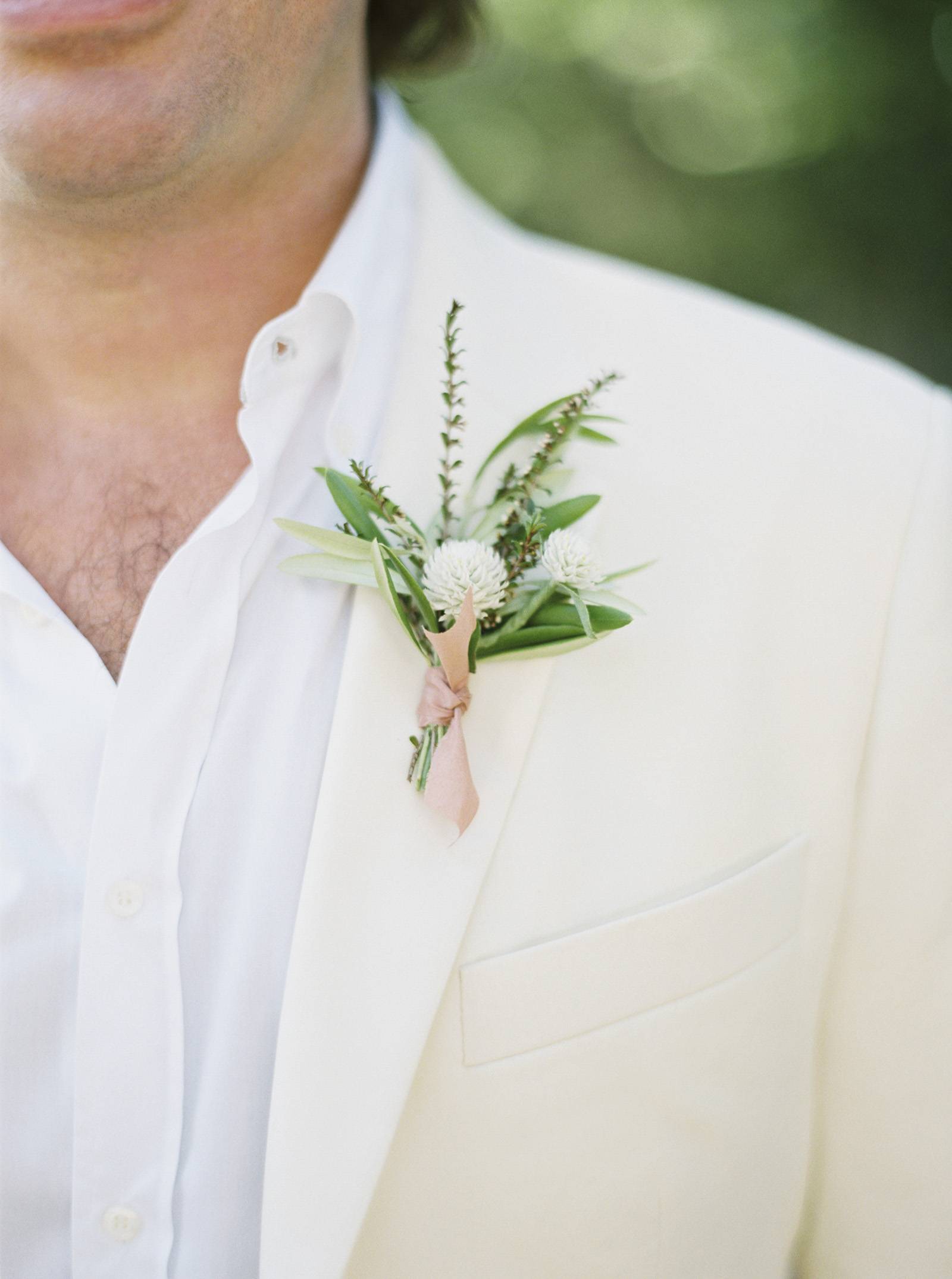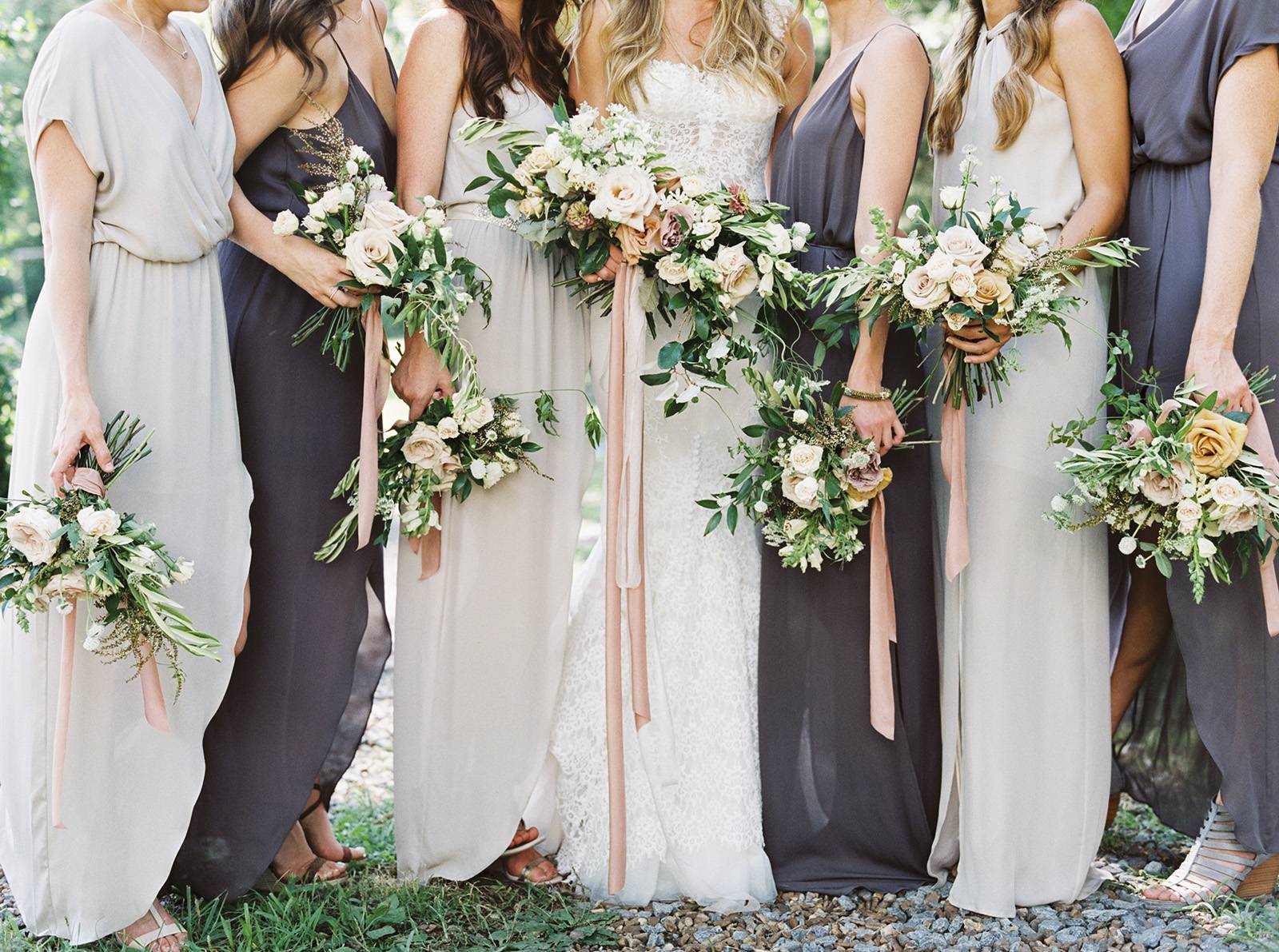 HOW DID YOU MEET? We met through mutual friends in Miami while I was in college there and were friends first, we both knew from the first time we met that we were destined to become something more – eventually we did!
TELL US ABOUT YOUR PROPOSAL: We'd been together for over 9 years and I knew it was coming but somehow he still surprised me. It was Christmas Eve in the afternoon and Jarrett, who is an exceptional photographer, told me he wanted to recreate a photo that we had taken on a back road in Tennessee on the beach in front his parent's house in Florida. I had no idea that he'd set up the camera to take video instead of photos. He led me down to the beach and instead of stopping to recreate the shot, he took me out onto the rocks and got down on one knee and proposed with the ring of my dreams that he'd had custom made with the stone from my grandmother's engagement ring. Our family was gathered to celebrate Christmas and we joined them with the news making the holiday even more special.
TELL US ABOUT FINDING YOUR WEDDING DRESS: We live in New York and it's a fun place to shop for wedding dresses, with endless options. I invited a big crew to New York to make it a lasting memory with Broadway shows, dinners and of course shopping. My mom, her best friend, my sister and nieces all joined me to hit the biggest bridal shops in the city. I'd had my eye on an up and coming designer for a while, Inbal Dror, and tried on a few styles, the dress I chose had a very unique back that seemed custom made for me – when I put it on it was a unanimous "yes" out of all the dresses in New York there was just nothing that compared.
WHAT WAS THE INSPIRATION BEHIND YOUR WEDDING LOCATION & STYLE? I grew up in the country near Nashville, Tennessee. Our family and friends are spread out so any location we chose would have been a destination wedding and we couldn't think of a better place to bring people together than Nashville. Jarrett fell in love with Tennessee the first time I brought him home to the South – we wanted to showcase the things we both love about Nashville. Southern charm, hospitality, and the ability to be modern and chic while effortlessly classic, laid back, and comfortable at the same time. Great food and music above all things were priorities. There is no one I can imagine who appreciates and embodies all of these things and can bring them together with style and grace the way Jessica Sloane did!
ANY DIY ELEMENTS? My step-sister has a vintage letterpress and printing business in Charleston, SC. We collaborated on so many fun custom elements from save-the dates in the shape of the state of Tennessee to completely unique and cheeky ceremony programs, a hanging fabric menu and sign – even the invitations were a completely custom collaboration with a combination of letterpress and foiling that brought together elements of our rose gold and copper theme.
My mom put together gift baskets to welcome out of town guests stocked with Tennessee staples like glass bottle Coca Cola, Goo Goo Clusters and Jack Daniels.
DESCRIBE YOUR WEDDING FLOWERS: Tennessee in July is exceptionally hot so we couldn't be outside as much as we would have liked. We wanted to bring the outdoors into the (air-conditioned) barn with lots of greenery and native wildflowers like Queen Anne's Lace – combined with my namesake Roses. Our wedding flowers were epic! I'd seen examples of Melissa's work and I knew from our first meeting that we could trust her to carry through our vision. But she and her team went above and beyond with a custom square chandelier dripping with greenery combined with twinkling lights that was pure magic – my jaw dropped when I walked into the space for the first time that day.
FAVOURITE DETAIL OF THE DAY: We had to make sure all our guests tried Hattie B's Hot Chicken while they were in Nashville. Hattie B's often has an hour-long wait for a table, but is well worth it. The solution - they brought their food truck to our venue and cooked on site, adding their signature fried chicken to our buffet line, served alongside other southern classics curated by Favor Catering.
WHAT ADVICE WOULD YOU GIVE OUT TO A COUPLE PLANNING THEIR WEDDING? Find vendors that understand your vision and have a vibe that you are drawn to. The team you bring together will set the tone for your day and if you hire professionals they will do everything they can to make it perfect and seamless no matter what issues arise. We worked with the most incredibly talented and thoughtful vendors (venue included). Their pride for their craft was evident in every detail of our wedding.
MOST MEMORABLE MOMENT? My Maid of Honour totally surprised us with her speech (she's a talented stage actress) – it was somewhat interactive with the band behind her, by the end she had the entire room on it's feet singing one of my favourite songs, Coldplay's Yellow. That was a perfect moment, standing with my husband encircled by all our friends and family singing and celebrating!
ANY OTHER DETAILS THAT HELP TELL THE STORY OF YOUR DAY? Our band also exceeded our very high expectations. As with everything else, we customised our music selections and I performed a song with my dad instead of a traditional father daughter dance. The band was so accommodating – it felt like even in the huge room filled with people we were just all sitting around the living room having a jam session.
IS THERE ANYTHING YOU WOULD CHANGE OR DO DIFFERENTLY? We chose not to hire a videographer for several reasons and while I don't regret that decision for the most part, I do wish we had the high quality videos of some of the speeches and performances. They were that good!