To start with Erica and Erik both wanted something modern and whimsical when it came to their big day but in the end they aimed for a timeless urban chic wedding. Their venue of the GLOBE & MAIL CENTRE was the epitome of city chic, up in the sky with unobstructed views of the Toronto sky line as well as the lake. As the couple themselves said "It was perfect." Stylist SHEALYN ANGUS WEDDINGS & EVENTS had a blank canvas with the venue enabling her to create the romantic yet urban design you see below beautifully captured by KAYLA ROCCA.
Shealyn tells us, "The colours of the wedding were inspired by the new fall beginnings of their September season wedding, as well as the warm tones in the monocromatic vibes of the space. Jordana from WHITE OAK FLOWER CO. designed florals in warm peach, ivory, and taupe tones that scattered down the long linear tables in the dining space. A floating arrangement of greens and candles sparkled over the head table to bring a bit of whimsy and romance. Tall taupe and burnt orange coloured taper candles dotted tables in slate holders, and soft velvet lounge furniture brought texture and interest.
The ceremony chuppah was designed in copper piping with simple greens and blooms in order to show off the amazing views while still evoking romance and softness in the space. Dancing greenery vines lined the aisle on the ghost chairs and the ladies carried bouquets of warm toned blooms and trailing greens.
The wedding was truly a perfect balance of the urban lines of the city of Toronto, and the romance of a traditional wedding. Guests were enchanted by delicious food and custom cocktails (including a custom made Aperativo Bar as an ode to the bride's Italian roots) and danced the night away to the sound of The Sensations."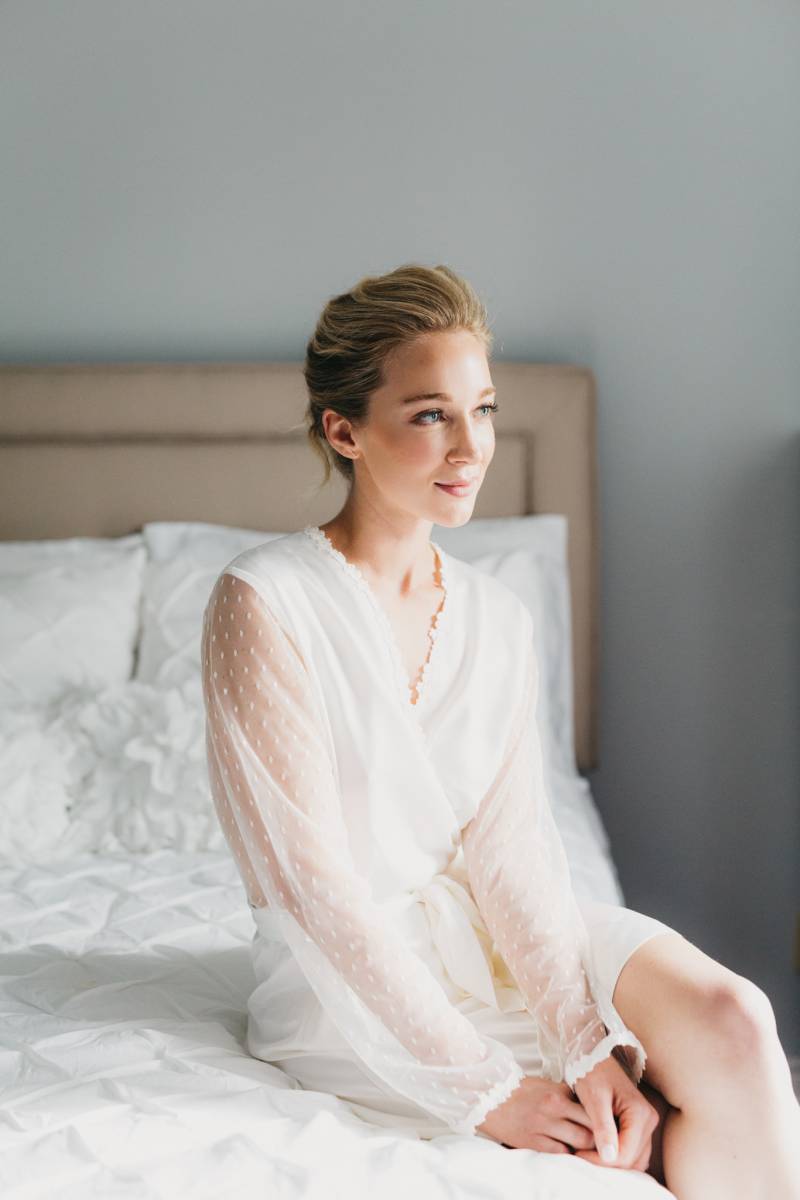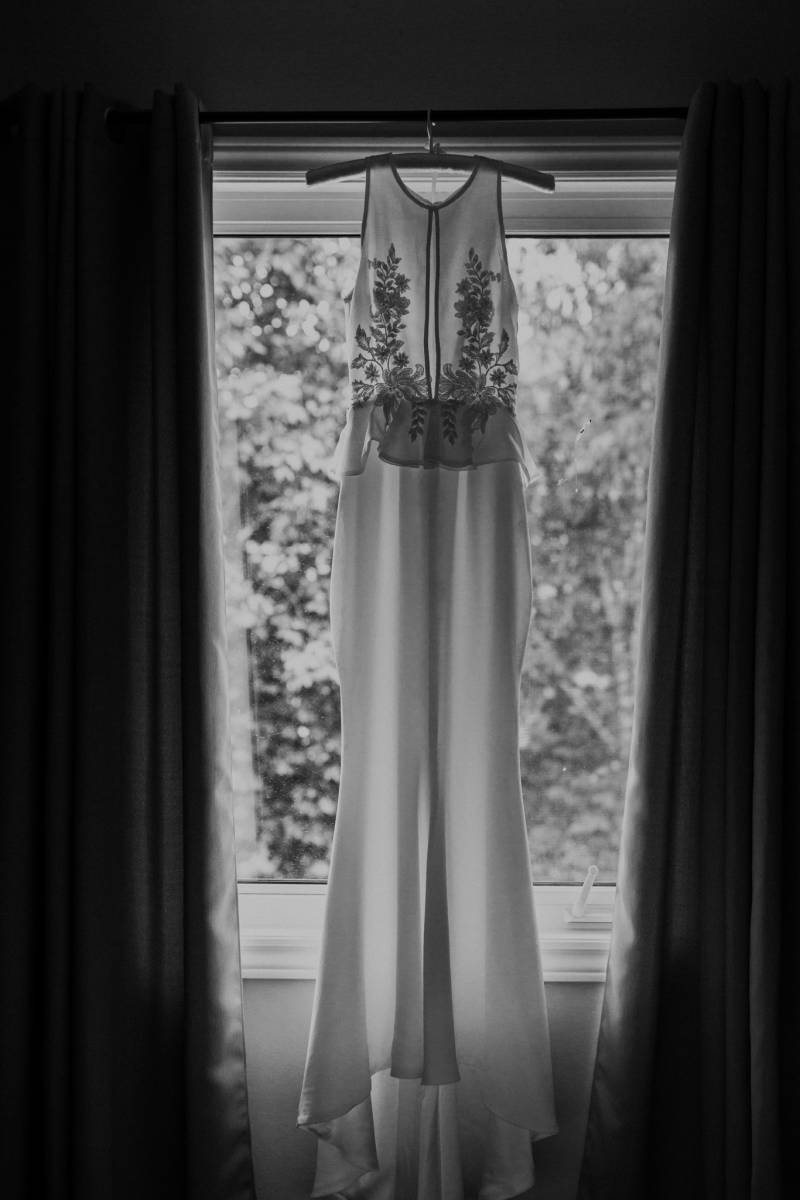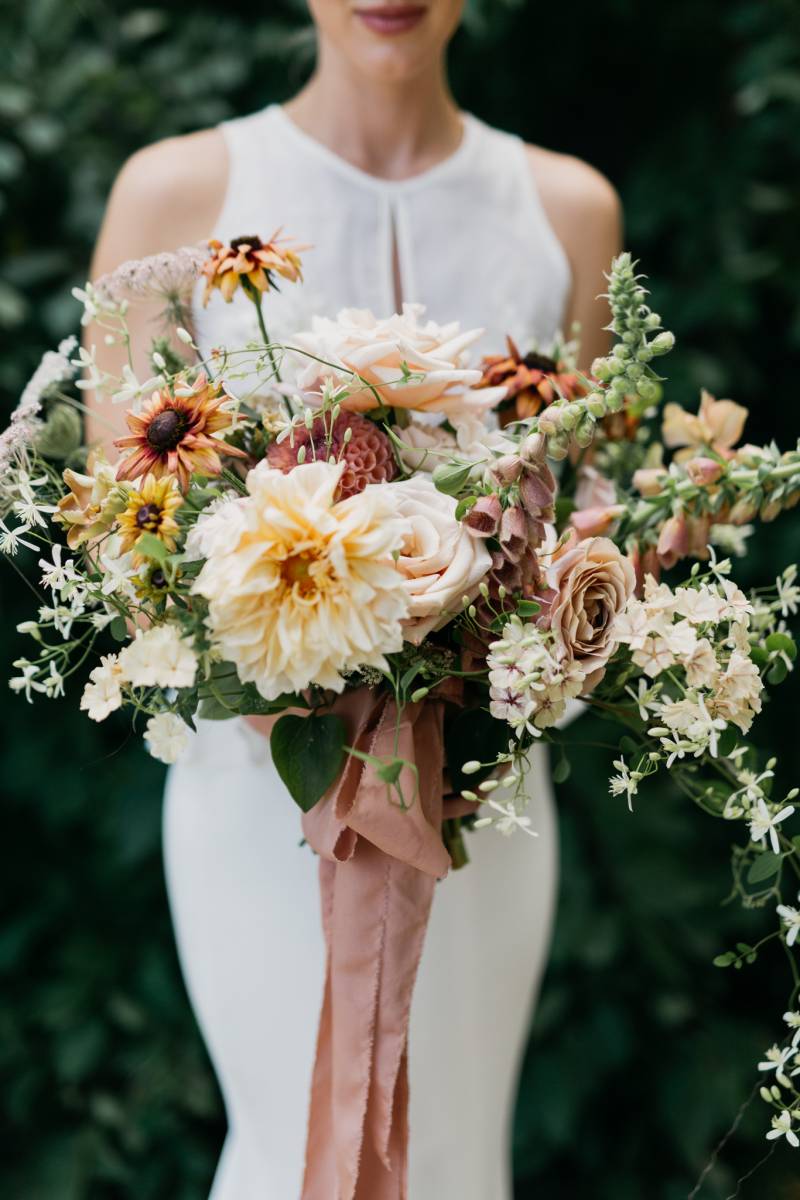 TELL US ABOUT YOUR PROPOSAL: I knew it was coming all along! It was a Sunday in July of 2016. Erik lived across the street from his best friend and business partner Ted. We are invited over for the usual Sunday bbq feast with the usual suspects (Ted's partner, brother his wife and mom. I remember everyone being uber nice to me and attentive –RED FLAG. Erik had asked me to help him bring down some plates and condiments –RED FLAG. I followed him upstairs to Ted's apartment, he turned me towards him, placed his hands on my hips and said, "you know how much I love you right?'. Then took out the ring box opened it and asked me to marry him in which I replied "YES!'. We then walked outside of the apartment this time through the front door to his garden where to my surprise both our families were standing there, with champagne glasses in hand (cue waterworks) That was the icing on the cake!
TELL US ABOUT FINDING YOUR WEDDING DRESS: Surprisingly enough I didn't try on 79 dresses like I thought I would. I found the dress at the first store I went to, it was the 3rd dress I tried on. It was more than I anticipated spending so I continued to check out 2 more stores but nothing compared so I went back and bought it. The designer is Leah Da Gloria.
DID YOU HAVE ANY DIY ELEMENTS? We didn't necessarily DO IT ourselves but, but Erik has actually come up with the matzah bread and Italian breadstick idea for the side plate, tied together with a sprig of rosemary. It was to symbolise both of our cultures and backgrounds, that was very important to us. Victor Dries Catering did an amazing job.
DESCRIBE YOUR WEDDING FLOWERS: I didn't want the traditional tight and low arrangements, I wanted more movement and an ethereal element filled with warm hues that mimicked the sunset that filled the event space. Jordana Masi of Whiteoak Flowers executed our vision to the nines.

FAVOURITE DETAIL OF THE DAY: It's really hard to choose just one, however I absolutely loved the our chuppah. The flowers looked as if they were just floating in place. It was the most perfect backdrop to exchange our vows. Tied second was our place card setting and floating glass orbs.
WHAT ADVICE WOULD YOU GIVE OUT TO A COUPLE PLANNING THEIR WEDDING? Don't let the wedding planning consume your life. Remember, the planning part should be fun and exciting. As soon as it gets stressful, take a step back and remind yourself of the bigger picture. Also, compromise is key!
MOST MEMORABLE MOMENT? Definitely walking down the aisle with my dad, meeting eyes with Erik. Just thinking about it gets me teary eyed. Also, our vow exchange was pretty beautiful, we incorporated our own vows along with 'The Chaos of Stars Quote' by Kiersten White.
ANY OTHER DETAILS THAT HELP TELL THE STORY OF YOUR DAY? After the ceremony, we had our guests head outside to the terrace, after making a pit stop at our Aperitivo Bar where we served Negronis, and Aperol Spritzers. Unfortunately, Erik and I weren't able to enjoy some time on the terrace because we were taking photos, but after having seen the pictures, it looked absolutely beautiful. The sun was low, we had a small string duo, that played a mix of classical and contemporary music, infused with awesome hors d'oeuvres and delicious cocktails. Also, we had a nine piece band, that was INSANE. They definitely got people in the mood and on the dance floor.
TELL US A LITTLE ABOUT YOUR HONEYMOON: We had a little European vacation. We stated in Seville Spain, made our down to Jerez where they make Sherry, made a pit stop in Cadiz. Then off to the Algarve in Portugal, and had some much needed beach time. Stopped in Lisbon for a couple of days and ended it in the French Riviera. Not too shabby. We did 8 hotels and 3 countries so there was a lot of moving, but we saw a lot, ate and drank very well.
IS THERE ANYTHING YOU WOULD CHANGE OR DO DIFFERENTLY? Not a thing.