With clean and simple design elements, Brianna & Clifford's beach wedding had a modern tropical vibe. Having always wanted to get married on a beach, the couple were thrilled when it became a reality and they set about planning their destination celebration at MARCO BEACH OCEAN RESORT in Florida. TIFFANEY CHILDS PHOTOGRAPHY captured their beautiful day which saw all their friends and family fly down from Michigan to join them. Working with CARRIE DARLING EVENTS they incorporated a lot of whites, creams and greens into their styling and warmed it up with wooden elements.
WHY DID YOU CHOOSE THIS LOCATION? We knew we wanted a destination wedding and found Marco Island and fell in love. We are mostly all from Michigan, so having everyone fly down to Marco Island to celebrate with us meant the world to us. We all had such an amazing day together, from the ceremony to cocktail hour, and lots of dancing to end the night.
HOW DID YOU MEET? Cliff and I met through mutual friends in 2011. We became friends and began dating when Cliff returned from basic training. We dated just shy of 10 years before our wedding day.
TELL US ABOUT YOUR PROPOSAL: We got engaged on a trip we took to Chicago the week before Christmas in 2019. Cliff proposed in the cupola on the rooftop of the London House Hotel.
TELL US ABOUT FINDING YOUR WEDDING DRESS/ATTIRE: We chose to have casual attire. For the wedding dress, I really wanted a very simple, lightweight, white dress. I chose to have no designs, beading or lace on the dress, and chose to be barefoot for the ceremony. Cliff wore light tan dress pants, and a white long sleeve linen shirt.
DESCRIBE YOUR WEDDING FLOWERS: Neutral white flowers and lots of tropical palm leaves for an organic look.
FAVOURITE DETAIL OF THE DAY: My goodness, so many! Having the boardwalk be the aisle that we used to walk to the beach was amazing. We loved the casual "beach" feel of the entire day. The flowers and bouquets with the palms were gorgeous, and so was the archway that we were married under. CARRIE DARLING EVENTS built us a custom wooden cake table which was such a fun element to have displayed on the terrace. She created wooden table runners to place across the long tables which was so fun and unique. We also had small glass bottles with table numbers and guests names written on them, all displayed on wooden shelves with candles behind them.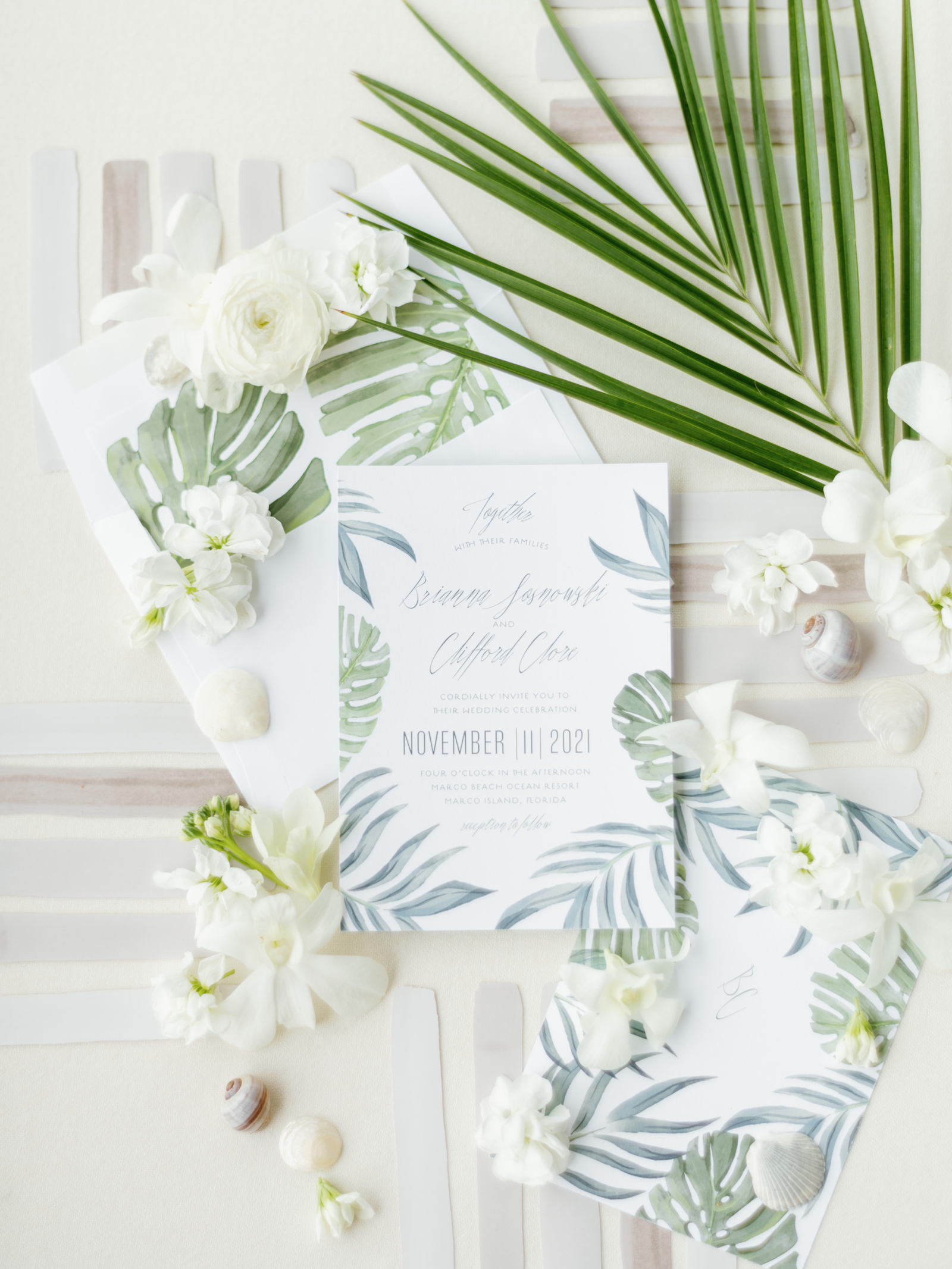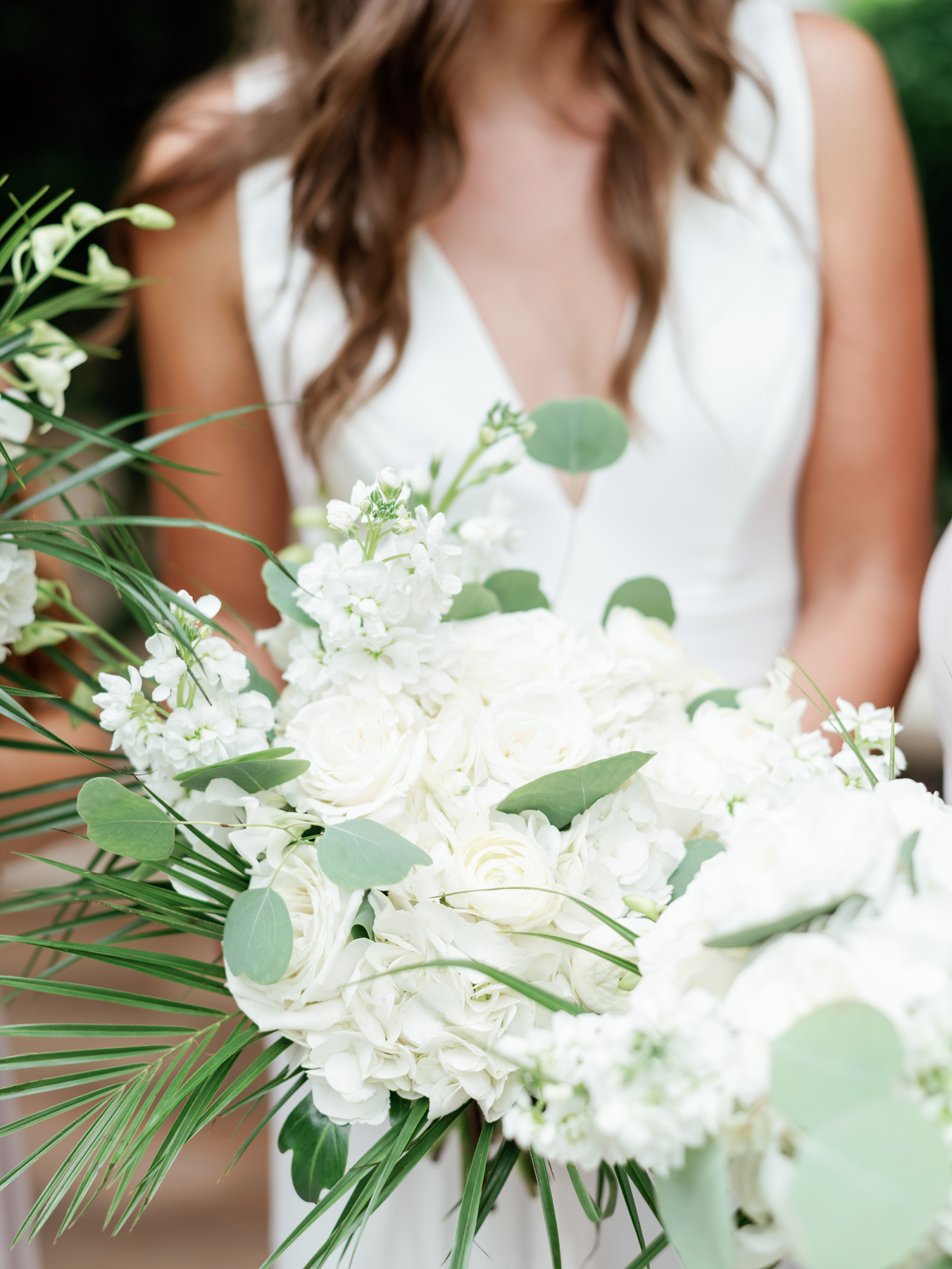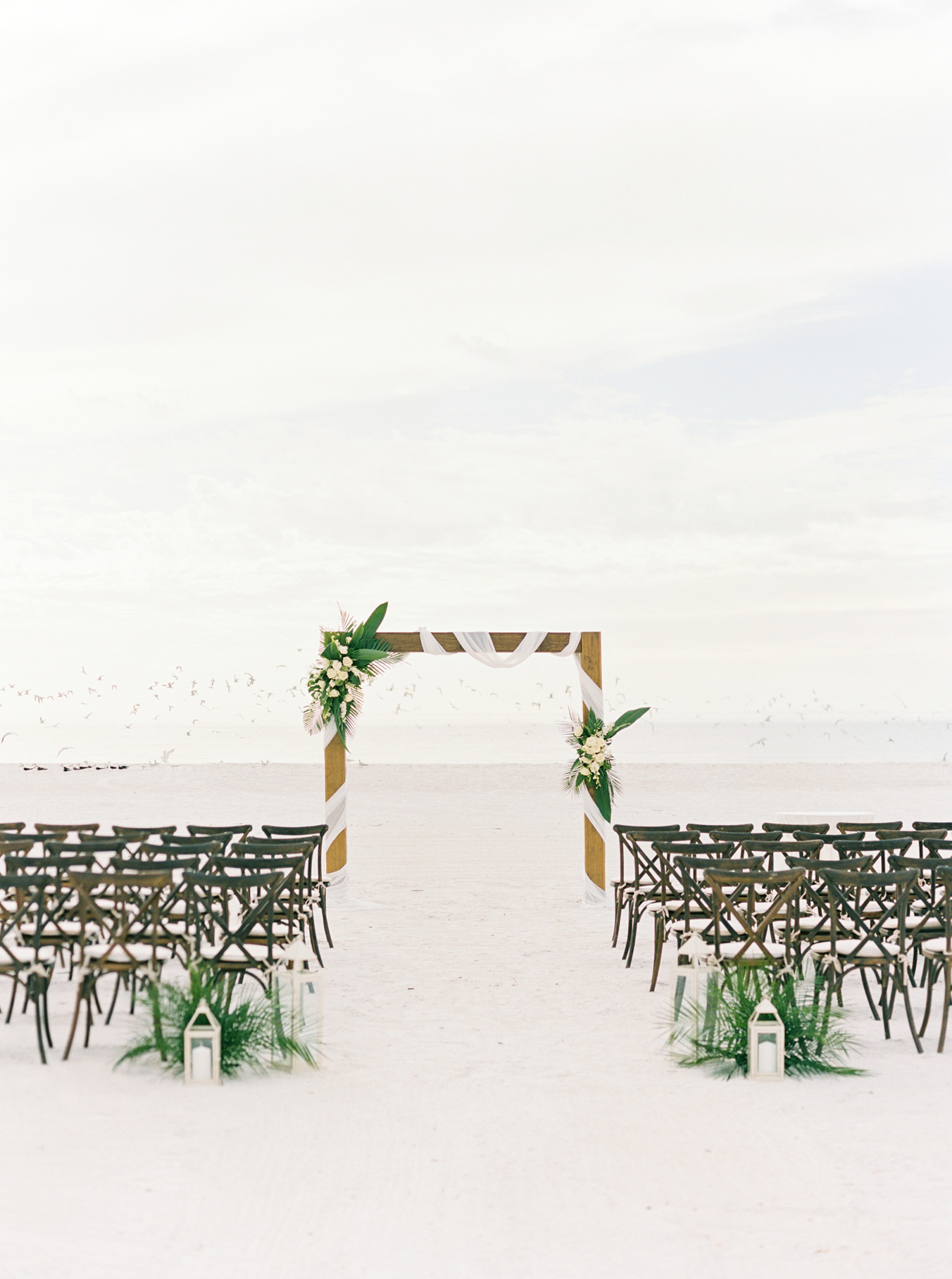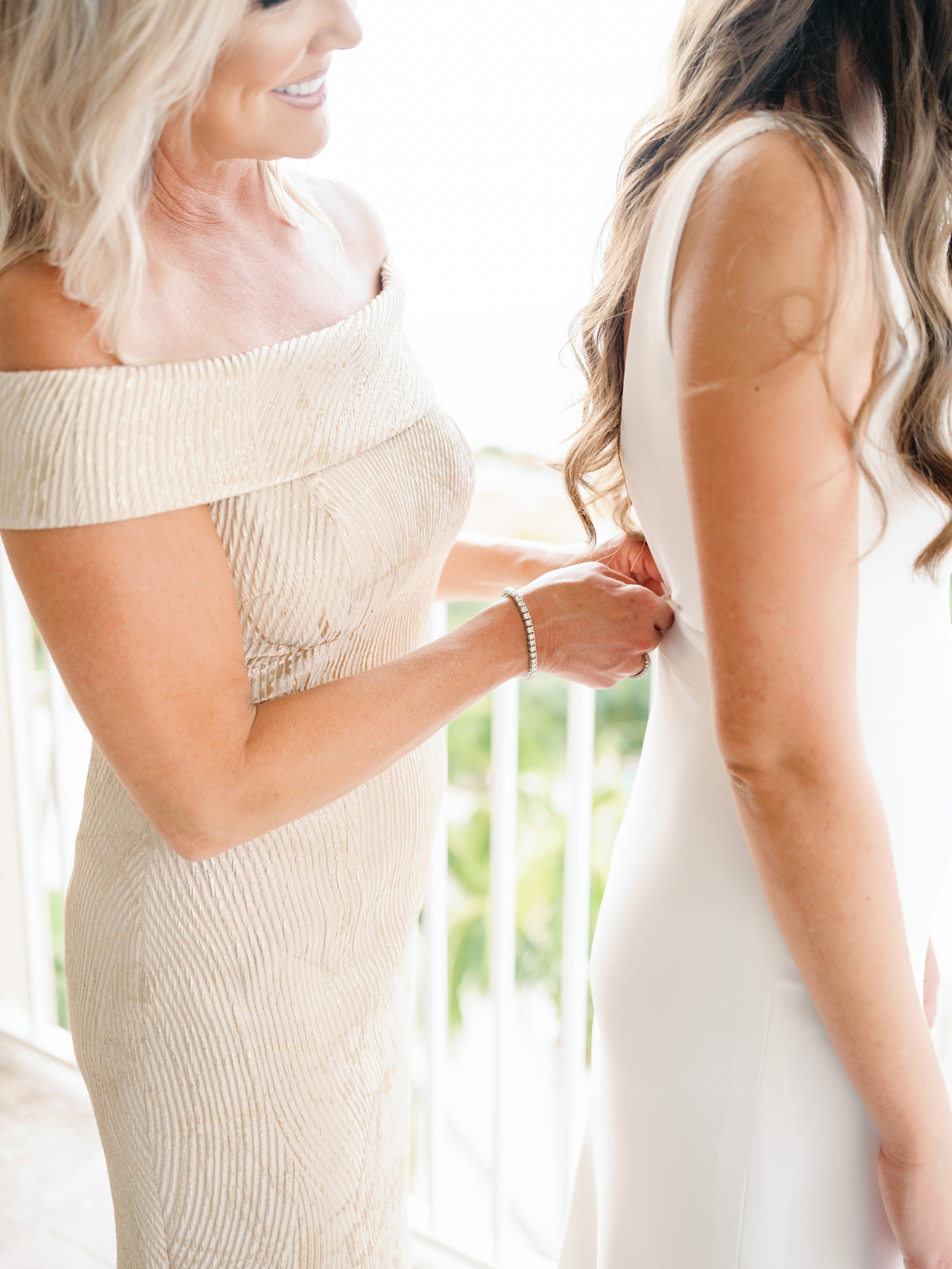 WHAT ADVICE WOULD YOU GIVE OUT TO A COUPLE PLANNING THEIR WEDDING? Best advice we could offer is to stay organised and prioritise what aspects you feel are most important to you. Also try to not become overwhelmed with details, it is such a special time in your life and goes by quickly! There will be details along the way that don't go as planned, but just laugh and have fun with it.
MOST MEMORABLE MOMENT? The reverend that married us had Cliff and I send him 3 words describing why we love each other, with a few sentences describing each word. We sent these to him individually, and he read them aloud to us during our ceremony. It was a very special moment to hear for the first time what we had written about each other.

We also did a seashell toss after the ceremony. Every guest was given a shell, and we all walked to the ocean together, said a prayer and threw the shells into the ocean together.

Seeing how all of the details all came together, from the bottle displays, the cake table, wooden chairs, the flower arrangements, lighting, was so special to see. Carrie is nothing short of amazing with what she creates.

Cliff and I had our first dance out on the terrace which was very special to us, and later on in the night the father daughter dance was in the ballroom. We were blessed to have wonderful speeches from Brianna's father, maid of honour (Brianna's sister), and best man (Cliff's friend).
WHAT ASPECT OF THE WEDDING WAS THE MOST IMPORTANT TO YOU BOTH? Our guests having a great time.