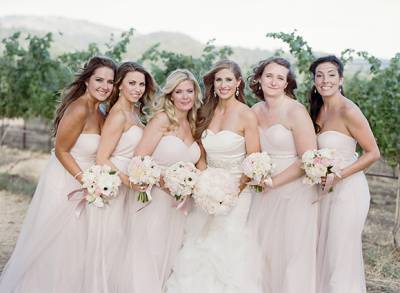 Oh what an honour it is to feature the lovely work of SYLVIE GIL with this chic and stylish California wedding! With a beautiful blush, white and gold colour palette, touches of metallic and it's timeless elegance, it has such a polished sophisticated feel to it and Sylvie has captured it to perfection. Lauren & Michael set out to plan a destination wedding that would be a memorable experience for their guests – many of whom had never been to Napa before. Having been to plenty of weddings themselves, the ones that were the most memorable were always the extended celebrations over a few days so they aimed to have their wedding a fun destination event for all. Planner BRANDY CABRAL of BLISS EVENT PRODUCTIONS helped them to pull it all together and the result is this vision of loveliness at CALISTOGA RANCH.
Using blogs and pinterest to research ideas, Lauren's vision was "to have a soft, romantic, chic and sophisticated wedding with lots of flowers and a touch of bling. We accomplished this vision by incorporating blush, gold, white and metallic colors into everything from the stationery to customized monograms by Dana Leslie Designs to sequin and flowing linens, and lush, gorgeous flower bouquets of blush and white peonies, garden roses, roses, hydrangeas, ranunculus and a touch of anemones. My all peony bouquet by Valley Flora was one of my must have details and it was so insanely gorgeous I couldn't get over it."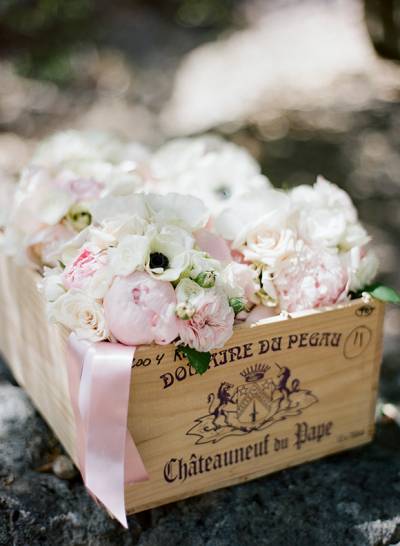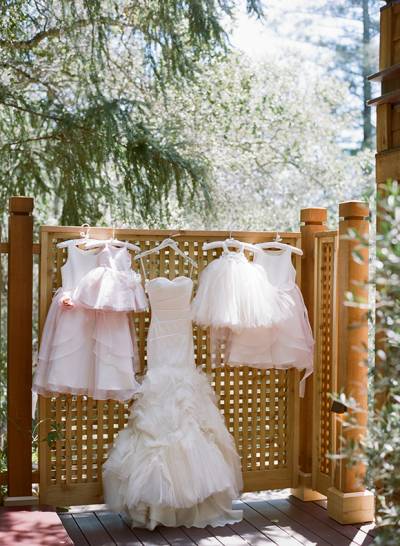 "I have an eye for detail and appreciate when people put thought and care into every detail. So naturally my ideas for details were robust and I was able to incorporate most of the details I dreamed of. My details started from the moment we asked our bridal party to stand by our sides with personalized bridal party boxes, to customized save the date cards and coordinating wedding invitations, customized hotel welcome totes (with coordinating bag tags, itinerary, pocket map, hotel door signs, etc), gifts for bridesmaids (personalized hangers with robes, monogrammed cork clutch, jewels, etc), customized monograms and graphics, photos at the wedding reminding guests of the longevity of marriage both our parents have shared, sprigs of rosemary and roses in all guest napkins with personalized menus, pashminas on the back of ladies chair, signature Baies scent and that was just some of the details. The devil was in the details and our guests took notice and couldn't believe how much thought went into everything; especially the details for our guests."
"My wedding planner, Brandy Cabral, and I set out to design our wedding like acts of a play where the ceremony, cocktail hour, dinner and reception would all coordinate but be in different locations and would introduce new elements into each act. The church was very traditional and romantic, cocktail hour was the introduction of the color scheme, dinner was on the gorgeous Lommel Lawn at Calistoga Ranch with the million dollar view and d cor of a white tent draped with flowing fabric, crystal chandeliers and sequinned tablecloths that made dinner very romantic and ethereal. From dinner, guests proceeded via candlelight to cake and dancing but were taken aback when they discovered it would take place in a Wine Cave. The cave took the wedding to the next level; it was very chic with modern white and mirrored furniture and accents, more flowers, lite by candle light, and the scent of Baies flowing. The last act of the night began as Mike and I surprised guests with a special choreographed first dance that kicked off a nonstop, raging dance party to beats by DJ Dukes. What a night!
In the end, we set out to have a small romantic destination wedding with our closest friends and family to share a memorable beginning to a lifelong marriage for Mike and me. We feel extremely fortunate and lucky to have had our dream wedding come to life and we could not have asked for a better celebration of love, laughter (wine) and happily ever after!"