Forgive me for the photo overload! I'm sure a couple of images in you'll see why - it was just so dang hard to cut back on all this beauty! Having grown up in the same town, it was ten years after their initial meeting at high school, that Brian proposed whilst the couple were on a sunset walk in the Cinque Terre-a moment Nikki had been waiting for since the start of their relationship all those years ago. After hiking the beautiful trails between villages and spending the afternoon swimming, it was on a scenic detour to dinner that the moment arrived. With a vision of an upscale backyard dinner party, RENGSTORFF HOUSE, just outside of San Jose in Northern California, served as the perfect backdrop for an intimate gathering of the people they most love. Nikki wanted to keep the decor simple whilst focusing on good quality. Mona of BIRDS & HONEY paired antique farm tables with cross-back chairs and Italian bistro lights to bring the vision to reality. Florist MICHELLE LYWOOD knocked it out of the park with incredible bouquets and table arrangements. MEGHAN MEHAN captured their day exquisitely as you can see in these images. You can also see this wedding is Issue 16 of the MAGAZINE.
HOW DID YOU MEET? We met in high school in the fall of 2005, when I was a freshman and Brian was a junior. We grew up in the same town and had little connections to each other before officially meeting-Brian and my older brother played soccer together as kids; I played on the same t-ball team as Brian's best man; Brian's younger brother and I went to elementary school together and were "students of the month" in Kindergarten (my mother in law has this picture of me and his brother hanging on her refrigerator).
TELL US ABOUT YOUR PROPOSAL: We went to Italy in 2015 and made our way to the Cinque Terre after a few days in Florence. After hiking the beautiful trail between villages and spending the afternoon swimming at the beach, we dressed up and headed to dinner-taking the scenic route to catch the sunset on the way. At one point Brian asked a passerby to take our picture, and immediately I thought something was up (usually I have to beg him to be in a picture with me). But the guy took our picture and went on his way, and nothing happened. Brian then set up the camera on a self-timer and said we should take another picture. I was confused and said we should keep going so we could make it to dinner, but he was insistent and all of a sudden he started getting down on one knee. I remember I immediately started crying "what are you doing, what are you doing, what are you doing?" and turned my back to him to cover my face. He said something like "I'm trying to ask you a question" and when I turned around again he had the gorgeous ring out and asked, "will you marry me?".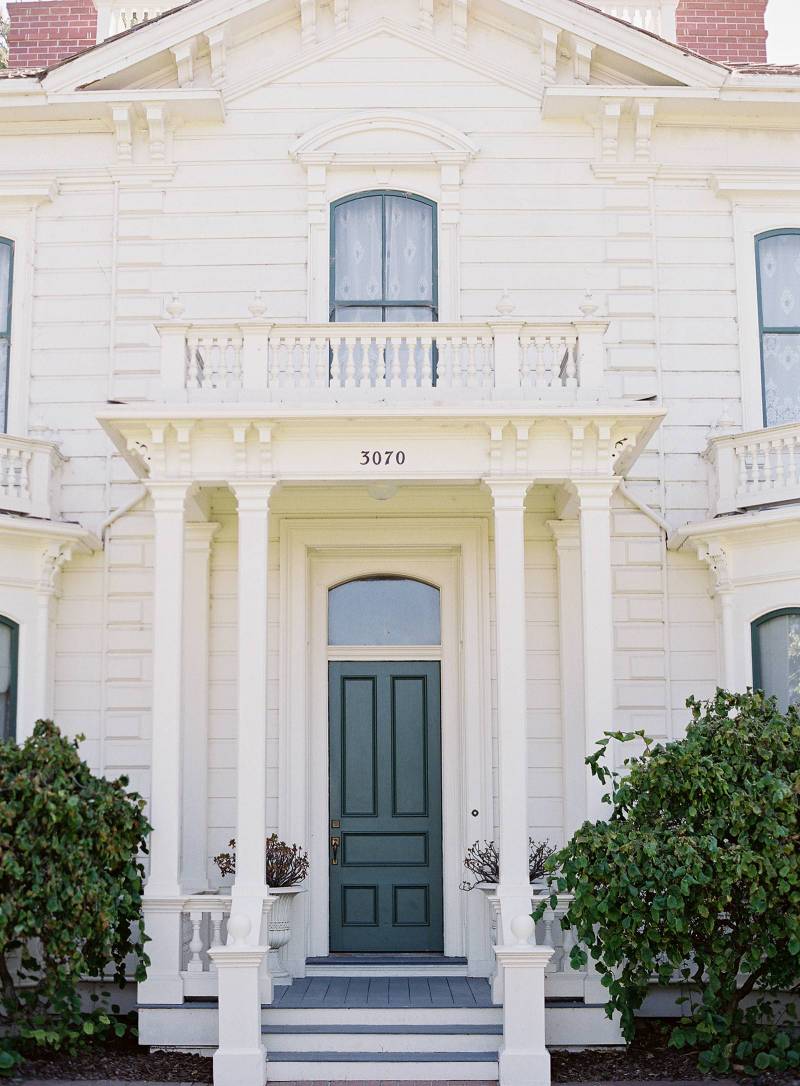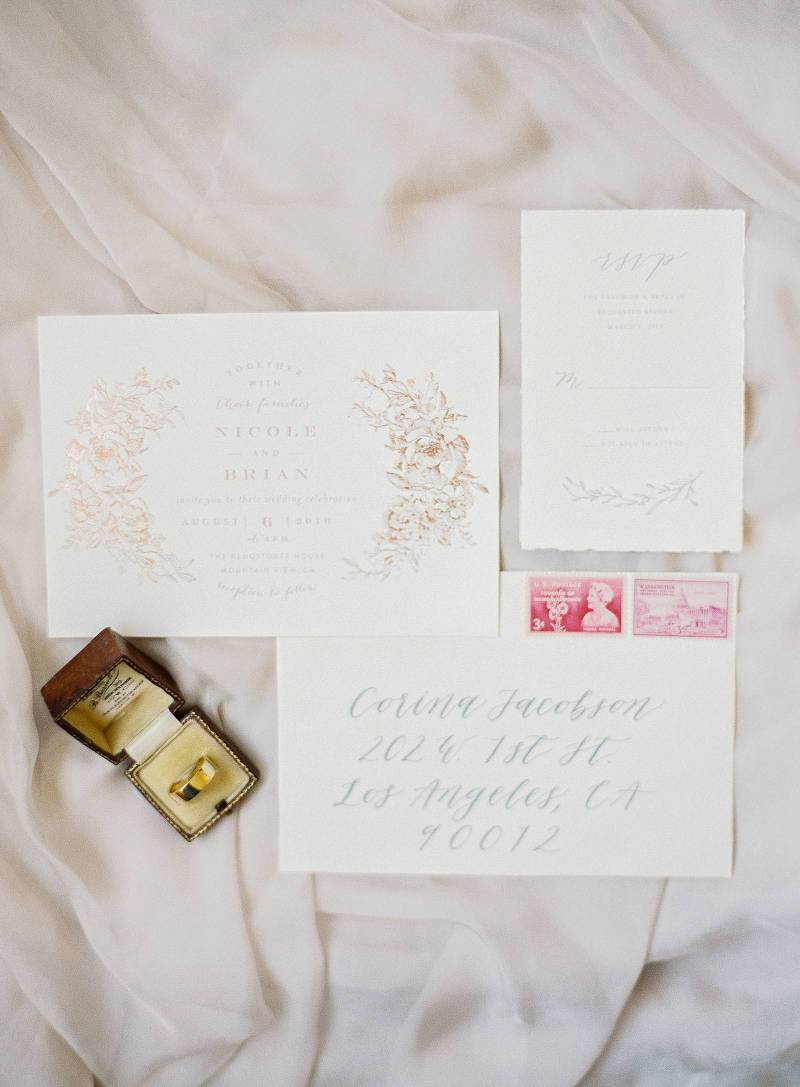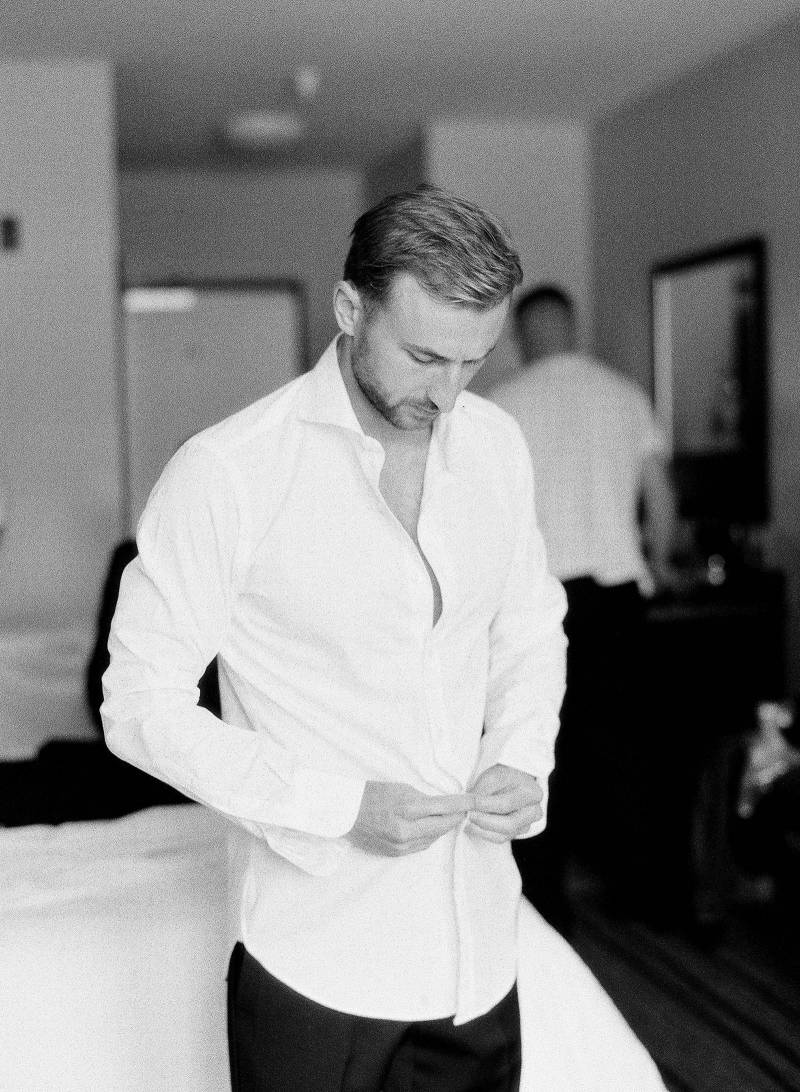 TELL US ABOUT FINDING YOUR WEDDING DRESS: I had my mind set on a long-sleeved dress and couldn't find any in my budget so figured I would have a designer on Etsy custom make one for me. But, I still wanted to have the experience of going dress shopping. Exactly one month after we got home from Italy, my matron-of-honour (also known as my soon-to-be sister in law) and I drove from San Francisco to LA where my maid of honour lives, so we could go to a couple bridal salons just for fun. We went to Lovely Bride and my sweet stylist pulled the Rue de Seine Fox Gown as we were looking around and said "you need to try this on, I think it will look great on you". I thought I could never pull off a strapless dress but since we were just looking for fun, I figured why not try it on. When I slipped into it I got all teary-eyed, and started babbling through the curtain to my MOH's that I think this might be the one. It was the first dress I tried on at Lovely Bride, and after trying on a few others I knew I had to go back to that first one. We went to brunch to think it over (can't make such a big decision on an empty stomach!), and later that afternoon I bought the dress!
Gorgeous bride Nikki tells us, "For me, what really stood out was how much emotion was present throughout the whole day: between me and Brian; amongst our bridal party and families; and with my vendors thanks to the special bonds we formed during the planning process. I think even our DJ was crying when my grandfather walked me down the aisle. The entire wedding was beautiful but understated, providing the perfect backdrop for Brian and I to experience this sacred moment of becoming one.
Having my 91 year old grandfather walk me down the aisle was one of the most special and memorable moments of the day. It meant so much to both of us. Our vows were my other most memorable moment. We wrote them ourselves and I was so excited to hear Brian's. He had me laughing and crying the whole time-the perfect combination.
After dreaming about the day for ten years, it is still hard to believe that everything came together exactly as I'd always imagined. My vendors were the absolute best and I wouldn't change a thing.
I knew I wanted to showcase florals as our one decorative element, and MICHELLE LYWOOD brought this to life in the biggest way. Michelle became a dear friend over the course of my engagement, and from the beginning this is the one element of our wedding where I was very hands-off in the design process-which is so unlike me! I had dreamt of my wedding with Brian for ten years and had a very specific vision for what I wanted. I knew that whatever she dreamed up would blow me away. With very little direction, she took what she knew about us and made my floral dreams come true. The first time I cried that day was when I saw her holding my bouquet! She surprised me by installing a beautiful piece at our ceremony site and making an incredible garland for the back of our 1938 Buick getaway car, in addition to the flourishing table arrangements."