After a few brainstorming sessions with Sydney Wedding photographer SHERI MCMAHON, Kyah and Daniel refined their vision and had a direction to go in. The result was an 'overgrown garden' look which complemented the venue - Sydney's TARONGA ZOO = perfectly. Kyah shares, "I was inspired by the surrounding greenery at the zoo and wanted to create a space which felt like we'd brought the wilderness of outside indoors. Daniel and I both had fond memories of the zoo from our childhood. It's a nostalgic place for us which feels like home. We also loved the scenery there, and really liked that we had the ability to hold our ceremony and reception all in the one unique spot overlooking the water.
HOW DID YOU MEET? Daniel and I started going out together in our senior years at high school. I guess you could say we were high school sweethearts, and had been together a total of 15 years before we finally got married.
TELL US ABOUT YOUR PROPOSAL: Recently we both went on a trip to South Korea. I have a passion for learning languages and in preparation for the trip, decided to start learning how to read Korean. During the trip, Daniel took me to dinner at the top of the N-Seoul Tower, perched high on a mountain overlooking the city lights. We enjoyed an incredible meal there at the revolving restaurant which ended with a gorgeous dessert topped with a little message written in chocolate saying "Will you marry me?" in Korean. As I realised what it said, I turned around to find Daniel down on one knee ready to propose to me. It was incredibly special. Daniel put so much effort into secretly arranging everything and even managed to carry the ring around for the first half of the trip without me noticing.
TELL US ABOUT FINDING YOUR WEDDING DRESS/ATTIRE: I went to Sydney with my mum and my sister to find the perfect wedding dress. After trying on quite a few dresses, I'd almost given up hope that I'd experience that "this is it" moment that brides often talk about. But when I saw my dress on the rack, I knew I had to try it on. I had never seen anything quite like it with the beautiful leaf detail along the bodice and train. The moment I walked out of the changing room I knew that it was the dress I was going to get married in.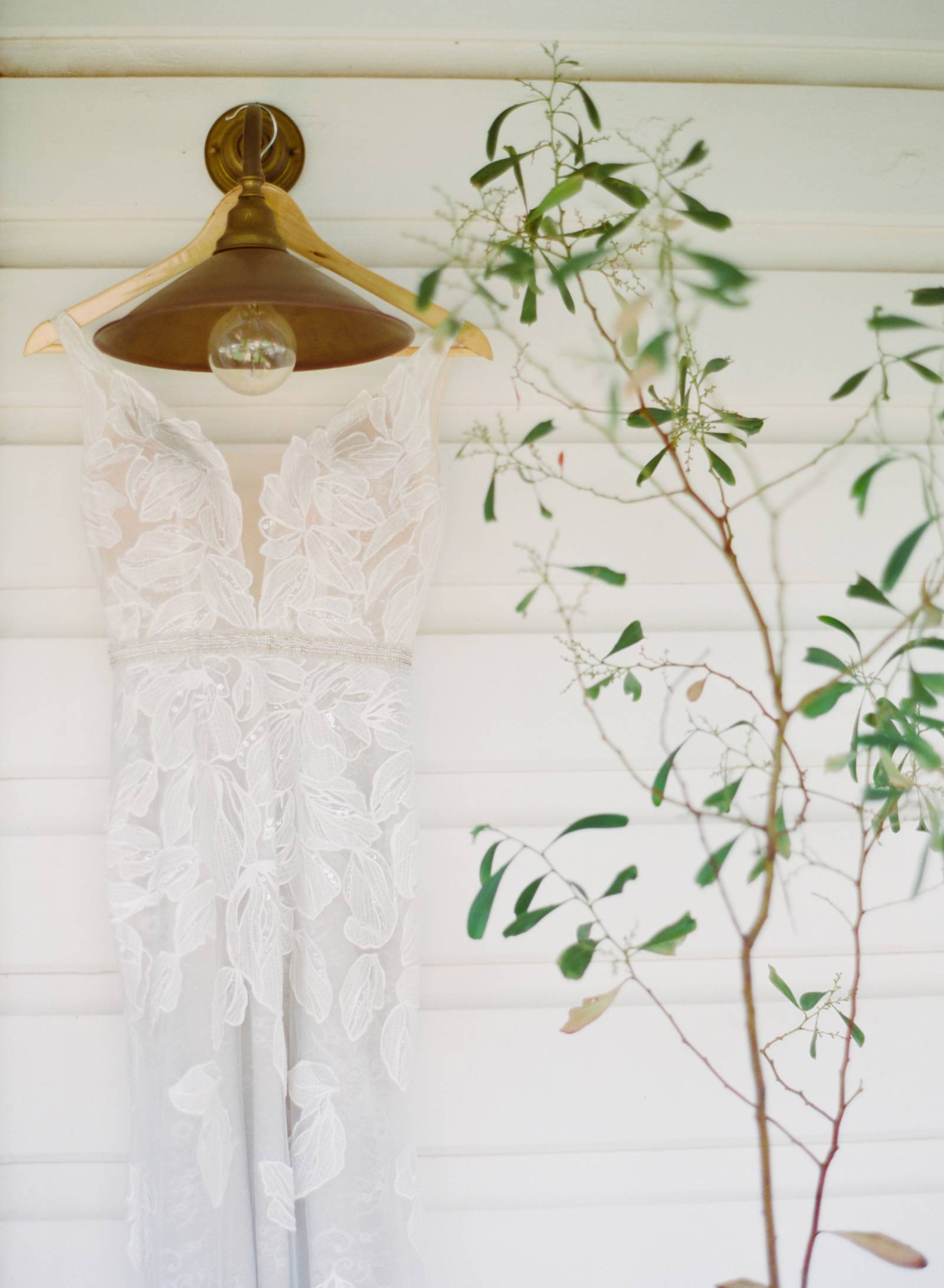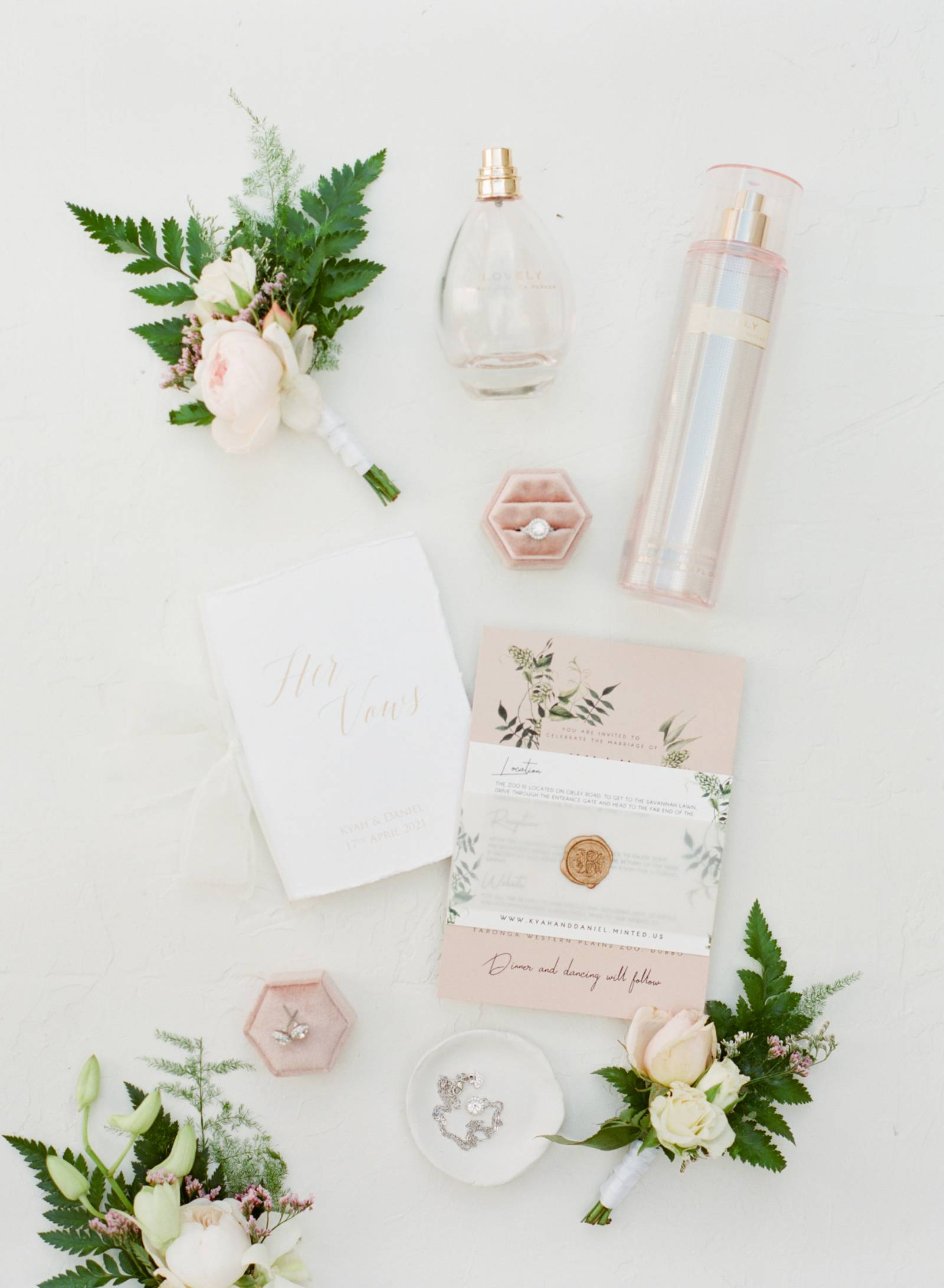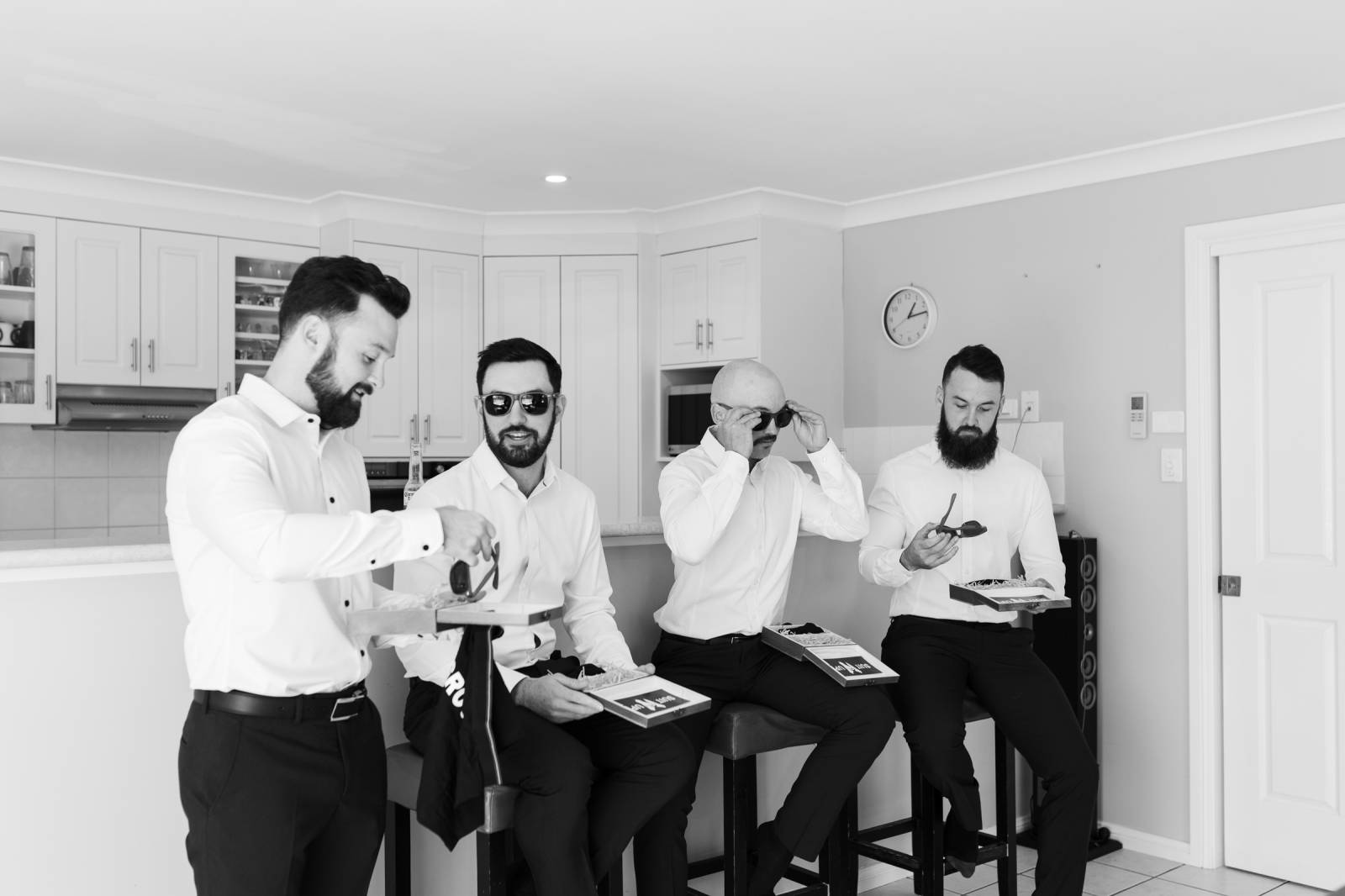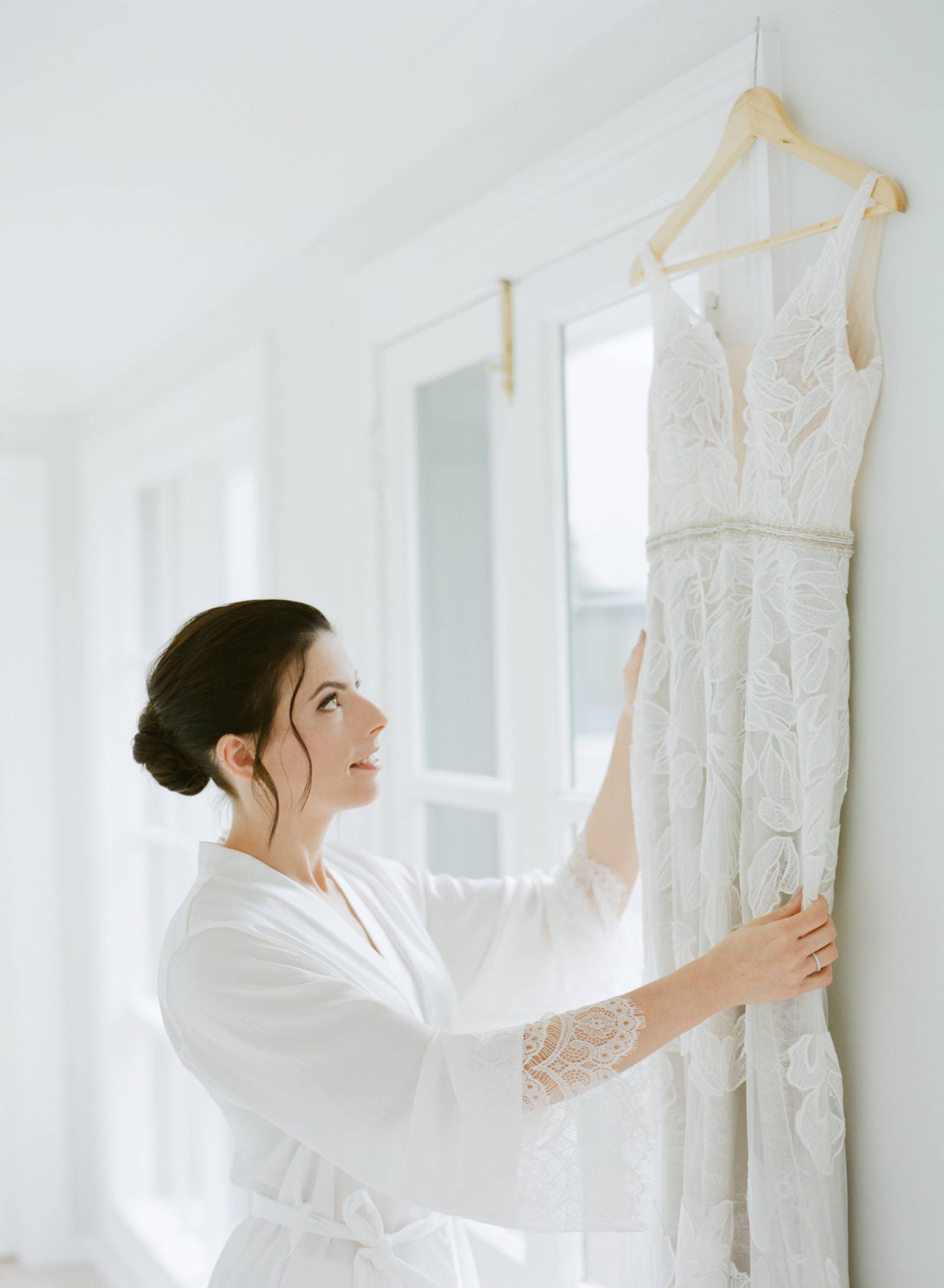 DID YOU HAVE ANY DIY ELEMENTS? There were quite a few things that we had to DIY in order to achieve the specific look that we wanted for our wedding. One of the biggest elements we needed to create were the hanging installations. Together, both our families helped to conceptualise how to create and hang the structures so that we were able to achieve that 'hanging garden' vibe we were after.
DESCRIBE YOUR WEDDING FLOWERS: We wanted to achieve a more loose, overgrown garden aesthetic for the florals. We prioritised the use of local greenery and fresh foliage to build out the majority of the floral installations and ordered in some additional white and blush florals to complement the look.
FAVOURITE DETAIL OF THE DAY: I was blown away to see the reception space lit up with all the candles after we returned from our wedding portraits. There is something so magical about candle-light that finished off the look so perfectly. It was such a warm and inviting place for our friends and family to come together.
WHAT ADVICE WOULD YOU GIVE OUT TO A COUPLE PLANNING THEIR WEDDING? Don't be afraid to delegate tasks. Coming together to create a wedding is such a great way to bond with those around you before the big day.
MOST MEMORABLE MOMENT? Definitely our first dance together as husband and wife. After a quick costume change, we moved straight into the first dance following our entry into the reception. We had been practicing the dance in secret together so that we could surprise everyone on the night. It was so much fun and ended up being the perfect transition into the rest of the evening's activities.
WHAT ASPECT OF THE WEDDING WAS THE MOST IMPORTANT TO YOU BOTH? Daniel & I get so much joy out of preparing and enjoying food with friends and family. So it was really important to us both to have a range of food options available on the night that encouraged everyone to come together in celebration of our big event.
TELL US A LITTLE ABOUT YOUR HONEYMOON: Due to COVID, we chose to have a mini-moon much closer to home. We spent the next week away in Mudgee, staying at the Evanslea luxury boutique cottages. Our cottage had a fireplace that we used to roast marshmallows and an amazing spa bath that overlooked the lake outside. We ate some incredible local food whilst we were there and got to soak up the beautiful scenery of our local area.
IS THERE ANYTHING YOU WOULD CHANGE OR DO DIFFERENTLY? Even though COVID caused us to postpone our wedding two times before we finally got married, it only helped us to gain a better appreciation for the details that truly mattered to us.
A heartfelt thank you to Sydney Wedding photographer SHERI MCMAHON for sharing this beautiful wedding with us. Sheri is Australian based with a love for fine art film wedding photography. She is inspired by natural light, European architecture, incredible scenery and adores photographing intimate moments and authentic unique love stories. Her approach is soft and subtle. "Film is flawless, it captures light, skin tones and romance beautifully." With a huge passion and love of travel she's always happy to travel to capture your magical day. You can see more of her portfolio in our VENDOR GUIDE HERE.