In our books you simply can't go wrong with a classic wedding in a fresh green and white colour palette. Andrea & Navid had an elegant wedding in the mountains surrounding Lake Tahoe at THE RITZ CARLTON. With the resort being so naturally beautiful they kept the decor to a minimum and let the scenery do all the talking. Thanks to California Wedding Photographer LYNETTE BOYLE for these gorgeous images.
Lynette tells us more about the wedding; "Andrea moved from Canada to Los Angeles for her job in the fashion industry, where she met Navid. Andrea jokingly told me during our first conversation that she felt like the two only hockey fans living in LA managed to find each other. Their good friend, who officiated, told a few endearing stories about that chance encounter during their ceremony. With a very formal and elegant personal style, Andrea and Navid's wedding attire was right on point. From Andrea's gorgeous sapphire engagement ring and her Monique Lhuillier gown, to Navid's classic black tux and perfectly polished Salvatore Ferragamo shoes, they both looked absolutely stunning. With design help from Christina of A BUD & BEYOND, their personal style was carried through to their ceremony design (that rose petal aisle!) and reception as well, where their tables were named for some of their favourite ski resort locations. Andrea's adorable nieces made superb flower girls and even though they did not have a bridal party, I loved how Andrea's mother and sister were colour coordinated.
For their portraits, we drove around a bit, stopping at an aspen grove, not too far from the Ritz. The trees were glowing in the sun and it looked like something straight out of a fairytale. We then headed down to a nearby pier for some shots with the lake. It was an extremely windy day and chillier than usual, but this meant that a normally busy public pier was completely deserted, a total rarity in July. The wind created some unique challenges, especially for the outdoor ceremony later on, but wind and photography is like peanut butter and chocolate. They are great on their own, but magic when combined."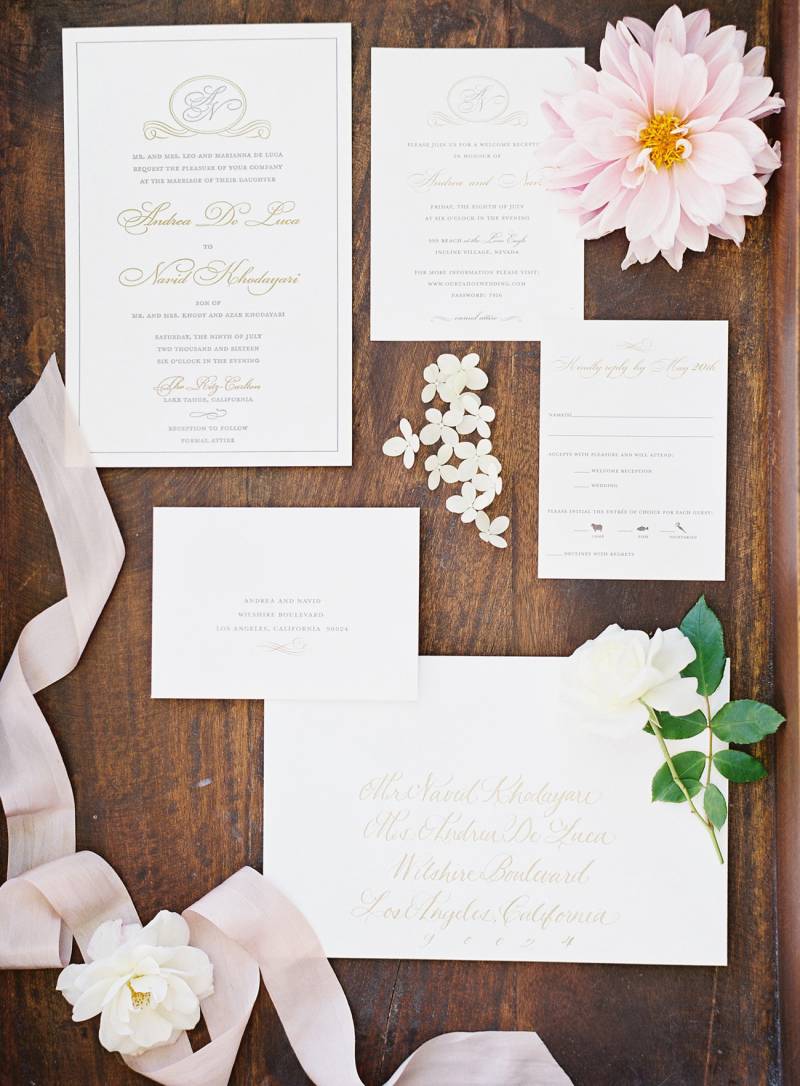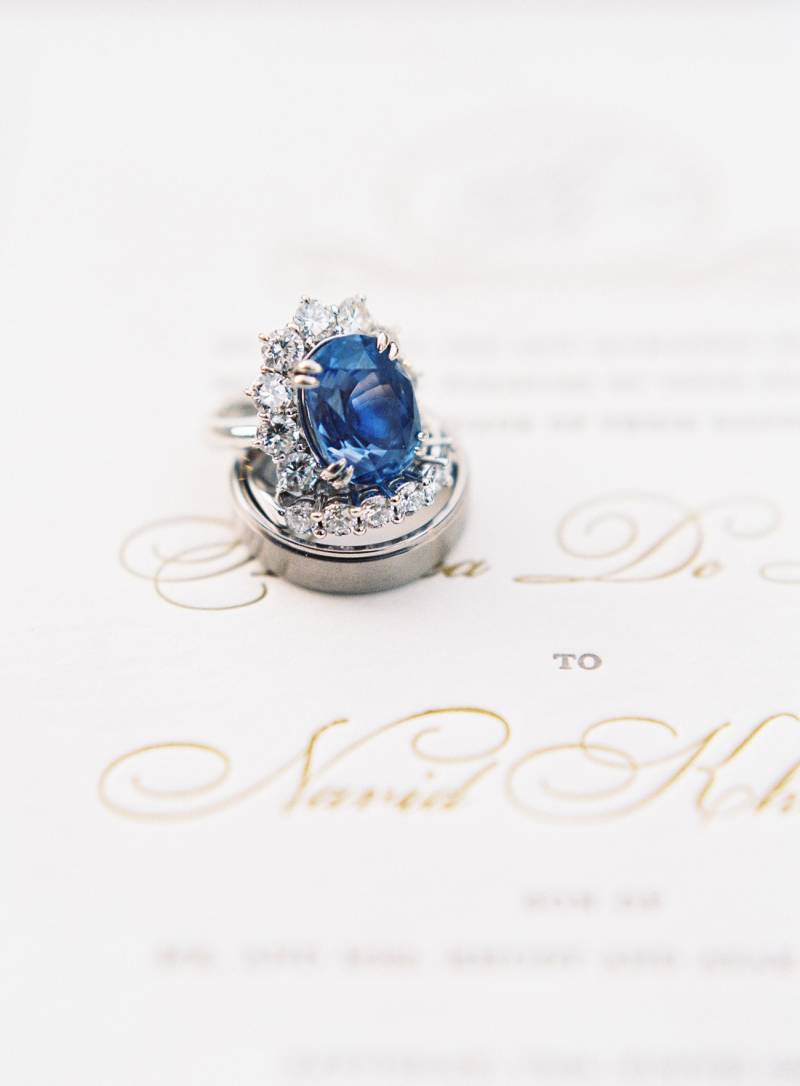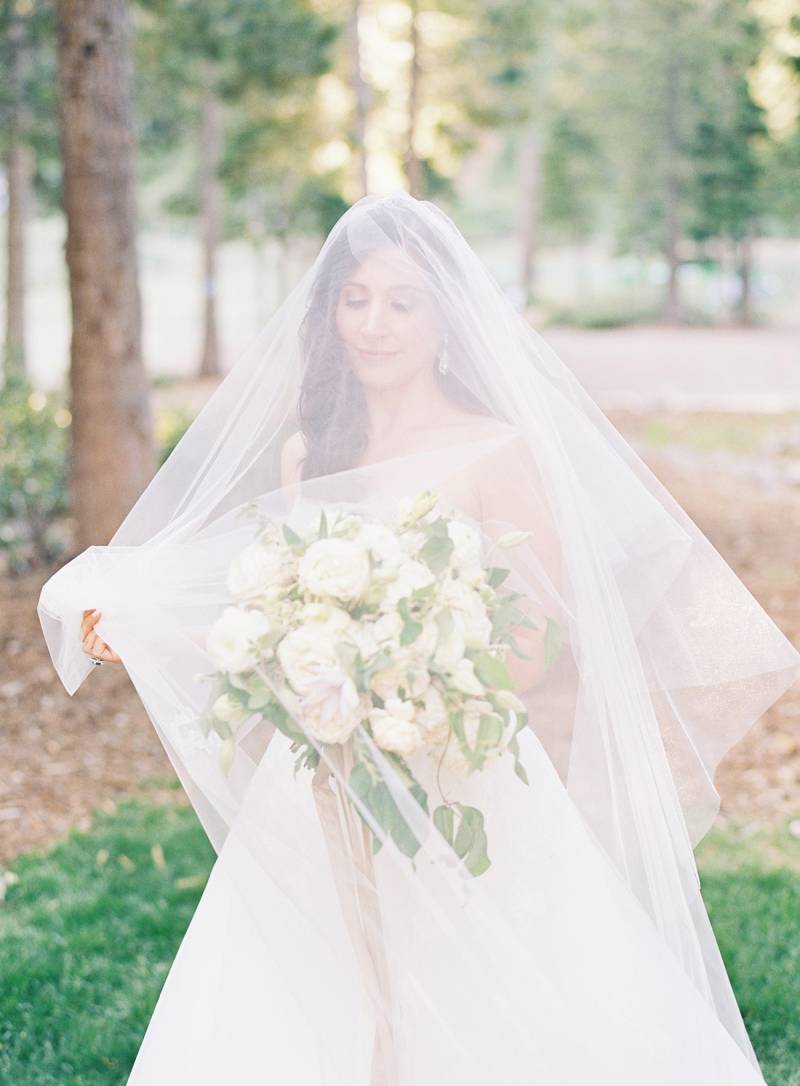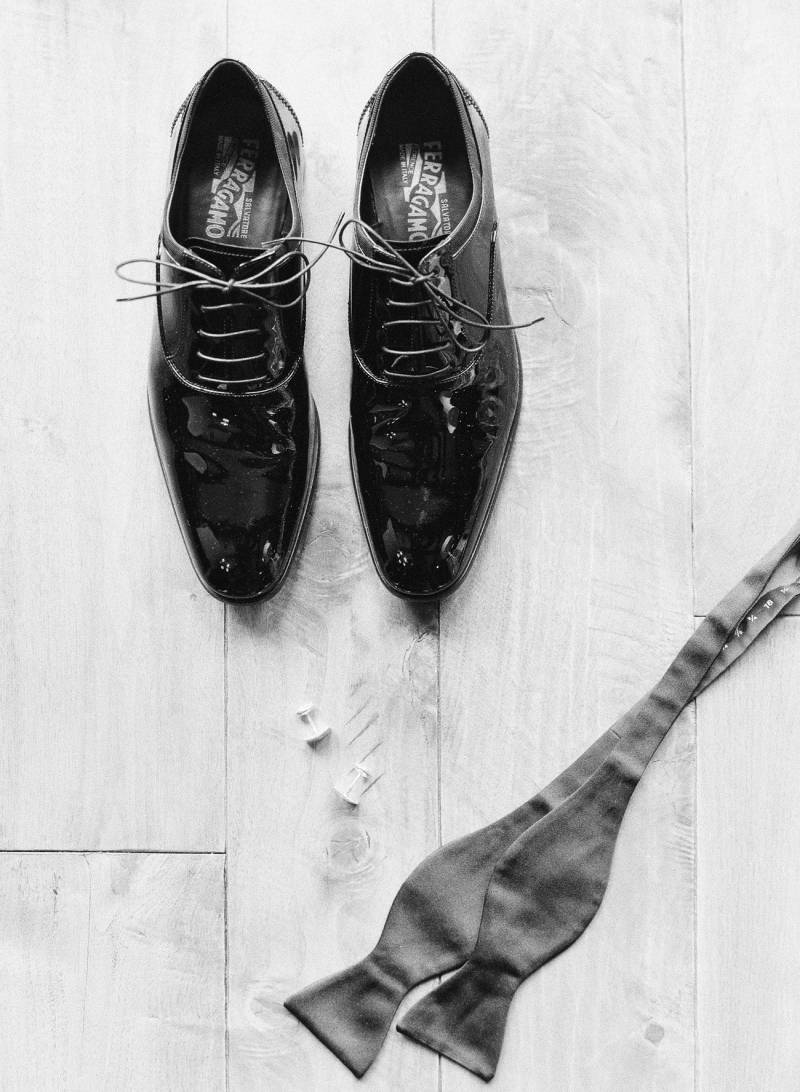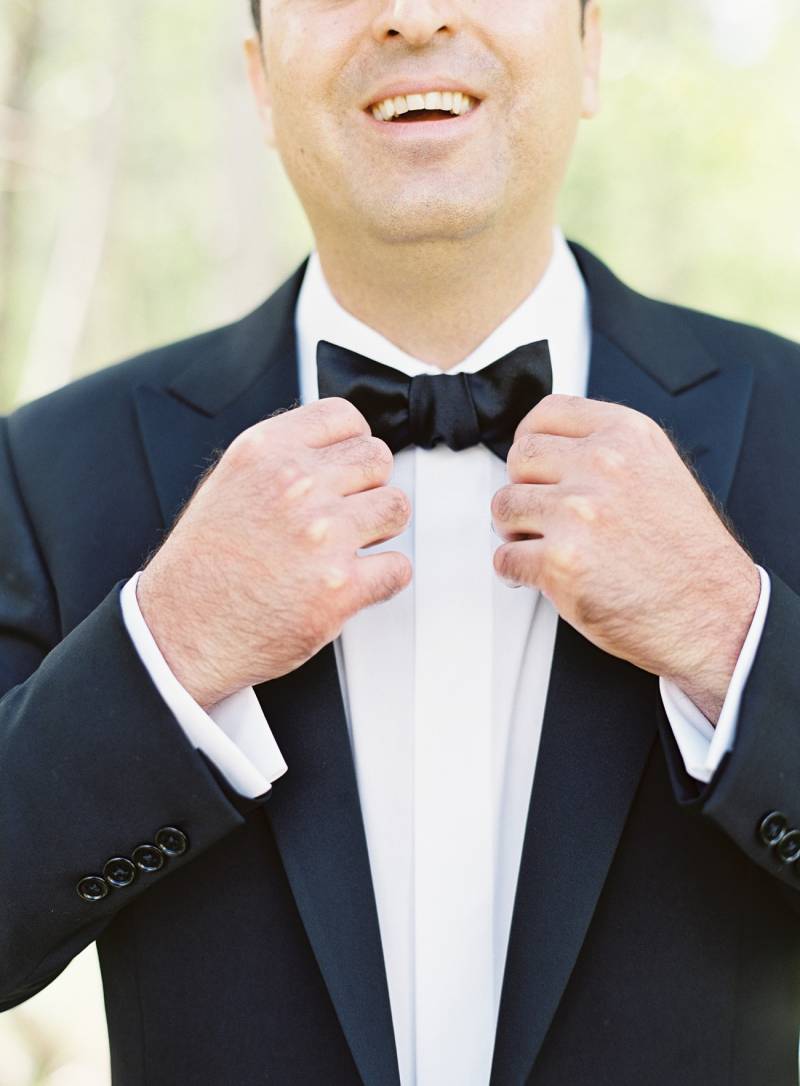 HOW DID YOU MEET? We met at a birthday party.I had just moved to LA a few months before and had had no luck meeting people. I finally met an incredibly friendly girl that lived down the hall from me in my building and she invited me to this birthday one night. I sat across from Navid at the dinner. I remember thinking he had beautiful eyes.
TELL US ABOUT YOUR PROPOSAL: He proposed to me in Napa. I have this thing with fireplace. The hotel we were staying at had a beautiful outdoor fireplace and he popped the question while we were cozying up in front of it.
TELL US ABOUT FINDING YOUR WEDDING DRESS: It definitely took a while for me to find it! I went to so many dress shops! My mom flew to LA from Canada to do nothing but dress shop with me for 3 days, but I just wasn't excited about anything I tried on. I ended up going by myself after that and finally found my dress at Monique Lhuillier. It's funny because other than it being lace, the style wasn't what I was looking for...until I tried it on...I knew it was the dress.
DESCRIBE YOUR WEDDING FLOWERS: White. Elegant. Simple. Classic. Christina from A Bud and Beyond exceeded all of my expectations. She combined a combination of flowers with lush greenery which enhanced the natural beauty.
FAVOURITE DETAIL OF THE DAY: The first look. I always thought I would want him to see me for the first time walking down the aisle. But doing it in private was really special. I will never forget the look in his eyes when he first saw me.
WHAT ADVICE WOULD YOU GIVE OUT TO A COUPLE PLANNING THEIR WEDDING? Be true to yourself. Don't get too wrapped up in pleasing everyone else or doing what so-and-so did at their wedding.
Event designer Christina of A BUD & BEYOND shares her thoughts on the day, "I work most often with couples from out of town who are having a destination wedding so I understand the anxiety that can occur planning from a distance. First, I always ask to see a bride's dress as this can set the tone for a wedding. When I saw Andrea's beautiful and timeless Monique Lhuillier ball gown, I knew many of the elements we designed would be lush and formal. While the Ritz Carlton Lake Tahoe provides beauty in nature, the reception was held in their largest, most formal ballroom. Navid, the groom, would also be dressed formally in a tuxedo.
Although they decided against having a bridal party, they did have two adorable flower girls who wore sweet floral crowns of baby's breath. The bride carried a classic white and green hand tied bouquet with garden roses, clematis vine, ranunculus, astilbe and honeysuckle. The ceremony location overlooks the majestic mountains of the Northstar ski area which provides a stunning back drop. We created an aisle of petals and framed the couple with large urns on pedestals filled with summer floral bounty including cafe au lait dahlias, hybrid delphinium, roses and stock with cascading lush greenery.
Andrea's style has a timeless elegance so for the reception, we brought in a combination of linens from La Tavola in taupe tones including a lovely lace overlay. We also created visual interest by mixing round and long king's tables with wooden cross back chairs, in a nod to Tahoe. The flowers we created varied in height with very tall, lush centerpieces in classic white and green on the round tables, mixed with garland and white blooms on the long tables.
Finally, we designed a hip lounge area by the dance floor with club chairs and couches as a nod to their love of going out dancing, which an exhausted flower girl used as the perfect place to nap after a tiring day of flower girl duties."
Head to our Vendor Guide to find the right California Wedding Photographer for your big day!