After falling in love with the charm and natural beauty of Savannah as a teenager, Kate dreamt of getting married there one day. After convincing her now husband Dustin that a destination wedding was a good idea, they envisioned a classic, chic, and timeless celebration, and as you can see in these images by THE HAPPY BLOOM that's exactly what they achieved. Inspired by their favourite vacation spots of Maine and Big Sur, they incorporated ethereal shades of blue throughout their wedding details and the reception included simple greenery and an abundance of candles giving a cosy, intimate vibe.
Kate tells us, "Most of our family and friends hadn't been to Savannah before and we were excited to host a fun wedding weekend and introduce them to a city we love so much. We hosted a ghost walk and cocktail reception the night before the wedding and included a post wedding trolley tour as a way to introduce everyone to Savannah and really show them all of it's charm and beauty. We chose Chatham Square because we thought it had the best trees and SOHO SOUTH CAFE because we were lucky enough for them to step in and offer their services after the Olde Pink House (our original venue) had a fire eight weeks before our wedding! SOHO SOUTH turned out beautifully and we couldn't imagine having our reception anywhere else now. I wanted to incorporate Scottish thistle into the flowers to honour my Scottish heritage and add pops of blue to the mostly white floral arrangements. I wanted just simple greenery and tons of candles at the reception to give an intimate and elegant vibe.
Justin & Amanda from THE HAPPY BLOOM had this to say, "Kate and Dustin's wedding day was a true embodiment of the couple themselves - classic, easy going and family oriented. The couple opted for a more intimate wedding of less than 100 guests. The couple also opted for no traditional wedding party to ensure that their day had an easy flow with low stress, a more manageable timeline and so much more time TOGETHER. With this extra time on our side, we were able to provide the couple with a private escape over to historic Wormsloe and it's avenue of oaks for their first look, portraits and simply - some time to relax and recharge before the ceremony."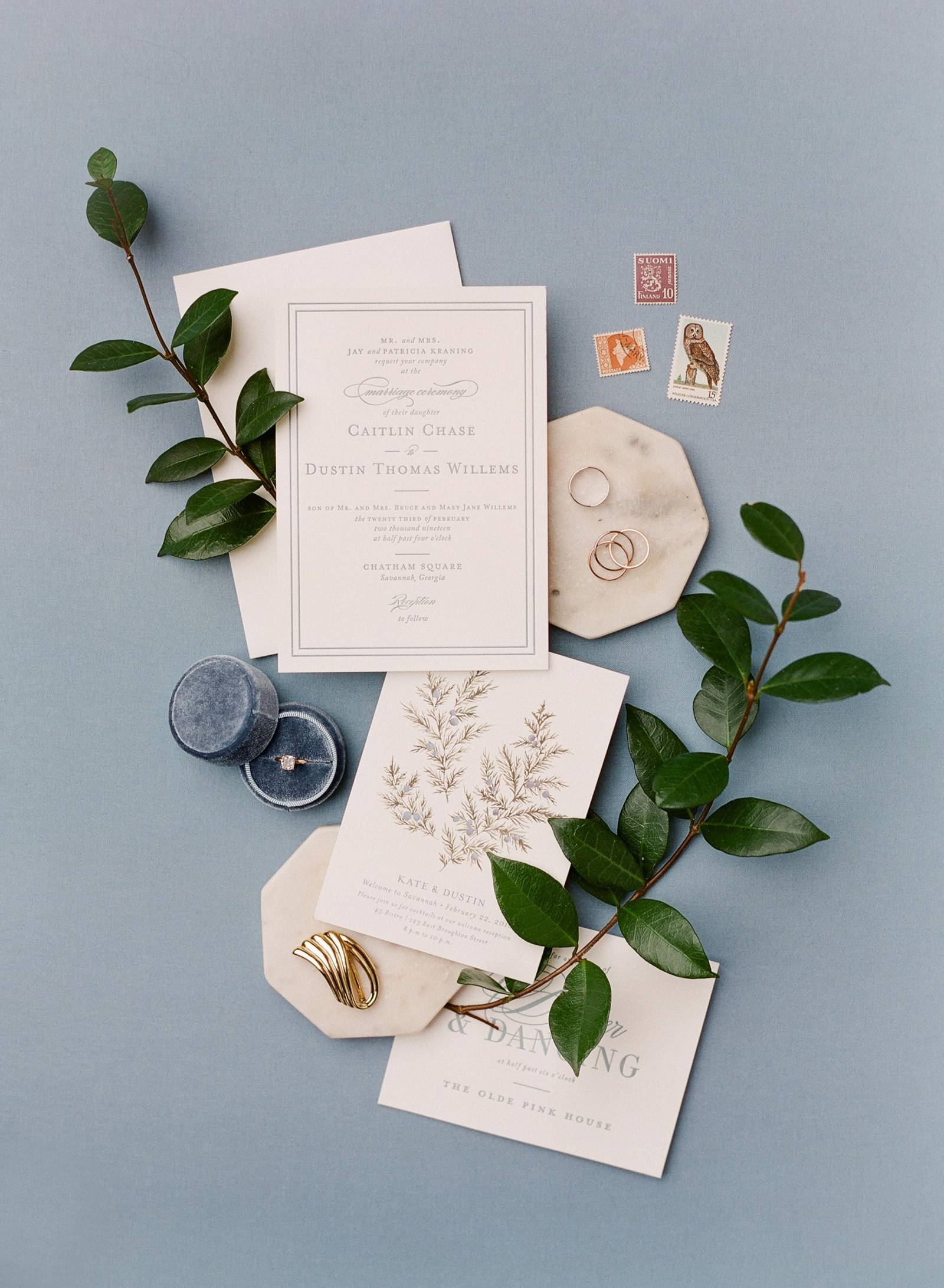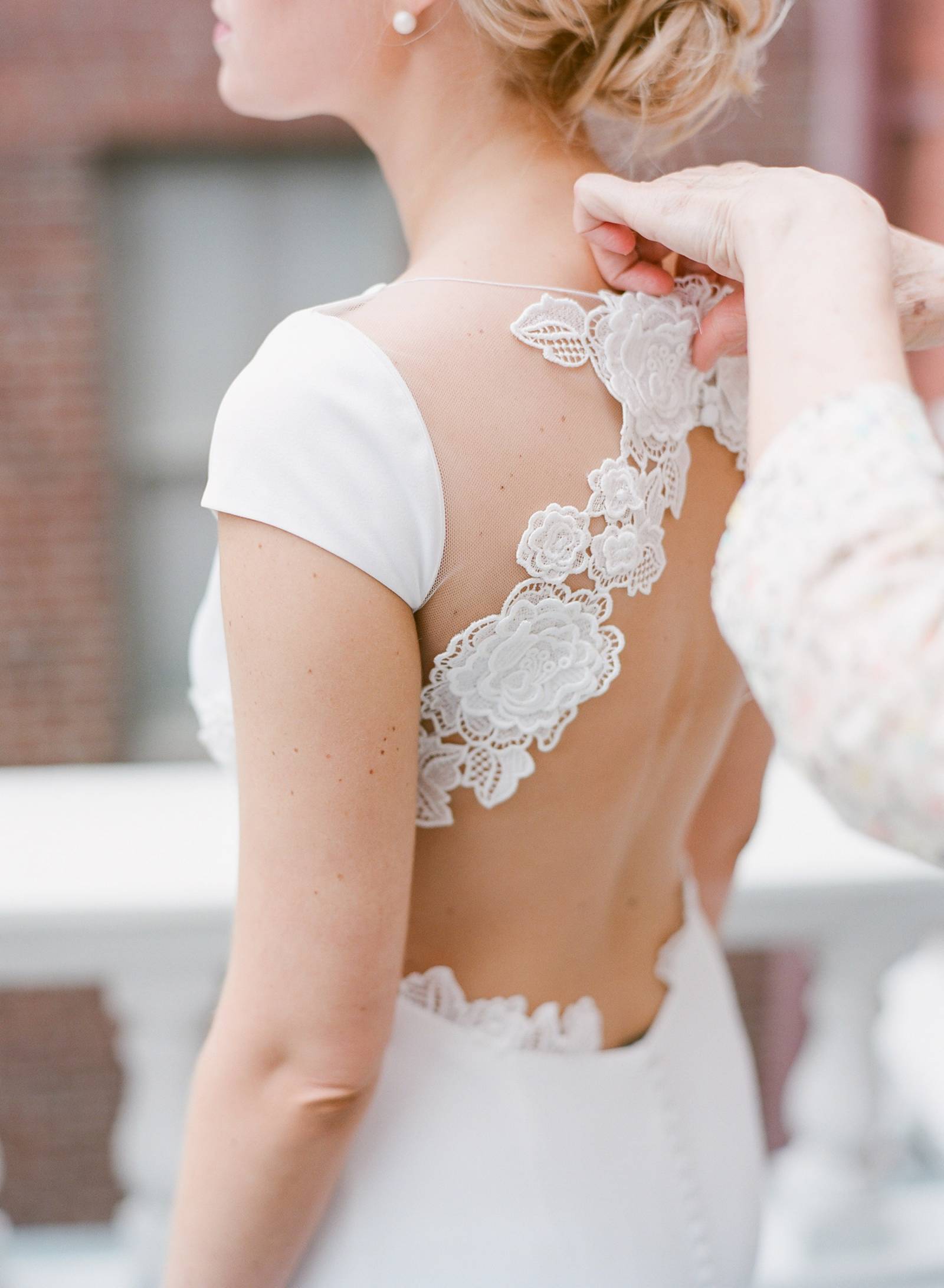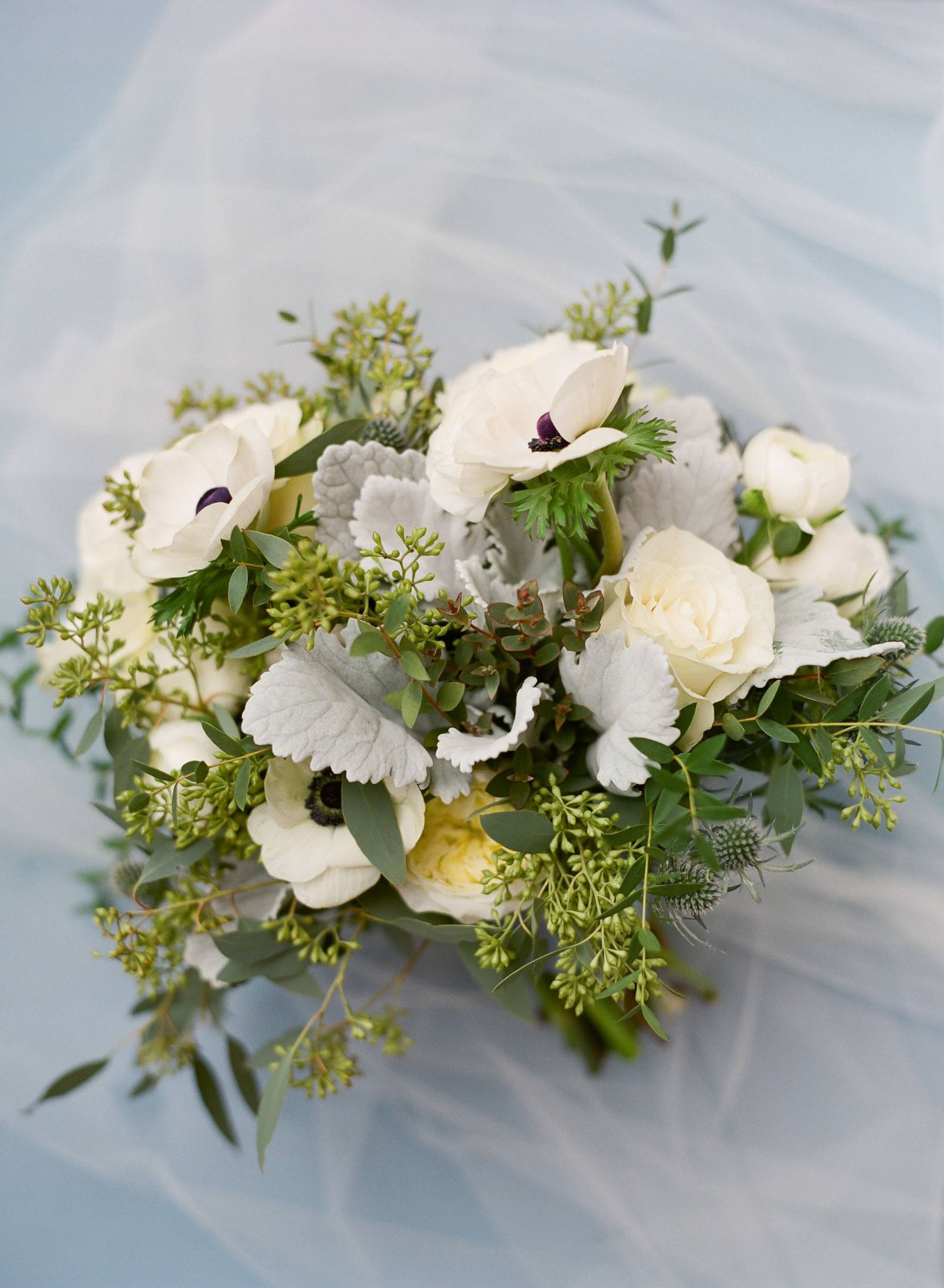 HOW DID YOU MEET? We briefly met in college at the University of Wisconsin-Madison in 2007 and the extent of that relationship was Facebook friends. After college, Dustin stayed in Wisconsin and I moved back to Chicago. Fast forward to 2015, Dustin moved to Chicago for work and reached out to me on a whim and asked me out and the rest is history.
TELL US ABOUT YOUR PROPOSAL: We both love traveling and while he likes exploring new places, I love revisiting the same destinations. In February 2018, I dragged him to Savannah for his second and my sixth time thinking/assuming/hoping he would propose but I had low expectations since I destroyed the house looking for a ring and found nothing. His plan was to get me to Forsyth Park but his nerves only got him to Johnson Square and he proposed a few hours after we got into town. We don't remember what either of us said but there was some crying, a little swearing (Kate) and lots of laughing.
TELL US ABOUT FINDING YOUR WEDDING DRESS: I went into dress shopping with only a few ideas in mind. I love the effortless sophistication of Carolyn Bessette Kennedy, Jean Shrimpton, Catherine Deneuve, Lee Radziwill, and Gloria Guinness so I knew I wanted something more fashion forward than traditional. I also wanted solid silk or crepe and no lace.The dress I ended up with was the first dress I tried on at Alice In Ivory, which was the second store I visited. I didn't put it on and say "this is the one!". Instead, I just kept going back to it after trying on several others until finally I realised that I couldn't live without that dress.
DESCRIBE YOUR WEDDING FLOWERS: I chose peonies, Juliet roses, blue thistle, anemones, ranunculus. I really loved the simplicity and elegance of whites and greenery but it was also important to me to get the thistle in there as a nod to my Scottish heritage and for that extra pop of blue.
FAVOURITE DETAIL OF THE DAY: The custom vintage ad style poster from an artist in Chicago which we used as our welcome sign.
WHAT ADVICE WOULD YOU GIVE OUT TO A COUPLE PLANNING THEIR WEDDING? Hire a planner or at least a week of coordinator. They are absolutely worth the money. Also, learn to compromise. Listen to your fiance's ideas and don't veto them just because you instantly dislike it. And finally, trust your vendors! You might feel overwhelmed but they are there to help you and they know exactly what they're doing.
MOST MEMORABLE MOMENT? The simple answer is EVERYTHING but our time together for our first look and taking pictures really stands out. When you're at WORMSLOE, you feel like you're in a dream and to be there together, calming our nerves before the wedding and soaking in the moment was precious to us. Runner up moment though is the end of the night, dancing to our favourite song (When You Were Young- The Killers) surrounded by our families and friends and just feeling so happy and loved.
ANY OTHER DETAILS THAT HELP TELL THE STORY OF YOUR DAY? Our initial reception location burned down! Not completely but the ballroom of the Olde Pink House... the exact room our reception was to be held in, caught on fire and was completely damaged eight weeks before our wedding. We lucked out in securing our replacement reception venue and we couldn't have been happier. Soho South Cafe is stunning and the staff was so amazing to work with. We actually can't even imagine what our wedding would have been like if the fire hadn't happened and we consider ourselves lucky that everything worked out the way it did.
TELL US A LITTLE ABOUT YOUR HONEYMOON: We're doing a two week trip to Italy and Croatia. We're visiting Rome, Naples, Positano, Split, and Dubrovnik
IS THERE ANYTHING YOU WOULD CHANGE OR DO DIFFERENTLY? I would have stressed less and enjoyed it more. I kept thinking how relieved I would be when I finally didn't have planning on my mind every day but now I miss it!