Initially hoping to have a Great Gatsby style wedding, Karen & Thomas were halted in their tracks by the pandemic. Upon touring DOVER HALL, they were inspired by the classic aesthetic and décor and pivoted towards a more timeless theme. Richmond wedding photographer NIKKI SANTERRE captured their beautiful day.
WHY DID YOU CHOOSE THIS LOCATION? Dover Hall is already beautiful all on its own, but it offers a tremendous amount of versatility for your wedding day. The venue can accommodate indoor and outdoor events and the ability to change last minute in case of poor weather. The beautiful gardens and all the uniquely curated rooms of the house offer a beautiful backdrop at any angle. Food, drinks, and many of the additional amenities we needed were also included in-house. It seemed like a no brainer to us!
HOW DID YOU MEET? We met back in college at Virginia Tech and shared a lot of the same friends. But, it wasn't until after college that we eventually became better acquainted after both of us of moved to Richmond and ended up realising that we were a pretty good fit!
TELL US ABOUT YOUR PROPOSAL: We've always loved travelling together. Back in 2017, we had taken a trip to Peru and had this beautiful sunset moment in Lima overlooking the ocean with someone playing cello live while we ate crepes. I jokingly told Tommy that this was his moment and if he expected us to get to married he better go ahead and ask. He, of course, he did not have a ring at the time but obviously took notes. A year or two later, we went back abroad to Turkey to visit Tommy's college roommate (and future groomsmen). The two of them planned out a cleared beach at sunset, flowers, and live cello music. His girlfriend had taken me out to shop and get ready as if we were going out for a nice dinner but when we came to the house to pick them up she had me walk out back to the beach and Tommy was waiting at the end of the pier. Without doubt one of the most memorable moments of my life.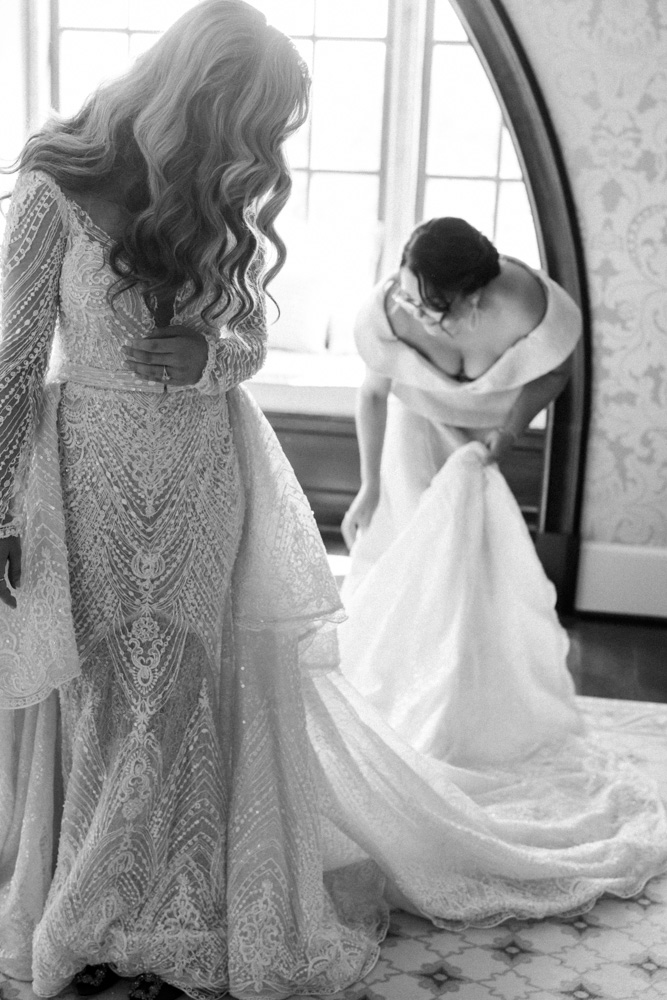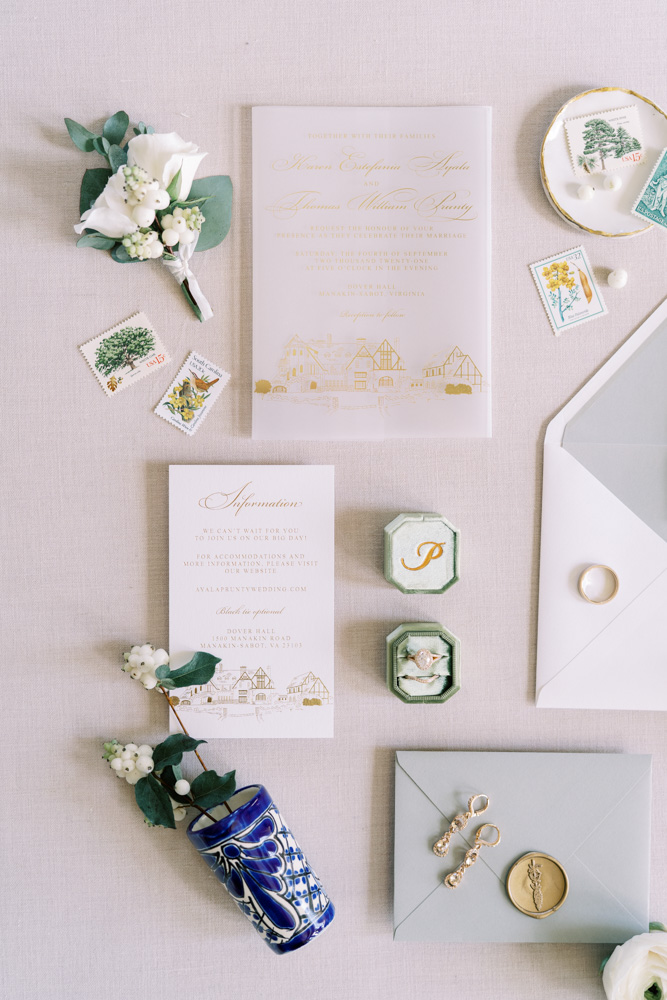 TELL US ABOUT FINDING YOUR WEDDING DRESS: I always dreamed about getting married one day, so I had a Pinterest board full of wedding dresses for inspiration. I narrowed down my choices to three designers and found a wedding boutique in Charlotte, NC that carried them all. My mom and I drove six hours to Anjolique Bridal on a rainy day to look at wedding dresses for the first time, and after trying on only five dresses I found my dream dress.
DID YOU HAVE ANY DIY ELEMENTS? We were scrambling to put together a lot of the last minute items once we had a final guest list. We used various Minted, Etsy and other printing templates we could find to put together menus, programs, signage. Our amazing wedding planner, Lindsay Kennedy, helped us make sure these items looked great and were ready by our wedding day.
DESCRIBE YOUR WEDDING FLOWERS: Sticking to the timeless theme we selected a colour palette of white, sage, beige, and antique gold. We shared our vision for the day with Kristen and we were completely blown away by Olivera Floral Design's work and how everything turned out.

FAVOURITE DETAIL OF THE DAY: Are we allowed to say everything? We truly could not have asked for a more perfection celebration. All our vendors came through and delivered above and beyond our expectations. It gave us the peace of mind to enjoy ourselves and made every moment with our friends and family that much better.
WHAT ADVICE WOULD YOU GIVE OUT TO A COUPLE PLANNING THEIR WEDDING? We had a general concept of what we wanted throughout the process, but I think we approached our wedding in somewhat of a checklist fashion. We tried to get all our big vendors chosen first and then began working on the details. If we had to do it again, I'd definitely take the time to think about some of the logistics, how we saw certain moments and pieces of the evening going and working backward with some of those final details first. It would have alleviated some of the last minute stress and made some of our decisions easier along the way.
MOST MEMORABLE MOMENT? We had a little time to just ourselves immediately following the ceremony where we went down to the wine cellar to eat. It was a small moment we could have to just ourselves that day but it was our first as husband and wife.
WHAT ASPECT OF THE WEDDING WAS THE MOST IMPORTANT TO YOU BOTH? Having all our friends and family on our special day.
ANY OTHER DETAILS THAT HELP TELL THE STORY OF YOUR DAY? Our marriage was a meeting of two family cultures coming together, so it was important to us to make sure that we incorporated elements of both.
TELL US A LITTLE ABOUT YOUR HONEYMOON: We're still working on it! Our honeymoon was delayed due to Omicron/travel. And now, it may be further delayed as we are now expecting a new addition to our family this coming fall.
A huge thank you to Richmond wedding photographer NIKKI SANTERRE for sharing this gorgeous wedding with us. Nikki is fiercely devoted to capturing and preserving relationships through fine art photography, bespoke heirlooms, and written documentaries-- curating tangible memoirs and legacies of hope and love to be passed onto future generations. She travels across the country documenting artisan-crafted wedding days, taking a limited number of wedding commissions per year in order to create an intimate luxury experience for each of her couples. You can see more of her work in her portfolio here.