We're switching things up a bit today with a more modern, urban wedding by the wonderful WHEN HE FOUND HER. I know we don't often feature this sort of style but if you know me at all, sometimes I simply like to mix things up and keep you on your toes! With stunning blooms by BLUSH & BLOOM it's a fun, vibrant celebration.
Gorgeous bride Kendall shares with us, "Originally Chris and I planned to be wed in Portugal - but that chapter slammed closed almost as fast as it began. Our second option was to be wed in the garden and dine at one of Toronto's most coveted French bistro's. Le Sélect Bistro. Chris is Portuguese and our first big trip together was to Portugal & Spain. I knew then that Portugal was my favourite place in the world. We joked that Europe would make for the best backdrop for our wedding - as we both love photography so much. It was an easy decision that once our Portugal chapter closed, that we keep the European charm we were after here at home. We have been to countless weddings together, and as ours was planned to be on a hot day in July - the last thing we wanted to do to our guests was have them melt through the day only to run off to take our photos for a couple of hours. It was an easy decision for us to have an intimate evening ceremony and reception. Our wedding started promptly at six thirty and guests were greeted with our signature drink, the Bistro's Kir Cheri. We had our first look on the rooftop of Le Germain Hotel in Toronto and the majority of our were photos taken before the ceremony gallivanting around Toronto before the rain. This saved us a lot of time and allowed us to eat, drink and be merry with the ones we love after our ceremony! I have to say, we didn't miss much from our wedding, which I know is sometimes the case with couples on their wedding day."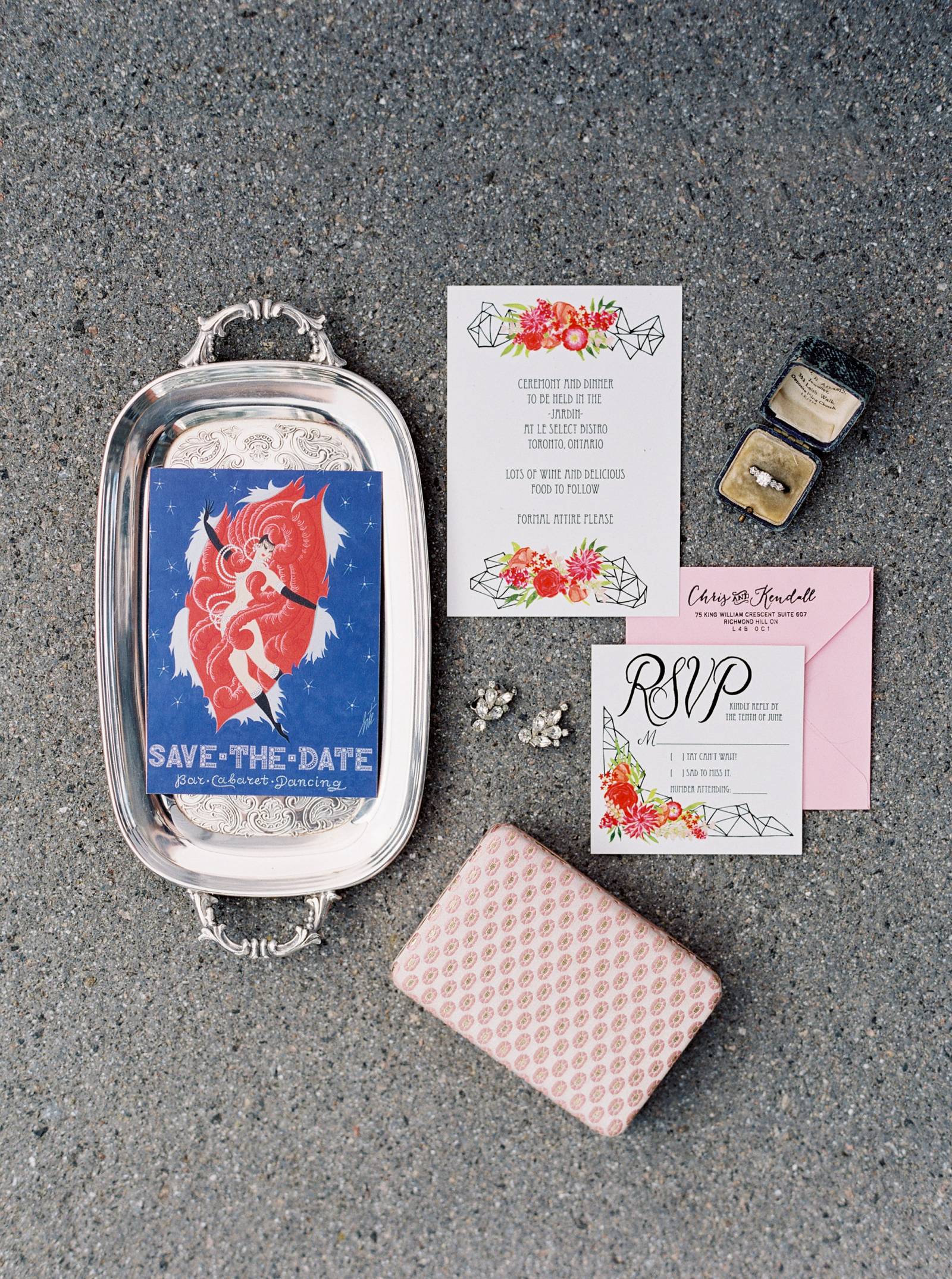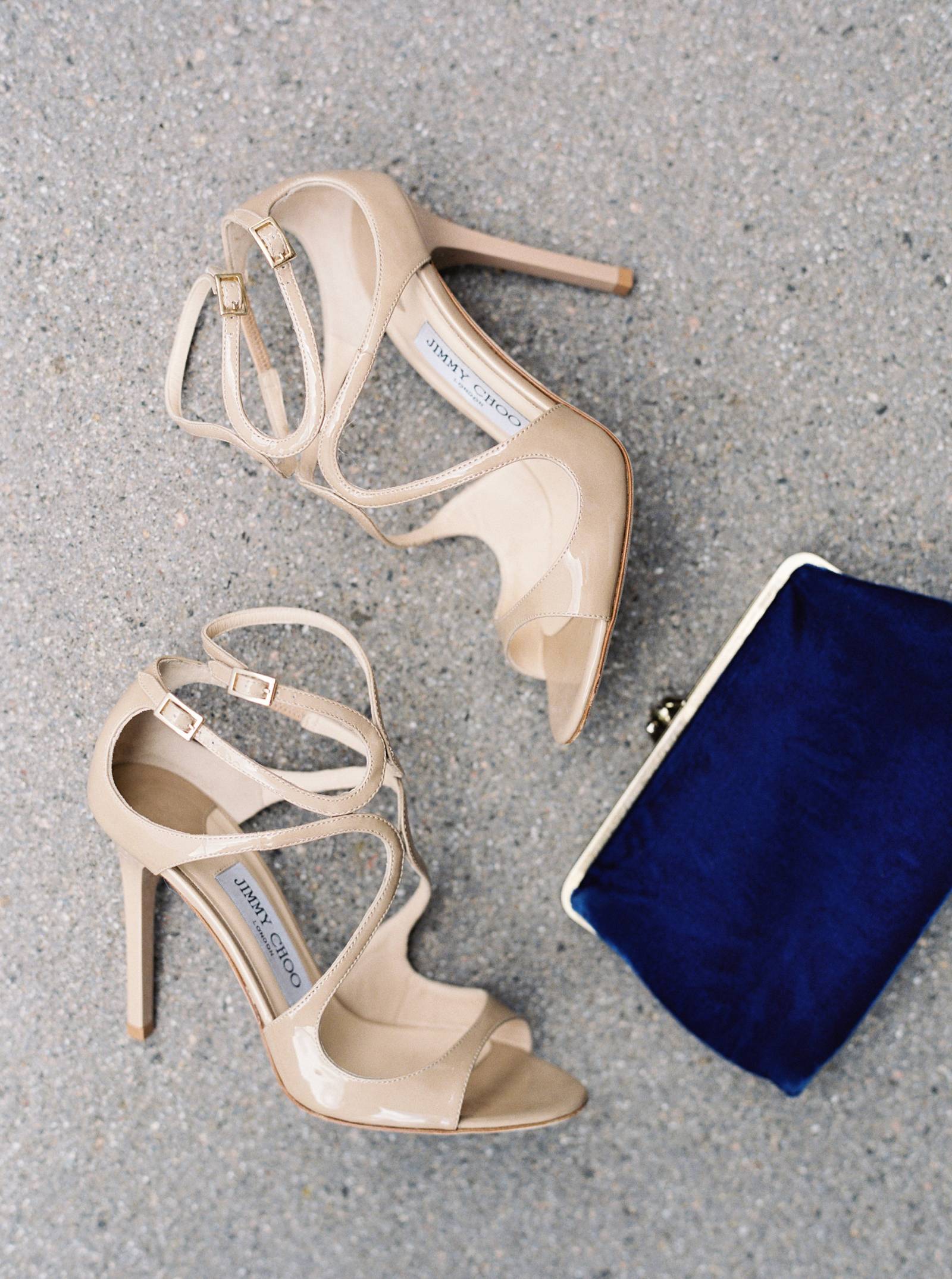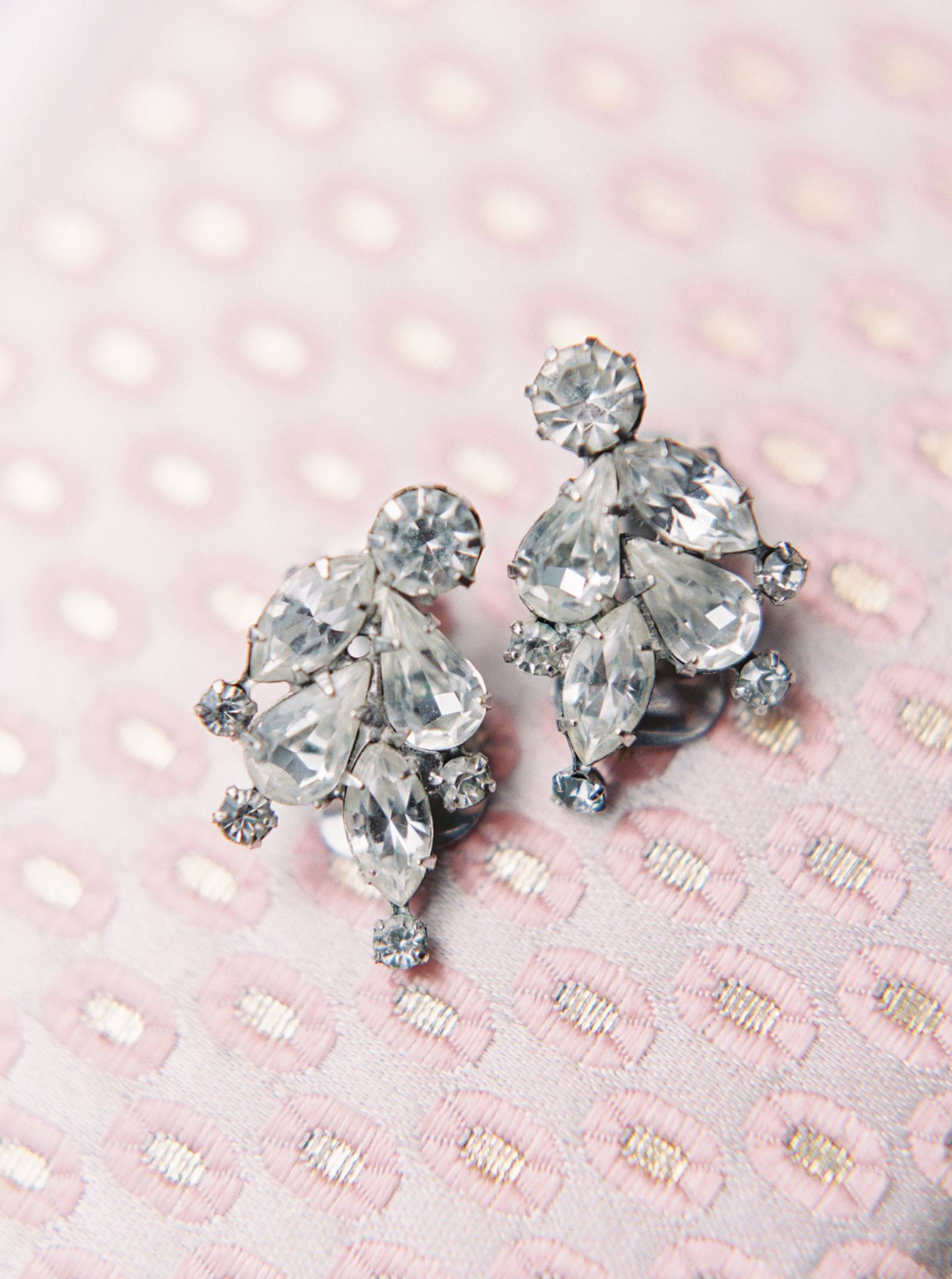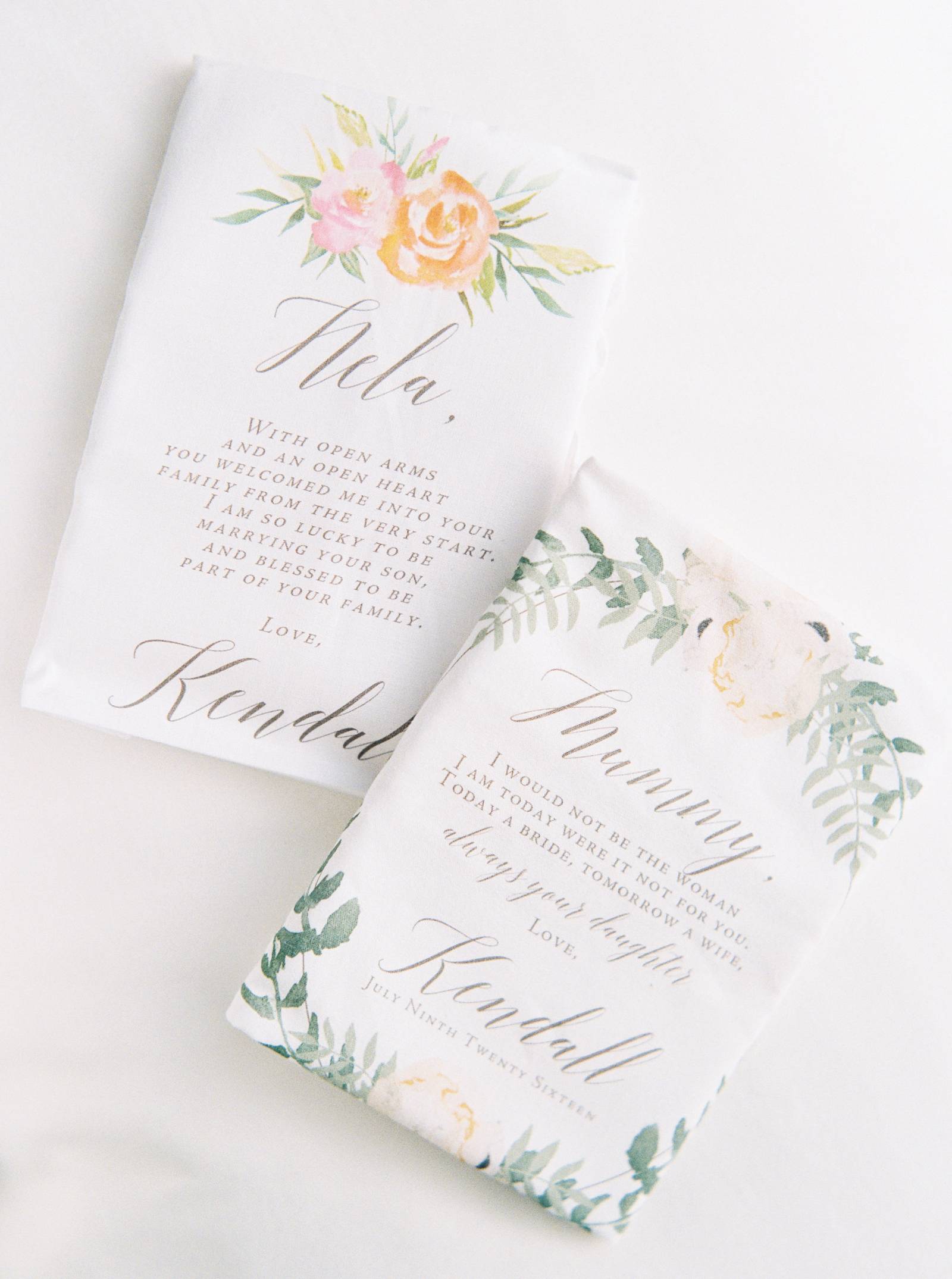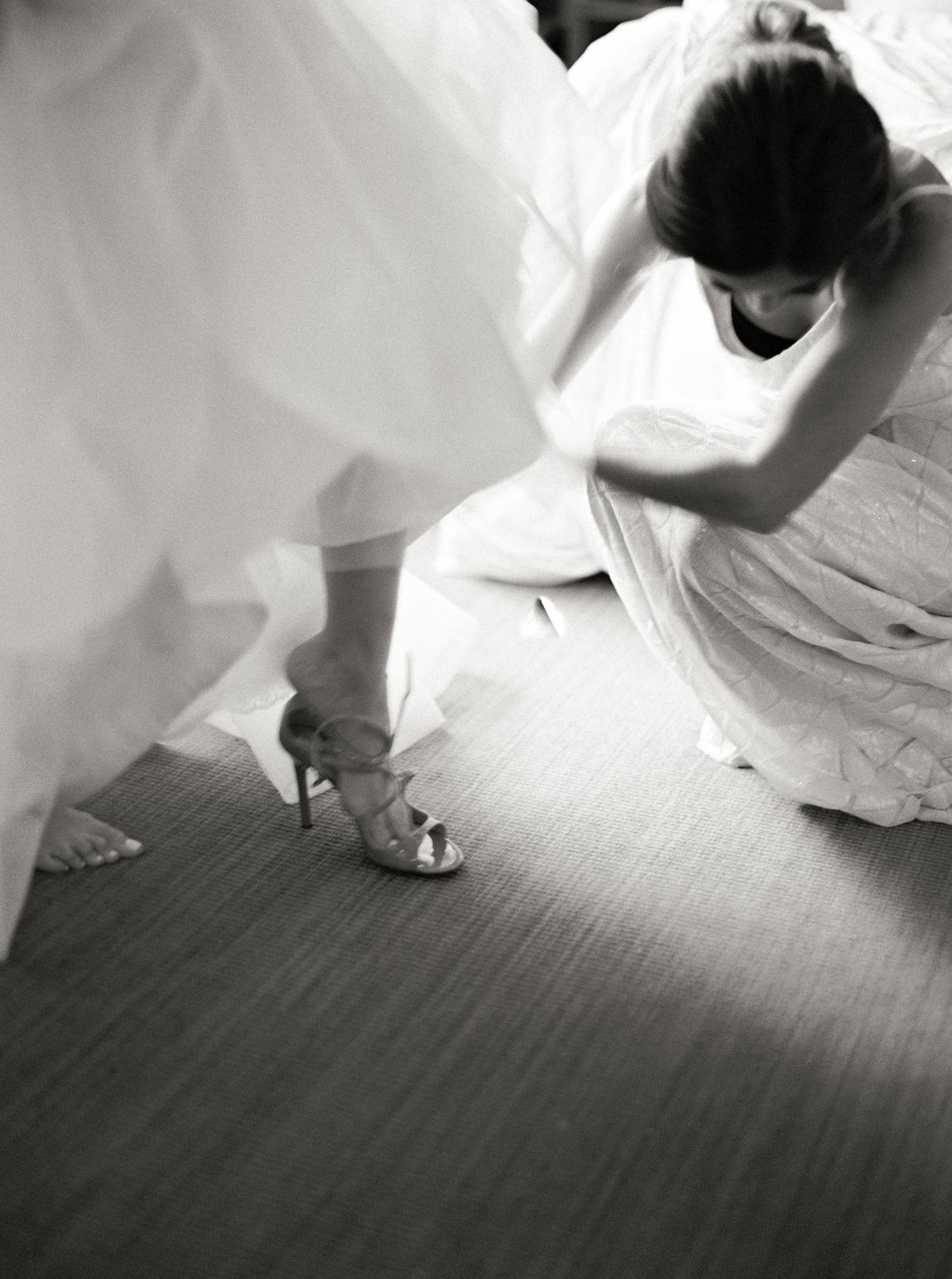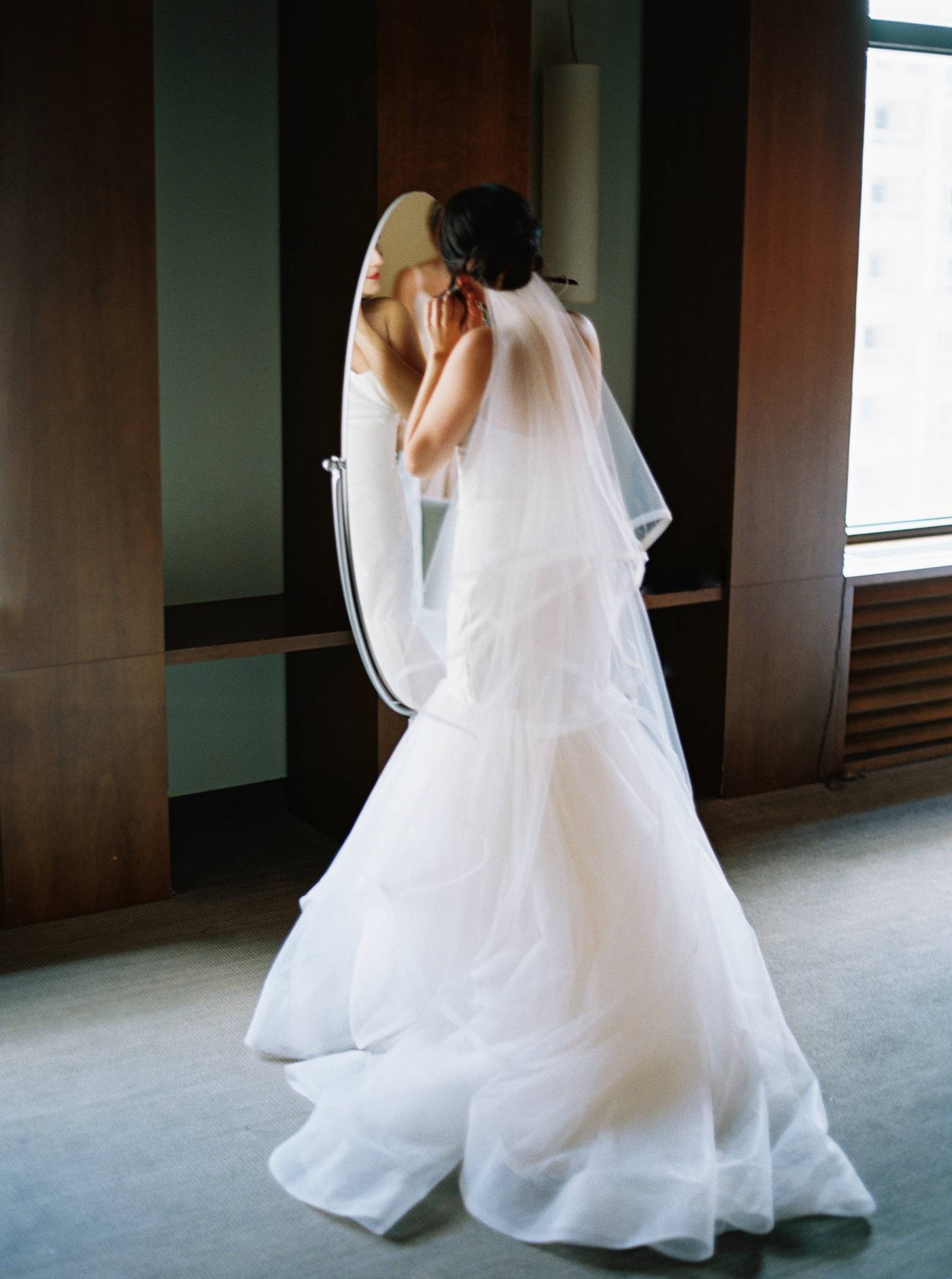 HOW DID YOU MEET? HAHA. Chris and I laugh at this whenever someone asks us this question. We actually met through Kendall's mum. Chris is an Urban Planner and his boss shared office space with my mums firm. (From Chris) There was a photo of Kendall on her mother's desk at work - it started with me asking about Kendall to be polite and for curious conversation, quickly I learned she was rather fascinating. I told her mother that when she was done dating the guy she was with - to give me a call... and that she did.
TELL US ABOUT YOUR PROPOSAL: From Kendall; it was completely unexpected, but looking back - the most incredible moment in time. Like most, we had talked about it - but at the time, we were not focused on ourselves. Chris's Dad was in the hospital battling cancer and Christmas was fast approaching. We were just praying he would be home for Christmas. From Chris; I ordered Kendall's ring from Trumpet & Horn in October and picked a vintage mid-century setting. Kendall has a serious love for vintage and steered me in the right direction. I ended up buying the ring in October with the plan to propose Christmas morning. Both of our families and Kendall go overboard when it comes the holidays (our place is fully decorated come the first week of November) so I knew this would be the perfect time. I told my parents that Christmas morning was the plan and with the blessing of them and Kendall's mother I hid the ring, as Kendall would have for sure found it if I kept it in our condo.
(From Kendall); Christmas Eve was a blur - we spent 14 hours at the hospital and by 7pm Chris's dad had left us to become an angel. Exhaustion set in and I don't even remember how we got home. I woke up Christmas morning and snuck out to our living room to make a quick call - I was trying to be so quiet, I didn't want to wake up Chris, he had been through so much. Ten minutes into my conversation with the funeral home, Chris came out of our bedroom sleepy, dazed and started rifling through his workbag. I didn't pay much attention to it - I just gave him a strange look and shooed him away. After I got off the call, I went into our bedroom and gave him two options. First... we could celebrate Christmas another day and stay in bed or second, we had to commit; get up, shower and get in the car for our 45-minute drive commute to my mum's. Brunch was in an hour, and the British take brunch very seriously! He choose the latter but only if we could cuddle for 10 minutes. What was I suppose to say? No? And so I did... it was perfect. The sunlight lit up our bedroom, everything was a soft hue as he turned over onto his left side, a ring box in hand - and there - in our quiet sanctuary he whispered all of his love for me and asked me to have him forever.
TELL US ABOUT FINDING YOUR WEDDING DRESS: What a battle! I am known for my eclectic style, mixing vintage with high end - so I felt I needed a dress that reflected that. Before my first appointment I receive some amazing advice. Set out to buy a dress that fits the venue - the tone and style of how your day is to be shaped depends on what is around you on your big day. All the dresses I tried on looked nice - but nothing stood out. I had tried on over 50 dresses before landing at Sash & Bustle here in Toronto. It was funny to me, as I worked next door to them at an advertising agency when I first started my career - and they were my last stop. That day, I brought my godmother and Mum, we were there for less than twenty minutes. My godmother choose this simple, sweet heart neck, elegant oyster coloured Hayley Paige dress that had horsehair trimmed tiered skirt detailing. It was so simple, perhaps the simplest thing I had ever worn. It was love at first sight.
ANY DIY ELEMENTS? Yes but I am NO DIY-er. I am not patient, which was clear to my best friend the day before my wedding. My advice is to recognise the talent of the people around you, and ask for help! I stayed away from Pinterest as Chris and I really wanted our wedding to be ours and not inspired by trends. I did however have giant sticker decals made that was to be hand placed and stuck onto the insert of two vintage shaker doors I had picked out of a garage bin in my early twenties. One door acted as a welcome sign to our wedding, with our #CPandKDsayIdo hashtag, the other acted as our seating chart and framed our gift and guestbook table.
DESCRIBE YOUR WEDDING FLOWERS: We cant! They speak for themselves. Another piece of advice we have - TRUST the vendors you hire. If you researched them, vetted and checked their portfolio, then your conversation when hiring them should be like ours. "Hi Becky, nice to see you, here are the colours we are thinking - see you on our wedding day!"
Becky owns Blush & Bloom here in Toronto. She asked Chris and I if we were interested to see a mock-up of the centerpieces. Chris was less trusting than I, but I - call me crazy - declined. I told Becky that I wanted to walk into the room and have my breath taken away. Having every finite detail figured out and planned seems to lead to disappointment. I had known and followed Becky's success for years - our trust in her was all we needed, plus - her excitement for the challenge made the entire thing worth it. Just see for yourself.

FAVOURITE DETAIL OF THE DAY: Wow - tough. (From Kendall) Mine is rather quirky. When Chris and I were signing our marriage license I caught a glimpse of this big bag of coloured rose petals on the ground. With my right foot I was trying so hard to get it without moving with all eyes locked on us. I felt like Audrey Hepburn in the opening scene of Roman Holiday everyone's eyes are locked on Audrey's princess character as she attempts to get her shoe back on. Just as Chris put his pen down my foot caught the bag and I quickly bent down placed the bag on the chair. After our vows were completed we handed out petals to our family and friends who on the count of 3, tossed and cheered with glee. That was my favourite spontaneous detail that Reid captured beautifully. (From Chris) I would have to say my wedding band. Kendall had my ring custom made by a jeweller in Brooklyn, NY. My ring has a recording of her voice as a sound wave uttering something ridiculously dorky.
WHAT ADVICE WOULD YOU GIVE OUT TO A COUPLE PLANNING THEIR WEDDING? We both agree that before the stress sets in, have a conversation about what is realistic and what to expect from one another. Know your budget and if not using a planner, have a wedding tracker in that keep your stresses at bay. Kendall is the planner in the relationship. (From Kendall) I knew Chris's involvement in planning would be less than 20% and that was completely ok with me. He made the big decisions when it came to his tuxedo, the colours of his groomsmen etc. but with the help of me - as I gave him a due date of when these things were needed. Otherwise, I was blessed to be able to take the lead. (From Chris) Another piece of advice is to not feel that you have to take advice you do not feel comfortable with, this is your day - be sure you remember that. Kendall and I both took moments throughout the day to soak up every detail, we still talk about the little things we remember.
MOST MEMORABLE MOMENT? (From Kendall), again - so tough! Our first kiss as husband and wife was magical but the funniest memorable moment has to be going back to our suite at Le Germain Hotel and our closest friends partying in our suite upon our arrival. (From Chris) My favourite moment would have to be one that is rather taboo. Kendall and I had a suite at Le Germain Hotel that was two floors. The girls were to get ready upstairs while the guys had free roam of downstairs. Kendall must not have known I was there - she came whipping down the staircase just as my brother was ushering me out onto the balcony. She was in her robe, her hair and makeup done ... I only caught a glimpse out of the corner of my eye but she looked so beautiful. (From Kendall) I don't remember this!
ANY OTHER DETAILS THAT HELP TELL THE STORY OF YOUR DAY? I have a huge love for Instagram - so our hashtag was important for me (such a dork - I know) but I look back at it every so often and love that I documented the planning, dress shopping, brunching with my girls, kissing my hubby and our epic honeymoon.
IS THERE ANYTHING YOU WOULD CHANGE OR DO DIFFERENTLY? Sadly, yes! But the two things are very minor that nobody else would ever notice ... and that is important to recognise.
We would have hired a videographer. (From Kendall) I know most couple's hem-and-haw over this - most lean to this being a 'waste' or 'splurge' - and I would bet the thought "when would you ever watch it again? Or ... what would you do with it" crosses your mind ... but I am telling you ... The second was the dancing. Music is so important to Chris and I but our venue couldn't handle it all. We had brought our wireless Sonos and managed to have a couple's first dance to Otis Redding's Sitting on the Dock of the Bay and mother-daughter/mother-son dance to Marvin Gaye's Got to Give It Up in the garden prior to dinner being served. I wish we had more time for dancing... I guess dancing around our living room for the rest of our lives will have to do.