Rachel & Steven wanted a relaxed and organic style to their wedding with an evening that felt like an intimate dinner party rather than a large wedding party. The beautiful bride shares with us, "I wanted each guest to know how grateful we were that they traveled to celebrate with us and have the opportunity to speak to each person. We wanted really high quality, delicious food, a fun jazzy band, luscious flowers, and a beautiful view." And they had all that and more at their Napa Valley wedding held at CARNEROS RANCH captured by Northern California wedding photographer ALICE CHE.
Rachel continues, "Steven is from Florida and I am from Texas. We knew we wanted a short engagement, which would land us at a summer wedding. Given the style and size of wedding we wanted, we knew we wanted an outdoor celebration. Since neither of our hometowns offered pleasant weather during the summer months, we began looking for other locations. We began looking at California and Colorado locations. Given the short engagement and busyness of the 2022 wedding season, I knew I had time for one trip to select a location. My step sister was engaged in Napa and we traveled out for the occasion and I loved the visit. Napa had several venues with dates available. Carneros was the first location we visited and I knew the minute I arrived that it was the one. The sweeping views and private feel of the Hilltop venue won me over. The farm to table dining style was a cherry on top."
HOW DID YOU MEET? Steven and I met in September 2019. Fun fact: we realised a few weeks before our wedding that we were getting married exactly 1000 days from the day we met. Steven was visiting Dallas for work and explaining how Bumble worked to a long time married colleague. This led to the fateful swipe. Several messages in, Steven admitted that he did not live in Dallas and actually lived in Orlando. False advertising! At this point we had already "clicked" and I was too curious to turn back. We talked for several weeks and both overlapped in Atlanta for work travel and coordinated a first date. From that point on, we continued to bounce between each others cities for two and a half years.
TELL US ABOUT YOUR PROPOSAL: Steven proposed on December 30, 2021 after I spent Christmas with his family in Orlando. Though I was so ready to be engaged and married to Steven, the proposal was a total surprise. Steven convinced me that we were going to dinner with a colleague and his wife that night. He came home from work and we planned to go on a walk before dinner. As I was planning dinner topic conversations, Steven interrupted me and began his proposal spiel. Steven proposed on Rollins College campus on a dock by the lake. It was a private and intimate memory that I will never forget. Afterwards we met family for dinner and Steven flew out my best friend to join in on the celebration.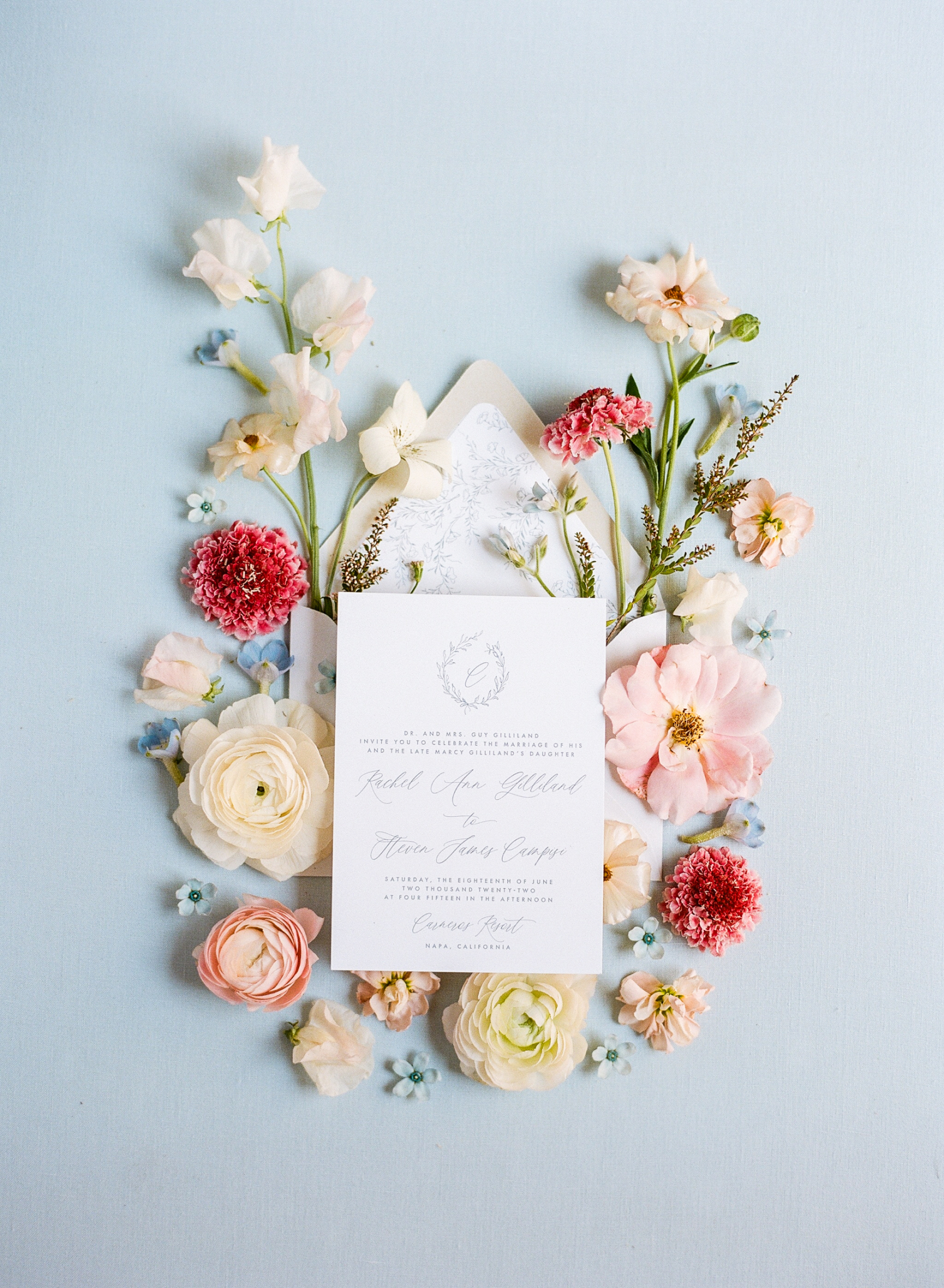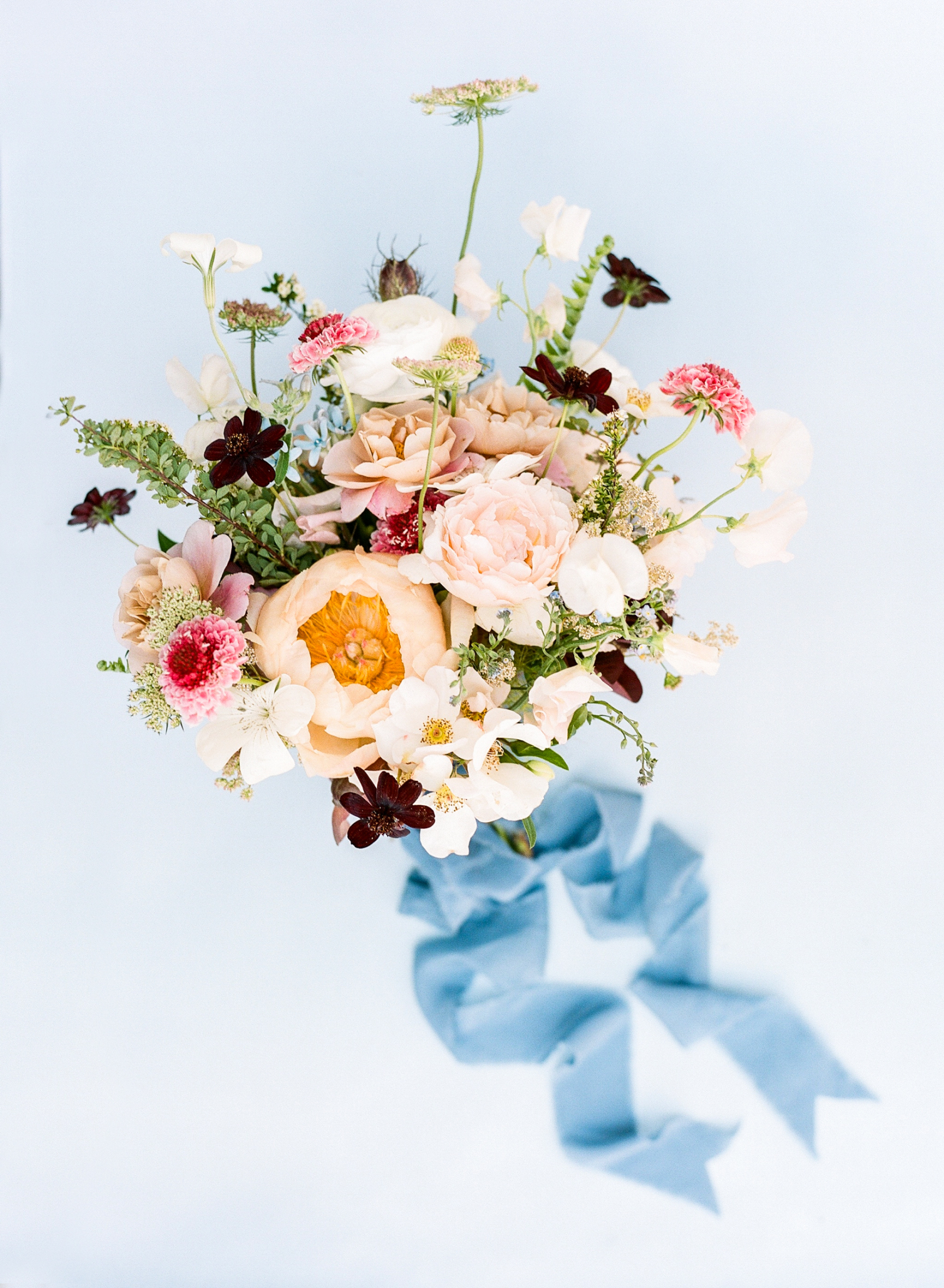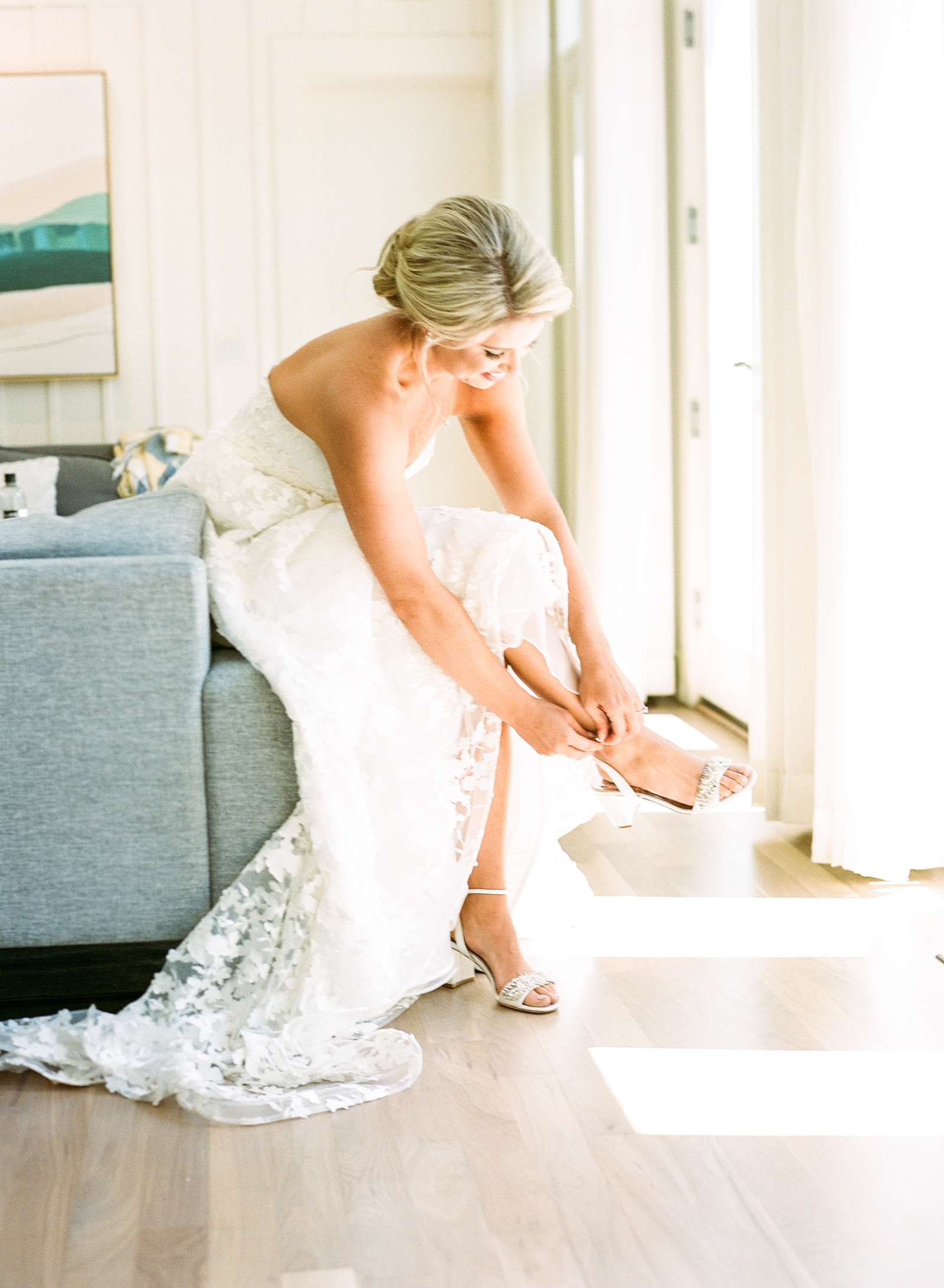 TELL US ABOUT FINDING YOUR WEDDING DRESS/ATTIRE: I was determined to find my wedding dress in one trip and ended up selecting it at the second store we went to. I knew that given our engagement timeline, I didn't have a lot of time to shop around and I just wanted to be married. Even if I had visited ten shops, I think I would have still selected the same dress. I went shopping with my step-mother, aunt, and cousin and had a great experience
DID YOU HAVE ANY DIY ELEMENTS? No, and was very glad that I hired out majority of the aspects of my wedding, especially given the destination nature of the day. The most personal touch on the day was letters that we wrote to each guest that included their table number.
DESCRIBE YOUR WEDDING FLOWERS: I love flowers. I used to be a florist, so naturally this was a very important part of my day. I knew the minute I saw Busy Bee's style and talked to her on the phone that she would be the perfect florist. I wanted impactful floral elements and wanted to make sure we could reuse pieces between the ceremony and reception. I wanted a lot of texture and a moody-garden feel. The tones were blues, peaches, greens, and dark plum.
FAVOURITE DETAIL OF THE DAY: It's hard to choose one. It was very special to be able to write each guest a note and reflect on their role in our lives and the importance of them joining us on this special day. I also absolutely loved our band, Radio Gatsby. They were fabulous to work with. I lost my mother early in life. She was a magnificent singer and I had a recording of her singing at a wedding in the 1980's that I was hoping to use to walk down the aisle. Radio Gatsby did a masterful job remastering the recording so that it could be used. This was a very special detail to me.
WHAT ADVICE WOULD YOU GIVE OUT TO A COUPLE PLANNING THEIR WEDDING? Make the day yours and be okay giving up "must have traditions" in order to make it what you want and make it feel like you and your spouse. The most important thing is that you are making a life long promise to each other in front of God, family, and friends. The rest is tiny, insignificant details.
MOST MEMORABLE MOMENT? Steven and I escaped the party for a bit to take "golden hour" photos together. We opted to walk back from the photos rather than take the golf cart. Being with my husband for the first time alone and taking time together to soak it all in is something I will always remember. We began to hear the band playing half way back and slow danced to "Tennessee Whiskey" just by ourselves with no one around. That song held no significance to us before, but from now on, I will always think of that moment when I hear it play.
WHAT ASPECT OF THE WEDDING WAS THE MOST IMPORTANT TO YOU BOTH? Getting married! Truly. That's was the really the only thing that mattered, and we wanted to do it quickly. Steven initially would have preferred to elope. He hesitated getting on board with all of the wedding "hoopla" and feeling the genuine nature of it all when it feels very showy. I knew I wanted some form of a wedding, but was very happy that we settled on an intimate outdoor evening. We wanted delicious food and good music. Steven is a bit of a classic 1960-1970 music savant, so we stuck with his feel for the music.
ANY OTHER DETAILS THAT HELP TELL THE STORY OF YOUR DAY? I also wanted my bridesmaids to feel comfortable and themselves at the wedding so opted for a colour palette of green, blue, and mauve and each girl selected their own dress. I'm not sure if this caused more stress or relief, but everyone looked so cohesive without having 10 girls (out of a total guest count of 60) wearing the same dress. Busy Bee also made beautiful unique bouquets for each girl to match their dress.
TELL US A LITTLE ABOUT YOUR HONEYMOON: Steven and I traveled from Napa to Hualalai, Hawaii for our honeymoon to stay at the Four Seasons there. We could have been in a trailer park and a week alone with my husband for the first time would have been fantastic, but Hualalai was beyond. We snorkelled, hiked, and ate a lot of ceviche by the pool. It was fabulous. Steven went thinking "I want to love this place, but I hope I don't love it too much because we are so close to the Caribbean in Florida and Hawaii is so far". We left leaving we knew we would need to come back one day.
IS THERE ANYTHING YOU WOULD CHANGE OR DO DIFFERENTLY? Truly nothing I would change. It will always be one of my most sentimental and special memories.
A big thank you to Northern California wedding photographer ALICE CHE for sharing this gorgeous wedding with us today. A born and raised Bay Area girl, Alice has always been a huge lover of fairytales and happily-ever-afters, so it didn't really surprise anyone that she ended up being a wedding photographer! "I love being surrounded by all the love, laughter and tears on a wedding day and am always so honoured that my couples trust me to document their special day. My favourite thing about weddings is my couples themselves and how they personalise their weddings to make them unique to their own love stories." You can see more in her portfolio here.