Spending their free time in coastal towns along the Eastern shoreline and being big fans of the water in general led this gorgeous couple to a seaside wedding. When you're getting married on the beautiful Connecticut coastline it's pretty easy to see where your inspiration comes from. Maggy and Leo wanted all their styling decisions to speak to this beautiful location with the result being timeless, breezy, with a nod to a nautical, organic style. Prague wedding photographer STEPAN VRZALA joined them on this beautiful sunny day and documented the celebration.
Stepan tells us, "It was truly an honour to documenting these two lovelies in Essex, Connecticut. I felt so blessed to work with such an incredible couple! Maggy & Leo you treated me like family and I am forever thankful!"
HOW DID YOU MEET? Leo and I met at work. We both worked in Communications in the aerospace industry at the time, and so my corporate event planning work intersected with his executive communications support.
TELL US ABOUT YOUR PROPOSAL: Leo planned a birthday weekend for me, and rented the lighthouse suite on the main dock of the Saybrook Point Inn & Spa in Old Saybrook, Connecticut. There were flowers and champagne in the room, and he got down on one knee as soon as we got out on the balcony overlooking Long Island Sound and the Connecticut River. I was so surprised, thinking that we were just staying there for my birthday.
TELL US ABOUT FINDING YOUR WEDDING DRESS: I wanted something classic, sophisticated and a little bit sculptural. MONIQUE LHUILLIER'S Madison dress fit the bill. It was the first dress I saw online, but one of the last I tried on. I added a custom sash to bring in a hint of sparkle, and it turned out spectacular. My parents and I drove from Connecticut to Boston, Massachusetts, to purchase it, and every trip (fittings, etc.) was special, as we made a day out of it.
DID YOU HAVE ANY DIY ELEMENTS? My dad's homemade vodka. He made a handful of flavours for guests to sample at the reception, and we also gave away mini bottles as favours. They went fast! My best friend and maid of honour, Ashley Carey, a very talented artist, also designed our beautiful invitations.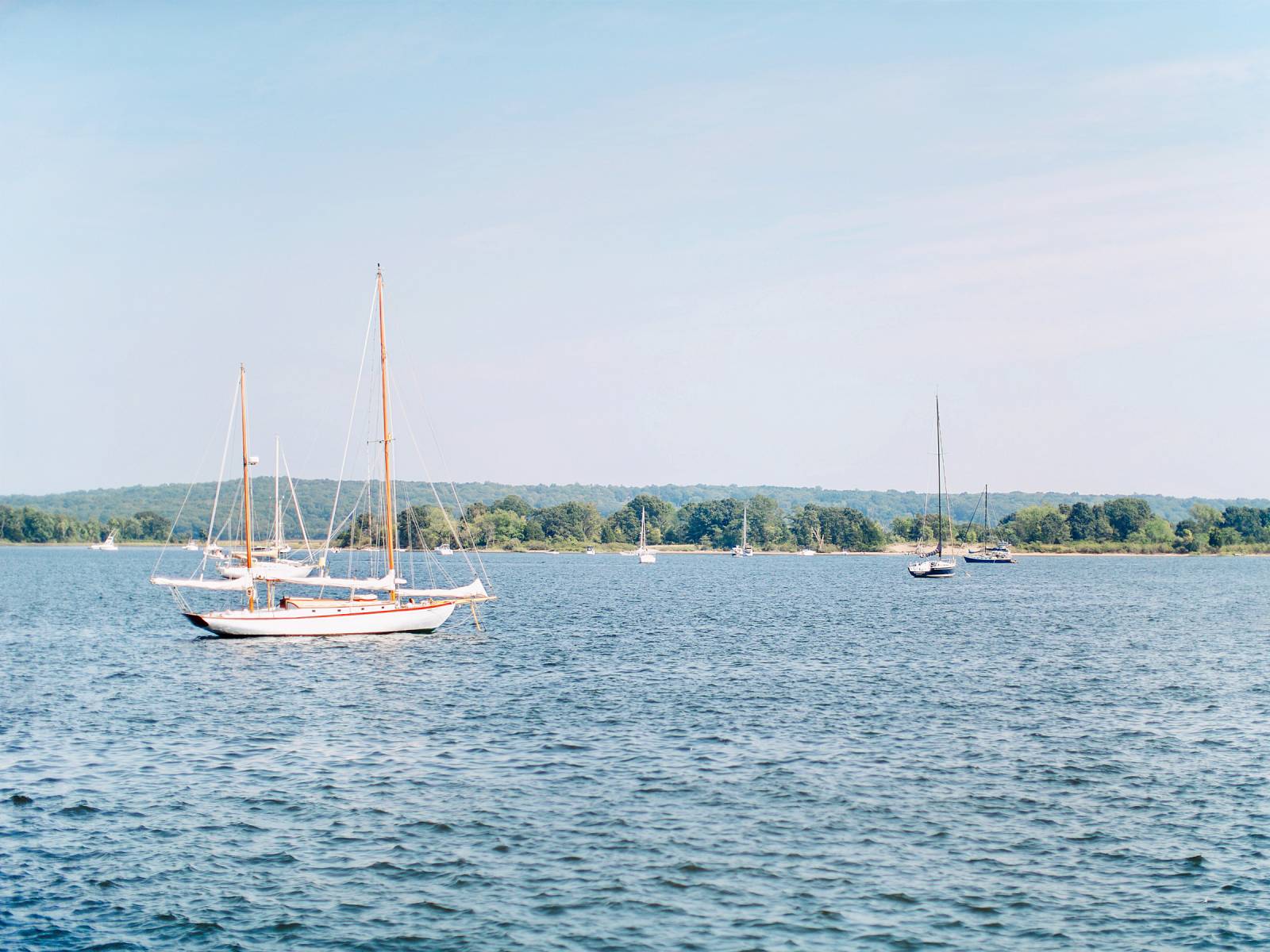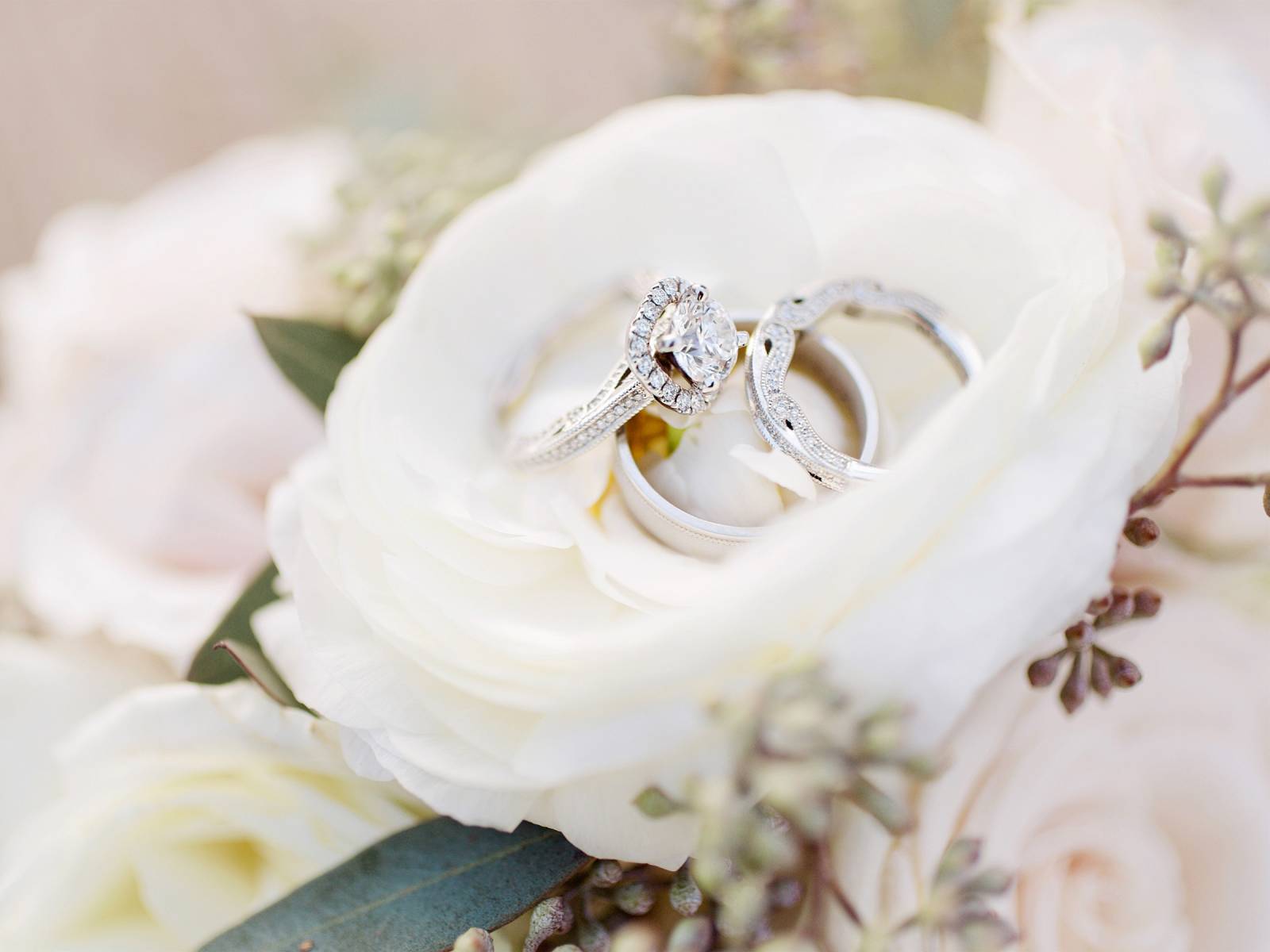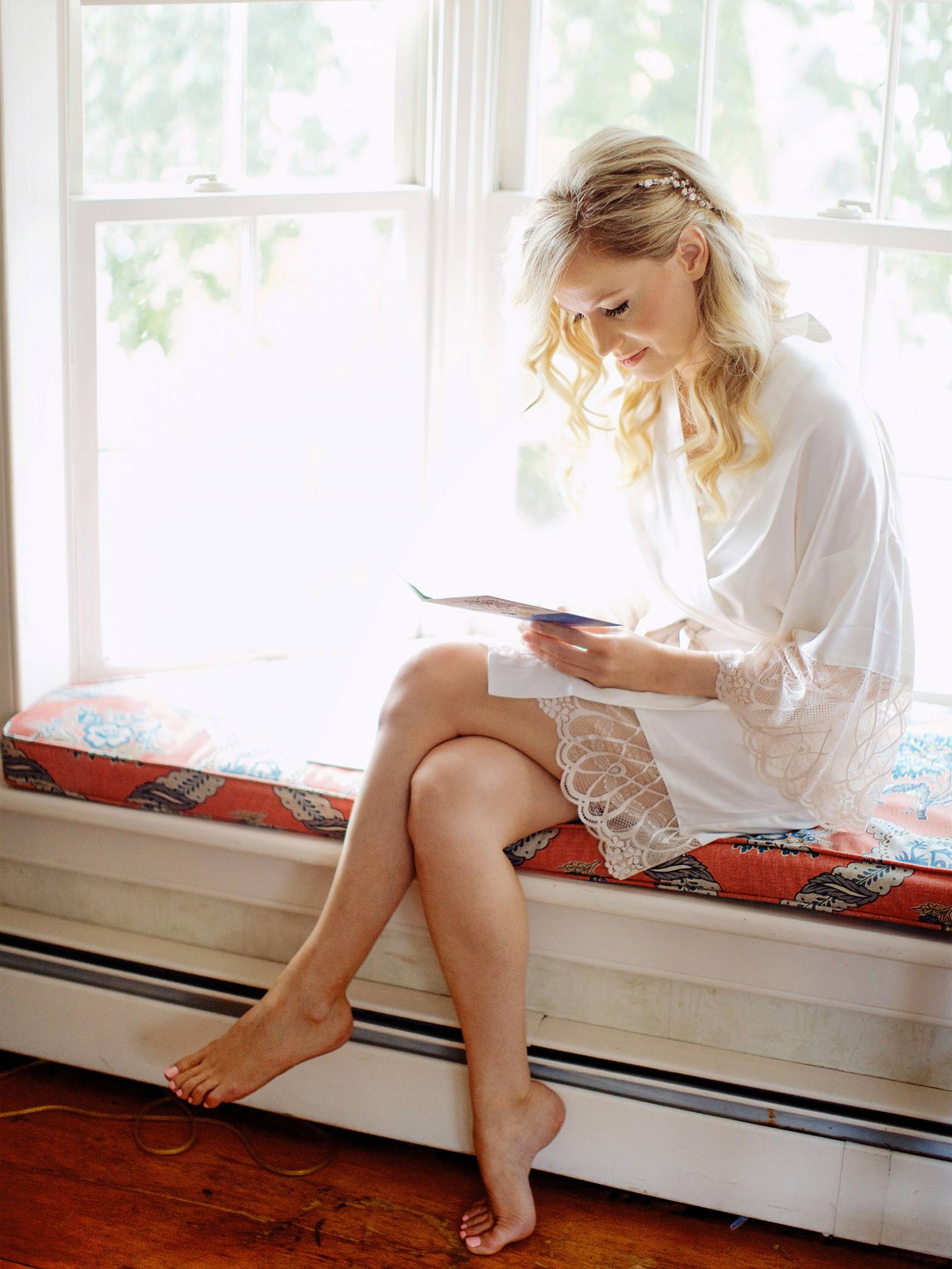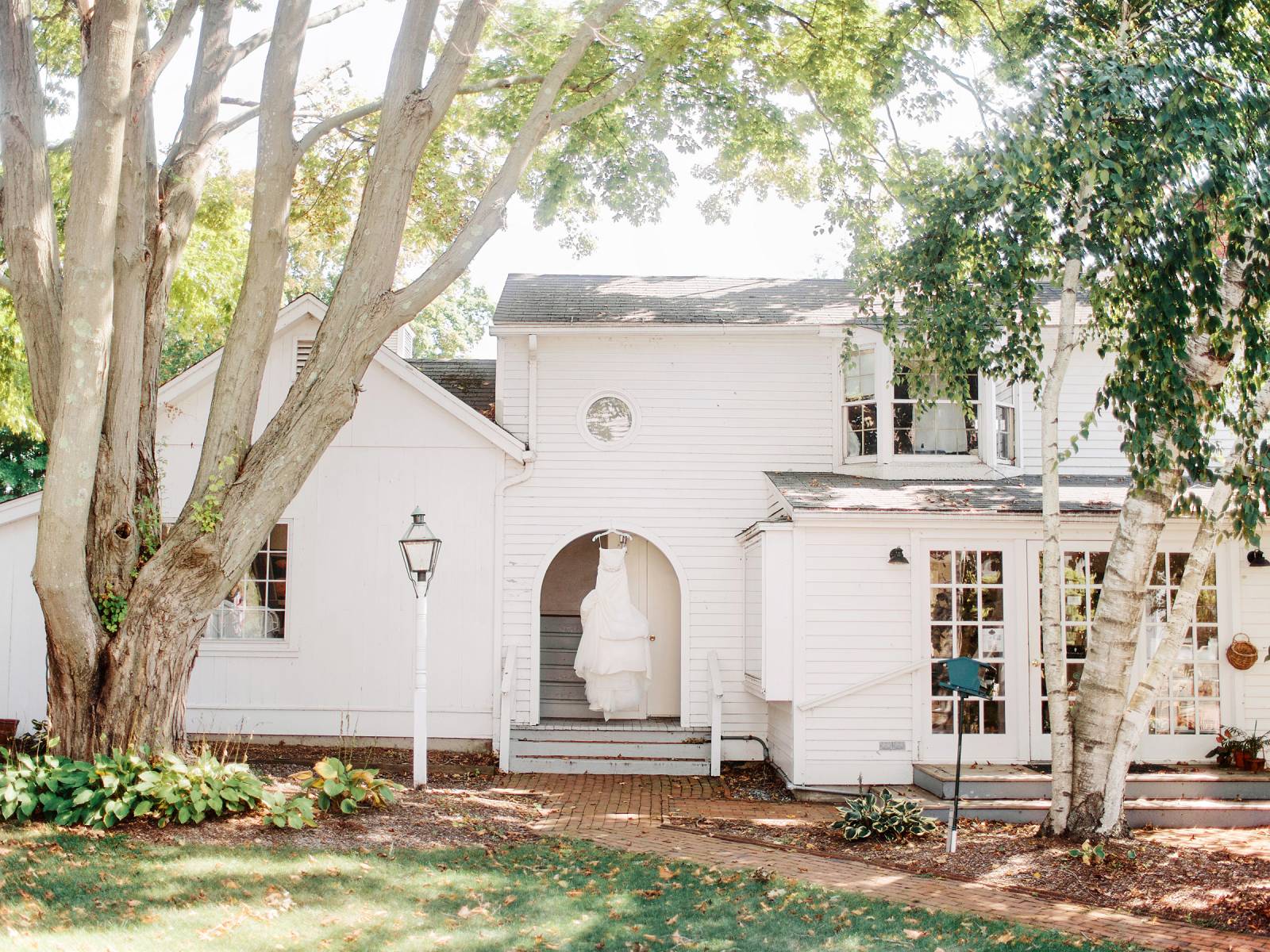 DESCRIBE YOUR WEDDING FLOWERS: They were very soft in their colour scheme. The bouquets looked organic, too - kind of like someone scooped up an armful of flowers and didn't overly compose them.

FAVOURITE DETAIL OF THE DAY: The tablescape inside the yacht club set the romantic, intimate tone for the evening. Everything from the slight metallic thread woven into the tablecloths to the mixed metallic vases, the lush flowers, river rocks with our guests' names that marked everyone's seat, and even the chair finish that was reminiscent of driftwood, helped bring it all together. It was all so elegant, and with the backdrop of the river, the setting sun, candlelight, classic Sinatra tunes over a family-style dinner for our nearest and dearest (only 48!), the yacht club felt so cozy.

WHAT ADVICE WOULD YOU GIVE OUT TO A COUPLE PLANNING THEIR WEDDING? It's easy to get overwhelmed with all of the details and Instagram inspiration out there. Focus on each other, what means a lot to you both, and then Excel spreadsheet the heck of out of your wedding. While the latter is neither exciting nor romantic, a logistics agenda will leave you confident, relaxed, and organised on the big day. Having planned big corporate events for years, I live and die by a logistics agenda. That doesn't mean I whipped it out on the morning of the wedding - but I did feel at ease that no detail went unattended and all duties were divvied up accordingly among our vendors.

MOST MEMORABLE MOMENT? It's difficult to choose. But I was really sick the morning of our wedding, and even though we had wanted to wait to see each other until our "first look," Leo stopped in to make sure I was okay. He accidentally saw my dress then (though to his credit, he didn't let on), and I was a hot mess when he came in. So, seeing his face break into genuine surprise and his Leo laugh when we did finally have our first look -- was just the best. I absolutely loved seeing him in his tux, waiting at the dock.
ANY OTHER DETAILS THAT HELP TELL THE STORY OF YOUR DAY? I cried throughout the whole ceremony, starting with the walk down the aisle on my dad's arm. Leo was pretty stoic, and we expected him to be the one shedding tears. We did a traditional Polish wedding blessing to welcome everyone to the reception. Our parents presented us with bread and salt to wish us prosperity and happiness in our home and marriage. They also gave us two shot glasses - one filled with water, the other vodka. According to tradition, whoever got the vodka would "wear the pants" in the marriage. Leo got the vodka, thank goodness, because I didn't want that shot! I still wear the pants - though he would say otherwise.
I wore flats and we also made sure to tell our friends to skip the heels! Downtown Essex has a gorgeous, historic Main Street, so our guests walked from the ceremony site to the reception. I also gifted Leo a pair of custom Chuck Taylors with "Forever Meo" (Meo = Maggy and Leo) embroidered into the side.
TELL US A LITTLE ABOUT YOUR HONEYMOON: We went to Kennebunkport, Maine, and stayed at The Tides Beach Club on Goose Rocks Beach. Because it was September, it was nearly deserted, which was amazing. We rode bikes, went hiking, ate a lot of good food, took our morning coffee on the beach, and started happy hour at 3pm every day. We then met up with friends on a little island off the coast of Massachusetts, and had the best time exploring.
IS THERE ANYTHING YOU WOULD CHANGE OR DO DIFFERENTLY? We would have asked our wedding party to be a part of the wedding sooner. We initially were going to keep it simple and not have a wedding party, but then realised that we wanted our siblings and friends to stand with us as we took our vows. Overall though, we made practical and meaningful choices, and as a result, the weekend felt deeply personalised and special. It was just right for us and our families and friends.
A big thank you to Prague wedding photographer STEPAN VRZALA for sharing this gorgeous coastal celebration with us today. Stepan's passion is capturing the moments of happiness that love can bring. Based in Europe, he finds inspiration from nature, traveling, and yoga; all of which help to bring a lightness and elegance to his work. If you're on the lookout for a Paris wedding photographer you can see more of his portfolio here.