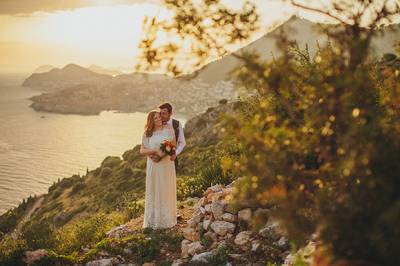 If you're considering a destination wedding and Dubrovnik, Croatia isn't on the list, then I suggest you go and put it on there right this minute. One look at these incredible images by PETAR JURICA and you'll see just why. Dubrovnik is one of the most attractive and popular cities in Europe. A city of great history, it has beautiful landscapes, great weather and has one of the best preserved medieval walled cities in the world. A real gem. Kendra & Spencer travelled from their home in Austin, Texas to celebrate their love in this beautiful part of the world. Read on for their thoughts on the day…
"When we first started dating, Kendra was studying in Italy and I came over to visit her. On a whim, we decided to travel around Croatia and fell in love with the place. It was a big adventure and made both of us realize that the relationship had some serious legs. Our time in Dubrovnik in particular was really special, and when we decided to get married, we couldn't think of any other place that would be more fitting for the big day.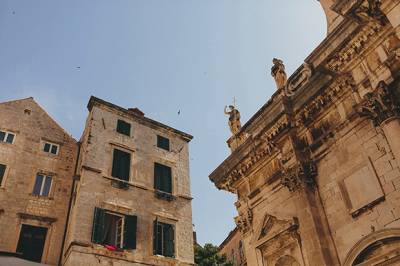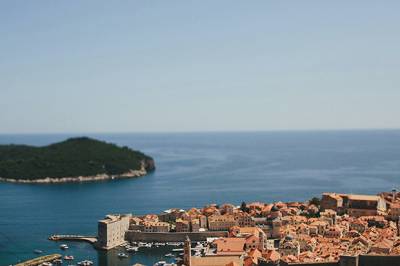 It was definitely challenging to organize everything sight unseen. Our wedding planner, Kike Skvrce, was really helpful with connecting the dots, but of course you never know what you've sign up for until you see it in person! Surprisingly, making payments was more of a challenge than we expected – a few banks in the U.S. wouldn't do international wire transfers to Croatia, which was very disappointing. At the end of the day though, we couldn't have asked for things to turn out better.
We really wanted the location to dominate – all decorations were super simple, minimalist, and handmade. The idea was that we picked places that would really speak for themselves and that would just lend itself to people having a fantastic time. We really wanted to make sure that our guests had a great time and really enjoyed their experience – those were our biggest priorities from the beginning. With that in mind, we were really focused on good music, good food, and good views – the sorts of things that would really stick in everyone's memories. We only wish we could have had more time in Dubrovnik! If you plan a wedding there, make sure to recommend that your guests meet up in Buza Bar – that was another highlight for many people (both before and after the wedding day)."