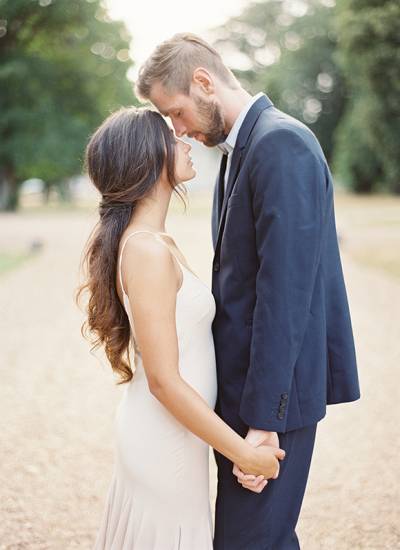 Happy Monday lovely people! I hope you had a wonderful weekend. Summer is in full force here in New Zealand and it was a warm & sticky weekend for us. Looking at these images by LAUREN KURC from her time at The Artist Holiday in France bring back the fondest of memories for me, as I got to witness this all coming to life. The three days spent learning and soaking up creative goodness at the incredible CHATEAU BOUTHONVILLIERS was something I'll always treasure. Watching the beautiful De Verdun family and their children run around the exquisite grounds at dusk, whilst we played french music in the background and ate pizza and captured the scene – well you had to be there, but it was truly a lovely moment, and had me wanting to figure out how to live in a Chateau like a french local for a summer!
The images here are a 'mash-up' from a few of the editorial shoots that took place under the expert guidance of tutors JEN HUANG PHOTO & KURT BOOMER and stylist GINNY AU. AMY MERRICK – an absolute floral genius – not only created beautiful arrangements for the shoots but also took a master class where we all learnt how to construct a bouquet. It was so fun to break out of our usual mold and do something creative in a different realm.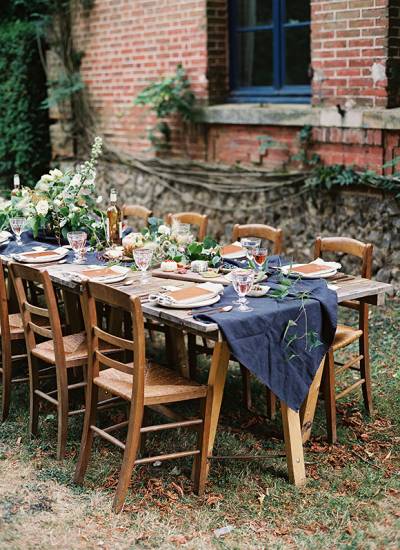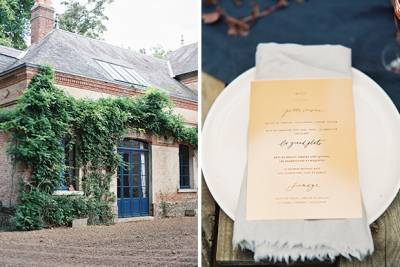 Love the simplicity of this wedding invitation by WRITTEN WORD CALLIGRAPHY and the drama of the gold calligraphy on black envelopes.
Lauren had this to say about the workshop, "Attending any workshop can be a beautiful and emotional experience but this one in particular pushed me to gain clarity on where I want my work to be. With that, I approached this session with an open heart, pushing myself to think less, feel more and experience more authentic moments between my subjects."